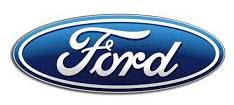 I recently penned a series of articles regarding the fact I believe Ford (NYSE:F) presents an excellent investment opportunity for investors. In the comments section of the articles, there was a barrage of comments debating the current positives and negatives regarding the stock. I have determined the genesis of the controversy is the fact many positive and negative catalysts currently do exist. This has given rise to an immense amount of fodder for both bulls and bears to make their case. A majority of past articles have solely focused on one side of the coin or the other, my articles included.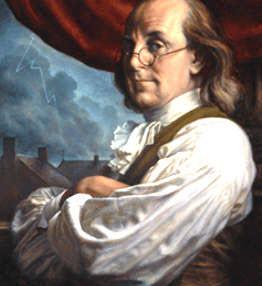 So, I have decided to use the Ben Franklin technique for analyzing difficult situations and making tough decisions as the outline for this article. Benjamin Franklin would make a list of positives and negatives in order to clearly analyze difficult situations. This resulted in him having many successful endeavors. I discovered this from reading his personal letters published in a book by Leonard W. Labaree.
In the following sections, I will use the Ben Franklin analysis technique and do my best to discern reality from repartee and deconstruct the good, the bad and the ugly truth regarding the ensuing Ford drama. Many of the points made are derived from the comments on my latest article. The title of my all-time favorite Clint Eastwood spaghetti western will serve as the delivery method for the pros and cons.
The Good, The Bad and The Ugly Truth Regarding Ford
The Good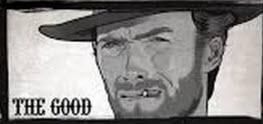 Ford's strong financial performance has enabled the company to double the quarterly dividend in 2013 and 25% in the first quarter of 2014. Ford's stock has made a nice move to the upside recently breaking out above long-term resistance.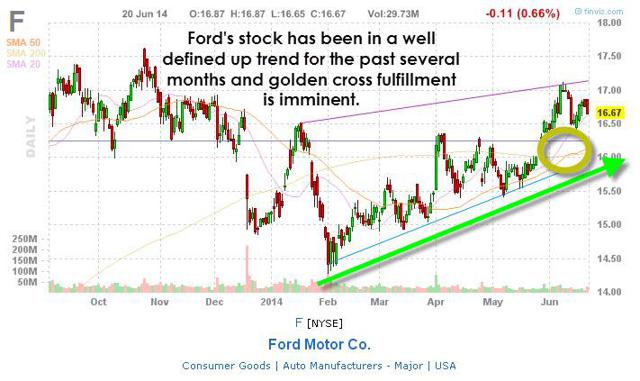 (Source: Finviz.com)
Ford's ambitious plans
Ford is embarking on one of the most ambitious product launches in the company's history. If all goes as planned, this should build a strong foundation for future growth and profitability.
Historic product launch
In 2014, Ford plans to launch the most vehicles worldwide in a single year in the company's history. Ford plans to launch 23 new vehicles worldwide in 2014. Included in the launch will be all-new versions of two iconic Ford vehicles, the Mustang and F-150 truck. The Mustang is celebrating its 50th anniversary this year. The car will be available for the first time in key markets in Europe and Asia. The all-new F-150 is part of Ford's best-selling F-Series lineup of trucks and sports with the much anticipated new aluminum body. Ford is expected to launch the revolutionary new aluminum-body F-150 pickup in the fourth quarter of 2014. The new F150 is expected to be at least 700 pounds lighter than its predecessor and get nearly 30 miles to the gallon. I see the truck taking the competition by storm.
Largest manufacturing expansion in 50 years
To support the product launches, Ford has embarked on the company's largest manufacturing expansion in the last 50 years. Ford will increase capacity or add production in six of the company's U.S. assembly plants. Ford is also opening two new plants in Asia, one in South America, and one in Europe. The record number of new vehicles introduced in 2014 should support Ford's goal of increased global sales and market share.
Ford's sales revenues are up in key markets
Ford China
Ford Momentum in China Continues with May Sales Up 32 Percent. Ford China May sales reached 93,323 wholesale, up 32%. Year-to-date sales reached 461,473 vehicles, up 39%. First quarter sales for Ford China were up by 45% year-over-year with 271,321 vehicles sold compared to 186,596 during the same period last year. Ford is greatly increasing capacity in China to match this growing demand. The company is constructing four new plants in China to meet the increased demand.
Ford Europe
Ford's European Sales were up 7.7% in first five months of 2014. Furthermore, the company garnered the highest commercial vehicle market share since 1998. Year-to-date market share was up 7.9%. May sales were down 1% largely explained by higher than usual CD car volume in May last year. More than 50% of Ford sales between January and May were all-new or significantly freshened vehicles as well. The new product surge was evident with the new Transit Courier and Tourneo Courier arriving at Ford dealerships across Europe. These are only 2 of 10 new Ford vehicles being launched in Europe in 2014.
Ford U.S.
Ford U.S. sales totaled 254,084 vehicles in May, up 3 percent from a year ago. Retail sales set several model records with 174,889 vehicles sold. This is an increase of 6% year-over-year.
The continued success in China, Europe and the U.S. will be a significant factor in the company's success. The bottom line is Ford is making all the right moves to expedite future growth which bodes well for the stock.
Compelling Fundamental Statistics
Ford has solid fundamentals and appears undervalued currently. The highlights are as follows.
Fortress Balance Sheet
After years of diligent work, the company has obtained a fortress balance sheet. Further, the company's debt is now investment grade.
Healthy Dividend
Ford pays a dividend with a yield of 3%. Couple this with the fact the stock has significant upside potential and you have a recipe for outstanding returns. Dividend paying stocks have historically outperformed non-dividend paying stocks over time.
Strong EPS growth
The earnings per share of a company, or EPS, is conceivably the most important statistic to understand before investing in a company's stock. Each time you consider starting a position in a stock, you should prudently scrutinize its earnings information. The reason earnings are so vital to investors is because they tell you about the relative profitability of a company. Ford's EPS are expected to grow by 23.90% this year and 44.28% in 2015. These are very positive expected growth rates.
Solid Return on Equity
Return on equity, ROE, measures the rate of return on the ownership interest (shareholders' equity) of the common stock owners. It measures a firm's efficiency at generating profits from every unit of shareholders' equity. ROE shows how well a company uses investment funds to generate earnings growth. ROEs between 15% and 20% are considered desirable. Ford's is currently 28.2%.
P/E and PEG ratios indicate significant value may exist
Ford's forward P/E ratio of 8.73 is among the lowest of any stock in the Auto and Truck Manufacturers industry.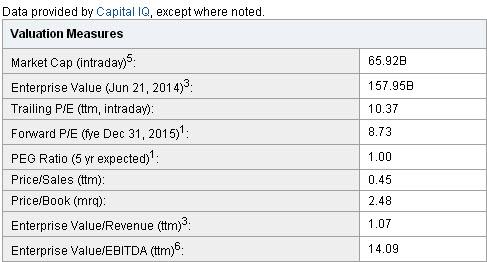 (Source: Yahoo.com)
Couple this fact with the stock's PEG ratio of 1 and you can make a solid case the stock is highly undervalued at present.
Technicals status of affairs is solid
The stock broke through long-term resistance at the 200 and 50 day SMAs and fulfillment of the golden cross looms.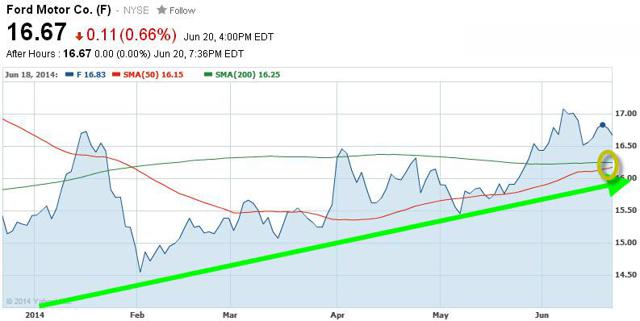 (Source: Yahoo.com)
These are very positive developments from a technical perspective. I can tell you from years of personal experience, the fulfillment of the golden cross is a very good indicator a rally is underway. Moreover, the steady and stable upward trend in the stock since the beginning of the year is a telltale sign of accumulation.
The Bad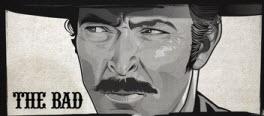 Geopolitical Risks
Geopolitical uncertainty remains on the rise with major conflicts occurring simultaneously in Eastern Europe and the Middle East.
Central bank distortion
The global recovery is in its infancy and has required constant nurturing from central bankers in the form of quantitative easing and dovish interest rate policies. The U.S. Fed can't keep rates at zero forever. The green shoots we see now may turn brown once the support from the central banks begins to recede.
The market is at all-time highs
The market is currently sitting at all-time highs just as we enter the summer doldrums. Any hiccup in projected GDP growth or other macroeconomic indicators could bring the markets tumbling down in an instant. Ford will be dragged down with the rest of the market if this occurs.
Vehicle financing resembles housing debacle subprime financing
Vehicle financing terms have drawn criticism recently. Most new auto loans are based on 5 to 7 year payment terms now instead of the traditional 3 to 4 years. This could lead to people hanging on to their cars longer due to the fact they will be underwater until year 5.
Ford's Global market share is stagnant
Ford's global market share is stagnant at best. Ford is doing well in China, yet is a late entrant. Pollution issues in China may cause car sales to suffer going forward.
South American Sales Slump
Ford expects a noteworthy loss from South America in the second quarter of 2014. The negative expectation is due to low sales and a change in the exchange rate of Venezuela's currency.
Ford Europe sales slipped in May
Ford's European sales have increased by 7.7 percent from January to May, compared to the same period last year, yet May sales were down by 1%. Ford states this was largely due to higher than usual CD car volume in May last year.
The Ugly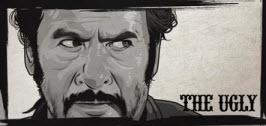 The stock is at a major inflection point right now. The stock appears to be setting up for a major break out to the upside. Nonetheless, not everyone is convinced. Many are taking a show me stance on regarding the upcoming product launch. Ford is taking a huge risk by launching the most new models in the company's history and investing billions in new auto manufacturing capability in support of the launch. If it works, the stick will stand to gain enormously. On the other hand, if it doesn't, and the plan backfires, Ford could be in huge trouble in very short order. There are no certainties in life. The plan is not without risk. A number of issues may arise that could make the product launch extremely ugly for the automaker as well. Below is a short list of what I perceive as the major risk factors.
A decline in industry sales volume, particularly in the United States or Europe, due to financial crisis, recession, geopolitical events, or other factors.
A decline in Ford's market share or failure to achieve growth.
Lower-than-anticipated market acceptance of Ford's new or existing products.
A market shift away from sales of larger, more profitable vehicles beyond Ford's current planning assumption, particularly in the United States.
An increase in or continued volatility of fuel prices, or reduced availability of fuel.
Continued or increased price competition resulting from industry excess capacity, currency fluctuations, or other factors.
Fluctuations in foreign currency exchange rates, commodity prices, and interest rates.
Adverse effects resulting from economic, geopolitical, or other events.
The Truth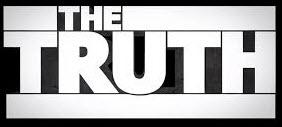 Ford has been on the comeback trail for quite some time. I believe this trend will continue and Ford will be successful. The historic launch bodes well for increased revenues and wider margins in 2015 as ramp up costs begin to dissipate. Moreover, Ford is increasing capacity in China due to unbridled demand. Ford China recently crossed the 100,000 monthly sales mark for the first time ever. Ford offers an excellent opportunity for capital appreciation due to the enormous product launch and manufacturing capacity expansion. I am bullish on Ford for the long term. The risk-reward equation looks favorable presently. A substantial margin of safety and a 3% dividend yield tips the scales in favor of going long. Nevertheless, the risk associated with the vastness of the product launch and manufacturing capacity increase is nothing to scoff at. For this reason, I suggest layering in to a position over time to reduce risk. The market is at all-time highs as we enter the summer doldrums.
Disclosure: The author has no positions in any stocks mentioned, and no plans to initiate any positions within the next 72 hours. The author wrote this article themselves, and it expresses their own opinions. The author is not receiving compensation for it (other than from Seeking Alpha). The author has no business relationship with any company whose stock is mentioned in this article.