One of the key tenets of my investing style is to seek out companies that produce consistent, predictable revenues. The predictability of the revenue stream allows for a more accurate modeling of predicted future profits, which will invariably lead to future total overall gains. In the article below, I will discuss the long-term profit potential for Coca-Cola Enterprises (NYSE:CCE). CCE, in my view, offers a more compelling investment opportunity than Coca-Cola (NYSE:KO), while maintaining exposure to the iconic brand.
CCE is based in Europe, with its two largest markets being the United Kingdom and France. CCE became an exclusive bottler in Europe after selling its U.S. divisions back to KO in 2010. As we can see from the chart below, the sale of its U.S. division led to a sharp drop in revenues. Since the sale of its U.S. division, management has been focused on providing total overall return to shareholders via a combination of share repurchases and dividend hikes.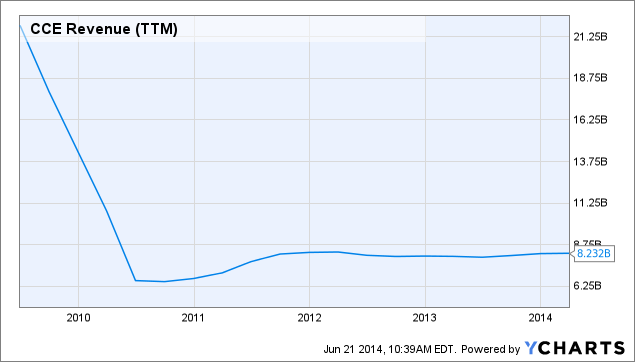 CCE Revenue (TTM) data by YCharts
Share repurchases can add real value to long-term shareholders if the company is repurchasing shares in a consistent manner. Management can further enhance the effect of share repurchases by buying shares when the equity is out of favor. As we can see from the chart below, management's consistent repurchase of shares has led to a greater than 20% reduction in shares outstanding. The significant reduction in share count has provided a nice tailwind for the shares, adding to its ascent. As we can see from the charts below, an investor in CCE shares would have virtually doubled his money since January of 2011.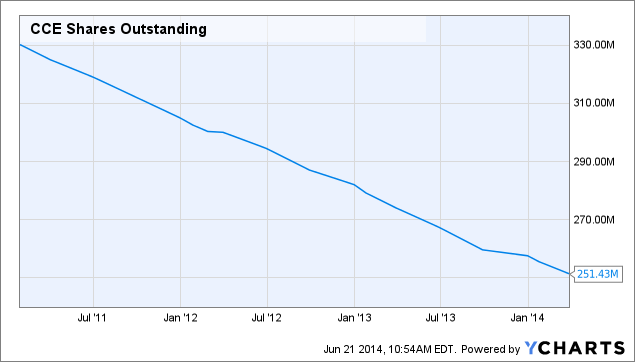 CCE Shares Outstanding data by YCharts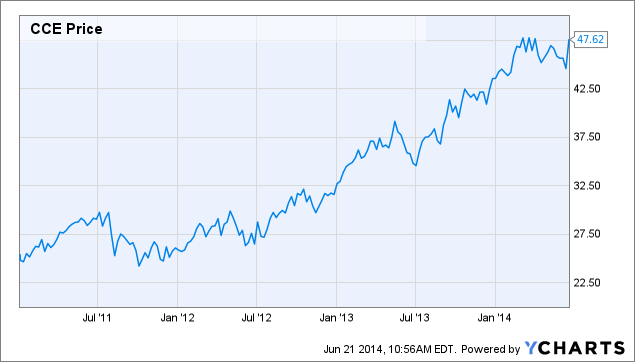 Capital returns is only one portion of the CCE story. The second part which will certainly delight the dividend growth investing crowd is CCE dividend growth. The dividend has grown from 51 cents per share in 2011, to its current annual rate of $1 per share for 2014. A virtual doubling of the dividend in three years is certain to delight most people, and it has certainly thrilled me.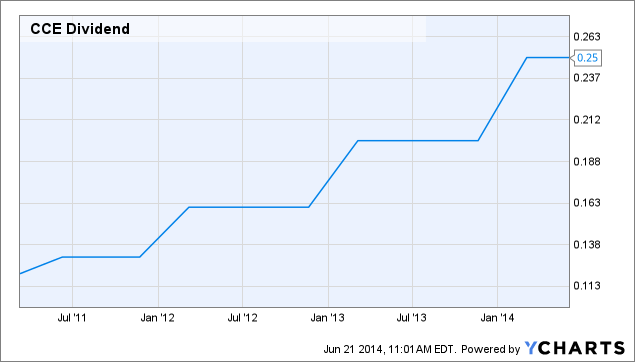 CCE Dividend data by YCharts
CCE recently reaffirmed its guidance for 2014, expecting earnings to come in at $2.45 to $2.50 per share. Management plans to use its considerable cash flow to repurchase an additional $800 million in shares this year. The dividend was boosted in the fourth quarter of 2013; I expect to see a similar announcement in the fourth quarter of this year as well. With the shares of CCE trading right at its highs for the year, option activity has noticeably picked up. The following blurb courtesy of OptionsXpress neatly sums up the increase in speculation concerning the shares.
Implied volatility in the options on Coca Cola Enterprises is moving higher for a second day. 37,000 calls and 210 puts traded on the beverage company yesterday and the higher volumes helped drive IV in the options up 23 percent to 19. The stock is up 84 cents to $46.78 today and another 10,000 calls and 200 puts traded in CCE, which is 5X the daily average. Jul 48 calls, Jan 50, and Jan 50 calls are the most actives Thursday. A second day of higher call volume is driving up 3-day implied volatility in the options on the stock up another 31 percent to 25.
It seems that speculators are wagering that CCE's impressive run will continue. Seeking Alpha sent out a notification on Friday linking the following article stating that speculation is heating up that CCE may be acquired by KO in a cost saving move. There was a noticeable pickup in the $55 strike options expiring in January. I actually believe the shares can trade at this level within the next twelve months as management continues to execute its strategic plan of repurchasing shares and growing its top line revenue.
I would like to compare CCE's stellar performance to that of KO's performance over the same time frame. KO has managed to grow its revenue and raise its dividend as anticipated. As we can see from the charts below, the total overall gains are far less than an investor would have received by owning one of KO's bottlers.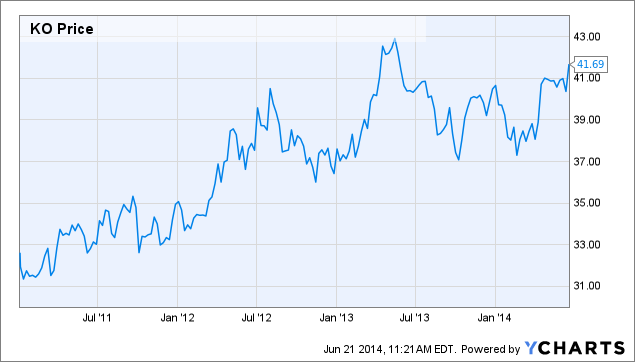 KO Dividend data by YCharts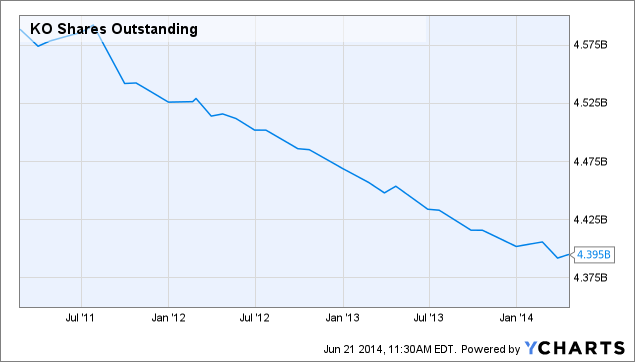 KO Shares Outstanding data by YCharts
KO has underperformed the overall market since 2011, as revenue growth has slowed. Part of this underperformance, in my view, can be traced to a less-than-stellar repurchase of shares outstanding in this iconic company. A significant reduction in share count will boost overall return for long-term shareholders, yet KO has failed to embrace this model. I am a fan of the product, yet not a fan of the equity as I have detailed in the past. I value the predictability and the value of the brand and want to have exposure to this wonderful brand in my portfolio. I believe a continued investment in CCE will allow me to not only have exposure to KO, it will also allow me to generate above-average annual gains, allowing me to fatten my bottom line. I would like to thank you for reading, and I look forward to your comments.
Disclosure: The author is long CCE. The author wrote this article themselves, and it expresses their own opinions. The author is not receiving compensation for it (other than from Seeking Alpha). The author has no business relationship with any company whose stock is mentioned in this article.
Disclaimer: Investors are always reminded that before making any investment, you should do your own proper due diligence on any name directly or indirectly mentioned in this article. Investors should also consider seeking advice from a broker or financial adviser before making any investment decisions. Any material in this article should be considered general information, and not relied on as a formal investment recommendation.