Precious metals surged after a series of bullish developments that, on Thursday, sent the gold price to its biggest daily gain in nine months and resulted in an even bigger move up for silver. Higher than expected inflation reported on Tuesday combined with unexpectedly dovish comments by Federal Reserve Chair Janet Yellen on Wednesday spurred the jump in metal prices the following day.
Safe haven demand stemming from developments in Iraq and the threat of even higher oil prices were also factors, as was the unwinding of many commodity financing deals in China that prompted a surge of precious metals buying in the futures markets. The Thursday surge triggered stop-loss orders by those short gold and silver and this exacerbated the move, something that is usually only seen when prices are falling.
For the week, spot gold jumped 3.0 percent, from $1,275.90 an ounce to $1,314.70, and silver surged 6.2 percent, from $19.67 an ounce to $20.88. Gold is now up 9.1 percent for the year, still 32 percent below its record high of over $1,920 an ounce almost three years ago, and silver has staged a dramatic turn-around (it was in negative territory for the year as recently as two weeks ago), now 7.4 percent higher in 2014 but still 58 percent below its all-time high near $50 an ounce reached in early 2011.
Gold fell slightly on Friday as short-term traders took profits and both equity markets and the U.S. dollar rebounded (precious metals often move opposite of these two), however, gold and silver still ended with their best week since mid-February. This sets the stage for the completion of a head-and-shoulders bottom as noted here a week ago and as detailed in this item by veteran trader Peter Brandt. A move back to $1,400 is said to be needed to complete the right shoulder and last week's rally was a big step toward that goal.
It was stunning to watch the gold price rocket past prior resistance at around $1,280 an ounce and then take out the psychologically important level of $1,300. A Mining.com report indicated that, by mid-afternoon on Thursday, futures trading volume was double the recent daily average as three "big chunks" of futures orders were placed in just 15 minutes. This serves as a much needed reminder that precious metals can make big moves up, as well as down, the former coming when bullish traders with big bets catch bearish traders off guard and trigger stop loss orders as prices rise.
Tuesday's inflation report showing a spring surge in consumer prices and Fed Chair Janet Yellen's characterization of this development as just "noise" were key factors behind many traders switching from gold bears to gold bulls for reasons that are made clear in the chart below.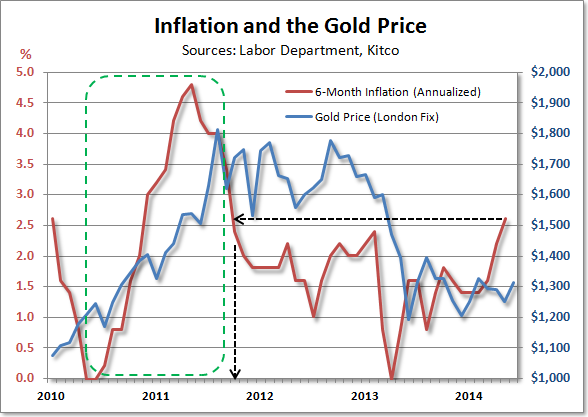 Annualized six-month price increases are now at their highest level since late-2011, back when inflation and the gold price had both been rising steadily for more than a year. With the prospect of even higher inflation in the period ahead due to rising oil prices, Yellen may have blundered for the second time in as many press conferences with her "noise" comment.
Recall that the new Fed Chief moved markets in the opposite direction earlier this year when she suggested interest rates may begin to rise as soon as six months following the end of the Fed's "tapering" of their bond buying this fall.
If anything, markets expected a hawkish Fed view last week, but the combination of lower growth forecasts and little concern over rising inflation or asset bubbles caught traders off-guard.
To be sure, developments in Iraq will be a key factor in whether the gold rally continues.
Oil prices reached a nine-month high last week and traders have bid prices up for the entire natural resource sector with commodity indexes now at or near double-digit gains for the year.
Importantly, the recent surge in consumer prices has been very broad-based, not just driven by rising energy prices as was the case back in 2011. Indeed, Yellen's characterization of the recent rise in inflation as "noise" may come back to haunt her.
While futures traders in the U.S. are back on board with gold and silver (at least over the last few days), long-term investors in the West are not yet convinced, that is, if metal ETF inflows and outflows are any indication. Holdings for the SPDR Gold Shares ETF (NYSEARCA:GLD) dropped by 4.5 tonnes last week and the iShares Silver Trust ETF (NYSEARCA:SLV) holdings fell by nearly 100 tonnes to 10,266 tonnes, neither of these moves indicating any signs of renewed interest amongst retail or institutional investors who continue to be captivated by almost daily record highs for U.S. stock indexes.
Investors in the West returning to precious metals as evidenced by metal ETF inflows will be a necessary development if the current rally is to continue, but it's worth noting that surging gold and silver mining stocks have recently been on a tear, serving to confirm the rise in the metals.
Demand in Asia continues to be weak and seasonal factors won't have a positive impact for another month or two. Last week, Reuters reported that gold was trading at par or at a discount in China and gold premiums in India fell to a four-month low. Since these are the world's biggest and most cost-sensitive buyers (and they don't buy much in June anyway), don't look for conditions to improve there in the weeks ahead.
Interestingly, Xin Song, president of the China Gold Association, said last week that demand for gold bar investments has been soft due to "concerns about further weakness in the gold price." On overall gold demand this year, he went on to say "for sure it will be over 1,000 tonnes."
The winding down of commodity financing deals in China was said to have contributed to last week's big move higher for the metals, though no one will ever know how big an impact they had. The recent gold rally began early this month, just as an investigation into fraudulent financing deals in the port city of Qingdao was getting underway, and Chinese speculators are believed to have been selling physical gold and buying back futures market hedges in order to close out these loans.
This would help to explain the currently low premiums or discounts for physical gold in China that come at the same time that prices are being pushed higher in the "paper" market.
Elsewhere in the world, it was reported that the Bank of England saw some 755 tonnes of gold held in allocated accounts exit its vaults last year, most of it headed East to satisfy record demand from China and number two gold buyer India. This serves as further confirmation that bullion has been flowing in record volume from the West to the East, a development that, as noted here repeatedly over the last year, will someday matter.
Given last week's inflation report and the Fed's lack of concern about it, this day may now come sooner, rather than later.
Disclosure: The author has no positions in any stocks mentioned, and no plans to initiate any positions within the next 72 hours. The author wrote this article themselves, and it expresses their own opinions. The author is not receiving compensation for it (other than from Seeking Alpha). The author has no business relationship with any company whose stock is mentioned in this article.
Additional disclosure: I own gold and silver coins and bars.