Executive Summary
Valero (NYSE:VLO) is a company lead by CEO Joe Gorder that specializes in the manufacturing and marketing of transportation fuels, as well as petrochemical and power products. Assets of the company include sixteen petroleum refineries, 11 ethanol plants and a 50-megawatt wind farm. You can see over 6,800 retail and branded wholesale outlets throughout the United States, United Kingdom, and the Caribbean under the Valero, Diamond Shamrock, Shamrock, Ultramar, Beacon, and Texaco brands. The company is based in San Antonio, Texas.
Is Valero A Buy?
Valero may very well be a buy at current levels. From a valuation standpoint, Valero is fairly impressive. Valero currently trades at a price-to-earnings multiple of around 10.4 versus an industry average of 15.2 and a S&P average of 18.3. The PEG ratio, which stands for price-to-earnings ratio in relation to growth, is 1.6, according to Morningstar. Valero also pays a decent dividend of around 1.7%, but this is below the industry average of 2.6%. Although this PEG ratio isn't outstanding, it is reasonable, and other factors for Valero seem attractive.
The oil and gas refining and marketing industry has been able to outperform the market as a whole over the long term. Looking at both the past 5 and the past 10-year charts, Valero has outperformed the S&P considerably, and the oil and gas refining industry as a whole has done even better. Below is a chart courtesy of Morningstar showing the long-term performance comparison.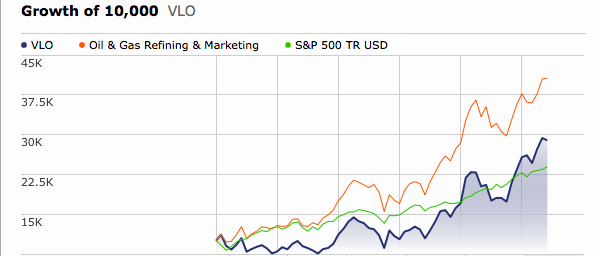 Potential Downsides
As with any company, there are some potential downsides in Valero stock. Unfortunately, some of the risk factors that Valero faces are out of the control of the company. An example would be that Valero could potentially be negatively affected by refining margins, which historically have been quite volatile. The margin between refined product prices and the prices for crude oil can be affected by the ability of imports, production levels, as well as potential government intervention. When investing in the energy sector, this risk is inevitable.
The other major risk factor with a company like Valero are the compliance issues that correspond with new environmental laws and government regulation. With the climate change debate continuing in the political space, new laws regarding environmental intervention continue to pop up, and that could potentially have an adverse effect on Valero and its industry. The possibility for fines and violations as well as potential liability concerns could affect Valero for prior actions. In addition, any new regulations could potentially restrict operations going forward. It is important to note, however, that this risk is also industry-wide and has had little effect on the performance in recent years, despite all the concerns.
Time To Pull The Trigger?
Whether or not it is time to pull the trigger on Valero depends on several factors. The industry has some potential downsides, but also has considerable upside potential ahead and has historically outperformed. It seems unlikely that any type of environmental regulation will significantly hurt the industry any time soon, as the majority of cars on the road today still run on traditional engines. When you factor in the international nature of this business, you can understand the long-term time horizon before oil and gas use will be phased out. Dollar cost averaging into the stock and buying on pullbacks could be a good strategy for gaining some exposure to the shares. If you are looking for a play in this space, but with less risk and similar return potential, it may be worth checking out an energy ETF. Over the long term, the energy ETFs have actually outperformed Valero historically. The ETFs also tend to pay a comparable dividend yield to Valero. Two of my favorites Energy ETFs are Vanguard's (NYSEARCA:VDE) and Fidelity's (NYSEARCA:FENY).
Disclaimer: This article is given for informational purposes only and is not to be construed as investment advice. Contact your investment professional and do your own due diligence before investing.
Disclosure: The author has no positions in any stocks mentioned, and no plans to initiate any positions within the next 72 hours. The author wrote this article themselves, and it expresses their own opinions. The author is not receiving compensation for it (other than from Seeking Alpha). The author has no business relationship with any company whose stock is mentioned in this article.