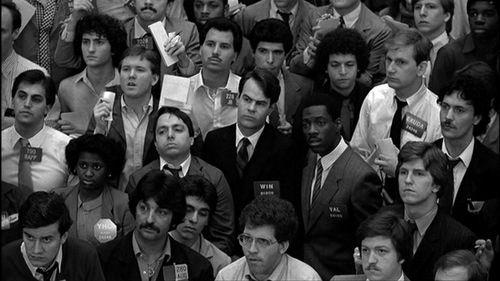 I have always wanted to take a position in BlackBerry Limited (NASDAQ:BBRY); the company seemed to be reaching an inflection point pursuant to operating losses, and appeared poised to turn things around. Besides, BlackBerry makes the only smartphone I have ever owned, and it has never let me down. When a mini earthquake hit New York a few years ago, BlackBerry was the only cell phone network that did not shut down. After reading several positive outlooks about the company I decided to take the plunge.
Here is what Selerity Research had this to say on BlackBerry:
BlackBerry remains in a turnaround phase and plans to become cash flow positive within the next ten months. Their low-priced touch screen Z3 phone has mixed reviews but is generally seen as a success ... If earnings meet expectations and the company can produce revenue close to $1 billion or even closer to the expectations' mid-point of $1.073 billion, the quarter would probably be viewed favorably.
Meanwhile, Quoth the Raven thought the company could reach $10 on neutral or positive earnings for the quarter:
$10 represents about 25% upside from the current price ... The company has a price/book ratio of 1.14, according to Yahoo Finance. The company sports a market cap of around $4 billion, which is roughly a year's worth the revenue for BBRY if they can get things churning again ... With $4.87 in cash per share and a book value of nearly $7/share, you can see how affordably priced this company is. Cash flow neutral/positive would be a massive deal.
My own due diligence revealed the following on BlackBerry:
Gross Margin Expanding Despite Declining Revenue
BlackBerry has been retrenching, yet the company has been able to increase its gross margin amid revenue declines. Gross margin improved to 57% for the quarter-ended March 31, 2014, versus margins of -106% and -24% for the previous two quarters, respectively. The improving margins may be attributed to the change in the company's revenue mix from hardware to software and services. By focusing less on hardware where the company has struggled, BlackBerry may be spending less on money-losing products. Below is the trend in revenue by segment.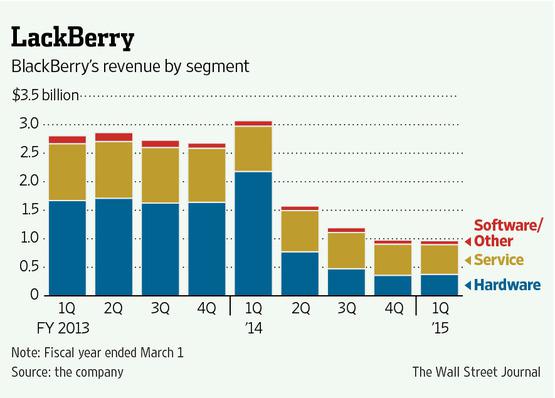 Operating Expense Cuts Being Realized
BlackBerry's core operating costs - research & development and SG&A - have declined in lockstep with revenue declines. For quarter-end March 31, 2015, R&D and SG&A as a percentage of sales were 25% and 36%, respectively. That is in line with previous quarters despite precipitous declines in revenue. I found this to be extremely impressive. The company's cost-cutting program - CORE - may have had something to do with the company's improving operating costs.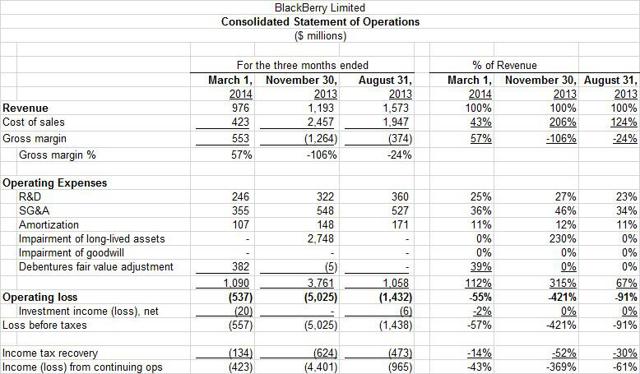 Click to enlarge
Cash on Hand of $1.6B
BlackBerry had positive cash flow from operations of $405 million through the first nine months of the previous fiscal year. For the full year, the company experienced cash outflows from operations of $159 million. The last quarter of the previous fiscal year was negatively impacted by a change in working capital - a cash out flow of $751 million.
In December 2013 the company entered into a five year arrangement with Foxconn to manage and develop certain BlackBerry devices, and manage inventory for the company. This agreement may have caused the sudden outflow in working capital. BlackBerry ended March 2014 with $1.6 billion in cash on hand, enough to sustain the company for the near future.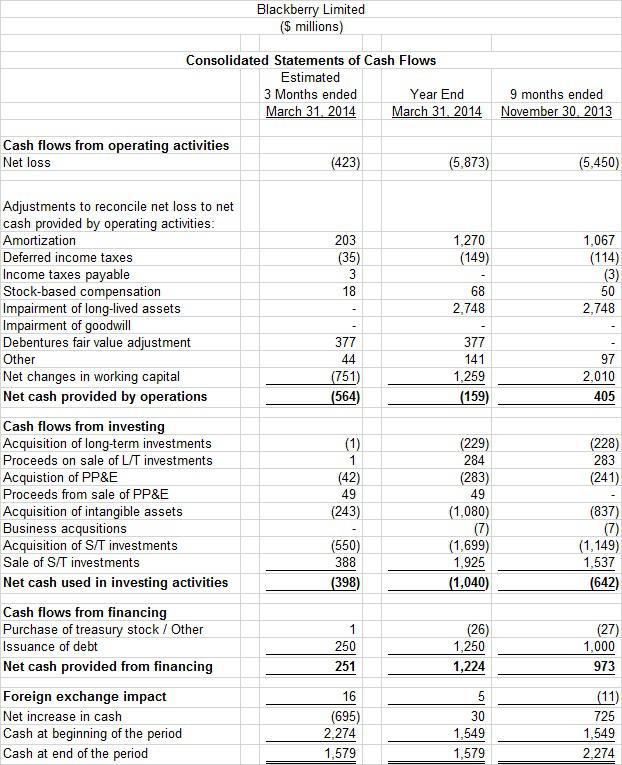 Long/Short Position
Through call/put options, I took out a long/short position on BlackBerry the day before Thursday's earnings were to be announced. With over 69 million shares sold short, I expected a report showing a small loss or that the company was at break-even would send the stock higher. If by a miracle, BlackBerry reported a small profit the stock could soar past $10/share (it closed at $8.29/share the previous day).
I bought the June 27 call options and June 27 put options. I acquired the same amount of each option. I bought the calls to capture the upside of a positive earnings report, and bought put options "just in case." Nonetheless, I expected the stock to move wildly in either direction after the earnings report.
Sold Calls
After BlackBerry announced a 23 million profit or 0.04/share, I expected the stock to soar. The shares tested $10/share - rising to about $9.50 (up nearly 15%) in early morning trading. I held on for a while, expecting $10, maybe $11 per share. There was huge volume from short covering, as I expected. However, the stock never got back to its previous high in early morning trading. I sold the calls with a 220% return.
Held The Puts
The puts were practically worthless so I held on to them. Including the losses on the puts, my total return on the trade was approximately 70%. I now own the puts for free. BlackBerry closed at $9.09/share (up nearly 10%). Given a market cap close to $5 billion, I rate the stock a "hold." If the shares continue to gap down, I may be able to make by some of my losses on the puts and increase my overall return.
Conclusion
The profit from my call options outweighed the losses from my puts, generating a 70% return on my trade; I expected much more given the short covering, but why be greedy? The turnaround for BlackBerry is in process. I rate BlackBerry a hold for now and expect to go long on any pull back in the shares.
Disclosure: The author is short BBRY. The author wrote this article themselves, and it expresses their own opinions. The author is not receiving compensation for it (other than from Seeking Alpha). The author has no business relationship with any company whose stock is mentioned in this article.
Additional disclosure: I hold puts on BlackBerry from my previous long/short position.