At this point, with Amazon.com (NASDAQ:AMZN) having launched a tremendously expensive smartphone, the question beckons: How price-sensitive are Amazon.com's customers?
It turns out we have some kind of clue as to how much. When Apple (NASDAQ:AAPL) renews its products, say the iPhone, the newer, more expensive, higher spec'd, product is the biggest seller. There's an "upgrade cycle" at work, and although some people go for the discounted former flagships, most -- more than half -- spring for the latest and greatest, meaning, the most expensive.
Indeed, if anything, analysts and the market at large show some surprise and concern when the latest and greatest does not sell overwhelmingly more. For instance, Having launched the iPhone 5S, there was some concern that the iPhone 4S was still selling 10 million units, or roughly 25% of the iPhones sold. At that point, however, the iPhone 5S was out-selling the 4S nearly 3 to 1.
So what about Amazon.com?
Amazon.com is crazy secretive with its sales numbers, so we won't have a breakdown of sales between the latest and greatest Kindle Fire HDX and the older sibling, the Kindle Fire HD. But we do know a bit about the relative sales. The reason we do is because we track Amazon.com's best sellers' list frequently.
And what have we seen happening? Basically, the Kindle Fire HD, at $139, is always outselling (higher ranked in the list) the Kindle Fire HDX at $229 (when not discounted, it frequently retails for $199). Today is no different. If we peek at the list, there you have the Kindle Fire HD in 4th position, whereas the Kindle Fire HDX is down in 12th (red highlight is mine):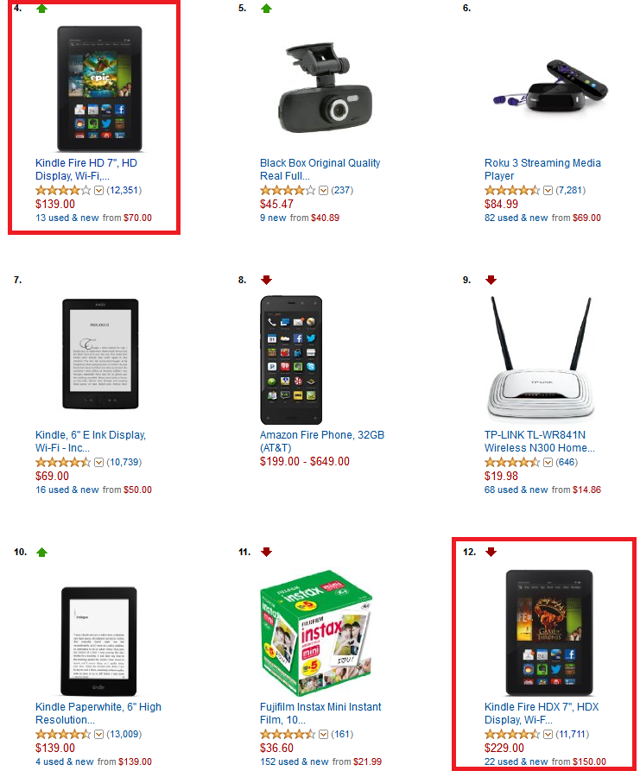 This is massively worrisome for Amazon.com. The Kindle Fire HD is near-obsolete. It carries an all-but-obsolete dual-core CPU that's not even made any more, much lower display resolution, just 8Gb in storage capacity, no Mayday, no camera … yet, for just $90 less, sometimes just $60 less, it outsells Amazon.com's latest and greatest, with a Full HD display, a powerful Snapdragon 800 CPU, Mayday and double the storage. This represents mind-boggling price sensitivity for the Amazon.com customer.
And it doesn't bode well when, for the first time, Amazon.com is trying to sell a device at high-end prices -- its Fire Phone. Indeed, for the first time, Amazon.com is trying so even while not providing the device with high-end specs. Keep in mind that the Kindle Fire HDX is selling poorly even while having specs that are actually high-end for its segment, contrary to the Fire Phone.
So the answer is…
The answer is that the Amazon.com customer is massively price-sensitive. Even more sensitive than one would expect, given the way its latest generation products fail to sell more than its older generation, crippled*, products, just because these cost $90 less. Were the same to happen to Apple, all hell would break loose. As it stands, this is the first article you'll see calling out this particular phenomenon.
Meanwhile, due to this price sensitivity, the Fire Phone is already struggling. While it climbed as high as 4th place in the best sellers' list right after opening for pre-orders, now it's already falling quickly to 7-8th place just a few days later. It will be extraordinarily hard to sell this massively overpriced smartphone to an audience that for $90 passes on the latest tablet to buy last year's model.
While the Fire Phone would be extraordinarily profitable if sold in volume, it will probably fail in selling to such an extent that its positive profitability impact won't be felt, or will even work in reverse.
* I say "crippled" because the present Kindle Fire HD has had features removed when compared to last year's Kindle Fire HD.
Disclosure: The author is short AMZN. The author wrote this article themselves, and it expresses their own opinions. The author is not receiving compensation for it (other than from Seeking Alpha). The author has no business relationship with any company whose stock is mentioned in this article.