Johnson & Johnson (NYSE:JNJ) has been a terrific buy and hold stock for decades. While I believe JNJ will be a good investment for the long-term, I also believe that JNJ is currently overvalued and is not a good buy right now.
Valuation
Based on a number of key metrics, JNJ is trading at high valuations relative to historic norms. One of the primary reasons why JNJ is trading at high valuations relative to historic norms is the low interest rate environment. JNJ's dividend yield of 2.66% is attractive for income investors considering the extremely low interest rates on bonds. However, aggressive buying in JNJ has pushed the stock to overvalued territory. Given this, it is difficult to see how JNJ could make a big move higher from here.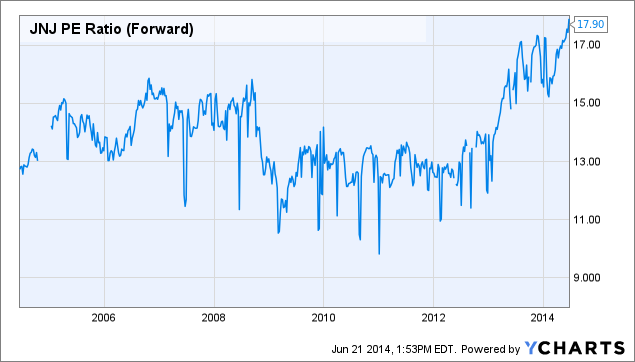 JNJ PE Ratio (Forward) data by YCharts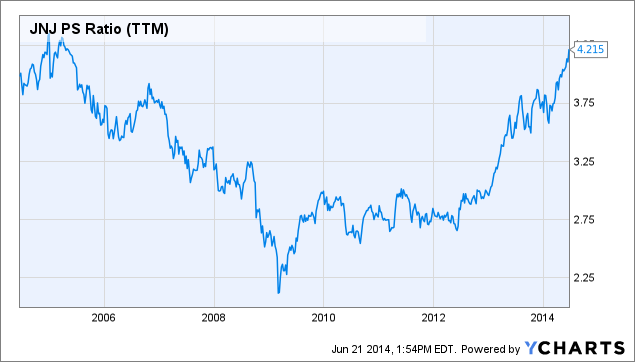 JNJ PS Ratio (TTM) data by YCharts
Lose-Lose Situation
I believe JNJ is currently a lose-lose situation. If the economy continues to improve and the markets remain strong I expect institutional investors to sell JNJ and buy more cyclical companies such as industrial companies. In other words, JNJ will become a source of funds if the economy improves. On the other hand, if the markets move lower from here I think JNJ is vulnerable due to its high valuation. JNJ will be sold along with the rest of the market due to its high valuation. Perhaps the only news that could send JNJ shares significantly higher from here would be some form of a corporate restructuring which might unlock value for shareholders.
Alternative Ideas
JNJ is a terrific company but the stock is simply too expensive right now. Instead of buying JNJ, long-term investors looking to buy a quality company at a reasonable valuation should consider Verizon (NYSE:VZ), Wal-Mart (NYSE:WMT), or IBM (NYSE:IBM). I recently discussed why I am bullish on IBM and I continue to stick by my view. Verizon and Wal-Mart are similar to JNJ because they are considered defensive stocks that can do well even if the economy is weak. However, the critical difference right now between JNJ and Wal-Mart & Verizon is valuation. As shown by the chart below, both Verizon & Wal-Mart are trading far from the high end of their valuation range. Both stocks could make sharp move higher on multiple expansion. At the same time, if the markets move lower I doubt that these two stocks would have much downside because of their valuation. It is interesting to note that famed value investor Warren Buffett has recently been buying both Wal-Mart & Verizon at current levels. Buffett also holds a large position in IBM.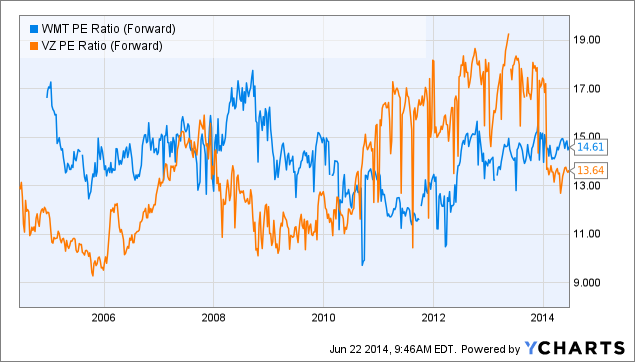 WMT PE Ratio (Forward) data by YCharts
Conclusion
JNJ is a wonderful company with a bright future. However, the stock is currently overvalued. In my view, JNJ would become buyable if the stock falls back to a PE of under 15. JNJ earns about $5.25 per year so this means that, based on current earnings, JNJ shares would need to fall to around $90 for me to consider them attractive. Alternatively, JNJ shares could also become attractive if they remain around current levels for a considerable amount of time while earnings grow. Investors seeking high quality investments at a better price should consider Verizon, Wal-Mart, or IBM.
Disclosure: The author has no positions in any stocks mentioned, and no plans to initiate any positions within the next 72 hours. The author wrote this article themselves, and it expresses their own opinions. The author is not receiving compensation for it (other than from Seeking Alpha). The author has no business relationship with any company whose stock is mentioned in this article.