We have shared past opinions on Seeking Alpha about a diverse group of companies. Two of the companies we exposed have either been sued by the SEC for fraud or effectively delisted (AutoChina and Telestone), while Voxeljet has declined more than 75% since our submission and Tangoe has declined 30%. We believe Stonegate Mortgage (NYSE:SGM) investors will suffer significant losses as many of the issues we identify play out over the next year. We have well-researched reservations about the viability of its business model. Further, we have identified inconsistencies and alterations to its adjusted earnings definitions and tables that overstate pro-forma results. As a result of our research, which is thoroughly documented herein, we believe Stonegate has misrepresented its pro-forma reporting, potentially violated SEC guidelines on pro-forma reporting (as supported in a later section), while misleading investors and analysts.
In this report, we expose numerous similarities between Stonegate's model and management team, and the infamous business practices so prevalent during the subprime mortgage meltdown. We detail Stonegate management's links to some of the most abusive mortgage companies from the past decade, as well as the peculiar role the CEO's wife has played at the company. We clearly illustrate how management has used "ramp-up" expenses and other large add backs to keep disappointing results from looking even worse - including altering the treatment quarter-to-quarter of the marks on its mortgage pipeline. We also analyze the aggressive marks Stonegate has used on its "prized" MSR asset, which includes a capitalization rate that is 32% higher than ten leading mortgage companies. The associated non-cash capitalized servicing rights have constituted over 85% of revenue and over 100% of earnings since Stonegate came public. Finally, we discuss why Stonegate will run out of money and need to pursue a debt or equity raise imminently. Taken together, it is our opinion that all investors, including those in the 144 round and IPO, have every right to feel they were provided with an inflated story and projections.
Assuming we are correct, there is significant downside to the stock as investors realize the bull thesis is not only apocryphal and based on conflicted (and at least to-date inaccurate) research, but may also warrant regulatory scrutiny. We believe the stock is worth $9.50 per share in a best case scenario, which assumes Stonegate maintains access to capital and is not a casualty of another shake-out in the mortgage market.
We have unsuccessfully attempted to reach the company via the IR submission channel. Should management or IR respond to our concerns and questions, we will happily update our submission.
[Author's comment - Stonegate filed an 8K on 6/16/14, with no associated press release, disclosing its President submitted his resignation on 6/10/14. While likely a coincidence, we do not think it is unreasonable to ask if his resignation was related to the detailed concerns we have raised. He owned 611,542 shares according to the 3/28/14 proxy.]
Raising Money on Unreasonable Earnings Estimates
Stonegate Mortgage is a wholesale funded mortgage company founded in 2005. Since the company's inception, equity and convertible preferred stock have been the primary sources of funding. In May 2013, Stonegate issued nearly 6.4 million shares in a private 144 offering at $18 per share, raising $115 million of gross proceeds. We believe the underwriter of that deal (based on the guidance of management) was using earnings estimates of $3.50 and $6.00 per share for 2014 and 2015, which incidentally approximated consensus estimates in the original underwriter initiations post-IPO. Despite the unfavorable compression of mortgage rates and agency MBS, Stonegate management and underwriters pitched the inflated estimates to sell 7.1 million shares in an IPO at $16 per share on October 10, 2013. As we demonstrate throughout this report, Stonegate management and its sell-side supporters have been wildly aggressive with earnings estimates, presumably due to Stonegate's persistent need to access the capital markets. For example, the first set of consensus earnings estimates published in 2013 were for Stonegate to earn $3.35 in 2014. Since coming public, Stonegate has missed every quarterly estimate and 2014 analyst earnings estimates have collapsed from $3.35 to $1.65 in just eight months.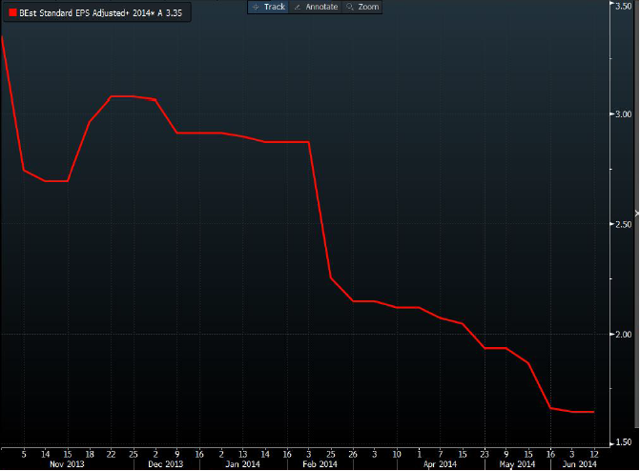 Source - Bloomberg 2014 consensus earnings estimates for SGM
We believe the consistent string of disappointments will continue in coming quarters. Outside of a late 2012 Federal Reserve induced bubble for gain-on-sale mortgage margins, Stonegate has done little to demonstrate a sustainable business model capable of producing consistent earnings. Part of the explanation for the company's collapsing earnings resides in its generic business model. Stonegate management has attempted to present its business model as "differentiated." The facts would seem to unequivocally refute management's claim of differentiation. The mortgage business has low barriers to entry and is broadly a commoditized business. Stonegate is predominantly a correspondent mortgage originator, which is the most commoditized segment of the mortgage market. As such, the correspondent mortgage business has historically only generated reasonable profits in the sweet spot of a mortgage cycle. In 2013, Stonegate originated $8.7 billion of mortgages, of which 93% were produced in the low margin correspondent and wholesale channels. The remaining 7% of originations were derived from the growing, yet expensive, retail origination channel. In staunch contrast to management's assertions that their model is differentiated, it appears unlikely that a generic correspondent lender can produce consistent earnings over the next few years without a dramatic change in market conditions or the competitive landscape.
We would argue Stonegate's focus on the "mini-correspondent" makes it more risky than a typical correspondent lender. Stonegate is willing to acquire mortgages (and assume the resulting liabilities) from tiny mortgage originators who have little capital on their balance sheets. As a result, any meaningful level of putback requests could leave these "mom and pop" originators impaired, potentially leaving Stonegate on the hook for the losses. We have been unable to get a satisfactory answer to the potential liability Stonegate could have under this putback scenario. In addition, the stand-alone, publicly traded wholesale funded mortgage model lives a delicate existence. As we discuss later, Stonegate's model requires constant access to funding, which can of course explain why management and its banking analysts have been so aggressive (and errant) setting earnings expectations.
The combination of a competitive market and the incessant need to raise capital should result in a high risk, low multiple valuation for Stonegate's shares. We believe management's questionable history and signs of repeated execution failures should further compress Stonegate's multiple.
Management's Past Failures and Value Destruction
The mortgage market faced extremely challenging conditions following the housing crisis of the last decade. Only a handful of mortgage companies emerged unscathed, while almost all mortgage executives were left battered and bruised. However, it would appear Stonegate has assembled a management team with a unique level of value destruction at their prior firms. Stonegate's failure to hit Wall Street forecasts, and the company-specific risk in the event of a mortgage shake-out, make management's history with failed mortgage companies quite relevant in assessing investment merits. The table below illustrates how Stonegate's executives seem to have had really bad luck, as so many executives came from companies that destroyed immense value. Management's past mortgage experience is littered with some of the most prominent failed mortgage companies, such as Novastar, IndyMac, Irwin, Saxon, and Homeward. While the concentration of failure is a concern, what is more alarming about the list of management's failed predecessor companies is that many were considered to have used highly questionable underwriting, unscrupulous business practices, and even highly controversial accounting (here, here and here… among many other sources).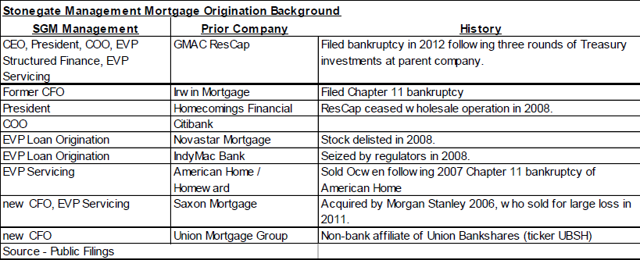 Most of Stonegate's senior executive team worked together at GMAC Residential Capital ("ResCap"), which was previously known as GMAC and currently named Ally Financial (NYSE:ALLY). ResCap was the residential mortgage origination and servicing arm of GMAC. According to USA Today, ResCap was "aggressive in the subprime market, making risky loans without serious reviews of borrowers' credit histories… [and] took huge losses when the housing bubble burst." As a result of its reckless model, ResCap took an unfathomable $22 billion of mortgage write-downs from 2009 to 2011. Largely because of ResCap, the U.S. Treasury Department provided three rounds of tax payer funded bailouts to GMAC totaling $17.3 billion. Despite this unprecedented level of U.S. Government support, Ally still placed its ResCap subsidiary into Chapter 11 bankruptcy in May 2012. By December 2013, ResCap was liquidated through the Chapter 11 process. Given management's history, we find it ironic Stonegate has included the following statement in every SEC registration statement:
"We believe that our relentless focus on quality and consistency in applying underwriting policies and procedures has enabled us to have no significant repurchase demands, thus minimizing our risk profile and differentiating us from much of our competition."
One other peculiarity worth noting about management is the prominent role Barbara Cutillo has played at Stonegate since its founding. Mrs. Cutillo, who happens to be the wife of CEO/Co-Founder Jim Cutillo, served as the CFO of Stonegate from 2005 until April 2013, just prior to the 144 offering. The 144 investors have suffered significant losses as the company raised equity on the heels of highly inflated earnings estimates. After nearly eight years as CFO, Stonegate filings disclose Mrs. Cutillo transitioned in April 2013 to Chief Administrative Officer, carrying the seemingly multi-person responsibilities of "strategic planning, legal, human resources, and corporate communications." To be fair Mrs. Cutillo may be perfectly qualified to wear the CFO hat, as well as the legal, HR, biz dev, and corporate communication hats - all at the same time. Qualified or not, we have always had an elevated degree of skepticism towards husband-and-wife management teams, which was reinforced recently by the prominent Puda Coal husband/wife fraud. It is not however unprecedented for a mortgage company to be run by a husband and wife team. Golden West Financial was famously run for many years by Herb and Marion Sandler before selling to Wachovia near the peak of the housing market. While a boon for the Sandlers, it was Golden West's pick-a-pay option arm/liar loans that were widely credited with causing the liquidity induced "run on the bank" at Wachovia a few years later.
Stonegate's "Questionable" Earnings Adjustments Warrant SEC Scrutiny (2-Part)
We believe Stonegate has utilized highly questionable pro-forma earnings adjustments. Given the SEC's renewed focus on manipulative pro-forma earnings adjustments, we believe Stonegate could make a perfect example for SEC enforcement. SEC Reg. G requires companies reporting non-GAAP results provide an "equal or greater prominence" to the GAAP equivalent items. One clear guideline of Reg G is what companies can and cannot exclude from non-GAAP results as well as the expected consistency of pro-forma reporting. The SEC posted a "Pro Forma Financial Information: Tips for investors" page on its website reiterating its commitment to its release: "Cautionary Advice Regarding the Use of 'Pro Forma' Financial Information in Earnings Releases." In that release, the SEC stated (our emphasis):
We are concerned that "pro forma" financial information, under certain circumstances, can mislead investors if it obscures GAAP results. Because this "pro forma" financial information by its very nature departs from traditional accounting conventions, its use can make it hard for investors to compare an issuer's financial information with other reporting periods and with other companies. For these reasons, we believe it is appropriate to alert public companies … [that] the antifraud provisions of the federal securities laws apply to a company issuing "pro forma" financial information. Because "pro forma" information is information derived by selective editing of financial information compiled in accordance with GAAP, companies should be particularly mindful of their obligation not to mislead investors when using this information.
A legal brief issued by respected law firm Dorsey & Whitney following the SEC release highlighted areas of concern regarding corporate abuse of pro-forma reporting, including:
pro-forma results that are "inadequately explained, [or] actually used to impede comparability or when it omits material elements in an effort to obscure or recast GAAP results"
"tricky assumptions used to turn a GAAP loss into a pro forma profit, including an assumption that a proposed transaction has actually occurred or that a cost or charge has not."
It is our opinion that Stonegate has abused pro-forma reporting guidelines, and in the process, violated the exact antifraud provisions referenced by the SEC above. In the following paragraphs, we provide several examples that seem to directly violate the SEC guidelines surrounding: 1) adjustments that make it difficult to compare financial information with other reporting periods 2) adjustments that make it difficult to compare company financial information with other companies 3) the obligation not to mislead investors 4) the inadequate explanation of adjustments and 5) "tricky" assumptions used to turn GAAP losses into pro forma profit.
1)"Ramp-Up" Expense Exclusions Appear Overstated and Are Not "One-time" Items
We believe Stonegate has been providing "adjusted earnings" that misrepresent the economics of its business. After reviewing hundreds of earnings reports from various mortgage companies, we have found very few examples of companies that take the extreme liberties of Stonegate when presenting "pro-forma" adjustments.
A key facet of Stonegate's business strategy has been to acquire mortgage originators that were immediately accretive to earnings. Since mid-2012, Stonegate has closed four acquisitions, which totaled approximately $11 million of combined upfront payments.
On November 29, 2013, Stonegate closed the acquisition of Nationstar Mortgage's (NYSE:NSM) wholesale and retail mortgage assets. Stonegate paid just $500,000 for the assets. On the other side of the transaction was a specialty servicer that had rapidly grown its origination capabilities in order to manufacture MSRs to offset the run-off of its existing servicing portfolio. It is notable that NSM decided to sell this business "after we started to see the environment change," implying it was unlikely to be a profitable business. Stonegate management disclosed they had hired "88 mortgage advisors at the end of April in our retail channel due to the acquisition." On its Q4'13 earnings call, Stonegate management stated they "inherited 30 of their account executives and 3 of their sales executives" on the wholesale side of the business. Based on management's succinct public disclosures, in connection with the Nationstar acquisition, Stonegate added a total of 121 employees.
We believe management has been extremely liberal in excluding expenses from the Nationstar Mortgage acquisition. Management has "dutifully" highlighted, and excluded, the expenses (comp and non-comp) tied to those 121 employees as "ramp-up" expenses from its pro-forma adjusted earnings. On the first quarter conference call, management stated that the ramp up expenses were specifically "salaries and guarantees" associated with the Nationstar acquisition "as well as the expenses associated with the operation resources and facilities." Incredibly, Stonegate has "pro-forma-ed" out $14.8 million of "ramp-up" expenses from its adjusted earnings in the past two quarters. Based on rudimentary math, this pro-forma expense would represent around $122,300 per person over a four month period, or approximately $367,000 per employee on an annualized basis. The $14.8 million of "ramp-up" expenses management has excluded appears even more suspicious considering it represents in just four months nearly thirty times what Stonegate paid for the entire acquisition. Looking at the "ramp-up" expenses from another perspective also portrays how fishy the size of the exclusions appears. The $9.6 million of ramp-up expense in the first quarter of 2014 represented a shocking 20% of non-interest expense in the quarter. The impact of this exclusion alone was $0.37 per share, and optically swung Stonegate from reporting a loss to reporting a positive EPS number. But that obfuscates the most basic question of why exactly management is even excluding recurring, purportedly strategic expenses in the first place. Despite specific SEC guidelines, we were unable to find the mandatory details on the conference call or in SEC filings to justify such an unreasonable add back. This questionable add back appears to violate three issues the SEC has warned against: the obligation not to mislead investors, the inadequate explanation of adjustments, and "tricky" assumptions used to turn GAAP losses into pro forma profit.
2) Altering Adjusted Earnings Presentations/Definition
It is our opinion that Stonegate management has deceptively changed its definition of adjusted earnings multiple times to disguise large earnings disappointments. Camouflaged in the intricacies of gain on sale accounting, Stonegate management has deftly (and perhaps not so legally) toggled its treatment of mortgage pipeline marks in adjusted earnings tables - excluding marks when they detract from earnings, while including marks when they represent a benefit. We have been unable to find another company with a mortgage operation that has excluded, and then subsequently included these adjustments. To-date we are unaware of any investors or sell-side analyst that has caught management's chicanery.
In the screen shots below, taken directly from Stonegate earnings releases, we clearly show how management has altered the treatment of its mortgage pipeline adjustments in its adjusted earnings tables. The first screen shot below is the adjusted earnings presentation from Stonegate's third quarter 2013 earnings press release issued November 14, 2013. This was the first time Stonegate changed the definition of adjusted earnings to exclude "non-cash fair value adjustment for mortgage loans pipeline" from adjusted earnings. This $7.577 million adjustment was a $0.43 benefit to earnings when compared to the GAAP statements. Without this exclusion, Stonegate would have reported both an Adjusted and GAAP loss per share. Management's definition change escaped scrutiny, as not one sell-side analyst highlighted the definition change to exclusions (the first line of Credit Suisse's earnings review note implied the quarter beat expectations: "Stonegate reported adjusted EPS of $0.35, $0.03 ahead of our estimate").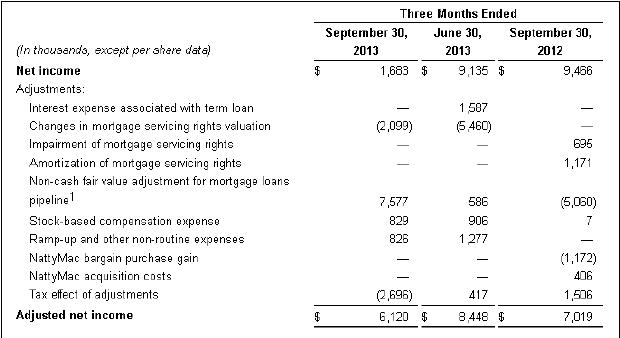 Source - 11/14/13 earnings release
The following quarter (Q4'13), the "fair value adjustment for mortgage loans pipeline" was a $6.1 million positive gain, which compared very favorably to the $7.577 million loss from the third quarter (which as a reminder was excluded during Q3'13). With the positive gain from Q4'13, Stonegate's management changed its definition of adjusted earnings again. As can be seen in the screen shot directly below (from its Q4'13 earnings release on 2/24/14), Stonegate no longer excluded the impact from the fair value adjustment of its mortgage pipeline. In fact, the previous quarter's $7.577 million exclusion was completely absent from the Q3'13 column, despite it comprising more than 100% of adjusted net income in the original Q3'13 earnings report. Under the new adjusted earnings definition, Stonegate reported $0.11 adjusted EPS. While this was another earnings miss compared to the $0.29 estimate, the company would have again lost money had the adjusted earnings presentations remained consistent from Q3'13 to Q4'13. As can be seen in the table below from Q4'13, there is no longer an exclusion applied to September 30, 2013 (Q3'13), or any quarter for that matter.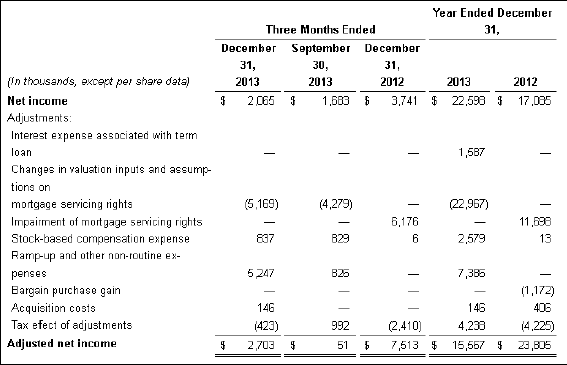 Source - 2/24/14 earnings release
To summarize management's deception, the adjusted earnings presentation screen shots below compare Stonegate's treatment of the exact same quarter (September 30, 2013 or "Q3'13") in its Q3'13 and Q4'13 earnings releases side-by-side. On the left is Stonegate's treatment (exclusion) of the fair value adjustment of its mortgage pipeline from its Q3'13 earnings report (clearly excluding the $7.577 million loss when Q3'13 was reported). As a result, Q3'13 "adjusted diluted EPS" was $0.35 per share, which Credit Suisse referenced in its note cited above. Directly to the right is Stonegate's treatment of the exact same Q3'13 quarter, several months later, from its Q4'13 earnings press release dated February 24, 2014 (as well as its pre-release on 1/13/14). The two tables display the exact same quarter, but clearly reveal how management changed the definition of adjusted earnings. The third quarter 2013 earnings, which originally showed adjusted earnings of $0.35 when first reported, now shows $0.00 in order to overstate the current quarter reported (Q4'13) with the altered definition. How different would Credit Suisse, other sell-side analysts, and all investors have viewed Q3'13 if that less favorable definition had been applied?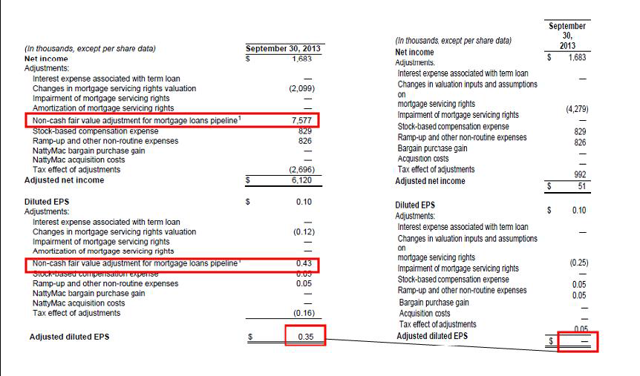 Source - Left Table = Sept quarter from Q3'13 earnings release; Right Table = Sept quarter from Q4'13 earnings release
It is our opinion that the changes unequivocally violate ALL FIVE issues about which the SEC has warned reporting issuers: adjustments that make it difficult to compare financial information with other reporting periods, adjustments that make it difficult to compare financial information with other companies, the obligation not to mislead investors, inadequate explanation of adjustments, and "tricky" assumptions used to turn GAAP losses into pro forma profit.
Another Large Miss Coming - Assuming No Questionable Adjustments
We are hopeful the recent replacement of Stonegate's CFO will result in less manipulation of its "adjusted" earnings definition. A hopeful first step was taken on the Q1'14 earnings call, when management committed to stop adding back questionable "ramp-up" expenses going forward. As stated above, most of the "ramp-up" expenses related to compensation for mortgage originators who have yet to produce significant revenue. As a result, these expenses are not going away. Current estimates for the second quarter seem to assume non-MSR mark revenue will be up significantly quarter-over-quarter, with only a minor increase in expenses. This optimistic assumption makes it appear analysts may have ignored (or failed to read) Stonegate's management comments in the 10Q that "variable expense" will be up in the second quarter. If Stonegate does not change course, and actually includes the ongoing expenses from Nationstar, expenses in the second quarter should be up significantly. This leads us to believe Stonegate's streak of earnings disappointment will continue.
If we make the generous assumptions that originations increase by 50% quarter-over-quarter, GOS margins increase (despite reported pressure on margins), fee revenue increases, and also assume only 90 basis points of incremental costs on the additional $1.2 billion volume, we estimate Stonegate will still miss the Q2'14 sell-side estimate of $0.30 by over 40%.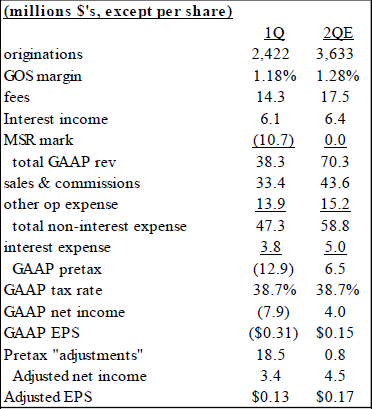 Our assumptions are on the generous side, as every $100 million of incremental retail volumes should carry at least $1 million of incremental commissions alone. Origination volumes industry-wide have also been surprisingly weak in the second quarter. For example, Wells Fargo, the largest mortgage company in the U.S., who originates one out of every five mortgages, recently expressed disappointment over second quarter volumes. On May 28, 2014, Wells Fargo's CFO said that the second quarter residential mortgage loan pipeline was "not as strong" as expected and volumes were "softer than what we thought even a month, month-and-a-half ago." This weakness is also verified by the weekly MBA application index. The MBA purchase application index has been down 16% year-over-year in the second quarter, and is even running down 5% on average compared to 2012 levels. Despite lower interest rates, the MBA refinance index is down 68% in Q2'14 year-over-year. Management and its sell-side analysts are incentivized to perpetually endorse out-period estimates that make the company appear cheaper than it would be on more realistic estimates. This unbridled optimism can also be seen in the steep ramp in 2H'14 and 2015 estimates that appear to have no support or justification based on the existing trends of the business.
MSRs Potentially Attractive Asset, But Appear Aggressively Marked
Given historically low interest rates, the potential exists for mortgage servicing rights to hold significant value if/when mortgage rates rise. We believe the value of MSRs can offset some of the operational challenges Stonegate's mortgage origination segment faces. Valuing an MSR requires a variety of assumptions, which can be seen in the various approaches taken across the mortgage industry. Consistent with our belief Stonegate management comes from a culture of aggressive accounting and loose financial presentation, they appear to be marking their MSR at a significant premium to other industry averages.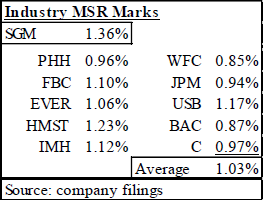 At March 30, 2014, Stonegate management valued their MSR at 1.36% (fair value of the MSR to unpaid principal balance of mortgages serviced). As can be seen in the table above, Stonegate's MSR valuation is more than 32% higher than the average of ten leading mortgage originators. We would guess management would argue the low interest rate and low delinquency rate (as a newer book) supports a higher valuation. However, a 32% premium seems completely unjustifiable. As a result of the aggressive MSR mark, Stonegate's book value appears overstated. For example, if Stonegate marked its MSR at 1.10% of UPB, which would still represent a reasonable premium to the average industry mark, Stonegate's tangible book value would take an 8% hit to $10.40 per share.
Non-Cash Revenue and Earnings = Extremely Capital Intensive Business
One of the primary reasons Stonegate's MSR appears so aggressive is because of the high capitalized servicing gains that get recognized as revenue and earnings when a mortgage is originated. As can be seen in the table below, capitalized servicing rights have accounted for more than 85% of revenue, and more than 100% of earnings over the past three quarters. Despite representing GAAP revenue and earnings, these servicing rights are non-cash and a significant source of capital intensity in Stonegate's business model.

Stonegate's model can be confusing, which allows for disingenuous and liberal public representations. On May 5, 2014 Stonegate's CEO stated his company was a "publicly traded company with no debt." We find this comment highly misleading. The fact is Stonegate operates in an extremely capital intensive business with a terribly strained cash flow profile. As the table below illustrates, Stonegate has generated significantly negative cash flow from operations in eight of the previous nine quarters, including nearly $200 million in its most recent quarter. Equally troubling, the negative cash flow from operations is accelerating. At March 31, 2014, Stonegate was carrying over $750 million in debt across its secured borrowings, repo and lines of credit facilities, up significantly from the $66 million outstanding at the end of December 2011. To suggest Stonegate is debt free is highly misleading.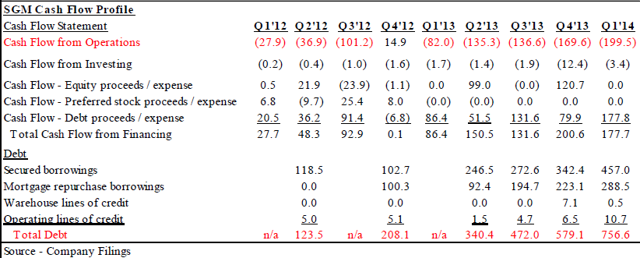 A wholesale funded mortgage business is a fragile and risky model that depends on constant access to third party repo and warehouse debt funding. Marginal changes in confidence can result in rapid deterioration of business stability. A long memory is not required to understand how precarious Stonegate's model can become with minor changes in confidence. Countrywide Financial, previously the largest wholesale funded mortgage company, nearly collapsed in 2008 when funding dried up. Bank of America (NYSE:BAC) bailed out Countrywide when it agreed to acquire the company in a deal many now consider the worst acquisition in U.S. banking history. PHH Corporation (NYSE:PHH), one of the few remaining wholesale funded publicly traded companies, nearly went bankrupt at the end of 2011 when it failed to close a debt financing (resulting in an extremely dilutive convertible bond issue).
Because of the fragile nature of the business model, Stonegate's management must always stay in the good graces of its partners. We believe this conflict could explain management's questionable reporting tactics and upbeat/optimistic tone on earnings calls and presentations. Maintaining the confidence of counterparties (and shareholders) is paramount to Stonegate's business model, which depends on third party funding.
We believe Stonegate will exhaust the proceeds raised from its IPO in the next few quarters, which seems likely to occur at the same time its lenders re-examine heightened exposure to Stonegate. Therefore, they will need debt or equity financing to continue originating mortgages. One alternative management may consider is selling MSRs in order to raise capital. However, we find this unlikely because any sale could generate material losses given the lofty valuation of the MSR. We believe the company could raise debt backed by its MSRs, but creditors would be taking on high credit risk given the fragility of Stonegate's business model. Stonegate's original plan consisted of accessing the high yield debt markets, but it is unclear if this market is available at a reasonable cost of capital. Should Stonegate complete an MSR financing, it will likely serve as nothing more than an interim step before a more significant equity raise occurs. Either way, we take issue with the spirit of Stonegate's assertion that it is debt free.
A perpetually unreasonable "E" distorts the "P/E"
Stonegate has appeared cheap on out-year estimates since it came public. As discussed above, there are significant conflicts that lead to management and sell-side bankers providing unreasonable outlooks. Despite estimates for 2014 and 2015 that have declined by approximately 50% over the last six months, we believe estimates are still way too high. Based on the overcapacity of the mortgage market, and gain on sale margins remaining extremely compressed for the foreseeable future, we believe Stonegate may struggle to earn $1.00 per share in 2015.
Stonegate is attempting to grow its higher margin retail origination business, which barely represents 10% of originations. While this story may sound promising, retail originations are very expensive, which can be seen in Stonegate's ballooning non-adjusted expenses the past two quarters. HomeStreet (NASDAQ:HMST) is an example of a well-run mortgage business that is nearly all retail. Despite its retail concentration, HomeStreet has struggled to maintain profitability in its mortgage segment due to the current environment. Stonegate's business plan was previously based on 20% of originations in retail, which would require them to either acquire more originators or shrink other segments of the business. Barring a massive acquisition, the majority of Stonegate's originations will come from the correspondent business for the foreseeable future. This correspondent channel remains hyper-competitive and will likely continue to struggle producing cash earnings. For example, on May 20, 2014, Wells Fargo management disclosed they were backing away from this segment as "other competitors [were] coming into the correspondence space with profit margins or compliance criteria that just don't make sense."
These competitors in correspondent are relatively new to the channel and are forecasting extremely low margins. For example, Walter Investment Management (NYSEMKT:WAC) guided margins to just 10 to 20 basis points. On May 8, 2014 NSM's management said their correspondent business was operating at "breakeven to slightly profitable" levels. Adding to the competitive landscape in Stonegate's primary channel, Redwood Trust (NYSE:RWT) has discussed its aspirations to grow in the correspondent channel. Redwood's management is widely respected in the mortgage industry, and they have guided to 25 basis points of gain on sale margin. For Stonegate, the best case scenario appears to be just 20% of its originations come from retail. The non-retail business representing the other 80% of originations should suffer from greater price competition. As such, it is hard to understand how Stonegate can generate meaningful profitability. In an apparent realization of the challenges Stonegate faces, Barclays (one of the biggest bulls), recently cut their 2015 earnings estimate by 44% to $3.31 per share. Despite the magnitude of the cut, the new estimate still appears to ignore gain on sale margin pressure discussed above in the correspondent channel. The Barclays estimate assumes gain on sale margins expand to 1.59% despite new competitors targeting margins 80% lower.
Given the extremely high and unachievable estimates, it would appear investors have been attracted to the seemingly low out-year P/E multiple. A recent Seeking Alpha article noted the cheap P/E on the stock, arguing, "Stonegate should earn $1.85 this year, $3.20 next year, and $5.70 in 2015 … is massively undervalued. Probably at least 100% undervalued, especially when you consider the multiple."
We respect this author's opinion, but this superficial view, namely Stonegate is cheap on forward analyst estimates, appears to represent the pervasive bull case. Based on our belief that 2015 estimates remain at least 67% too high (with serial estimate cuts to come), Stonegate is the prototypical value trap.
Stonegate is Worth Less than $10 Per Share
As we stated above, we believe a price-to-earnings multiple approach to valuing Stonegate has been highly misleading given unrealistic earnings expectations. When sell-side analysts finally reduce their numbers to more reasonable expectations, we expect Stonegate will still carry its low multiple, only with a much lower "E". Given the commodity-like, low barrier to entry, highly cyclical and capital intensive nature of the business model, wholesale funded mortgage companies have historically traded at very low multiples. For example, according to Bloomberg, PHH has traded at a median P/E multiple of 7.9x on its out-year earnings expectations over the last five years. Countrywide Financial also traded at a median multiple of 7.9x its out-year earnings during its last 10 years as a public company, while never trading for more than a month with a P/E multiple over 10x. If we apply a generous 10x multiple to our Stonegate expectations, we arrive at an expected stock price below $10.
With unreliable earnings estimates, a price-to-book approach to valuation is a more reasonable methodology for valuing Stonegate. Flagstar (NYSE:FBC), PHH, Provident (NASDAQ:PROV), and HomeStreet all have very large mortgage operations, more conservative MSR marks, more realistic earnings expectations, yet all trade at, or below, tangible book value. As a side note, trading at a discount to book value is justified because the low mortgage origination return expectations will likely result in a failure to earn the cost of capital. When Stonegate eventually trades at the same book value multiple as its four closer comps, the stock should settle out just above $10 per share. However, that still gives the company credit for its aggressively marked MSR. If we adjust Stonegate's MSRs to a more reasonable industry premium of 1.10% and apply a peer book value multiple, we arrive at a $9.50 per share target. Given its dismal execution as a public company, terrible cash flow profile, potential violations of pro-forma reporting, and pending equity raise, we see no reason Stonegate should trade in line with its peers. Further, there is nothing in Stonegate's model to suggest it does not become a victim of the mortgage shake-out. When all of these issues are considered, we would expect Stonegate to trade well below $9.50 per share.

Disclosure: The author is short SGM, WAC. The author wrote this article themselves, and it expresses their own opinions. The author is not receiving compensation for it. The author has no business relationship with any company whose stock is mentioned in this article.