With the market at a new all-time high, finding undervalued companies to invest in has become more difficult. The task becomes even more arduous for a value conscious, long-term investor such as myself. Luckily, I continue to find value in the retail industry which continues to underperform. The article below will detail my investing thesis for the dollar store industry. I will primarily focus on the two companies, Dollar Tree (NASDAQ:DLTR) and Dollar General (NYSE:DG), that are in my portfolio. I will briefly touch upon their main competitor Family Dollar (NYSE:FDO) as it battles Carl Icahn.
I view the dollar store industry as a defensive, counter cyclical industry that will add downside protection to a portfolio during rocky economic times. The dollar stores sell a wide assortment of general merchandise including food at a discount to what is typically seen at a grocery or mass market retailer such as Target (NYSE:TGT). When economic times become more difficult and resources become constrained, shoppers are willing to "trade down" and begin to frequent the dollar stores more often. This phenomenon is clearly seen in the table below detailing the sales and earnings generated by DLTR and FDO during the brutal recession beginning in 2008.
| | | | |
| --- | --- | --- | --- |
| Year 2007 | Revenue in Millions | EPS | Number of stores |
| DG | Not publicly traded | | |
| DLTR | 4242.6 | 0.70 | 3411 |
| FDO | 6983.6 | 1.62 | 6400 |
| | | | |
| --- | --- | --- | --- |
| Year 2008 | Revenue in Millions | EPS | Number of stores |
| DG | 10458 | 0.34 | 8362 |
| DLTR | 4644.9 | 0.84 | 3591 |
| FDO | 6983.6 | 1.66 | 6571 |
DLTR in my view is one of the best-run companies in retail. DLTR operates a chain of deep discount stores offering a wide assortment of merchandise for $1. The chain currently operates in 48 states in the U.S. and has begun to develop a small Canadian presence. DLTR has begun to branch out into a different segment of the dollar store realm by acquiring the Deal$ franchise. The Deal$ format allows for a higher price point above $1, which expands the realm of merchandise the company can delight its customers with. DLTR currently operates 214 Deal$ stores throughout the United States.
| | | | | | |
| --- | --- | --- | --- | --- | --- |
| Year | 2009 | 2010 | 2011 | 2012 | 2013 |
| Sales in Millions | 5231.2 | 5882.4 | 6630.5 | 7394.5 | 7840.3 |
| Earnings per shares | 1.19 | 1.55 | 2.02 | 2.52 | 2.72 |
| Number of stores | 3806 | 4101 | 4351 | 4671 | 4992 |
| Net Profit Margin | 6.1% | 6.8% | 7.4% | 7.9% | 7.6% |
| Shares Outstanding in millions | 262.57 | 246.79 | 231.16 | 224.58 | 208.13 |
The primary reason why I dubbed DLTR one of the best-run companies in retail revolves around its outstanding net profit margin. The mid 7% profit margin is exemplary considering most retailers struggle just to post a 4% net profit margin. Even more impressive is DLTR's ability to generate this high level of margin while constraining itself to merchandise it can profitably sell at the $1 price point. DLTR has managed to grow its store count by over 30% since 2009, which has fueled profits. Luckily for a current investor, management is forecasting an expansion of up to 7,000 stores in the U.S. by the end of the decade. The store expansion plan will lead to DLTR easily doubling its current earnings.
DLTR further aids its earnings per share growth with its consistent repurchase of shares on the open market. DLTR retired over 20% of its shares outstanding since 2009, which has greatly enhanced overall shareholder return. If an investor would have simply purchased a stake in DLTR at its highest price in 2009, the total overall return would have been greater than 200%. The total return is certainly acceptable, especially in this well-run low-risk retailer.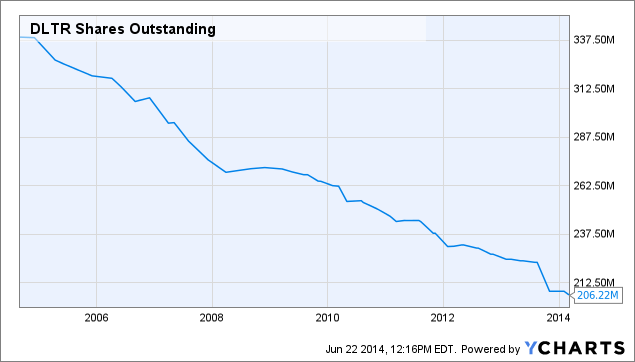 DLTR Shares Outstanding data by YCharts
The key question going forward is what a current investor can reasonably expect from a current investment in DLTR. DLTR currently trades at 1.3x sales, with earnings expected to come in at 3.63 for the fiscal year ending January of 2015. On an earnings multiple basis, the shares are trading for a forward P/E of roughly 15, a very fair price to pay. DLTR EV/EBITA checks in at 9.4, which I would consider fairly valued.
DLTR currently has $1 billion left on its accelerated share repurchase agreement. At its current market cap, the repurchasing of shares would eliminate roughly 9% of the shares outstanding. Management has an outstanding track record of delivering value through repurchases as the reduction in share count greatly aids the earnings power of DLTR. For every $100 million in shares repurchased, eps gains roughly a penny per share. I expect management to be opportunistic in repurchasing shares as the year progresses.
In my view, DLTR offers a compelling risk/reward relationship at its current share price. Management is very shareholder friendly, returning value to long-term shareholders via an aggressive share repurchase program. Not to be outdone, DLTR is still in expansion mode with a plan to increase its store count by a minimum of 30% by the end of the decade.
DG is a discount retailer operating 11,215 stores in 40 U.S. states. DG carries a wide assortment of goods, and unlike DLTR, it isn't constrained by the $1 price point. DG tends to operate out of the same playbook that DLTR uses, by judiciously increasing its store count while using its free cash flow to reduce the shares outstanding. As we can see from the chart below, since coming public again in 2009, the share count has been reduced by roughly 7%.
| | | | | | |
| --- | --- | --- | --- | --- | --- |
| Year | 2009 | 2010 | 2011 | 2012 | 2013 |
| Sales in Millions | 11796 | 13035 | 14807 | 16022 | 17504 |
| Earnings per Share | 1.04 | 1.82 | 2.22 | 2.85 | 3.17 |
| Number of stores | 8828 | 9372 | 9937 | 10506 | 11132 |
| Net Profit % | 2.9% | 4.8% | 5.2% | 5.9% | 5.9% |
| Shares Outstanding | 340.86 | 341.51 | 338.09 | 327.07 | 317.06 |
DG operates at a stellar net profit margin of 5.8%, yet this still pales in comparison with DLTR. The last statement is not meant to disparage DG, it is indicative of just how exemplary the profit performance of DLTR is. Earnings growth has skyrocketed since 2009, as net profit margin has virtually doubled. Management is doing an excellent job of managing both growth and net profitability.
When I originally took a position in this space, I choose DG over DLTR for two reasons. The primary reason revolved around CVS Caremark's (NYSE:CVS) shortsighted decision to discontinue selling tobacco products in their stores. Tobacco remains a way to increase foot traffic in most retail establishments. DG strives on making itself a convenient, easily accessible retailer with a relatively hassle-free shopping experience. DG operates under the everyday low price format [EDLP] similar to Wal-Mart (NYSE:WMT). The EDLP pricing allows value-conscious buyers a consistent product for their money, unlike what is traditionally seen in most supermarket retailers that operate under the high/low pricing scheme. By offering tobacco products in DG, I expect to see a modest increase in foot traffic due to the discontinuation of tobacco sales by CVS. The increase in foot traffic will in my view allow for more frequent ancillary purchases along with the tobacco products which will have a positive impact on sales.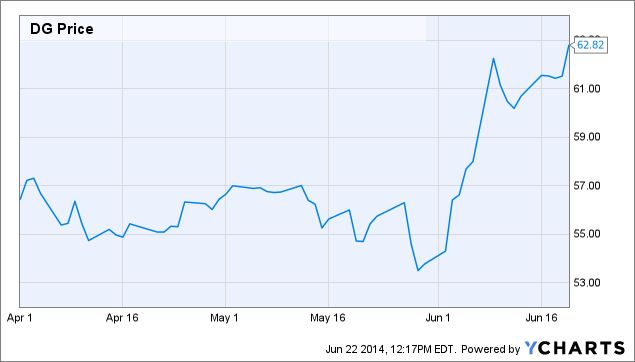 The second reason for my investment at that time revolved around valuation. DG has risen over 10% since my purchase due to the speculation it may be able to acquire its weakened competitor FDO. At its current trading price, DG trades at 15.3 times next year's estimated earnings of $4.10 per share. DG has roughly $800 million left on its share repurchase authorization, which would decrease the share count by roughly 4%. On an EV/EBITDA level, DG trades for 10x, a higher level than DLTR currently does. If I had to choose between DLTR and DG currently I would choose DLTR due to the far more attractive valuation. I will continue to hold both, as I see a far higher share price for both as the decade progresses.
FDO is in the news, especially with Carl Icahn disclosing his greater than 9% stake in the company. Management immediately initiated a poison pill to ward of the unwelcomed advances made by Mr. Icahn. FDO is a mess, as evidenced by the deterioration in its net profit margin over the last couple of years. FDO's net profit margin peaked in 2012 at 4.6% and has deteriorated to an estimated 3.5% this year. FDO's average price gap with DG is roughly 9%, which leads to its recent earnings miss. FDO adopted the high/low pricing scheme most supermarkets used, badly misunderstanding its core shoppers. FDO core shoppers are extremely price sensitive; by using an EDLP pricing scheme, you will better retain their loyalty.
FDO will now have to play catch-up, furiously working to reduce the price gap between it and DG. FDO will also have to contend with a restless share base while closing 370 unprofitable stores. In my view, at minimum, you will have a distracted management team that will be doing everything in its power to retain its position in the company. FDO has gone into "bunker mode" mentality; looking to live to fight another day instead of asking how to grow the company from here. For those looking for exposure to this subsection of retail, I would favor investing in DLTR and DG, with DLTR offering the best value currently. I would like to thank you for reading, and I look forward to your comments.
Disclaimer: The author is long DLTR, DG, TGT. The author wrote this article themselves, and it expresses their own opinions. The author is not receiving compensation for it (other than from Seeking Alpha). The author has no business relationship with any company whose stock is mentioned in this article.
Additional disclosure: Investors are always reminded that before making any investment, you should do your own proper due diligence on any name directly or indirectly mentioned in this article. Investors should also consider seeking advice from a broker or financial adviser before making any investment decisions. Any material in this article should be considered general information, and not relied on as a formal investment recommendation.