Now that we are a couple weeks removed from Intel's (NASDAQ:INTC) guidance raise, it is time to continue looking at what could be the next big announcement from Intel. For those that read my most recent Intel article where I stated a dividend raise should come soon, you probably know what I'm getting at. For those that missed it, here was the short statement clue:
Intel usually declares a dividend in the last ten days of July, so that could be a time to watch. Intel may also announce a larger capital return plan before then, and I'll cover that in my next article.
Intel could be close to finishing its buyback in the next twelve months, so I believe that a buyback announcement should accompany the next dividend raise. Whether that happens in July, late in 2014, or early 2015 is anyone's guess at the moment. However, we should be getting some major news on the buyback in the next 12 months, and today I'll discuss this item.
A new buyback program or current plan increase:
In the most recent 10-Q filing, Intel provided the following statement in regards to its share repurchase program:
We have an ongoing authorization, originally approved by our Board of Directors in October 2005, and subsequently amended, to repurchase up to $45 billion in shares of our common stock in open market or negotiated transactions. As of March 29, 2014, $2.6 billion remained available for repurchase under the existing repurchase authorization limit. During the first three months of 2014, we repurchased 22.1 million shares of common stock at a cost of $545 million (25.2 million shares of common stock at a cost of $533 million during the first three months of 2013). We have repurchased 4.4 billion shares at a cost of $92 billion since the program began in 1990.
Intel has been running the buyback in the $500 million to $550 million range per quarter since the start of 2013. The company spent a lot more on the buyback during 2011 and 2012, which really helped get the share count down. In the past year or so, the share count has actually started rising again since Intel's buyback is not currently powerful enough to get the share count down.
If Intel just maintains the current buyback rate per quarter, the buyback should be close to completion or even finished by the end of Q2 2015. More often than not, large companies that are flush with cash either raise the buyback or announce a new program before the current one ends. Just in the past year, we've seen buyback increases or new programs from Apple (NASDAQ:AAPL), Microsoft (NASDAQ:MSFT), and Cisco Systems (NASDAQ:CSCO). Tech companies have a lot of cash on their balance sheets, and they are putting it to use. I'll have more on those three names later on in this article.
A natural progression:
Intel hit a rough patch during the last couple of years, mostly thanks to the decline in the PC industry. Some investors may not realize it, but net income for the company dropped by $3.3 billion from 2011 to 2013. That's a huge drop, and it helps to explain why the dividend was not raised and the buyback was cut. Intel also went big on the buyback in 2011, so that was an outlier year. A return to normal was expected in 2012, but as results continued to decline into 2013, the buyback dipped even more.
Now though, results are starting to improve. Thanks to the guidance raise, analysts now expect revenues to rise by 3.5% this year and EPS to rise by 13 cents. A continued improvement is expected into 2015 for both revenues and earnings. The one problem is that Intel's operating cash flow in 2013 benefited from a bunch of items that were highly positive adjustments. Those items are expected to return to more normal levels in 2014, meaning operating cash flow could dip over last year's levels. Once net income really starts to push higher, that will help, which means 2015 could be a much better year for cash flow. Perhaps if things go well for Intel this year on both the PC and tablet front, the company may not need to spend as much on capex in 2015. That could help free cash flow even more.
So you could easily see a natural progression here. As results turned negative, the company slowed down the buyback and stopped raising the dividend. Now that revenues and earnings are starting to turn, cash flow should improve over time, and capital returns should increase. If the buyback speeds up in the next few quarters, Intel could finish up the current plan even quicker.
Dividend raises and buyback increases usually paired together:
I'll first start with Apple, because it has the largest capital return plan at the moment. In April, Apple increased its dividend by about 8% and raised the buyback by $30 billion. In 2013, the company announced a roughly 15% dividend raise combined with a $50 billion increase to its buyback. In both cases, Apple combined the dividend and buyback raises into one release. Apple is expected to return more than $130 billion by the end of 2015.
In September of 2013, we saw Microsoft with a similar announcement. Microsoft announced a roughly 22% increase to its dividend, and started a new $40 billion buyback plan. Microsoft's previous buyback plan was set to end at the end of that September, even though the company still had some money left on the program. The new program does not have an expiration date.
Cisco did things a little differently, splitting the dividend raise and buyback announcements. However, Cisco announced a raise to its buyback in November 2013, which was before the current plan had ended. Like Microsoft, Cisco did not provide a time frame for the increased buyback. While Cisco did not pair the two announcements together, the company in 2012 did make an announcement that it would return more than 50% of free cash flow to shareholders using the dividend and buyback.
In the cases of Microsoft and Cisco, both companies had just a few billion left on their current buybacks when a new plan or increase was announced. Apple announced an increase well before it was set to finish its current plan. Intel should be a couple of quarters away from finishing its plan, which is why an announcement could come any day now. Like Cisco and Microsoft, Intel doesn't need to put a time frame on the buyback. A new dollar value just needs to be set, and then shares can be bought back over time.
How Intel's capital return plan compares:
When looking at the four names discussed in this article, Intel's capital return plan is third or fourth best at the moment, depending on how you look at things. In terms of dividend yield, Intel currently slots in second place, as you can see in the chart below.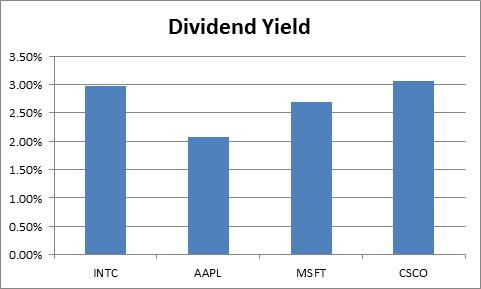 With Intel shares racing to new highs recently, it seems logical that the dividend yield has fallen. Cisco now has the highest yield, with Microsoft getting closer to Intel for second place. If Intel does not raise its dividend this year, Microsoft could jump into second place depending on its potential raise later this year. Of course, these dividend yields will mostly depend on stock prices, but another 20% raise from Microsoft could really shake things up here.
When it comes to buybacks, Intel sits in fourth place currently. Not only is Intel spending the least amount of money each quarter, but the buyback isn't even getting the share count down. Apple's buyback is the most powerful currently, with Cisco's in second place if you look at dollars versus market cap. All three names have taken on more debt in recent years to help with their buybacks, just like Intel did a few years ago. Intel probably won't take out debt just to speed up the buyback currently, not with shares over $30. If shares were in the low to mid $20s, it might have been a different story.
Final thoughts:
Intel recently upped its quarterly and yearly guidance, sending the stock back above $30. The next logical announcement should be a dividend raise, and perhaps a buyback increase or new buyback program will be announced at the same time. At the current pace of the buyback, Intel should finish its current program in about a year. If Intel does raise the dividend in July, a buyback announcement could accompany that raise. With most names announcing increases or new programs before the current one ends, it should only be a matter of time before Intel makes its next big announcement.
Disclosure: The author has no positions in any stocks mentioned, and no plans to initiate any positions within the next 72 hours. The author wrote this article themselves, and it expresses their own opinions. The author is not receiving compensation for it (other than from Seeking Alpha). The author has no business relationship with any company whose stock is mentioned in this article.
Additional disclosure: Investors are always reminded that before making any investment, you should do your own proper due diligence on any name directly or indirectly mentioned in this article. Investors should also consider seeking advice from a broker or financial adviser before making any investment decisions. Any material in this article should be considered general information, and not relied on as a formal investment recommendation.