Increased risk means greater potential return for tech stocks.
After a pullback in April and May, some of the best known tech stocks have roared back, posting impressive gains in June.
This increase has been on the back of overall increasing stock prices in the market, with the NASDAQ up almost 3% for the month.
NFLX: A Turnaround Story
Some of the best known success stories this month were in last month's stock picking trash bin. For example, Netflix (NASDAQ:NFLX) is up over 30% since the beginning of May, 21% of which has occurred over the past 4 weeks.
Tesla Motors (NASDAQ:TSLA) is another success story having gained almost 10% over the same time period.
Drivers Behind Small-Cap Increases
What is driving these increasing stock prices, particularly in the small cap and technology market?
It appears to be an apparent shift in the market's risk tolerance.
After the long hard winter felt throughout most of the US, the Commerce Department announced in late April that the economy grew an anemic 0.1% in the first quarter of the year, leading to speculation that the nascent economic recovery may be derailed and compressing market multiples.
With spring now in full swing, the positive vibes that the nation is feeling has been reflected in the market.
Brighter View From The Fed
On Wednesday, the Federal Reserve released its projections for the rest of the year and further reinforced the positive feelings by indicating that growth has rebounded in recent months and forecasting GDP growth to come in between 2.1% and 2.3% for the year.
The Fed also reaffirmed its highly accommodative stance on monetary policy in which it will keep the Federal Funds rate at between 0 and ¼ percent leaving investors looking for yield.
Risk Is Still…Risky
With a brighter economic future looking more certain, yet still with continued lower interest rates, the only way to increase overall return is to increase risk.
Small cap and tech stocks certainly fit that niche, but with every boom there is also reason for caution.
The S&P 500 is currently trading at almost 20x TTM earnings and the NASDAQ 100 at 22x trailing twelve months' earnings.
Historically, the S&P 500 P/E ratio has averaged about 15x TTM earnings. This alone is not a signal that the market is overvalued. Investors do not buy past earnings, they buy future earnings.
With continued improvement in the overall economy, and less uncertainty regarding interest rates, there is certainly room to make a case that this is the start of something bigger.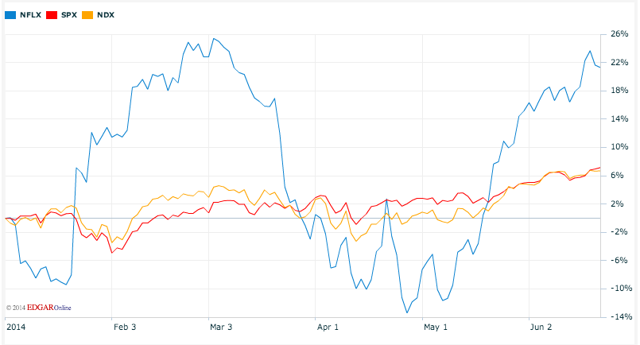 Click to enlarge
(Nasdaq.com)
Tech Giants Looking Strong
Tech firms appear to agree that things are looking up, with tech titan Intel (NASDAQ:INTC) recently announcing that its sales of business computers were stronger than expected and raising its revenue forecast for the year. It is also anticipated that after Apple (NASDAQ:AAPL) launches its smartwatch later in the year, it will significantly increase company revenue and continue to spur positive valuations in the technology sector.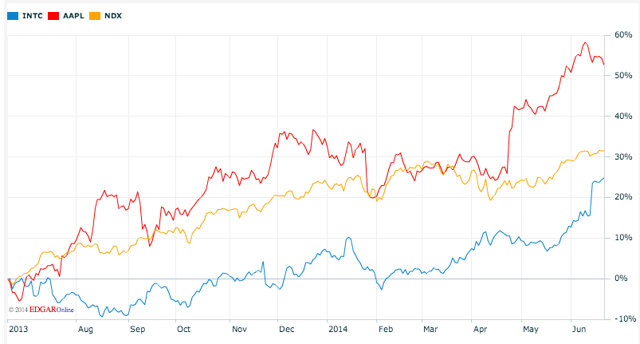 Click to enlarge
(Nasdaq.com)
Positive Environment For Netflix
In addition to this positive environment for NFLX stock, the company has seen fundamental improvements in its business as well.
With a recent announcement that Netflix will be releasing a late-night special, starring former E! comedian Chelsea Lately, NFLX appears to be taking positive steps toward competing for the top dog spot for TV screening, against Hulu, Apple, HBO and others.
NFLX has posted positive results, despite a tough environment in early 2014, beating estimates for earnings for the past six quarters, revenues estimates for the past five out of six quarters, and has raised guidance consistently the past three quarters.
With factors surrounding NFLX looking up, we are positive on the stock going forward in 2014.
We invite readers wishing to join the discussion on NFLX and other tech stocks to click the +FOLLOW button above the title of this article.
Disclosure: The author has no positions in any stocks mentioned, and no plans to initiate any positions within the next 72 hours. The author wrote this article themselves, and it expresses their own opinions. The author is not receiving compensation for it (other than from Seeking Alpha). The author has no business relationship with any company whose stock is mentioned in this article.