ConocoPhillips (NYSE:COP) has already hit my full-year 20% return forecast (see ConocoPhillips: 2013 Was A Very Good Year, 2014 Should See 20% Total Returns). Over the past 6 months, COP has even outperformed its downstream spin-off Phillips 66 (NYSE:PSX). That said, neither company comes close to matching the YTD performance of the MLP they spawned: Phillips 66 Partners (NYSE:PSXP). The MLP has doubled this year: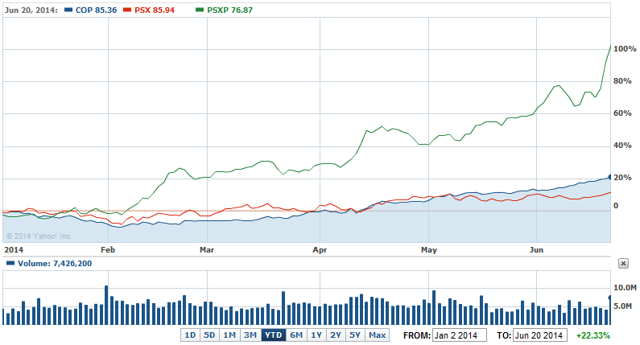 Click to enlarge
The YTD chart above shows COP is up about 22%, and PSX about half that (12%). These returns do not include dividends:
| | | |
| --- | --- | --- |
| | Dividend | Yield |
| ConocoPhillips | $2.76 | 3.30% |
| Phillips 66 | $2.00 | 2.40% |
| Phillips 66 Partners LP | $1.10 | 1.70% |
In my last article on ConocoPhillps (COP Continues To Outperform Exxon and Chevron), I specifically noted that although COP had been performing better than either of its old and bigger peers, it still trades at a discount in terms of P/E and dividend yield. It still does:
| | | | |
| --- | --- | --- | --- |
| | P/E | Div | Yield |
| ConocoPhillips | 11.6 | $2.76 | 3.3% |
| Chevron | 12.9 | $4.28 | 3.4% |
| Exxon Mobil | 14.1 | $2.76 | 2.7% |
However, I should note that Chevron (NYSE:CVX) boosted its dividend this year while COP has held steady (so far). That, combined with the run-up in ConocoPhillips' stock, COP now yields slightly less than CVX. Interestingly enough, COP and Exxon Mobil (NYSE:XOM) now pay the same yearly dividend. But of course XOM is down at the bottom of the peer group in terms of yield yet still trades at a premium valuation in terms of P/E.
Based on ttm EPS, if COP were to match CVX's P/E, it's a $94.80 stock. If it were to attain XOM's valuation, it would be a $103.60 stock. Yet valuation is only one reason COP has further to go: as Q1 clearly showed, the company is delivering better production and margin growth than either of its old rivals. In my opinion, COP's management and the company's operational performance since spinning off PSX shows that COP should trade at a premium to both Chevron and Exxon Mobil. In a year from now I suspect it will.
Christmas Comes Early
ConocoPhillips' total return was 26% in 2013 and I projected 20% total returns for full-year 2014, a "fait accompli" in the first 6 months of this year. The stock has practically gone straight up from $65 to $85. I thought COP would have a slow summer due to planned turnarounds during Q2 and Q3, and that stock performance would be back-end loaded. However, an excellent Q1, firming domestic natural gas prices, and the unrest in Iraq have worked in tandem to boost the stock sooner rather than later. Also, it seems to me the market (and media) are beginning to give ConocoPhillips the respect its management deserves after meeting one ambitious goal after another. Just recently we saw another $1.5 billion divestment of non-strategic Nigerian assets move forward.
Balance, Balance, Balance
One of the reasons ConocoPhillips is so attractive can be summed up in one word: balance. The company is extremely balanced in terms of assets, geography, geology, unconventional/conventional assets, and in terms of its oil and gas production split. Deutsche Bank agrees and has a $94 price target on the stock.
While many US investors believe the reason for COP's recent success is because it has focused on domestic operations, they underestimate the value of the company's international holdings. While the company is the #2 producer in the Eagle Ford, and has good quality assets in the Bakken and Permian as well, COP is a very diversified global company that has:
A top-tier position in the Canadian oil sands.
Its most prolific wells in the North Sea (Jasmine).
Excellent LNG assets in Australia.
The biggest oil producer in Alaska.
Oil production in Bohai Bay, China.
Excellent assets in the Gulf of Mexico.
From the company's fact sheet, we see a nicely diversified global asset base that is primarily liquids: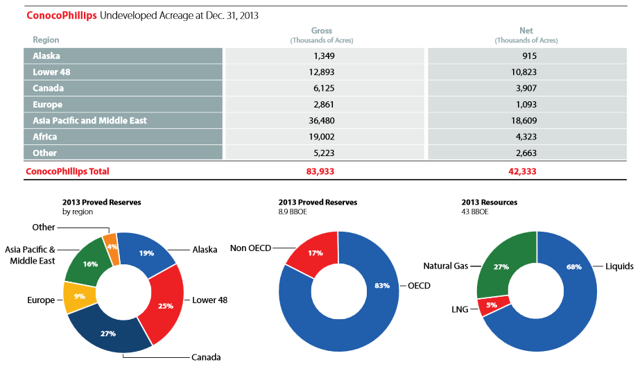 Click to enlarge
COP is truly a worldwide upstream E&P company. There is no other independent exploration and production company quite like ConocoPhillips. The following graphic from its Q1 earnings presentation reveals how important its worldwide operations are when it comes to bottom-line earnings: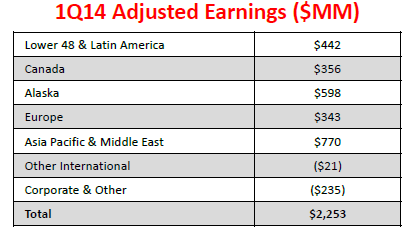 Note that the biggest contributor to Q1 earnings was APME. In fact, the lower-48 comes in third after Alaska, a state in which COP is the biggest producer. Yet the company also throws off nice earnings from Canada and Europe. The point is this: while COP certainly has excellent domestic acreage and production growth, the company has a globally diversified portfolio with significant exposure to higher Brent and international gas prices.
Downstream
Phillips 66 continues to shine and has established itself as a premier dividend growth stock (see Phillips 66: An Outstanding Dividend Growth Stock). The chart below summarizes what a shareholder-friendly company PSX is and why its refining, chemicals, and midstream operations is likely one of the best long-term investments in "Shale USA":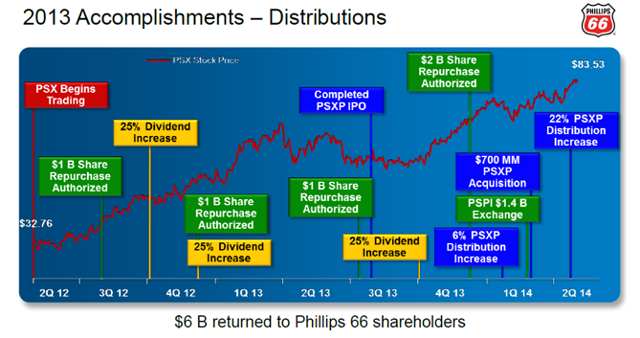 Click to enlarge
Phillips 66's long-term plan to reinvest free cash flow from its world class refining business to grow its midstream and chemicals businesses is exactly the right strategy to reap maximum returns from the booming production of domestic shale oil and gas.
But the star of the show YTD has been the MLP - Phillips 66 Partners. PSXP has doubled in 6 months. Last week the units gained 15.7% with about 10 points of that gain in the last two days alone: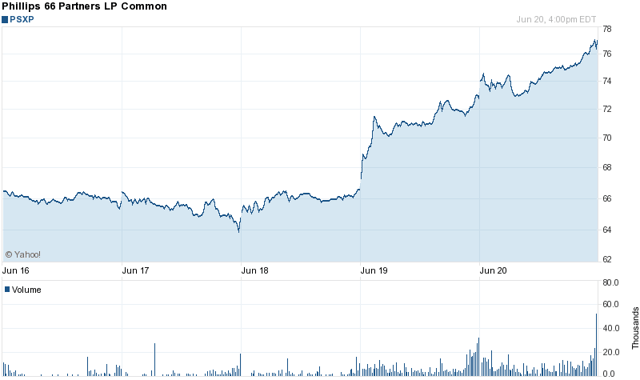 Click to enlarge
PSXP jumped to the upside at the start of trade on Thursday. Though I scoured the net and the MLP's website for news (news of drop-downs, press releases, etc) I could find nothing. Either there is some inside knowledge of a major pipeline drop-down from PSX, or (more likely) the units were up on news that Shell (NYSE:RDS.A) is forming an MLP (Shell Midstream Partners LP) for some of its midstream assets. This is significant because Shell is the first major international integrated energy company to do so (Exxon Mobil: are you listening?). Directly, I cannot see why Shell's plan alone would cause such a violent reaction in PSXP units other than it validates COP's (errr... PSX's ...) original thesis for unlocking value. But of course watching shares of PSX and units of PSXP trade higher over the past year or so, we already knew that.
Regardless, Shell saw a nice gain this week as well: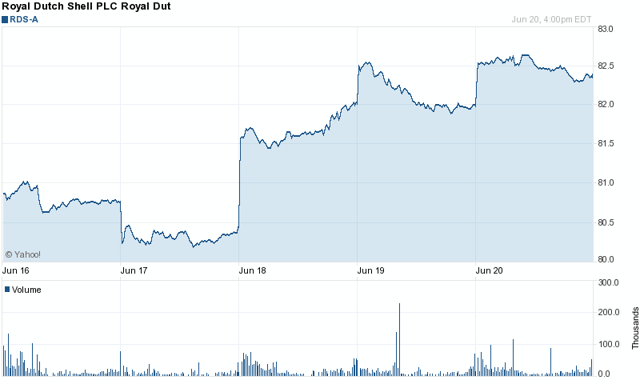 Click to enlarge
Which begs the question: what is taking Chevron and Exxon so long to join the MLP party? One reason the market likes these MLP deals so much is that the companies aren't really disposing of the assets. MLP's are simply a restructuring of the assets to reap the benefits of tax-advantaged distributions from the partnership arrangement. Considering the lack of stock price appreciation in Exxon's shares since the XTO takeover, and the lack of a competitive dividend yield, why aren't XOM shareholders banging the table for Exxon to spin-off some assets into an MLP? And of course an MLP makes eminent sense for Chevron as well.
Summary & Conclusion
The ConocoPhillips family of companies are substantially outperforming its previous rivals Chevron and Exxon. Yet COP still trades at a market discount to both. So despite the recent run-up in COP and PSX, I would continue holding both stocks or even increase positions: there is more to come. Much more. PSXP? I have no idea how this MLP is valued. It seems as though the market has taken a look at all the assets PSX could drop-down, figured out the distribution potential, and valued the units accordingly. The P/E is 124 - which is too rich for my blood. That said, you can't argue with success! One thing is clear: COP, PSX, and PSXP all have excellent assets and quality management to exploit them. Just as important, management has shown a willingness to share the success of these companies with their shareholders. Lastly, the market is beginning to acknowledge these companies for what they are: best-in-class.
Disclosure: The author is long COP, CVX, PSX, XOM. The author wrote this article themselves, and it expresses their own opinions. The author is not receiving compensation for it (other than from Seeking Alpha). The author has no business relationship with any company whose stock is mentioned in this article.
Additional disclosure: I am an engineer, not a CFA. The information and data presented in this article were obtained from company documents and/or sources believed to be reliable, but have not been independently verified. Therefore, the author cannot guarantee their accuracy. Please do your own research and contact a qualified investment advisor. I am not responsible for investment decisions you make. Thanks for reading and good luck!