Ansys (NASDAQ:ANSS) has been around since Atlanta's 1996 Summer Olympic Games. The $7 billion Market Capital Corporation remains a leader in the manufacturing and distribution of engineering simulation software. Focusing on key performance variables while holding a wide moat of products, through both organic and inorganic growth, has allowed unprecedented bottom line improvements.
A Disruptor with Long-Term Clients
Incorporating the following software features have facilitated positive headwinds, distinguishing itself from its competitors:
1. Simultaneous multiple variable analysis utilizing Physics concepts such as:
Electromagnetics
Fluid dynamics
Structural mechanics
2. Facilitating synchronization and shared data amongst various departments:
Modeling from parts to subassemblies
Modeling from subassemblies to assemblies.
3-D modeling creating a more user-friendly environment for processing of complex events.
ANSS's products have a very high switching-cost. This leads to long-term contracts and client lock-in for a minimum of 3-5 years. The company's products are utilized in more than 2,000 academic institution and in more than 70 countries.
Holding over half a million licenses allows training to play a large role in software implementation and revenue. Subscription renewals of the software is greater than 90%.
Bears
Although widening its moat of products, ANSS's recent acquisitions of Apache Design Solutions, Fluent, Esterel Technologies, and Ansoft has opened doors to fierce competition; in particular Cadence Design Systems (NASDAQ:CDNS), Mentor graphics (NASDAQ:MENT), PTC Inc. (PMTC), and Synopsys (NASDAQ:SNPS).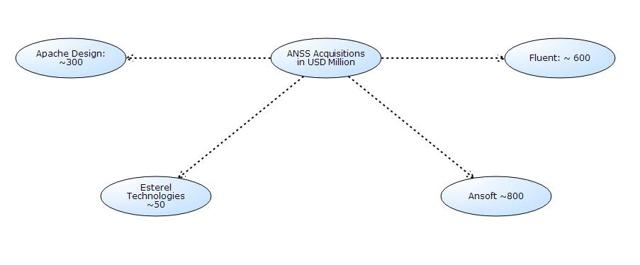 Images created by author; Source: 10K.
ANSS's operating model makes the corporation suitable for organic growth but not so much inorganic growth. ANSS's high level of business process integration is hindering acquisition synergies resulting in a delayed production of tangible financial phenotypes. ANSS must allow more freedom for its newly acquired firms, while maintaining a level of standardization. A new enterprise architecture following these guidelines will not only facilitate resource planning, but also accommodate for both organic and inorganic growth.
Some of ANSS's software may trap engineers in producing an over-fitted model. Over-fitting complex data, attempting to narrow variables aiding forecast and traceability of real time issues, may exclude relevant data; leading the corporation down the wrong direction. Utilizing algorithms to browse extensive amounts of data for patterns may result in analysis of noise or useless performance indicators.
Management
James Cashman III has been serving as CEO for over 10 years. The firm's consistent support of his governance since 2000 is indicative of a soft-moat. Although well managed, Cashman and his management team own less than 2% of the equity. Key executives independence from market capital and stock performance creates a nasty distance with its stakeholders. However, this strategic allocation of resources may just be temporary, and a means to strengthen their inorganic growth.
Financials
Since 2009, Ansys has been growing in revenue. Although net and operating income have remained fairly stable, interest expenses have declined and EPS has increased by over $1.00.
| | | | | | | |
| --- | --- | --- | --- | --- | --- | --- |
| Income Statement 5 year Estimates | 2009 | 2010 | 2011 | 2012 | 2013 | TTM |
| Revenue (USD Millions) | 500 | 600 | 700 | 800 | 900 | 900 |
| Operating Income (USD Millions) | 200 | 200 | 300 | 300 | 300 | 300 |
| Net Income (USD Millions) | 100 | 200 | 200 | 200 | 200 | 300 |
| Interest Expense (USD Millions) | -10 | -4 | -3 | -3 | -1 | -1 |
| Basic EPS (USD) | 1.3 | 1.7 | 2 | 2.2 | 2.7 | 2.7 |
| EBITDA (USD Millions) | 250 | 300 | 300 | 400 | 400 | 400 |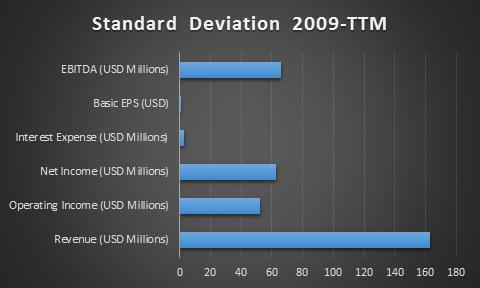 Overall, ANSS is performing better than its industry peers.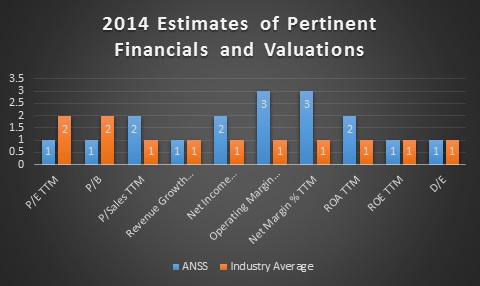 During the past five years assets and stockholder's equity has increased tremendously.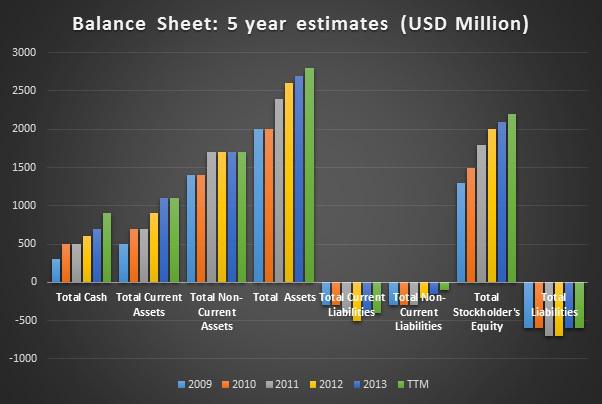 Conclusion
The age of disruptive smart products and other technologies is now. Demand for Software that appropriately analyzes prototypes is increasing. More engineers are realizing the importance of testing provisional data and products prior to commercial release and consumer implementation. ANSS caters to this crowd by providing detailed physics modules that run multiple tests at once. Proper analyses of preliminary data will facilitate a healthier R&D department, simultaneously enhancing project schedules, budget, and scope. The future of ANSS is in sync with its industry's consumer needs, fulfilling demand and solving problems. Ansys's supply of deliverables is successfully being utilized in a competitive consumer market.
Due to recent acquisitions, a challenging path for enterprise architects and implementation of appropriate ERP systems is present. Although short-term metrics aren't the best, its forecasted business outlook is fairly positive. Financials and acquired pipelines have demonstrated that ANSS has strategically positioned itself above its industry peers.
Disclosure: The author has no positions in any stocks mentioned, and no plans to initiate any positions within the next 72 hours. The author wrote this article themselves, and it expresses their own opinions. The author is not receiving compensation for it (other than from Seeking Alpha). The author has no business relationship with any company whose stock is mentioned in this article.