On Friday we sent out The Bespoke Report to our subscribers. The below excerpt is a discussion on global home prices that we included in that report.
Housing has been in vogue recently. The market is full of speculation that in the U.S., housing will underperform for the foreseeable future. While we don't agree in the long term, there have even been mentions of housing weakness cropping up in Fed discussions, like this comment from Fed Chair Janet Yellen's economic outlook testimony to the Joint Economic Committee in May:
One cautionary note, though, is that readings on housing activity-a sector that has been recovering since 2011-have remained disappointing so far this year and will bear watching ...

... the recent flattening out in housing activity could prove more protracted than currently expected rather than resuming its earlier pace of recovery ...
The U.K. market, it turns out, has the opposite problem. In the morning commentary we send out with The Morning Lineup and our comments in The Closer, we've repeatedly noted that Bank of England chief Mark Carney is focused on risks in the U.K. housing market, centered on London property values. From the Bank of England's most recent annual report:
We are fully aware that the environment of low and predictable interest rates necessary to nurture the recovery could encourage excessive risk taking in financial markets and by households. In November, the Bank's Financial Policy Committee announced initiatives to reduce the stimulus being provided by the authorities to the housing market. We will not hesitate to take further proportionate and graduated action as warranted. That will allow monetary policy to remain focused on providing the stimulus the economy needs for as long as it is needed to secure a strong, sustained recovery.
But the U.K. and the United States are actually the least interesting housing markets out there! Below is a chart of 11 developed-market home price indices indexed to 100 as of Q1 2000. The data is taken from the Dallas Federal Reserve's analysis of global home prices, and uses the real prices of homes: prices adjusted for inflation using the PCE deflator for each country in question.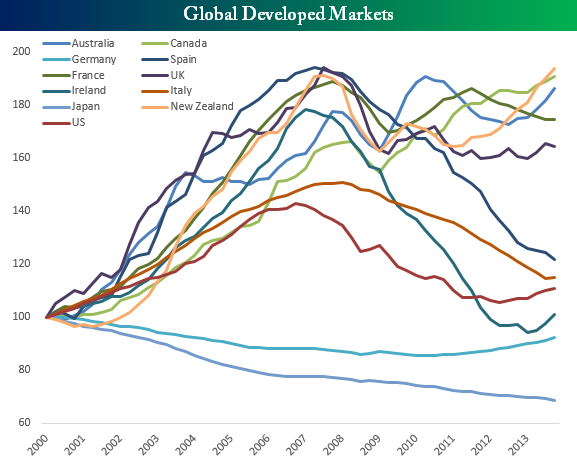 The above chart is a bit hard to read, so we've parsed it out into several charts below.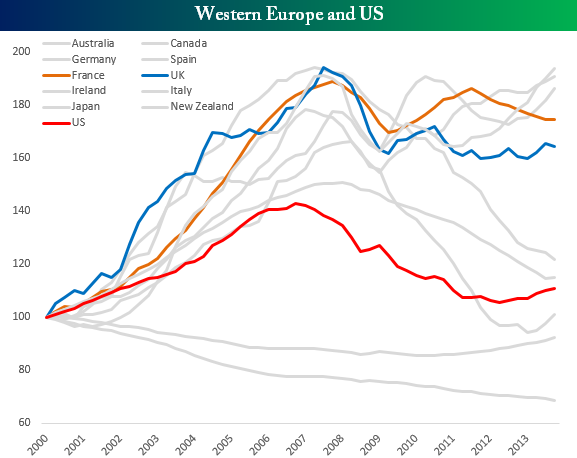 The U.S. has definitely begun to recover from its grinding downtrend in home prices, while the U.K. appears to be relatively stable since the end of the global recession in 2009. Home prices aren't accelerating aggressively upwards on an aggregate basis, mostly because the concerns of a housing bubble are rooted in one specific area, London. France, more closely integrated to the European continent and exposed to the deflationary pressure of the eurozone, had a recovery following the recession but has now been trending downwards again for some time.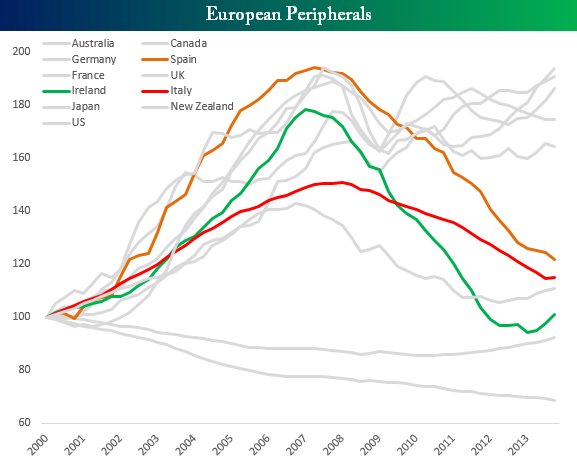 Among peripheral countries, there hasn't been a recovery, as home prices are still seeking out a bottom after the massive reversal off all-time-highs in 2007. Ireland is showing signs of life, but both Spain and Italy haven't put in a bottom yet.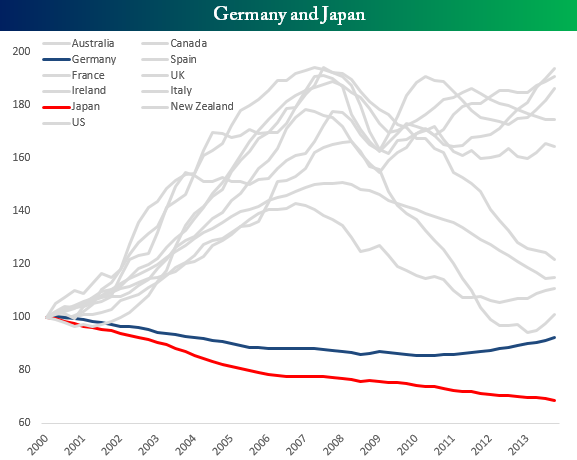 Germany and Japan stand out on the chart as consistent losers when it comes to home price appreciation. Neither market jumped off the line in 2000 - unlike virtually every other economy - and in Japan that deflationary downward trend is constant. The differences are part cultural, part economic. In Japan, housing is viewed much more as consumption than investment, and local zoning restrictions in markets like Tokyo are often over-shadowed by the government's focus on constant building and re-building, creating more turnover and density in housing structures. In Germany, the rental market is much more active and home ownership rates are lower; the German tax code also doesn't have a deduction for mortgage interest like many other developed economies.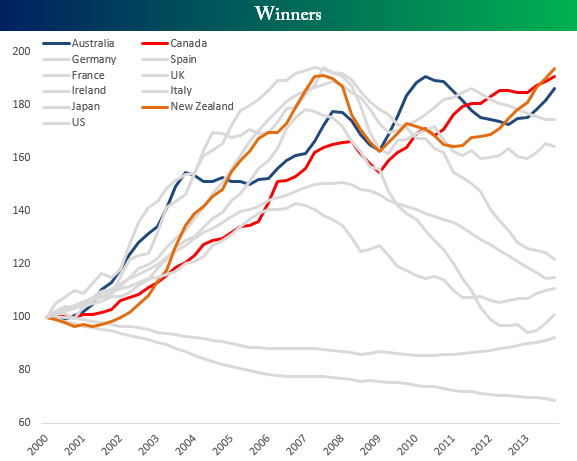 Finally to the good news, for current homeowners anyways. English-speaking former U.K. colonies are by far the most aggressively expensive home price cohort. The boom/bust cycle in home prices for Australia, New Zealand, and Canada was much shorter than it was for other economies, and now prices are grinding steadily higher again; Canada and New Zealand are the only two advanced economies at all time highs for home prices. The Canadian market, driven by foreign investment in cities like Vancouver and a boom in oil production throughout the central provinces, especially Alberta, is trending strongly to the upside. Australia had a mini-cycle downwards but is now once again moving up.
But the real winner among the 11 economies is New Zealand. Home prices there have gone up by more than 93% since 2000, the best performance of any advanced economy. It's no surprise then that the Reserve Bank of New Zealand hiked interest rates at their last meeting.