Enerplus Corporation (NYSE:ERF) is gaining momentum with back-to-back good news. The share price soared to a 52-week high after Enerplus reported an increase of 250% in contingent resources. Year-to-date, the stock gained more than 33%, and since the start of 2013, its price surged by more than 86.65%.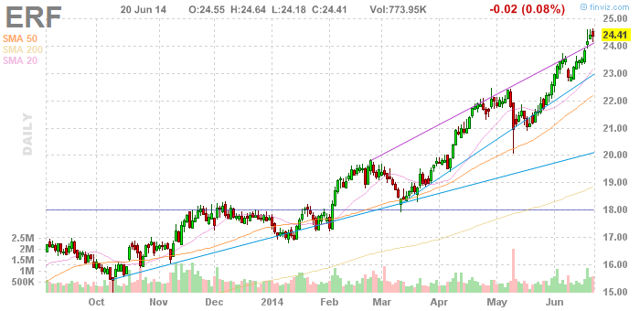 The strong appreciation in the share price is due to the company's capital allocation strategy, increase in the level of production, and better financial performance. Furthermore, over the past 16 months, it has been able to advance its strategic portfolio objectives, improve and replace reserves with significant improvement in its cost structures, and maintain sustainability of the business.
In the past year alone, Enerplus has increased production guidance three times due to its strong operational performance despite the disposition of non-core assets. In 2013, it managed to increase production by 9% on a year-over-year basis. Oil production increased by 5%, and natural gas production by 15%. In addition, it replaced 440% of its natural gas production and 175% of oil production, and reserves grew by 17% on the year-over-year basis. It has achieved reserve replacement with a 50% lower finding and development costs. With an effective cost management system and strong production growth along with enhanced commodity prices, its fund flow increased by 17%, which totaled $754 million at the end of 2013. The company has also enhanced its portfolio and spent $245 million consolidating interest in its core areas and acquiring acreage in the Bakken, Wilrich, water flood properties, and Marcellus.
In the first quarter of 2014, Enerplus continued its disciplined capital program. Its production increased by 5%, which was driven by record production from the Marcellus. High commodity prices and higher production led it to generate 22% growth in the fund flows. All these developments strengthened its financial flexibility and dividends. Moreover, the company has recently announced a 250% increase in contingent resources from 39 to 136 MMBOE at the end of 2013. With a technical assessment and a strong operational performance, outlook for the Three Forks core area and Fort Berthold Bakken has considerably improved. With the increase in the contingent resource estimate, its future drilling locations have grown by 125%.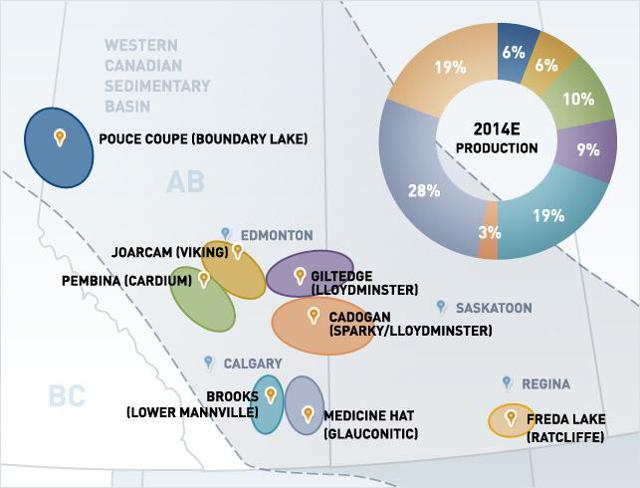 In Canada, the company continues to develop its water flood portfolio with activity at various places, including Southeastern Saskatchewan and Pouce Coupe Boundary Lake properties in Alberta. This year, the company is looking to invest around $200 million on these assets. In the past year, Enerplus has invested about $165 million on its Canadian crude oil assets in the Cardium, Ratcliffe and Glauconitic formations. It is strengthening Canadian crude oil and natural gas liquid assets as they are providing stable cash flows. Further, its polymer project in Medicine Hat is performing well, and the company is preparing for its second polymer injection project. In its Canadian deep gas assets, it continued in the Wilrich. One well was brought on-stream in December, and the other three wells were drilled in the first quarter of 2014. Enerplus also completed two horizontal Duvernay wells in the Willesden Green area.
In Conclusion
With its smart capital allocation strategy and strong operational efficiencies, the company is set to generate 10% growth in production. Furthermore, with the stabilization of prices and increased production, its profits and cash flows have been increasing over the past few quarters, and the company is likely to keep gaining momentum. Its dividends are also sustainable as the company has been enhancing fund flows. Its recent announcement of 250% increase in contingent resources also suggests strong growth potential for the company. In addition, its investments in Canadian assets allow it to generate growth in production and cash flows. The stock has gained a lot of momentum in the past months, and I believe that it will keep going up as the company has better days ahead with its capital allocation plan and operational efficiencies.
Disclosure: The author has no positions in any stocks mentioned, and no plans to initiate any positions within the next 72 hours. The author wrote this article themselves, and it expresses their own opinions. The author is not receiving compensation for it (other than from Seeking Alpha). The author has no business relationship with any company whose stock is mentioned in this article.