Sometimes less is more, and that argument can definitely be applied to the ETF business. Add up the number of ETFs and ETNs currently trading on U.S. exchanges and you'll get a number close to 1,100. As the chart below illustrates, the number of exchange traded products has grown at a blistering pace in a short period of time.
click to enlarge images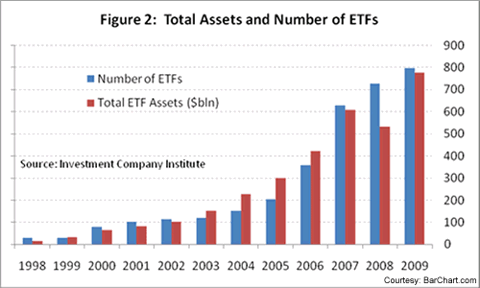 By the end of June, ETF issuers had pulled 118 ETFs off U.S. exchanges since 2007, according to Morgan Stanley Smith Barney. That number is a little bit higher today as several funds have announced closures in recent weeks. I've seen some conflicting numbers about how many ETFs have shut down in 2010. One source I saw said 23 ETFs have been liquidated this year in the U.S. Another source I came across puts the number at 35. For the sake of argument, I'll say 30 ETFs have been shut down this year.
That's nothing when considering more than 120 have been created and the pace of ETF closures in 2010 is well below what was seen in 2008 and 2009. With all these new funds coming to market, two big questions need to be answered. First, are there too many exchange traded products on the market? Second, how can investors identify the winners among the new kids on the ETF block? I'm going to table the first question for another week because it deserves to be addressed on its own.
Let's answer the second question. What should investors be looking for when they parse through new ETFs to ensure that fund will be a winner not only in terms of performance, but also in terms of lifespan. That's right. A nifty idea isn't enough to sustain an ETF. Take the Oklahoma- and Texas-specific ETFs. Those ETFs, which were introduced in late 2009, tracked companies based in Oklahoma and Texas.
An interesting idea to be sure and to their credit, both ETFs outperformed the S&P 500 SPDR (NYSE: SPY). That wasn't good enough though as the issuer announced earlier this month that both funds are being pulled from the market. Investors simply didn't commit enough capital to either ETF and trading volume was weak.

That brings me to the first hint about a new ETF's viability: Average daily volume in dollar terms. In August, only eight ETFs averaged over $1 billion a day in trading volume and barely more than 60 eclipsed $100 million on an average day. Granted, August is usually a light volume month for stocks and ETFs, but weak volume is a tell-tale sign an ETF may be headed for the land of the lost sooner rather than later.
Take the Oklahoma ETF (NYSE: OOK) as an example. I'll round up and call it a $33 ETF with average daily volume for the last three months of 6,900 shares per day. That works out to just $227,700 per day in trading volume. That's just not enough to make it worth the issuer's trouble to keep the ETF on the market. I'd venture to say at a bare minimum, you want to see a new ETF trading close to $10 million per day within six to eight months after its debut.
Now, it is certainly possible to have mediocre volume if the ETF has substantial assets under management. The number that I've seen thrown around is that a new ETF should acquire $50 million in assets in its first year of trading. An ETF's assets under management is information that's easy to find (just go to the issuer's Web site) and if a particular fund or group of funds is proving especially adept at attracting assets, the issuer won't be shy about issuing a press release.
Take the Global X Silver Miners ETF (NYSE: SIL). This ETF hasn't even been on the market for six months, but already has strong volume (over 152,000 shares per day) and has attracted an impressive $100 million in assets. Those stats tell investors two things. First, SIL has the potential to be a profitable investment. Second, you don't need to worry about the ETF being taken off the market anytime soon.
Bottom line: If investors truly like the ETF and the returns are there, volume will come in time, so track the inflows into new ETFs to make sure the ETF you're considering has already established a foothold in the market.
Disclosure: No positions