Schlumberger Limited (NYSE:SLB) is gaining momentum. The company's share price reached a 52-week high of $109.75 per share last Friday. Schlumberger's share price gained 8.41% in the past 30 days, 19.45% in the past 3 months, and 50.86% in the past year.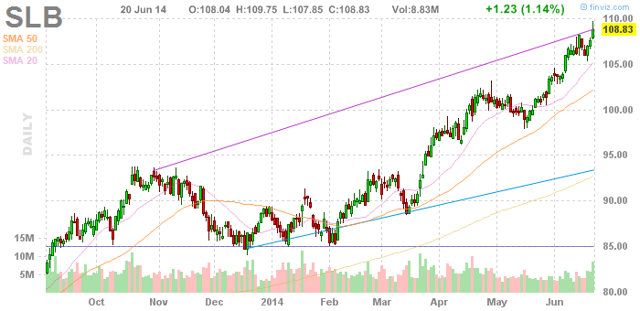 The company is consistently receiving good news, including the announcement of big profits for the full year of 2013 and the first quarter of 2014. In addition, the company has announced a 28% increase in dividends at the start of the year, and it has been aggressively working on share buybacks. Moreover, it is constantly launching innovative products and technologies and is looking to generate big profits this year. It recently introduced Industry-First Reservoir Mapping-While-Drilling Service.
| | | |
| --- | --- | --- |
| | SLB | Industry Average |
| Rev Growth (3 Yr Avg) | 17.4 | 15.8 |
| Net Income Growth (3 Yr Avg) | 16.4 | 14.6 |
| Operating Margin % TTM | 20.2 | 12.1 |
| Net Margin % TTM | 15.0 | 7.4 |
| ROA TTM | 11.0 | 5.7 |
| ROE TTM | 18.7 | 10.6 |
| Debt/Equity | 0.3 | 0.4 |
Source: Morningstar.com
Over the past three years, the company has generated strong financial performance compared to the industry average. Its innovative products, technologies, and global footprints allowed them to latch onto the growing demand for oilfield services all around the world. In 2013, Schlumberger produced double-digit growth in earnings on 8% growth in revenues. The latest industry-leading product and technologies allow it to win more contracts. Its SIS software and WesternGeco multiclient sales have been adding considerable growth to the revenue. Its Wireline MDT modular formation dynamics tester packer technologies, Wireline MDT modular formation dynamics tester, and Saturn 3D radial probe technologies are producing strong growth in the international markets.
Moreover, Schlumberger's will implement Techlog wellbore software platform in all ConocoPhillips (NYSE:COP) operating units all around the world. In its drilling segment, its latest innovative technologies have generated 2% sequential growth in the marginally-slow drilling environment. Its production segment is also gaining momentum with strong Completion and Artificial Lift product sales.
Schlumberger continued to win contracts in the last quarter for its innovative technologies. In Norway, Statoil Petroleum AS has been awarded the data processing project and WesternGeco, a large joint seismic acquisition project. In the North Sea, Schlumberger won multiple contracts from BP for streamer acquisition in 2014-2015. It formed numerous other contracts, including contracts with Saudi Arabian Chevron and Kuwait Gulf Oil Company. Overall, all of its segments have generated growth on a year-after-year basis and has been able to win a number of contracts. In the first quarter, Schlumberger has generated 23% increase in income from continuing operations.
With a strong backlog and ability to win new contracts, Schlumberger is looking to generate a double-digit growth in earnings again in this year. Its cash-generating potential is very strong, which is needed to support capital investments to make a consistent growth in revenues. It has the ability to turn revenue growth into big profits with its efficient management. Thus, its cash generating potential is also enhancing. In 2013, it has generated free cash flows of $5.8 billion when dividend payments were only at $1.6 billion. This huge gap in free cash flows and dividend payments not only allowed Schlumberger to make a hefty increase of 28% in dividend but also allowed it to aggressively work on buyback program. Since July of 2013, it has repurchased $2.6 billion in shares. With an ability to generate a massive amount of free cash flows, the company is now expecting to complete a buyback program of $10 billion in two and half years, which was initially planned to be complete in five years. Buyback are not only enhancing its dividend payments and earnings per share but are also accelerating the share price.
In Conclusion
| | | | | |
| --- | --- | --- | --- | --- |
| | SLB | BHI | HAL | Industry Average |
| Price/Earnings TTM | 20.1 | 28.6 | 22.6 | 26 |
| Price/Book | 3.5 | 1.8 | 4.3 | 2.5 |
| Price/Sales TTM | 3.1 | 1.4 | 2.1 | 1.8 |
| Forward P/E | 15.2 | 13.5 | 13.0 | |
| Rev Growth (3 Yr Avg) | 17.4 | 15.8 | 17.8 | 15.8 |
| Net Income Growth (3 Yr Avg) | 16.4 | 10.5 | 5.0 | 14.6 |
| ROE TTM | 18.7 | 6.6 | 18.8 | 10.6 |
| Dividend Yield | 1.54% | 0.96% | 0.91% | 1.0% |
Source: Morningstar.com
Schlumberger's innovative technologies, global footprints, disciplined capital allocation, and efficient managements allow it to generate double-digit growth in earnings. The company's cash-generating potential puts it in a very strong position. I am expecting another big increase in dividends at the end of this year with its cash generating potential and focus on buybacks. At the moment, out of eight Wall Street analysts, five recommend it as a strong buy and three recommend it as a hold. Based on valuations, it is in the buying zone. Its price to earnings ratio of 20 is well below the industry average of 26. Furthermore, analysts have a median target price of $119 per share for Schlumberger. However, Schlumberger might face a slow demand in the second half of this year and in the start of 2015 due to a low investment level from energy companies, but the long-term outlook for Schlumberger is strong. In my view, Schlumberger is a long-term pick for defensive investors as it has potential to make consistent increases in dividends with steady price appreciation.
Disclosure: The author has no positions in any stocks mentioned, and no plans to initiate any positions within the next 72 hours. The author wrote this article themselves, and it expresses their own opinions. The author is not receiving compensation for it (other than from Seeking Alpha). The author has no business relationship with any company whose stock is mentioned in this article.