We have written many articles over the past few years about building and maintaining a long-term dividend portfolio. In fact, the reason we started Parsimony Investment Research was to share our research and strategies with fellow Do-It-Yourself investors.
That said, one recurring question that we get from SA readers and premium subscribers is...How much do you need to get started?
It's a great question and one that we are always proud to answer. The beauty of dividend investing is that you can get started by buying just a few stocks, with as little as a few thousand dollars.
Since we've been asked this question so many times, we decided to write a series of articles about building a small diversified dividend portfolio. Below is a schedule of the entire series. Please make sure to "follow" us so that you will be notified when each new article is published.
Part 2: The 5-Stock Starter Portfolio
Part 3: Should I DRIP?
Part 4: Adding New Stocks One At A Time
Part 5: Breaking the Maximum Diversification Barrier
Starter Portfolio Guidelines
(as highlighted in Part 1)
Invest in a minimum of 5 stocks
Each stock should be from a different sector group
Try to invest equal amounts in each stock so that no stock is more than 25% of total portfolio
At least 2 of the 5 stocks should be from "defensive" sectors (e.g., Consumer Staples, Health Care, and Utilities)
Limit your high-yield exposure (e.g., MLPs, REITs) to only 1 stock (or 20% of total portfolio).
Screening For High-Quality Dividend Stocks
As many of you know, our core investment strategy is centered around buying high-quality stocks at good prices. We use a combination of fundamental and technical analysis to determine which stocks to buy and when to buy them (learn more about our ratings methodology).
We created our ranking system to help us find the best dividend stocks. If you rank all of the stocks in a universe against their peers on a consistent basis, it becomes clear which companies are the strongest and which offer the best investment opportunities going forward.
We have written several popular series over the past month that have highlighted some stable, high-quality dividend stocks to keep on your radar:
While these lists are by no means exhaustive (there are literally hundreds of decent candidates out there), it should give you a great start on your diligence.
Note that the portfolio below is for illustrative purposes and we always recommend that investors consider the valuation of each stock before purchasing (i.e., several of these stocks are trading close to 52-week highs and might be considered overvalued at current prices).
A 5-Stock Starter Portfolio To Consider
The 5 stocks below have an average beta of 0.57 and an average dividend yield of 3.5%. Also, all 5 are part of our All-Aristocrat Team, which have consistently increased dividends every year for at least 25 years.
This is just one example of a diversified starter portfolio of high-quality dividend stocks that will help you navigate the long and windy road to retirement. As you can see, we have chosen stocks from 5 different sectors (consumer staples, healthcare, consumer discretionary, energy, and financials).
Kimberly-Clark (NYSE:KMB)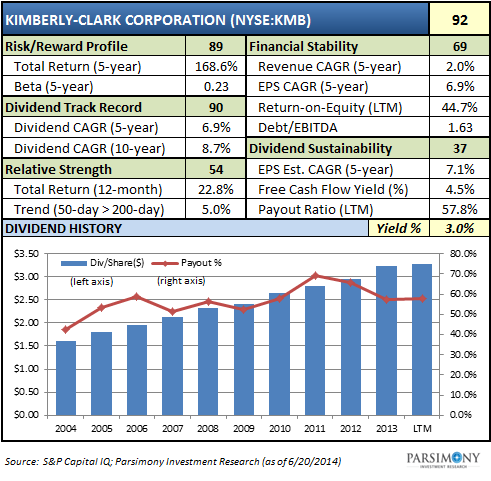 Kimberly-Clark has a decent current dividend yield (3.0%) and a very respectable 5- and 10-year dividend growth rate of 6.9% and 8.7%, respectively. KMB has also performed well over the past 5 years, with a total return around 169%. All that with an ultra low beta of 0.23!
Johnson & Johnson (NYSE:JNJ)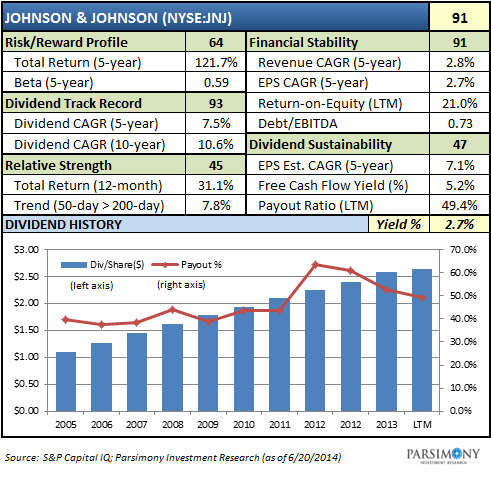 Johnson & Johnson has a decent dividend yield of 2.7% and it has grown its dividend for 50 consecutive years, including a compound annual growth rate of 10.6% over the past 10 years. In addition, the company has a strong balance sheet with very little debt as illustrated by its high Financial Stability rating (91).
McDonald's Corp (NYSE:MCD)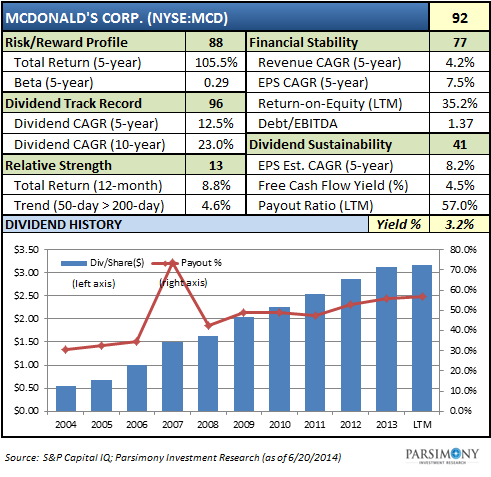 McDonald's carries a very high rating for Dividend Track Record (96) and we believe that it is a great long-term stock for a DIY Dividend Portfolio. MCD has produced a very respectable 5-year total return of 105%, with a very conservative maximum drawdown of 21%. Even more impressive is the fact that the company has increased its dividend at a compound annual rate of 23% over the past 10 years! MCD is probably one of the best dividend growth stocks of all time.
Chevron Corp. (NYSE:CVX)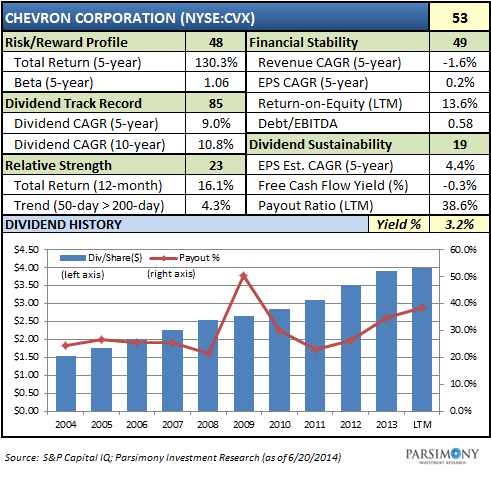 Chevron has delivered shareholders a 130% total return over the past five years, and it has increased its dividend at a compound annual rate of 9.0% over that period (including 11.1% and 7.0% hikes in 2013 and 2014, respectively). We believe that CVX is one of a few top notch non-MLP Energy stocks that warrant consideration in a long-term dividend portfolio.
HCP, Inc. (NYSE:HCP)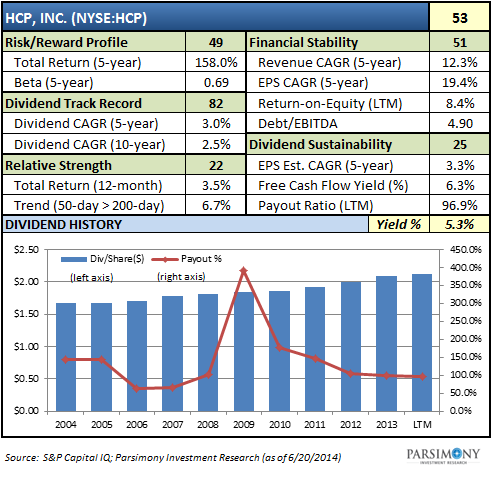 Despite HCP's relatively low historical dividend growth rate, the company has a very nice dividend yield (5.3%). HCP is a Real Estate Investment Trust ("REIT"), which is why its historical payout ratios are so high (due to a REITs requirement to distribute the majority of its earnings to shareholders). HCP was the first healthcare REIT selected to the S&P 500 index, it has increased its dividend per share for 28 consecutive years, and it is the only REIT included in the S&P 500 Dividend Aristocrats index.
Conclusion
You don't need tens of thousands of dollars to get started in dividend investing. Buying just a few shares of several high-quality stocks is enough to get the ball rolling. It's also a great idea to take advantage of Dividend Reinvestment Plans ("DRIPs") so that your dividend checks can compound (we'll touch more on these in Part 3).
Note To Dividend Veterans: If you are a dividend veteran, please feel free to comment below with words of encouragement for any dividend newbies or specific examples of how you got started in dividend investing. Our guess is that many of you also started with just a few shares of a few stocks. Also feel free to share your thoughts about which stocks you would choose for a 5-stock starter portfolio.
Disclosure: The author is long MCD, JNJ, CVX. The author wrote this article themselves, and it expresses their own opinions. The author is not receiving compensation for it (other than from Seeking Alpha). The author has no business relationship with any company whose stock is mentioned in this article.