Analysis: After the market took a couple days to stub its toes, things are looking quite positive to end the week. Personal spending and personal income were higher than expected, and the market is set up to rally. A number of stocks and ETFs have given up some of their gains and overvaluations, and they are in a position to move back up. One sector that probably took one of the biggest hits over the past couple days was the financial sector. Over the past few sessions, Direxion's Daily Financial Bull ETF has given up nearly 5%.
As of Friday, though, things are looking quite different. The positive economic news and great day in China is setting the markets to open higher, but they should continue to move higher from there. The positive news was the first in several days, and it should help propel the markets. Even without good news, the red days were soft, and many ended with rallies into the green or saw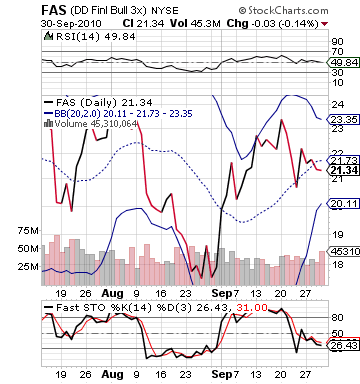 some rally throughout the day.
In addition to the strong market, the financial industry got positive news that foreclosures are slowing, and the government successfully sold $2.25 billion worth of Citi (NYSE:C) stock. Most of the money center banks and regional banks are all in the green to start the day, and they look ready to help lead the market higher.
A final positive sign is that futures continue to creep a bit higher but not too high. The Dow is set to open around 50 points in the green, which is a very solid amount. Not too much but enough to get the market over the hump. FAS, technically, looks very solid. It has upward movement to its upper bollinger band up to around 24, and it is not overbought or overvalued.
Entry: We are looking to enter at 21.60 - 21.80.
Exit: We are looking to exit for a 2-3% gain.
Stop Loss: 3% on bottom.
Disclosure: No positions