Thesis (NYSE:WWE)
WWE's fair value ranges between $5.33-$21.33 per share ($400m-$1.6B mkt cap) depending on the over-the-top network performance (1.3m-3m subs). The management gambled on the digital channel at a sensitive time and the negative consequences could drop intrinsic value below $400 million by 2016. The company is a prime short candidate if the next earnings release hints at a drop in digital network subscriber numbers.
World Wrestling Entertainment, Inc.'s current business environment is a real-time case study in content delivery and over-the-top (OTT) channel adoption driven by target demographics. WWE is adjusting its business model for growth in the face of marketing and technological obstacles. In fact, because of the new digital network launch, WWE is starting to resemble a tech company out of its circle of competence. It is challenged by the ambiguous value proposition of social media (295m followers) and an unpredictable fan base response to the proposed switch from the traditional method of consumption via PPV on DirecTV to a new monthly subscription model on the WWE Digital Network. If business continues at current pace, something drastic will have to be done to correct WWE's trajectory because the digital network is eroding the company's intrinsic value. Potential steps include:
Changing management

Slowing down the digital network cash drain/ spinning off the segment
Approaching DirecTV for PPV again
Raising debt/equity
Capitalizing brand value by taking on a private equity or media company partner
Eliminating dividends & selling the corporate jet
Background
World Wrestling Entertainment is a high profile live entertainment company within the quasi-sport/theater niche. Outstanding brand awareness is nurtured by 20 years of consistent cable TV shows, over 300 live tour events per year, and films featuring WWE characters.
WWE's business revolves around its valuable wrestling brand with a competitive moat difficult to overcome without substantial capital investment. The model is a self-reinforcing wheel with Live Events at the core.
Live Events - 6,400 avg attendance, price $41.82 historical 19% OIBTDA margin & dropping.
Television - $150m new US deal (under delivered on expectations of $280m), $200m including International
Consumer Products and Digital Media - 29% drop in 2013 affected by lower video game licenses
WWE Network/PPV - DirecTV PPV deal was replaced by the new digital network in 2014, needs ~$40m in OIBTDA per year to level out PPV cannibalization.
WWE Studios (Film) - consistently in the red
Of the five business segments above, Films was a loss leader for the company. Mr. McMahon stated he would not throw good money after bad when looking at the performance of the film studio and the losses incurred in the last three years. Yet the studio just signed a new Lionsgate distribution deal for six films. Most likely, the game plan is to invest in intangible brand value by developing WWE Superstars' names and driving traffic to live events. The riskiest strategy shift has been WWE's decision to cut out DirecTV as the middleman in pay per view events and to turn the WWE Network/PPV segment into a significant loss leader until the new digital network achieves scale. By focusing on the new OTT WWE Network, the company is exposed to substantial operational risk because it lacks a historical precedent running a network while foregoing a somewhat consistent revenue stream from pay-per-view and diminishing its leverage in TV rights negotiations. An MSO or a Media company would be unlikely to pay a premium for content that could be diluted by an Internet channel outside its family unless a competitive bidder entered the picture. Consolidation in the media sector is a trend in reaction to the rapidly changing media landscape. By increasing in size and scope, Cable and Media companies influence negotiating leverage over smaller peers and vendors. This trend and WWE's decision to launch the digital channel before completing the TV deal left the company in a weaker position to negotiate a good agreement with NBCUniversal, owned by Comcast.
Given WWE is in the business of producing live entertainment - which doesn't scale easily, a good TV deal would offer substantial valuation upside to the company while amplifying brand awareness and driving traffic to the live events. Because WWE scripts content, numerous opportunities exist in additional narrative development via digital platforms focusing on specific character points of view (POVs). The key execution question centers on the method and partner in delivery of this content.
After failing to convince a good MSO partner to carry the WWE dedicated cable channel and after launching its own digital network, the company suddenly became a tech/media company, comparing itself to Netflix. While McMahon's chutzpah is admirable - digital network branding, marketing, execution, and subscriber growth requires a skillset different from running live events and producing TV content and the company's management will be under pressure to deliver results in a short period of time. Unlike larger media companies, WWE may not be diversified enough to weather the inevitable trial and error hick-ups that the digital network will encounter. Current cash flows do not allow much room for error, especially with a $36 million annual dividend. WWE had $32.9m in cash at the end of 2013 and said it would lose close to $50m in 2014 on its digital network (2013 10k). Cash has since been reduced to $21.4m (2014 1st qtr 10Q). The company can use $65.8m in short-term investments as a back-stop but the network required $70m to get up and running. If the network subs don't grow within the next year, increased debt and/or share issues will negatively transform WWE's balance sheet.
WWE Television Deal
WWE deserved more than $150m it received from NBCU. Let's focus on USA's and SYFY's combined five hours of WWE original programming and ignore re-runs, Main Event on ION, and Saturday Morning Slam & Total Divas on E!
Television ratings determine if the show stays on air. WWE averages 5 million viewers per hour on Monday Night Raw and 3.2 million viewers on Friday Night Smackdown. WWE runs programming 52 weeks a year and the content performs consistently well. The Monday telecast rates among the best cable shows every Monday, often beating out some of its Broadcast Network competition (table 1). In television, advertisers value the 18-49 demographic and WWE delivers 2.2 million people per hour on Mondays and 1.2 million on Fridays. Those numbers are solid and WWE should have had some leverage when it negotiated a deal with NBCUniversal. But something happened, NBCU argued that the audience is mostly high school educated males earning less than $50k per year and the CPMs are the lowest of any show on the USA channel. Further, the viewers are considered to be "rented" - and don't stick around to sample other programming, diminishing their value to the networks.
Table 1

Table 2

WWE was earning about $.10 per viewer per hour before the new deal. Table 2 implies that WWE is compensated $.13 per viewer by dividing 4.28 million blended average viewers by $577k per hour.
That is an underwhelming increase for the networks' bellwether providing 52 weeks of 5 hours each week. I'm not factoring in reruns or Total Divas on E!, though these hours undoubtedly have value. Consider that USA receives $.71 per month per subscriber. It is the #1 viewed cable network and would be #4 if WWE were not on USA Net. We can reasonably assume that NBCU leverages USA's viewer rank in carriage fee negotiations for all of its networks. Therefore, staying #1 in viewers is important to NBCU. The USA network is in 98.6 million households, yielding roughly ~$840m in annual carriage fees from the MSOs. SYFY is in 97.4m homes, yielding ~$315m for a combined carriage total of ~$1.16B per year. In addition to carriage fees, advertisers pay for commercial space on the two networks. DVR commercial skipping is less prevalent on live events. So why did WWE receive only $150m annually in the US when the company thought it would be closer to $280m?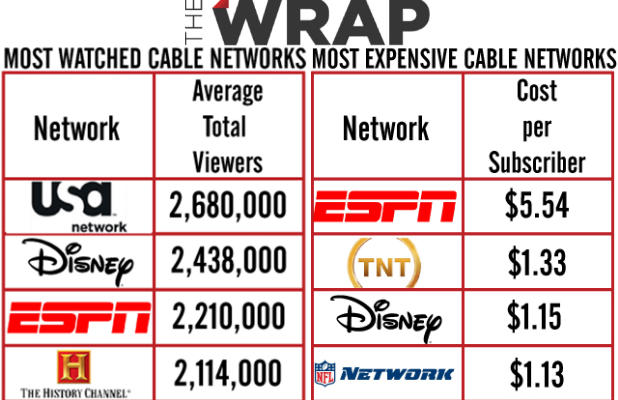 A rough bottom up buildup of WWE's worth to the cable nets
I suggest looking at WWE value to the cable networks in two parts because of the dual revenue stream.
1. Advertising (the nets collect ad dollars)
2. Subscriber (MSOs negotiated affiliate fees, USA - $.71 per sub, and SYFY $.27 per sub per month)
Advertising
USA network had nearly 13 minutes an hour of pure national ad time, leaving less than 5 minutes for promos, with total program time of 42:28 per hour. Frequency of network viewership is an important factor in ad dollar allocation by advertising agencies, and broadcast networks command a more desirable audience with higher frequency, but the discount is reflected in the $15.60 Cable CPM vs $25 Broadcast CPM average. Here is a rough estimate of ad dollars breakdown for WWE content and how it compares to what the cable network makes on this content. If WWE is allocated approximately $576k per hour, the networks earn $475k per hour. This is a conservative estimate because the blended average is watered down by introducing $5 CPM for audience outside 18-49. I am not factoring in the fact that USA Network carries some of the most desirable syndicated shows: NCIS, Law & Order, Modern Family that probably command more than the average $15.63 CPM allowing NBCU to say that advertisers don't want to pay equivalent CPMs for WWE and therefore it doesn't deserve a big increase in fees. However, that content is much more expensive per hour. For example, USA Network is paying $1.5m per episode (1/2 hour) of Modern Family and $2.2-2.3m per hour long episode of NCIS vs. the estimated $576k per hour or $288k per ½ hour for WWE where fans don't skip commercials like they do on the scripted counterparts because the wrestling events are live in prime-time.
Table 3 - rough value estimate - WWE content per hour from Advertising
| | | |
| --- | --- | --- |
| ROUGH AD dollars | scenario 1 | |
| advertising minutes per hour | 18 | |
| total 30 second spots w/promos | 36 | |
| paid ads - 30 sec spots per hour | 26 | |
| cost per thousand (CPM) cable 18-49 | $15.60 | |
| hours per week | 5 | |
| blended avg A18-49 (in thousands) | 1800 | |
| cost per thousand (CPM) other | $5 | |
| blended avg NOT 18-49 (in thousands) | 2480 | |
| rev for 5hrs on 2 nets (USA & SYFY) | $5,262,400 | |
| implied rev per hour (from commercials) | $1,052,480 | |
| implied per hour fee to WWE | $576,923.08 | 55% |
| NBCU keeps from ads | $475,556.92 | 45% |
SQAD reported average CPMs for an in-stream online video advertisement in 2013 were $23.03, or 38% higher than the avg A 18-49 CPM for Cable TV. Cable TV primetime A 18-49 CPMs also rose 5% to $15.63 in 2013 from $14.90 in 2012.
Subscriber fees
Another reference of WWE value to the cable networks is based on the carriage fees paid by the MSOs. Note that prime time (8-11pm) is the most valuable time slot on TV and commands the most expensive budgets per show per hour, especially Mon-Thu, and Sun night. Cable Networks often fill daytimes and mornings with reruns. I arbitrarily assign primetime 80% of the financial value vs. morning/daytime because original programming is always aired in primetime, gathering the largest audience that determines the success of the networks. WWE occupies 14% of USA Network primetime and 10% of SYFY's primetime. Taking the proportion of primetime allocated to WWE and projecting it onto the carriage fees, we can crudely argue that WWE represents additional $120m of value to the networks per year (see table 4), catapulting USA Net into the #1 watched Cable channel. Just splitting the $120m of carriage fee value would increase the $150m TV deal to $210m, and would add $216-324m ($2.88 - $4.32 per share) to the market cap at 10x-15x OIBTDA multiples at 36% 2013 margin.
Table 4 - rough WWE value to cable nets based on cable subscriber fees
WWE value at network subscription levels

21

prime time hours

52

Weeks

1092

total hours

3

wwe pr wk

156

wwe per yr on USA

14.3%

of total primetime

$840.07

annual USA sub fee

80%

allocated to primetime

$672.06

allocated primetime

$96.01

WWE value to USA net

2

WWE pr wk on syfy

104

WWE annual

$315.58

annual sub fee to SYFY

80%

$252.46

allocated to primetime

10%

WWE of total primetime on SYFY

$24.04

WWE value to SYFY

$120.05

WWE value to two networks
Sports
WWE compares its live televised events to sports because people don't skip commercials. The table below demonstrates that WWE's newest deal is worth less than soccer, with low ratings in the US (outside of World Cup) and sometimes beaten by the WNBA.
| | |
| --- | --- |
| Deal size (in thousands) | |
| NFL (avg between $5-6B) | $5,500,000 |
| MLB | $1,500,000 |
| NBA (new deal expected to double) | $930,000 |
| NASCAR | $820,000 |
| NHL (Rogers in Canada + US rights) | $633,000 |
| Soccer (US rights + NBC EPL rights) | $173,000 |
| WWE | $150,000 |
| UFC | $100,000 |
NFL - CBS, Fox, ABC, NBC, and ESPN pay about $5-6B per year through 2021. Navigate Research predicts that the media rights will be worth $17B by 2027.
NBA - ESPN/ABC and TNT have a $930m annual deal for the DVR-proof events. The negotiations for a new pact are expected to double the annual revenue for the NBA. It is one of the last remaining sports packages not locked up beyond 2020.
MLB - MLB teams (like NBA teams) can make individual deals with regional TV networks in addition to sharing in the pool of evenly disbursed funds from the league negotiated overall deals. Current national TV contracts with TBS, FOX, and ESPN earn $1.5B annually - an increase of $788.3m from the prior deal. MLB teams are able to tap into three more revenue streams resulting from regional media rights:
- local annual right fees paid by Cable Providers ($100m starting in 2016 to the Phillies by Comcast SportsNet)
- owning an equity stake in regional networks (25% in CSN Philadelphia for the Phillies…)
- the Phillies will continue to share a part of advertising revenues and Comcast is also working with the Phillies to monetize in-market digital streaming rights to mobile devices.
NASCAR - $8.2B 10-year deal with NBC and Fox.TV ratings fell 32% since the last negotiated deal in 2005 (5.3 to 3.6), yet the annual $820m fee represents a 46% increase over the previous $560m annual deal - a staggering amount paid for declining content. The dynamic behind the deal was the desire of Fox Sports 1 and NBC Sports Network to increase subscription fees and advertising rates, and nabbing NASCAR rights was seen as a positive step in that direction, even though NASCAR is one of the most expensive sports to cover. These cable channels' home penetration should increase and every marginal fan paying attention to these upstart networks is important, unlike to ESPN, with plethora of excellent sports content.
NHL - The league scored an exclusive, multiplatform deal with Rogers Communications in Canada for a total value of $5.2B over 12 years, averaging $433m per year. That is larger than the $2B 10 year US TV deal signed in 2011, averaging $200m per year. NHL will collect $633m annually in North America.
MLS -The soccer league was able to triple its TV rights with ESPN, Univision, and Fox from $30m per year to $90m, exceeding analyst expectations. In-stadium fan base attendance is loyal and has grown to exceed NBA and NHL. However, the TV ratings haven't fared very well, often outperformed by the WNBA, which gets $12m per year for TV rights. English Premiere League got $83m from NBC. Combined, soccer TV broadcasts are yielding $173m per year in the US.
UFC - Perhaps the closest competitor business model to WWE. UFC signed a $100m annual contract with Fox (total $700m) in 2011. It also broadcasts 14 ppv events per year (as of 2012). One of its recent PPV events, UFC 168 - Chris Weidman vs Anderson Silva and Ronda Rousey vs. Miesha Tate - garnered 1.1m buys (similar to Wrestlemania - WWE's best event) and $6.2m at the gate. Dana White says the company is worth $3.5B, up from $2B Lorenzo Fertitta stated in a NYT interview a couple of years ago.
WWE Digital Network
The digital network is a Start-Up replacing a declining pay per view business, whose revenues dropped from $127m in 2001 to $83m in 2013. Management is placing a high value on the network and the thought process represents a pivot in the overall business model, focusing on the global audience subscriptions, currently totaling 670k. According to George Barrios - CFO, the Internet channel's unproven demand is estimated to be 2-3m domestically and 500-750k subs internationally. LifeTime Value (LTV) per customer is uncertain. Management previously said that the monthly fees would be $12.99-$14.99 before settling on $9.99. Breakeven was planned at 1 million subscribers, and now that number is 1.3 million. Management also mentioned that the churn rates could be somewhere between 6-8% per month, like HBO, but this information seems inaccurate because churn rates at those levels would imply an almost all-new audience every year.
WWE Digital Network will carry original shows such as WWE Countdown, Legends House, Monday Night War, Tough Enough, and Countdown II. The thousands of hours of content, plus new shows and pay per view events seem like an enticing proposition to WWE fans, but Taleb's "Narrative Fallacy," which addresses our instinct to force a logical link and an arrow of relationships on data points, may undermine the management's theory because the company infers 2.5-3.8m (3-6%) subs from households with affinity for WWE, hoping they will become engaged enough to purchase a $9.99 monthly subscription. The problem with that assumption is that 5 million overall viewers watch cable shows for free and can be considered engaged viewers primed for paid conversion. If 2/5th of the viewers sign up to pay for the digital network, that's an unrealistic 40% conversion rate. Additionally, since 47 million of the 52 million households don't watch the free shows, why would any one of them buy a premium channel? Allowing a margin of error, the numbers still seem too optimistic if we use the data set of engaged cable viewers.
Maybe there are people who just buy pay-per-view events and don't watch free cable. A better pool of subscribers may be the ones buying 2-3 PPV events each year. Here the digital subscription makes sense because these people can save money by switching to the Internet channel. But the technical challenges of switching include extra work to setup the Internet connection on TV, buy Roku, or login via Xbox. Since WWE serves the lowest common denominator, the audience watching television hooked up to cable or satellite; these customers may not be ready for a technical switch. Furthermore, in social locations like the gyms, restaurants, and bars, DirecTV promotes PPV events and now WWE will be losing out to UFC promotions. "Out of sight, out of mind" phrase can apply. People may not learn about the WWE PPV events if they are just casual fans seeing advertising in random places. Those people may have purchased a one-off PPV event for a party, but will not be buying a digital channel subscription partly because we're too early in the Internet PPV party adoption curve. After all, ½ of WWE's viewers earn under $50k and 66% didn't attend college. As far as its own big marketing push, Wrestlemania is on April 6th; the company must wait a year for another chance to promote a big event on the digital network in hopes of building its subscriber base.
WWE is swinging for the fences in its attempt to create a successful digital network, but will the balance sheet be crippled by the time the company sells enough subscriptions, fine-tunes the user experience, and zeroes in on the LTVs of each customer?
If WWE is determined to make the network work, perhaps a better option would be to spin out the network as an independent tech company and to provide exclusive content by charging appropriate licensing fees. WWE can kick in some cash and equity to give the venture a jump-start but insulating the content business from the tech company risks would allow WWE to walk away from the OTT network if it fails to deliver an expected ROI within a certain timeframe. WWE would also be able to sell it to a larger media company looking to consolidate businesses.
Valuation
If churn rates materialize between 6-8% per month, the retention rate will be between 4-28%. Put another way, 72-96% of subscribers will quit within a year and the company would have to replenish them with new recruits. At these levels, customer lifetime values (LTVs) are dismal: $19.82 at 6% and $2.13 at 8% monthly churn rates. While management discusses these rates, it erroneously guides to 2.5-3.8m subs by 2015 via affinity numbers based on their own research. WWE projections estimate that 2-3m (4-6%) of the 52 million US households, and .5-.8 (2-3%) million of 25 million international households will pay for the digital network. As previously mentioned, a more appropriate measure would be to apply the same rates to the 5 million people watching the free shows on USA network (6% * 5m= 300,000) and add the people who would replace the PPV purchase with a network subscription (~1m WrestleMania buys). Even if every person who bought WrestleMania converts to a subscriber, the total sub numbers will not exceed company defined steady state 1.3 million.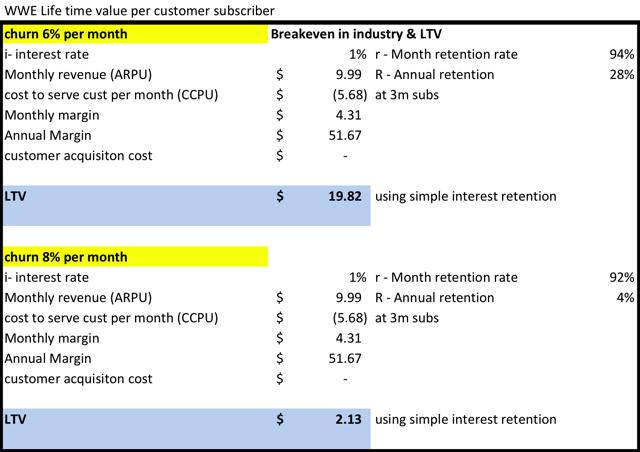 Based on historical numbers and the new TV deal, the table below projects WWE will generate -$42m OIBTDA in '14 and $44m in '15 while the digital subscriber numbers would increase from 670k to 1.3m.
Blue sky case ($1.55B at 10x OIBTDA) - The 2016 estimate taken from scenario 2 above expects the company will grow in subscribers from 1.3m in '15 to 3m by '16, generating $155m in OIBTDA and implying a $1.55B valuation at 10x multiple - a 69% upside to the $919 market price on Jun 17, 2014. To reach 3 million subs by 2016, monthly churn will have to drop closer to 2% (in line with successful subscriber type businesses) - replacing about 24% of subscribers every year while growing the base.
Average case ($400m at 10x OIBTDA) - If WWE reaches 1.3m subs by 2016, OIBTDA will be around $40m, and if we assume the 6-8% monthly churn rate, WWE will have to recruit 1-1.25m new subs every year just to keep pace with the dropouts. In three years, 3-3.75m people will need to be recruited to maintain 1.3m steady state subs.
Bear case - 2016 OIBTDA will be -$50m if WWE only manages to maintain its current subscription base of 670k customers. If continued cash drain occurs for the next three years, the company will be forced to take some strategic action to avoid value destruction. Currently, I find the bear case the most plausible scenario.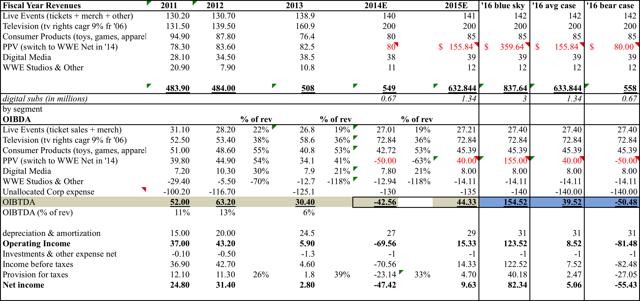 Balance sheet:
WWE Network, WWE Studio (Films), and the $36 million annual dividend weaken the company's financial strength. In the midst of the business shift, management issued $29m in debt for a new plane, an untimely purchase that highlights executives' priorities to travel in comfort over the health of the company. On a positive note, to weather the storm, the company boasts $90m of available capacity from the $200m credit facility due on Sept. 9, 2016.
Red Flags
Corporate jet expenditure in 2013 around 33-37m
Recent rising COGS from 60% to 64%

Talent must be demanding higher pay
Arenas expensive to rent
Logistics costs going up: trucks, accommodations, transportation, food, etc.

Film investments are to continue - it's a loss leader for the company (add this to digital network)
The company consistently pays out dividends exceeding income
Management misses targets and guidance numbers (does it know what it's doing as a startup in digital?)
The company projects an increase of 50-150 in EBITDA because of the digital network but that claim is unsubstantiated because 1.3-3m subscribers and low churn rates will be needed to achieve those numbers.
Two reasons for bad management and a possible failing strategy at the company.

TV deal is only $150m in US, up from ~$100m when expected to be ~$280, flubbed negotiation strategy as digital network went online. Nets don't want to pay more because advertisers don't see as much value in demographics watching WWE. I think the reason it didn't get a good deal is due to lack of leverage in negotiations.
Digital Network is failing with only 660k subs after WrestleMania in April, which was supposed to attract nearly 1m subs. Now the company has to wait another year before getting a shot at people who would buy WrestleMania by being lured to the digital site membership. Results are underwhelming when the breakeven point, factoring in PPV cannibalization, is about 1.3m subscribers. Who knows what the churn is? If the churn rate is what the CFO said -could be 6-8% per month, then the whole base turns over every year.
Takeaway
Perhaps some of the actionable items below can help alleviate the pressure on WWE and set the company on a growth path. Lemelson Capital disclosed their short thesis on WWE earlier in the year and just revealed a long position after the stock price plunge, looking for changes at WWE.
Re-engage DirecTV for PPV. Wait until OTT adoption is optimal before converting PPV to digital. There is no need to be an early adopter because WWE doesn't serve the early adopter demographics.
Spin-off or restructure the online network

Exclude PPV events
Drop the price to a much smaller fee
Pause global rollout until US is stable and profitable. Don't run ahead of the problem by incurring more costs internationally.

Look around for a larger media company partnership where leverage can be used to negotiate a better deal with the TV networks and can help capitalize the intangible brand value.
Cut film studio expenses for at least a year or two. See if this negatively affects attendance and brand awareness. If so, reinstate the studio approach to level out attendance. This step is probably unlikely given the new Lionsgate deal on 5/22/14.
Sell the plane. The company is in dire need of a focused capital expense strategy. This will send a great signal to investors showing financial discipline.
Cut the dividend to zero until business stabilizes.
The key is to increase free cash flows and OIBTDA margins. Not all is lost because the brand is extremely recognizable and creates a substantial competitive moat.
Conclusion
The company is unlikely to realize 3 million digital subscribers on its current trajectory. Even the 1.3 million seems to be an ambitious goal that would bring in about 44m OIBTDA by 2015 and would value the company at $440m ($5.33 per share).
In television, WWE deserved a bigger raise in annual fees from USA & SYFY, but without leverage extracted through association with a bigger entity or a second offer, NBCUniversal (Comcast) had the upper hand. After the exclusive negotiations period with NBCU, WWE tested the waters for a new cable network home but didn't find any buyers and found itself in an unenviable position of taking what was on the table from USA & SYFY. "Cable Cowboy"- a book about John Malone and the cable industry - confirms that cable companies are more likely to work together than not. Combined with the right to match any offer, Comcast was in prime position to negotiate a good deal with WWE and to convince other MSOs not to carry WWE's cable channel if it wanted to do that.
Under the right guidance, WWE is a valuable company with the ability to generate stable, substantial cash flows and operating income, but at status quo, it's a short.
Disclosure: The author has no positions in any stocks mentioned, and no plans to initiate any positions within the next 72 hours. The author wrote this article themselves, and it expresses their own opinions. The author is not receiving compensation for it (other than from Seeking Alpha). The author has no business relationship with any company whose stock is mentioned in this article.