The market performance of 2010 has been dizzying to say the least. The obvious run-away freight train trends of the past three years don't seem to be present in this new decade. With a glancing analysis one can tell that the real economy is equally tumultuous. While the domestic economic recovery has been sluggish by any measure, Asian economies continue to grow at a great pace and drive export growth (see here) and it seems markets are finally beginning to acknowledge this leadership. Notable ETFs have been making 52 week highs recently (IFN, PGJ). Can this continue or will markets go back to moving as pairs?
To answer, we need to analyze the strengths of each bull/bear argument.
First, let's look in the mirror. The biggest black cloud over the markets is unquestionably financial reform, and tepid movements in bank stocks (BAC, C, COF) have reflected this uncertainty. So what will be the consequence of this legislation? And shouldn't risk deleveraging be a good thing? In my view, yes and no.
Securitization is an amazing phenomenon. A practice that can increase a bank's lending margins and marginal expected return, but ultimately, increase their solvency risk. How should this play out in an environment of ~10% unemployment, and record low new home sales?
With limits on securitization and slimmer margins, banks are forced to be more discerning with their lending. So in return, this creates lower consumption and less buying, whether it be mortgages or consumer goods. Its a pretty nasty feedback loop when you really think about it. As a hard asset bull, I feel loathe to use the "D Word".
Ultimately the fate of securitization will come down to the resolution of details pertaining to ABSs in the Dodd-Frank bill.
Specifically, securitizers are:
prohibited from hedging or transferring the credit risk it is required to retain with respect to the assets
required to retain not less that 5% of the credit risk for an asset that is a qualified residential mortgage,
for commercial mortgages or other types of assets, regulations may provide for retention of less than 5% of the credit risk, provided that there is also disclosure
This part of the legislation is hazy at best, and whether 5% includes Special Purpose Vehicles is a trillion dollar question. Personally, I think 5% unhedged risk retention in the presence of moral recourse is still unacceptably low (I digress); Either way, securitization has been dramatically reduced recently. If this trend is to continue, domestic driven GDP forecasts are almost certainly optimistic. Below is a chart of consumer loan securitization.
click to enlarge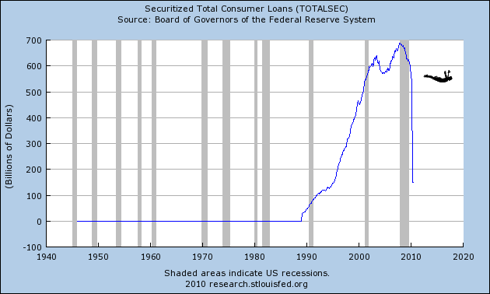 Additionally, bears can argue the fate of social security and the flight of baby boomer investors to safety...but that is another article.
Fortunately, it is not all doom and gloom. Central banks have printed money at an alarming pace during the crisis, and that money needs to go somewhere. America is home to some of the world's largest corporations with unmistakable international footprints. These companies' earnings will continue to surprise people, and attractive valuations will draw investors. I like Qualcomm (NASDAQ:QCOM), Agruim (NYSE:AGU), and Ford (NYSE:F) to name a few. Companies that can continue to generate good profits will then look to put capital to work in M&A markets which have been very robust recently.
Treasuries have also been bought feverishly. But to make a contrarian case, when investors ultimately get frustrated being stuck in a 2% yield on an, arguably, depreciating currency, the money will need to be moved elsewhere. The asset price action concurrent to this buying of Treasuries, to me, is pretty impressive and a great argument for more capital being allocated into equities in the future.
Domestically, the battle between macroeconomic worries and money seeking yield has resulted in a range-bound market.
The Indian market, however, has no banking concerns and is making new 52 week highs. The absence of technical resistance should attract more buying relative to normal, and valuation is fair. The P/E is about 20, which is a slight premium to the S&P 500, but with GDP growth of 8.5%, it makes sense to get in front of the growing Indian middle class' money flow. Further, India's growth doesn't carry the same type of asterisk as Chinese growth, which could be at risk to an appreciating yuan.
Since the growth fundamentals have been constant for BRIC countries throughout the crisis why would decoupling start now? Because coming out of the March 2008 hole, EVERYTHING was cheap. The world was priced to end, so it meant you could buy indiscriminately. Now that valuations are "in the ballpark" divergences are, rightfully, arising. Check EWP, EWJ, and IFN if you don't believe me.
So is this decoupling here to stay? To an extent.
In the new world of ETFs, there will always be strong correlations between stocks. The difference is one can be making a 52 week high and the other can be bumping its head. The problems in the U.S. and Europe are real, and some investors will continue to flee to saftey. But corporate profits and money flow are also strong. It comes down to a question of fear. I think the economies with less to fear will outperform to a greater extent in the upcoming future.
Disclosure: No positions