When is the last time that crude oil closed as high as $81.64 per barrel? You'd have to look back to 2008. At that time, crude was on its way down. This time, commodities like oil are trending higher!
There are plenty of exchange-traded investments for rising crude oil prices. Perhaps the most popular is United States Oil (NYSEARCA:USO) — an ETF that endeavors to capture the the spot price of West Texas Intermediate Light Sweet Crude.
It should be noted, however, that USO has struggled immensely at tracking its intended index due to contango and backwardation. And the iPath Crude Oil ETN (NYSEARCA:OIL) hasn't fared a whole heck of a lot better.
Other folks hope to benefit from the corporations that explore for, produce and sell the commodity. Yet share prices of big energy companies have been hit from everything from oil drilling moratoriums to taxation and regulatory uncertainty. ETFs like SPDR Select Energy (NYSEARCA:XLE) and Oil Services HOLDRs (NYSEARCA:OIH) have been under-performers regardless of reasonable share price valuation.
So what's an oil investor to do? Can you march to the beat of the oil drum… and actually achieve over-sized returns? Yes you can. However, you might want to look in a slightly different direction.
1. JP Morgan Alerian MLP (NYSEARCA:AMJ). This exchange-traded note tracks roughly 50 master limited partnerships of the Alerian Index, giving investors diversified access to the energy pipeline space. Keep in mind that… even as oil had been stuck in a trading range over the last 12 months… JP Morgan Alerian MLP (AMJ) pocketed 47%! USO? OIL? They were both flatter than the lids on oil barrels.
How much confidence have I put in energy MLPs? JP Morgan Alerian MLP (AMJ) was a hallmark selection in my January post, "An ETF Portfolio For Beating the S&P 500 in 2010." And while commodity fluctuations can cause a fair amount of volatility, a general trend of higher oil prices is favorable to MLP investing.
Pipeline MLPs typically transport crude oil and natural gas throughout the country, with genuine supply and demand driving MLP price more than the spot commodity price. So regardless of what is happening with futures contracts, if the country is increasing its energy use, you're likely to benefit.
2. Market Vectors Coal (NYSEARCA:KOL). Coal may have a reputation as a hobbled horse in the world of energy/power generation. Yet it tends to gain more prominence when other sources of energy a la oil become expensive. Simply put, China and India manufacture the world's goods where coal is the cost-effective fuel for generating plant electricity.
Emerging market demand for coal far exceeds mining company ability to supply it. In other words, even on its own merits, coal company stock shares may be a great investment. Yet they become even more attractive when other fossil fuels rise in price and when economic recovery takes hold worldwide.
3. iShares Global Consumer Discretionary (NYSEARCA:RXI). It wasn't that long ago that we left the U.S. consumer for dead. Now, not only are folks beginning to think there's life in consumer spending, but growth in the consumers in other parts of the world are even more impressive.
Indeed, if oil prices head higher on greater demand, that'd be a good sign for discretionary consumption. Moreover, the current price of RXI is well above its long-term trendline.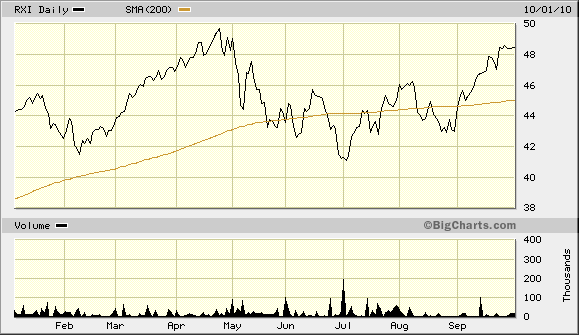 Disclosure: Gary Gordon, MS, CFP is the president of Pacific Park Financial, Inc., a Registered Investment Adviser with the SEC. Gary Gordon, Pacific Park Financial, Inc, and/or its clients may hold positions in the ETFs, mutual funds, and/or any investment asset mentioned above. The commentary does not constitute individualized investment advice. The opinions offered herein are not personalized recommendations to buy, sell or hold securities. At times, issuers of exchange-traded products compensate Pacific Park Financial, Inc. or its subsidiaries for advertising at the ETF Expert web site. ETF Expert content is created independently of any advertising relationships.