After weeks of speculation, General Electric (NYSE:GE) has come out as the clear winner in the battle for France's Alstom (OTCPK:OTCPK:ALSMY), defeating rival Siemens' (OTCPK:OTCPK:SIEGY) bid. This marks a major milestone for the company as it would be its largest ever acquisition once closed. In addition, this transaction is another step forward in General Electric's transformation into an industrial pure-play.
The details
General Electric to buy Alstom's Power and Grid business for $13.5 billion (€9.9 billion)
7.9x EBITDA multiple
Transaction is immediately accretive to General Electric's EBITDA and EPS starting in year one
Alstom to invest $3.5 billion (€2.6 billion) into three energy joint ventures with General Electric
General Electric signs a memorandum of understanding to sell its Signaling business to Alstom for approximately $825 million (€602) and to enter into multiple collaboration agreements involving services, technology, supply chain, manufacturing, and commercial support in the U.S.
According to the WSJ, Alstom's board of directors has officially accepted General Electric's sweetened offer. However, the deal still requires the French government to acquire the 20% stake in Alstom held by Bouygues (OTC:BOUYF).
In essence, General Electric will still be buying most of Alstom's energy assets at an enterprise valuation of $16.9 billion ($13.5 billion after net cash).
However, rather than buying the entire unit outright, the company has agreed to make certain concessions to the French government and will form three 50/50 joint ventures with Alstom.
Below are some of the key details on the joint ventures:
Grid: the combined Grid assets of GE and Alstom

Renewables: Alstom's Off-shore Wind and Hydro businesses

Global Nuclear and French Steam: Alstom's production and servicing of equipment for nuclear power plants, and development and sales of new nuclear equipment around the world; and Alstom's steam turbine equipment and servicing for applications in France.
In addition, General Electric has agreed to sell Alstom its train signaling business for $825 million. This transaction will likely take place after closing of the main deal.
These concessions are in addition to previously made promises by the company regarding job guarantees and issues surrounding nuclear power.
As a result of the joint ventures, Alstom will be contributing $3.5 billion (€2.6 billion) of its own cash. The net effect here will be that the net cash outlay by General Electric will be reduced to $10 billion (€7.3 billion).
Furthermore, General Electric has noted that it expects the transaction to be accretive to earnings in the first year while also anticipating synergies target of $1.2 billion annually by 2019. Originally, the Alstom energy assets were to add roughly $0.08 to $0.10 per year to 2016 EPS. However, the joint ventures are expected to lower projected earnings accretion by $0.01 to $0.02 per year.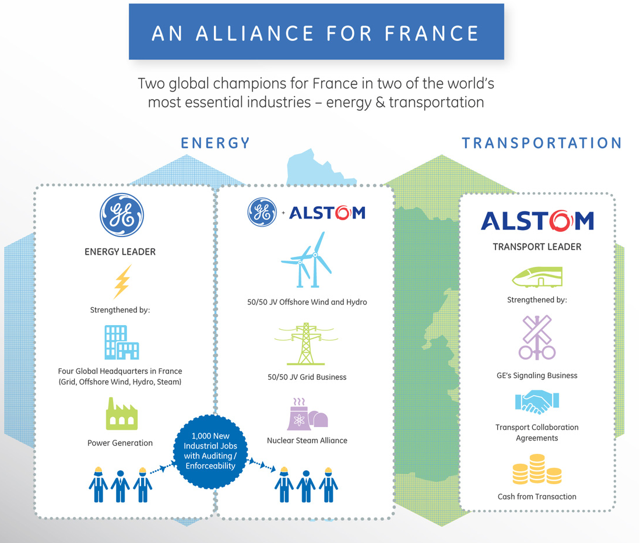 Conclusion: General Electric is getting a good deal
I am sure the critics will question the merits of the Alstom transaction. However, unlike some, I do not think this was a pyrrhic victory.
Even with the joint ventures, General Electric will still end up owning the lion's share of Alstom energy assets. This includes Alstom's world class hydro, steam and gas turbines, which are used throughout Western Europe.
Make no mistake, both Siemens and General Electric were eyeing these turbines first and foremost. After all, this is a high-margin business with long-term servicing contracts in place with numerous power plant operators.
Yes, General Electric had to make several concessions to the French. However, closing any deal is a victory given the extremely protectionist government in power. In addition, with the extremely competitive offer put out by Siemens and Mitsubishi (OTCPK:OTCPK:MHVYF), an improved offer was widely expected.
Disclaimer: The opinions in this article are for informational purposes only and should not be construed as a recommendation to buy or sell the stocks mentioned. Please do your own due diligence before making any investment decision.
Disclosure: The author is long GE. The author wrote this article themselves, and it expresses their own opinions. The author is not receiving compensation for it (other than from Seeking Alpha). The author has no business relationship with any company whose stock is mentioned in this article.
Editor's Note: This article discusses one or more securities that do not trade on a major U.S. exchange. Please be aware of the risks associated with these stocks.