I've been loving Apple (NASDAQ:AAPL) since I bought it before last quarter's earnings. The stock has been a good run, but discussion on the company has unofficially turned into what the next big catalyst is going to be for Apple and how the stock will perform in the meantime. As you can see, since the stock has run up as a result of earnings, the buyback announcement, and the split announcement, it has since pulled back to near $90 - or what pre-split, would have been around $630/share.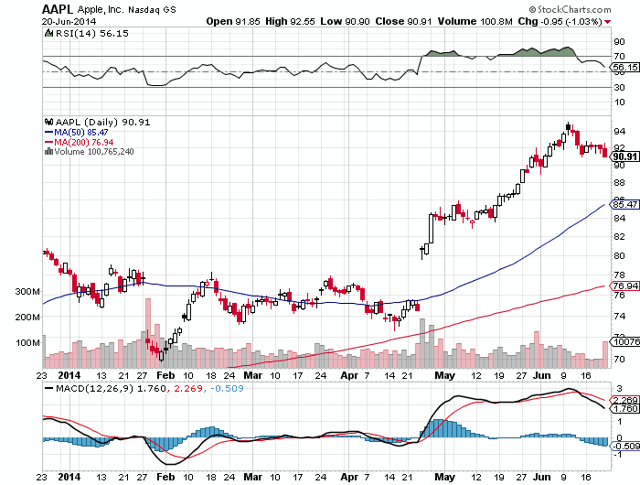 If you recall, post-split, many of the Apple headlines were pinning the technology company to head to, and through, $700/share.
After the stock took off over $600, I disclosed that I had added to my position in the company. My price target for the company remains $100/share - or $700 from the pre-split levels.
As I said in a previous article about Apple, the big controversy coming out of earnings last quarter was that despite the beat and despite the stock split and buyback news - there were no new products. This sent everyone into a frenzy.
"Is Apple done innovating?" people mindlessly postulated, working themselves up into a panic thanks to the help of CNBC and others.

Yes, Apple is done innovating. The most fundamentally sound half-trillion dollar company is simply just going to stop making new products. That's exactly what's going to happen.

Give me a break. Have people lost their minds?

There's no doubt there's going to be a slew of new products coming out this fall, and they're likely to floor everyone like Apple products have a knack for doing. Just because Apple isn't first out of the gate when it comes to things like the smartwatch and streaming TV, it doesn't mean that when they do introduce products that they're not going to be worth the wait and completely blow people heads off. You just watch.
Again, I'm still long here for a couple of reasons.
The first is that where other people do not see a catalyst until the iWatch release, I think there is a continued catalyst in this stock with Apple's approved buyback sum of $130 billion. While the company isn't going to be reporting earnings anytime soon, and the iWatch isn't likely to come out until September, I still think there's a "silent" catalyst in the buyback that could continue to move the stock upwards when combined with a healthy bullish macro market.
The second reason that I continue to be in the stock is because, unlike others, I see the iWatch release as a win/win situation for the company.
Many people have expressed concerns that the iWatch is going to be "late to the party", now that Samsung has already released its own smartwatch. I couldn't disagree more. I wrote about this in a previous article, where I stated:
But this isn't the only time that Apple is going to have someone rush in front of them to try and beat their thunder to market with a new product. Hell, that's been going on since Microsoft rushed to get the original Windows on the old NEC prototypes in Japan before Apple was going to launch the Mac.

For Apple, it hasn't really been about timing (possible exception being the iPhone), it's generally been about the quality of the product. Apple is of the mindset that they are producing the best quality and most innovative products in the world, and while they have a concern with shipping in a timely fashion, it's not what their model is based on.

You have your Apple cultists that have already committed themselves to the iWatch, before it's even arrived. And, you have your Apple "Ecosystem" crowd, who are already familiar with the brand. Finally, you have your Apple elitists, that have bought into the fact that Apple is trying to simply create better and more innovative products than competitors.
So, put simply, QTR doesn't think that Samsung's push to get its watch to market first is going to impact Apple negatively at all. In fact, it may come with some benefits, as Apple will get a first glance as to potential features that it might not have thought of. Keeping your friends close, and your enemies closer.
Apple has a knack for tapping into new markets. It did it first when it started into the mp3 business, and it carried that over and morphed it into the iPhone. From there, it was the tablets. Every single new product it makes is nicer to look at than what's currently out there, and offers superlative new function. Apple only seems to enter into a market if it can be the best. There hasn't been anything that has made major media in the world of wristwatches for as long as I can remember. After Samsung could actually be the best possible time for Apple to enter into this market - like a prizefighter waiting for his/her opponent to exhaust themselves first before striking.
Last week, we were finally offered up some of the details as to when Apple planned to release the watch. To review, Reuters covered the story, as details inadvertently started to leak out and make their way to the press. It looks like the watch will be in production in July, for purchase this coming fall.
Reuters reported:
(Reuters) - Taiwan's Quanta Computer Inc 2382.TW will start mass production of Apple Inc's AAPL.O first smartwatch in July, a source familiar with the matter said, as the U.S. tech giant tries to prove it can still innovate against rival Samsung Electronics Co. Ltd.

The watch, which remains unnamed but which company followers have dubbed the iWatch, will be Apple's first foray into a niche product category that many remain skeptical about, especially as to whether it can drive profits amid cooling growth in tech gadgets.

The production will be a boost to Quanta, given that its work for Apple till now has focused on laptops and iPods, product lines that are in decline. Quanta's role though is likely to raise questions about what involvement Hon Hai Precision Industry Co, one of Apple's biggest suppliers, will play in production.
There is no doubt that it's going to be fantastic timing for Apple, who will make the watch available right before the holidays. Also, due to the timing, it appears Apple is going to be one of the main companies that helps drive a major consumer shift into smart wearables and giving them its "mainstream" blessing.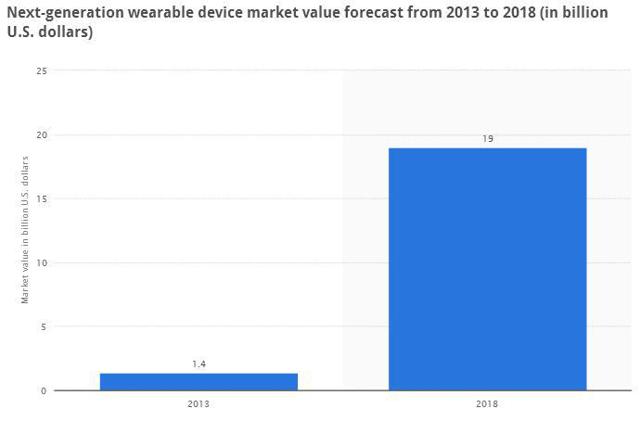 This Statista forecast shows the "open interest" in the smart wearables market in the coming three years. If you take the $19 billion that's projected for wearables in 2018 and you divide that by $250 - which seems to be an estimate of what the watch will cost - you're looking at around 76 million "wearable units" for 2018. I'm predicting that this number could blow past expectations if the iWatch is a major hit. In terms of the numbers that Apple is expecting, Reuters continued:
The source said Apple expects to ship 50 million units within the first year of the product's release, although these types of initial estimates can be subject to change. The watch is currently in trial production at Quanta, which will be the main manufacturer, accounting for at least 70 percent of final assembly, the source said.
A best-case scenario, or "win scenario #1", would consist of obvious success for the watch. Meeting or exceeding the company's goals of 50 million units sold throughout the first year would not only mean something in the range of an additional $12.5 billion in revenues, but it would also do well to push public interest into wearables and to position Apple as a "trendsetter" once again - the way that the iPhone jolted the company into the smartphone market and turned it into the juggernaut that it is today.
In the worst-case scenario, or "win scenario #2", the iWatch has only a nominal response, but has continued to expose people to Apple's ecosystem. With a portfolio of products that are likely to work together with the watch, as opposed to cannibalize from it, any sales of the iWatch are going to be positive for Apple. The iWatch is also a product that could likely pair extremely well with the iPhone, and Apple could consider selling the two of them together. For someone like myself, who is going to be in the market for an iPhone upgrade in September, why wouldn't I spend the extra hundred or two and update my watch game as well? The two items are likely to have a Bluetooth relationship with one another as you carry them both around with you all day.
The press surrounding the event and the appeal of checking out the watch in retail stores worldwide is likely to shoot another wave of interest into the brand across the world. The iWatch, whether or not it's successful in and of itself, is going to continue to help nudge people towards Apple's ever-expanding portfolio of ecosystem products.
I am staying long Apple here, and I think "win scenario #1" is going to be the more likely outcome here, out of the two. I think just as the company has reinvented the phone and tablet market, it's going to do so with wearables. I don't doubt that when the iWatch comes out, it's going to be heralded as the leader in the smartwatch niche of the wearable category. This, combined with Apple's recent interest in wearables and "the Internet of Things" should allow for modestly priced Apple to continue heading upward in the long term.
Best of luck to all Apple investors.
Disclosure: The author is long AAPL. The author wrote this article themselves, and it expresses their own opinions. The author is not receiving compensation for it (other than from Seeking Alpha). The author has no business relationship with any company whose stock is mentioned in this article.