Just recently, I wrote the article "Will Longs Be Laughing All The Way To The Bank," in which I asserted that BlackBerry (NASDAQ:BBRY) could indeed shoot up to $20 per share if the company manages to sustain earnings momentum and if the Z3 rollout in other Asian countries is a success. Also, I argued that a return to cash flow-profitability would be a major milestone achievement for BlackBerry, and that investors pretty much get BlackBerry's QNX, Enterprise and Messaging business for free, thanks to the irrational valuation of Mr. Market.
I have been quite a Bull with respect to BlackBerry ever since I started my position in the smartphone company just a few months back, when BlackBerry's short interest was extremely high. Though it is a controversial approach, I find accelerating short interest a top contra indicator, as it often signals that a stock is bottoming out (remember: the bullish herd agrees on the top, and so does the short selling crowd at the bottom).
In the chart below, notice the spike in short interest just when BlackBerry's shares were bottoming out in November/December 2013.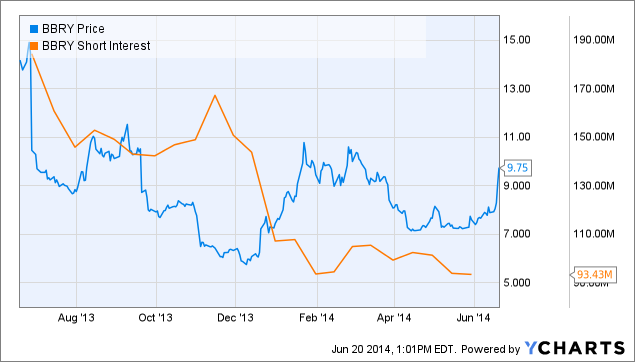 Citron Research upgrades its BlackBerry price target to $20
While my BlackBerry price target was largely driven by my valuation approach based on Blackberry's balance sheet, I find it comforting that Citron Research also came to the same conclusion as I: $20 is a valid price target for BlackBerry.
First off, I don't want to repeat everything Citron Research mentions in its report about BlackBerry. Interested readers can read the report themselves and come to their own conclusions (you can find the report here, link opens as pdf).
However, I am going to provide a quick summary of Citron Research's investment thesis, which basically has four pillars:
"The Internet of Things," with an estimated market value of $8.9 trillion by 2020, offers tremendous opportunity for BlackBerry.
BlackBerry's operating system QNX is gaining traction in the automotive sector.
A gold rush mentality in the mergers and acquisitions business is taking hold: Apple (NASDAQ:AAPL) bought Beats for $3.0 billion, Google (GOOG, GOOGL) bought Nest for $3.2 billion, Snapchat rejected a $3.0 billion cash acquisition offer from Facebook (NASDAQ:FB).
BlackBerry could become an acquisition target in a new "Internet of Things" landscape.
Acquisition target?
If Chen proves in the coming quarters that he can further stabilize sales and can return BlackBerry to cash flow profitability, the company could indeed, at some point, become an acquisition target. Low valuations don't stay low for long, especially when BlackBerry has something that an acquirer would want (Enterprise, Messaging, QNX).
While many investors might disagree with the acquisition thesis and prematurely mark BlackBerry as an unattractive acquisition target, one has to look no further than to Nokia (NYSE:NOK) to see that deeply bleeding (device) businesses can be sold -- in this case, to Microsoft (NASDAQ:MSFT).
Though Chen has indicated that he doesn't want to sell BlackBerry, it all depends on the price that would be offered. In this regard, I would recommend readers to watch Chen's latest Bloomberg interview (video here), in which he lays out a roadmap for BlackBerry and comments on a potential acquisition offer.
I am sure Beats also valued its standalone profile highly; until Apple came around the corner with a wheelbarrow full of cash.
Short seller endorsing BlackBerry's value proposition?
While I agree with Citron's Research and the updated price target, I also like to draw attention to something that is usually being overlooked when it comes to Citron Research.
Citron Research is an investment research business that focuses on short selling. That's right: It is a short-focused investment/research shop. Having a short seller, traditionally highly skeptical, probing and well-informed individuals, come out and endorse a company should clearly make Bears cautious.
Chart situation
BlackBerry is up strongly again after Citron Research's $20 price target was disseminated. BlackBerry's shares are were up 8% on Friday, driven by high volume, but shares have now pushed into oversold territory, according to the Relative Strength Index [RSI], which makes a short-term correction likely.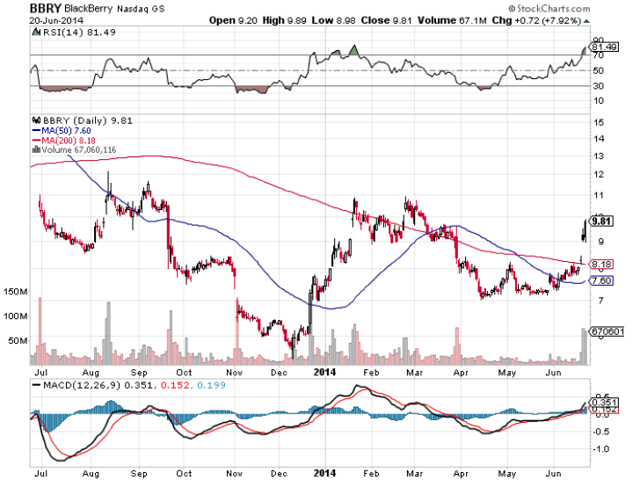 (Source: StockCharts.com)
Conclusion
I continue to stick with my $20 price target, and take comfort in the fact that a seasoned short seller agrees with my BlackBerry investment thesis. Going out on a limb and endorsing a stock when your main business is taking the short side of the trade deserves respect. Chen is positioning the company for growth. BlackBerry is no longer a dog. Think big, start small. Strong Buy.
Disclosure: The author is long BBRY, AAPL, NOK. The author wrote this article themselves, and it expresses their own opinions. The author is not receiving compensation for it (other than from Seeking Alpha). The author has no business relationship with any company whose stock is mentioned in this article.