My thesis on Ford (NYSE:F) has always relied on domestic growth for the automaker, but always for international expansion, as well. Coming out of the gate a couple of years ago, both the "new" General Motors (NYSE:GM) and the "new" Ford have made aggressive moves to expand their global footprints in order to drive profits in the recovering global economy.
Inclusive of that strategy, both Ford and General Motors have made a massive push for business in China. Ford's plans have included continued expansion that is concurrent with continued sales growth in the Asian country. This expansion has come with aggressive marketing and press campaigns that are set to put Ford's models into the wheelhouse of auto buyers in China.
(click to enlarge - source Ford China)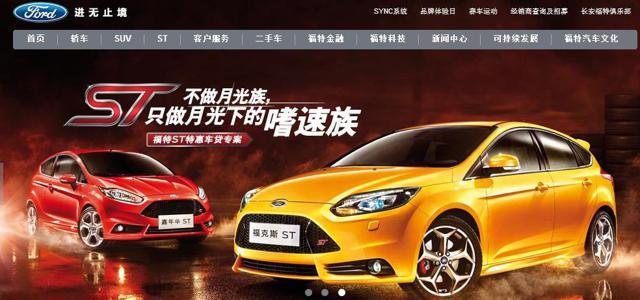 Click to enlarge
Ford's newly revamped Chinese website features vehicles that are fit for both speed enthusiasts, and families alike. Ford's compact design and aggressive marketing have helped fuel the company's aggressive push.
(click to enlarge - source Ford China)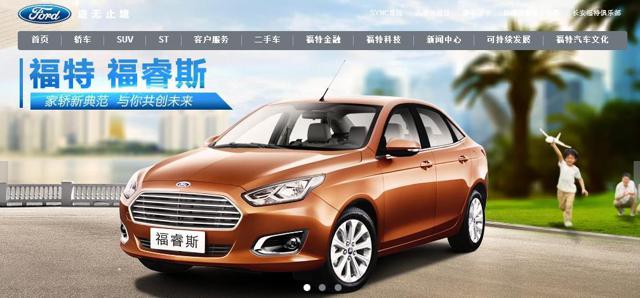 Click to enlarge
So, the news this morning of Ford building on its dealership presence in China should come as no surprise, and should also be music to the ears of those who are invested in Ford's stock:
Ford expects to have more than 800 dealer points by the end of the year, according to execs.
Most of the new Ford stores will be in lower-tier cities where the automaker is entering markets for the first time.
Ford sales in China are up 39% this year through May to 461K vehicles.
It would seem that the more capex and resources the company pours into China, the better the end result. And, this chart from WSJ, sourced by IHS, seems to show that Ford has significant market share left to gobble up (and/or steal from other automakers - namely GM).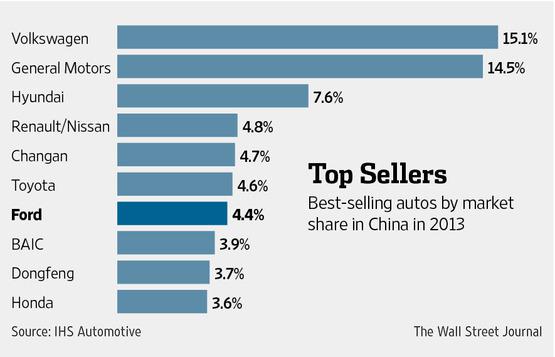 What Seeking Alpha didn't point out in its news blast this morning was that inclusive of opening more of these dealer points, Ford opened 88 dealerships in one day on June 19th. That's called kicking your expansion into hyperdrive.
This diagram is from 2012-2013, but it still shows you how Ford continues to grow in China - and where its plans for expansion are.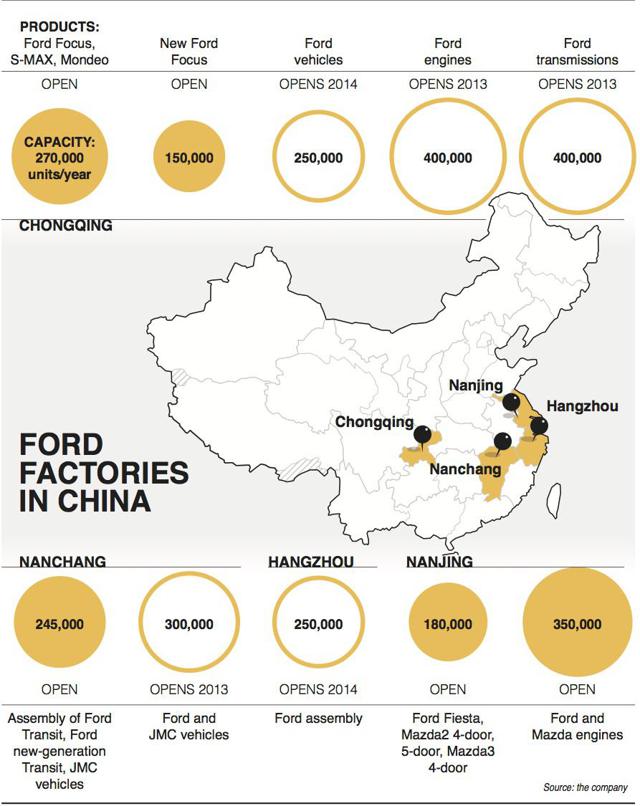 Click to enlarge
And the sales results have been outstanding for Ford, thus far. The company sold 92k vehicles in China in May of this year - that's growth of 32% for the U.S. automaker. Year-to-date the growth is even bigger: 39% growth on sales of 461k vehicles.
Carscoops itemized the sales for us:
Passenger car sales for Ford China, including imported cars, increased 35 percent in May to 71,981 vehicles sold compared to 53,392 in May 2013. In the first five months of the year, Ford has sold 347,547 passenger cars in China, up 46 percent from 238,100 vehicles sold during the same period last year.

Demand for both the Ford Mondeo and the Ford Focus continued to increase last month. Ford Mondeo nameplate sales were up 90 percent with 10,395 vehicles sold in May, while Ford Focus nameplate sales reached 33,341 vehicles, up 22 percent compared to May 2013.
I've been harping on the importance of China since I've been writing about Ford - citing the company's aggressive risks that it was taking to build out infrastructure in the company and appeal to Chinese consumers. Way back in 2009, the company had first invested in a facility for production in China.

Click to enlarge
Now, those types of investments are starting to pay off in a big way: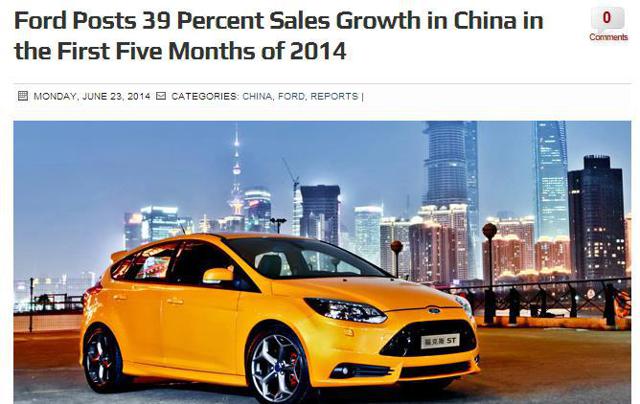 Click to enlarge
Just now - 5 years later - we are starting to reap the fruits of this investment. Ford's growth in China continues to poke upwards.
China remains the world's number one auto market.
And Ford designs - say what you want about them domestically - turn enough heads in China for Chinese auto manufacturers to try and copy Ford's designs for their own vehicles.
Ford continues to trade at a ridiculously low valuation.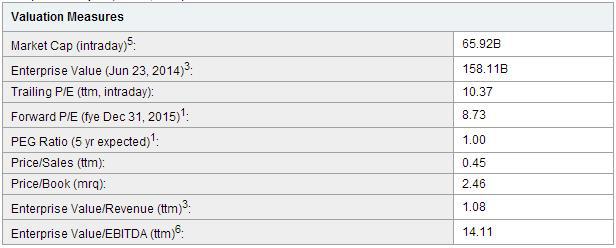 According to Yahoo Finance, the company's forward P/E of 8.73 is exactly the opposite of what you would expect to see from a company that's growing so aggressively overseas. That's the P/E you'd expect to see on a blue chip stock, or a well established oil and gas style company - not on a company that's posting aggressive double digit growth in a brand new market. The company has modest price/sales and price/book ratios and definitely has some breathing room to the upside for the company's stock price.
Continued international growth from China could be the fuel that finally pushes Ford stock over the $20 mark, which I'd potentially expect to see before the end of this year.
I remain bullish on the automaker here. Best of luck to all investors.
Disclosure: The author has no positions in any stocks mentioned, and no plans to initiate any positions within the next 72 hours. The author wrote this article themselves, and it expresses their own opinions. The author is not receiving compensation for it (other than from Seeking Alpha). The author has no business relationship with any company whose stock is mentioned in this article.