Introduction
In Part 1 of this two part series, I will show two things that are exceptional about Disney (NYSE:DIS). First, the ecosystem is amazing. Second, the opportunities for strong growth going decades into the future exists. The Shanghai theme park and Star Wars franchises are simply two of the more high profile examples of the sort of thing to expect over and over from Disney in the future.
In Part 2 I will perform a valuation on the stock in which these two characteristics of the company will come into play.
Ecosystem
Ecosystem: According to Wikipedia, the concept first appeared in an article by James F. Moore in the May/June 1993 Harvard Business Review. It is now quite the buzzword and is often used by tech companies (and other companies, but it's very prevalent among tech) to describe products and/or services.
For my money, Disney has one of the best ecosystems on the planet, and is has been at it long before the idea ever came to James F. Moore. Disney is not content to let a viewer simply pay money and watch a movie; it's not content to simply let a tourist come to a theme park. Disney hooks people and sells them multiple items on a regular basis.
Disney ranks #1 in this study of most reputable companies.
Disney ties for #4 in this study of most familiar brands.
There is a Disney Institute that teaches courses in brand loyalty.
One way to look at the advantages of Disney's ecosystem is to think of the separate business segments as providing free advertising for the other segments. This comes down to the brand loyalty mentioned above. The synergies among the different business segments is incredibly strong thanks to the loyalty of the consumer.
Here is a breakdown of Disney's revenue and operating income by segment in the last quarter: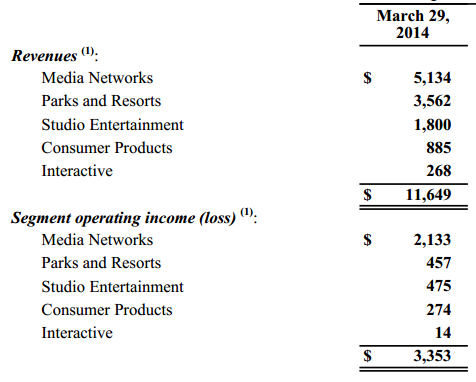 Source: Disney 10-Q
The media segment is by far the most important, from a profit stance, providing a whopping 63.6% of operating income despite bringing in under half the revenues. But all segments are tightly related. The media products get people to the theme parks and vice versa. Consumer merchandise flows from every angle. Video games reinforce Disney themes and franchises. The list goes on and on.
Here's a real world example (parents forced to watch way too many animated movies can skip this part):
When Frozen came out, I took my daughter to see it and, of course, she was smitten. Silly me thought that was pretty much the end of it. We now own the DVD, the soundtrack, several stuffed animals, and she wants to go back to Disneyworld solely for the new Frozen parts (we went already a few years ago). By comparison, my family saw six of the other top grossing movies in 2013. We don't own a single bit of merchandise related to the other movies and my daughter has no clue what "Universal" is, despite liking Despicable Me 2.
Most parents are well aware of the rather amazing job that Disney does to "getcha" in more ways than one. But for those of you without kids, believe me when I say that Disney knows children and ecosystem. Many children actually know Disney before their ABC's.
Shanghai
Disney expects to open the Shanghai theme park in 2015. 43% of the resort will be owned by The Walt Disney Company and the remaining 57% will be owned by the Shanghai Shendi Group, itself a joint venture of three companies owned by the Shanghai government.
When Disney creates a theme park, they go all out. The top 8 most visited parks in the world are Disney locations: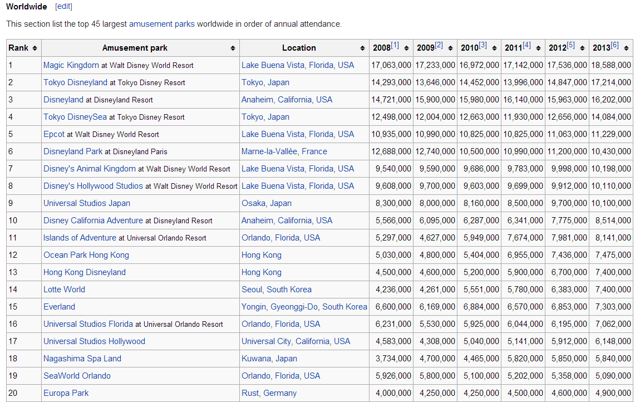 Click to enlarge
Source: Wikipedia
Shanghai has the potential to be the most visited of all, based simply on nearby population. Disney CFO Jay Rasulo noted that:
There are an estimated 330 million potential guests within a three-hour travel radius of our Shanghai resort, and by the time we open the gates in late 2015, China's travel market is expected to be 34% bigger than it was in 2012. And the number of upper middle-class and affluent households is expected to grow by 18% a year for most of the next decade. (Source: Disney Conference Call)
This is more than a theme park for the bottom line of DIS -- this will put Disney's feet firmly into China and pave the way for accelerated growth in film, TV, and merchandise revenue. For example, moviegoers in China are expected to increase dramatically: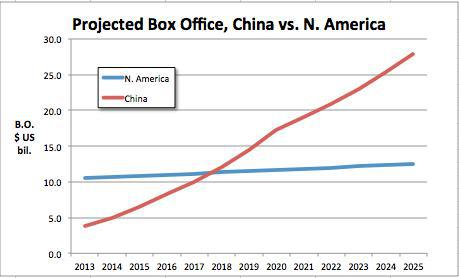 Source: ChinaFilmBiz.com
As mentioned above, Disney is incredible at cross-marketing products and I fully expect the company to take advantage of the new China park to bring other revenue streams into the country. The concept works in reverse, too. As Disney movies and TV become more and more popular in China, the park will see more and more tourists through the gates.
Star Wars
Disney bought Lucasfilm for about $4 billion in 2012. Through the end of 2013, the franchise revenue was approximately $27 billion. (note that some of those revenue streams are NOT owned by Disney)
In addition to episodes 7, 8, and 9, Disney will make "spin off" Star Wars movies. These have also been called origin films or companion movies and will detail the back stories of popular characters. Disney recently announced that there will be at least three origin movies and, assuming they are successes, I don't see any reason why they won't make many, many more after that. The Star Wars franchise will be making Disney money for many, many years to come.
Coming up in Part 2
In part 2 of this article I will detail the valuation of Disney stock. The above commentary lays the groundwork for some of the important highlights of the valuation. Namely, that Disney has some advantages that most other companies only dream about. These are advantages that directly translate into share value.
First, the ecosystem is exemplary. Practically every business venture or new franchise Disney creates or purchases adds to the bottom line for multiple segments. Since Disneyland opened in 1955, and perhaps before that, the company has enjoyed synergistic effects that create impressive bottom-line results.
The way I translate the ecosystem quantitatively to the value of the stock is by awarding Disney a higher P/E than it would garner without the fantastic ecosystem that it enjoys. The justification for that will be explained further in Part 2.
Second, Disney has excellent prospects for truly long-term growth. I'm talking decades of strong growth. My comments on the Shanghai expansion and the Star Wars franchise highlight great decisions that will help the company grow in both the near-term and the long-term, but they are just the tip of the iceberg. I have highlighted those events not only because they are substantial, but also because they are good examples of the types of expansion Disney will execute in the future.
What sort of expansion could be next? Perhaps a theme park in India (in fact, Disney operates a cable company in India). Disney has theme parks in California, Florida, Paris, Tokyo, and Hong Kong. China is in the works. The rest of the globe beckons! In media, the possibilities for additional franchises are endless. Also, Disney owns 33% of Hulu. What opportunities might streaming video present in the future? The Disney cruise line currently operates in North America and Europe. Again, the rest of the globe is a growth opportunity. The Interactive business segment includes video games. Again, loads of opportunity.
For a company the size of Disney, its market penetration is actually quite low in many areas. Disney ranks about 37th in the world by market cap. Despite the large size, the company could see medium-cap type EPS growth not for 5 or 10 years, but for many decades to come. That's an amazing thing to contemplate. I can think of no other company anywhere near the size of Disney that I would say that about.
The long-term growth prospects of Disney - measured in decades - will quantitatively translate to a favorable Fair Value calculation. Again, I will go into more details about that in Part 2 of this article.
Additional Disclosure: long DIS since 2004.
Disclosure: The author is long DIS. The author wrote this article themselves, and it expresses their own opinions. The author is not receiving compensation for it (other than from Seeking Alpha). The author has no business relationship with any company whose stock is mentioned in this article.