Smith & Wesson (SWHC) reported earnings for the quarter and year ended 30 April 2014. Income from continuing operations came in at $1.47 for the year, well ahead of Reuters consensus estimates of $1.42. They reported sales of $626.6 million, also well ahead of Reuters consensus estimates of $619.63 million.
Guidance was weak relative to expectations. They guided Jul-14 quarter sales at $130 to $135 million, highlighting that this included an impact of $6 million to $8 million caused by the fact that one week of the company's annual two-week shutdown would occur in the quarter. Reuters Consensus had estimates for the quarter at $137.71 million. Guidance for earnings from continuing operations was $0.23 to $0.25, compared with analyst estimates of $0.27. This would not have been much of a concern because guidance might have been considered broadly in line with expectations after considering the impact of the one-week shut down planned for the quarter.
But the full-year guidance was disappointing too. For the year to Apr-15 sales guidance was $585 million to $600 million (Reuters Consensus $601.17 million), and earnings (continuing operations) guidance was $1.30 to $1.40 (Reuters Consensus $1.39). The stock went on sale following the weak guidance - Smith & Wesson closed 6/20 at $15.52, down 8.71% for the day, having fallen as low as $15.02 earlier in the day.
In time, we can expect consensus estimates for the year to April-15 to move down towards the mid-point of company guidance - that is $592.5 million in sales, and $1.35 in earnings (continuing operations). This compares with pre-earnings report consensus estimates of $601.17 million in sales and $1.39 in earnings (continuing operations).
Do a 1.44% decline in sales expectations and a 2.88% decline in earnings (continuing operations) expectations justify the declines we saw?
I think not. A few of conference call points worth keeping in mind are:
We know that guidance for earnings (continuing operations) for Apr-15 can rise from $1.30 to $1.40 at present, to $1.34 to $1.44 on account of the recently confirmed closure of the Department of Justice investigation in relation the legacy FCPA matter from 2010, which will result in a release of some $2 million in estimated expenses. Should this occur, consensus estimates for the year to Apr-15 at $1.39 before the earnings report, will represent the mid-point of revised guidance.
We know that guidance is based after considering the impact of a slowdown in long gun sales, recent handgun market share gains, and planned new product introductions. We also know that it is based on the current fully diluted share count of 53.6 million shares. We also know that Smith & Wesson returns shareholder value via buybacks. There is scope for beating guidance simply from ongoing buyback activity.
We know that during the fourth quarter (quarter end 4/30/14), the Board of Directors authorized the repurchase of an additional $30 million of the company's common stock. We know that since 1 May, $3 million of this authorization has been used to purchase 200,000 shares at an average price of just under $15 per share. We know that the remaining $27 million can be used to buyback a further 1.74 million shares at current prices. And we know that Jeff Buchanan, the CFO said "We will continue to aggressively buyback shares under this new authorization once our trading window was opened after this earnings release."
Lastly, keep in mind that there are 55.4 million shares outstanding as at end April-14. That has declined by 200,000 pursuant to buyback activity since 1 May. The 1.74 million shares that could be bought back under the current buyback authorization at current prices represent 3.1% of shares outstanding. 87% of the shares outstanding are held by institutional investors and insiders. These investors tend not to react to short term events. And there is nothing to suggest that Smith & Wesson's long-term prospects have changed. And while there may be some small tactical trading, I do not expect insiders and institutional owners to sell aggressively. Of the remaining 13% of shares outstanding (about 7.2 million shares) held by retail investors and traders, I expect some will have sold, and some more will sell in the coming days. But the severity and longevity of price declines may be limited because of the residual buyback authorization of 1.74 million shares. It amounts to about 25% of shares held by persons other than institutional and insiders - the residual buyback authorization of $27 million is a very influential block of money in the circumstances.
A substantial price decline and an expectation that further price declines will be arrested and thus the investment will not be permanently impaired is good reason to consider buying a stock. But it is not reason enough to buy. Is Smith & Wesson a good company? Is it rightly valued? Let's find out.
How do different market participants view Smith & Wesson?
A couple of years ago, I had written some code to facilitate stock selection. It would help if you read about the build-out of that system here, as that will allow you to appreciate the model output later in this post better.
AOM Statistical Scores
The AOM statistical scores are a statistical evaluation of thirty-eight key indicators for the company, grouped into value, growth, quality, and momentum categories. It illustrates how the key indicators for the stock perform in comparison to the market capitalization weighted scores for the market, the stock's sector and the stock's industry of operation.
Smith & Wesson scores high on value and on quality across the board, regardless of whether we compare the stock with the market, other stocks in its sector of operation, or other stocks in its industry of operation. The scores for growth are strong too, though I believe growth scores will deteriorate as analysts revise estimates following the recent earnings release. Momentum is now mediocre in comparison with where it was, and it can be expected to deteriorate as markets price in changing growth expectations.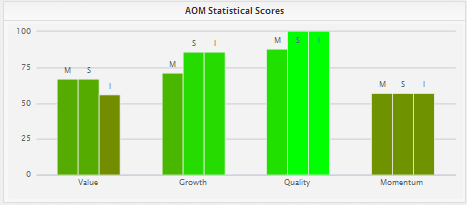 Source: GetAOM.com
AOM Model Recommendation
This stock appeals strongly to most investor stock selection styles. This includes momentum, value and growth style stock selectors. It also appeals to the balanced investor who considers value, growth, quality and momentum equally. Having said that, I expect that as analysts revise growth expectations downwards, we will see the GetAOM algorithm revise growth and momentum style stock selectors to hold. The stock also appeals to investors with no specific stock selection style bias.
And it appeals to most of the typical capital allocation strategies adopted by investors in that the stock has appeal to all, regardless of whether they allocate capital at sector, industry, or with no sector/industry bias.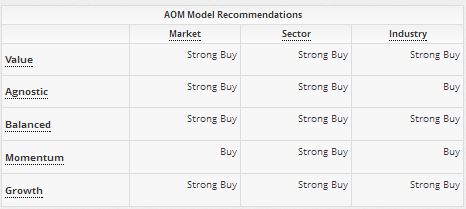 Source: GetAOM.com
Overall, after analyzing fifteen stock selection and capital allocation strategy combinations, the system assigns an AOM Score of 95%, and an AOM Strong Buy recommendation for Smith & Wesson.
The AOM statistical scores for each of the fifteen strategy combinations are unique and not comparable with each other. The AOM Score is very different from AOM Statistical scores: it evaluates and rates the AOM Statistical scores for each of the fifteen strategy combinations, and uses a unique technique to make the statistical scores across the strategy combinations comparable. The output is the AOM Score: a quantitative assessment of the output from the fifteen strategy combinations. The AOM Recommendation is a plain English recommendation based on the quintile the AOM Score falls in.
I'll hasten to add that this is a package aimed at generating ideas, it does not intend to, and nor does it replace the due diligence we must do as investors. It is a tool that uses quantitative techniques to understand the behavior of different market participants, and then brings that data together so that users can hear the voice of the market through the noise. The AOM system can guide you where to look, but make no mistake about it - it cannot look for you.
The Case for Smith & Wesson:
Why look at Smith & Wesson now?
Smith & Wesson was cheap, and is now cheaper. The stock trades at a trailing twelve month P/E below the market P/E. The P/E for 2015 is at a level that suggests that there is gain potential from earnings growth, as well as from an expansion in the multiple. The PEG ratio is below one, and while growth expectations can be expected to decline somewhat, the PEG ratio is likely to stay well below one.
That the company does not pay a dividend does matter because the share is unattractive to a large group of shareholders, who might have been buyers but for the absence of a dividend. But the non-payment of a dividend is quite understandable given the high institutional holding - buybacks are a far more tax effective value return mechanism for institutional investors. And institutional shareholders are the many, whereas others are the few. And Smith & Wesson does return capital via stock buybacks.
During the conference call, Jeff Buchanan highlights the fact that Smith & Wesson has returned plenty of capital via buybacks since 2012 when he says:
"As a reminder from December 2012 through April 2014, which was the end of our fourth quarter, we repurchased 12.3 million shares of our common stock at an average share price of approximately $11 for a total stock buyback of $135 million and a reduction in float of nearly 19%."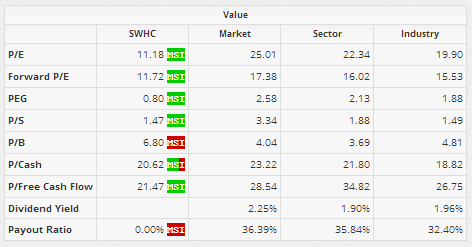 Source: GetAOM.com
Except for growth expectations in the year to 4/30/15, Smith & Wesson has performed well in the past, and is expected to do well in the coming five years.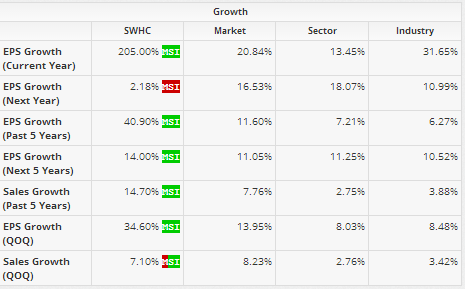 Source: GetAOM.com
Smith & Wesson also display characteristics consistent with a high quality company. Return on assets, equity and investments are all strong in comparison to the market, sector and industry, as are gross, operating and profit margins. Institutional ownership which is well over market, sector and industry averages provides a positive signal of sound owner quality. Insider ownership is a bit of a disappointment in comparison with the market, but it is strong for the sector and industry of operations.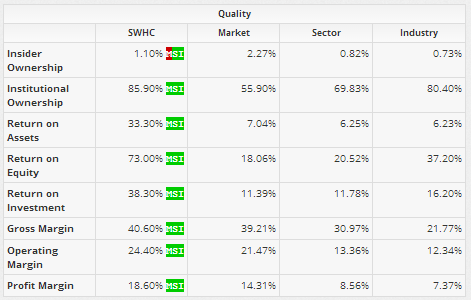 Source: GetAOM.com
Of late, momentum has been in line with the broad market, and the sector/industry peer group. But on 6/20 momentum took an ugly turn.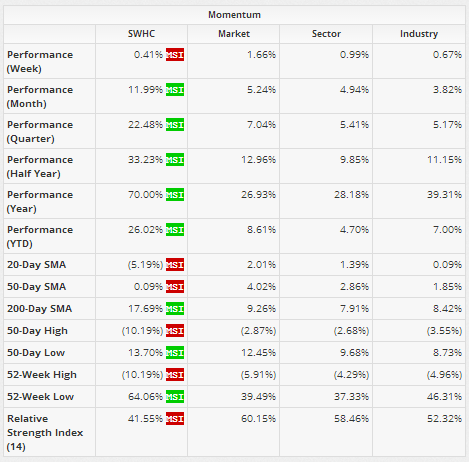 Source: GetAOM.com
Is Smith & Wesson a suitable pick for alpha hunters?
Analyst price expectations
Recently, Smith & Wesson traded at $15.52. From Yahoo Finance, we know that ten analysts expect an average price target of $18.90 (median $20.00), with a high target of $23 and a low target of $11. This is a wide dispersion in expectations, which suggests risks are high. So far, the bulls have it. But now it is over to the bears.

Source: Yahoo Finance
Analyst sales & earnings expectations
These are the Reuters Consensus estimates. I expect that there will be changes following the recent earnings release. Though I suspect actuals for the coming fiscal year will be better than these revised expectations on account of buybacks, as well as on account of the release of estimated expenses relating to the dropped Department of Justice investigation.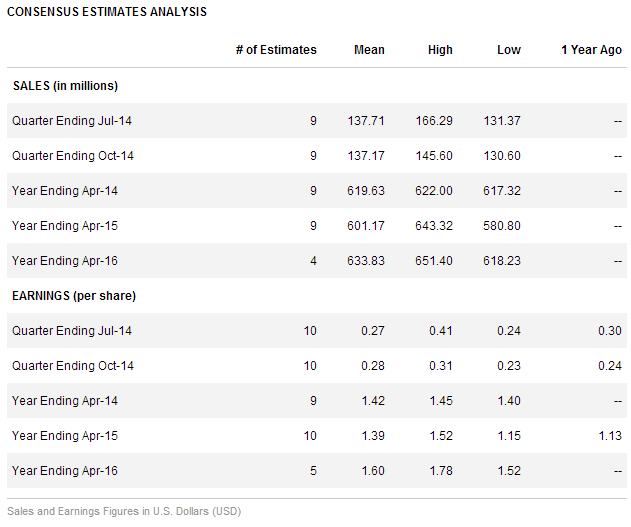 Source: Reuters Consensus Estimates
Which brings me to value: what might Smith & Wesson be worth?
Mathematically, the worth of Smith & Wesson is estimated as [1 + Long-term Growth Rate] * Sustainable Earnings * Adjusted Payout Ratio / [Long-term Return Expectation-Long-term Growth Rate].
When I speak of sustainable earnings, I mean the level of earnings that can be expected to occur over the course of an economic cycle, which can be grown at estimated growth rates over a long period of time. I'll work with $1.35 as a reasonably conservative estimate of sustainable earnings.
I estimate a conservative long-term growth rate at 6.25%: that is broadly in line with long-term nominal Global GDP growth rate. I will also estimate that the company is capable of earning a return on incremental equity of 17.5%. This is considerably below the 21.60% return on equity that Dr. Damodaran calculates for 95 companies in the aerospace/defense industry.
The adjusted payout potential is that part of sustainable earnings that we can expect the company to return to shareholders via dividends and buybacks, net of dilution on account of employee and other issuances. If the company is to grow earnings at 6.25%, and is capable of generating a 17.5% return on equity, it will need to re-invest 35.7% of earnings to deliver that growth (35.7% re-invested multiplied by a 17.5% return on equity delivers 6.25% growth). The adjusted payout ratio is what is the remaining 64.3%.
A target long-term return for Smith & Wesson is difficult to calculate using the capital asset pricing model. I calculate raw beta based on the five-year regression of weekly closing prices of the stock, relative to weekly closing prices of the S&P 500. In the case of Smith & Wesson, I note a co-efficient of determination of 16.88%. This suggests that only 16.88% of the price movement in Smith & Wesson is explained by movements in the market: the residual price movement is based on company specific factors. With such a low co-efficient of determination, beta is unreliable as a measure of risk.
I generally work with a market return expectation of 10.25%. The standard deviation for weekly price change at Smith & Wesson over five years has been 6.60%, whereas it has been 2.15% for the S&P 500. I will set a personal target rate of total return of 12.50% for Smith & Wesson: that is 10.25% market return plus 50% of the difference between standard deviation for weekly price change for Smith & Wesson and the standard deviation for weekly price change for the S&P 500.
Based on the above referred estimates, I would look at $14.75 (106.25% * $1.35 * 64.3% / (12.50%-6.25%) = $14.75) as fair value for Smith & Wesson. Perhaps it would be better to say that $14.50 to $15 describes a range where I feel the stock is well valued for long-term investors.
Over the past five years, the average weekly price change on Smith & Wesson has been 0.57%. The standard deviation in the average weekly price over the period has been 6.6%. Thus for Smith & Wesson, the range of normalcy (average plus or minus one standard deviation) for weekly returns is between a gain of 7.2% and a loss of 6%. As you can see from the chart below, the weekly price change has swung upwards in exuberance and collapsed downwards in despair by over two standard deviations from the mean, on several occasions over the past five years. From a trading perspective, a two standard deviation move down from Smith & Wesson's highest weekly close over the past four weeks gives a target of $14.57. A one and a half standard deviation move down sets up a target of $15.07.

Source: MaxKapital Beta Calculator
In my mind, $14.75 is a level worth buying for the long-term. But it is only at $14.57 that it becomes a compelling trade for a person with a shorter time horizon.
I might initiate a trading position if the stock gets to $14.50. Regrettably owning Smith & Wesson as an investment for the long-term is not possible: my investment mandate is such that it permits U.S. investments only in global mega-cap and large cap stocks, with some very limited investments in low volatility small or mid-sized U.S. companies - we get most if not all of our small/mid-size allocation risk and return from investments in India. Unfortunately, while I like Smith & Wesson the company, and we are getting to a point where I might like the price too, it cannot be classified as a small cap company with low price volatility.
Disclosure: The author has no positions in any stocks mentioned, but may initiate a long position in SWHC over the next 72 hours. The author wrote this article themselves, and it expresses their own opinions. The author is not receiving compensation for it (other than from Seeking Alpha). The author has no business relationship with any company whose stock is mentioned in this article.