With the M&A market having heated up and created an environment where companies are looking at every possible combination and even visiting scenarios which are pushing the limits of what is acceptable to regulatory bodies. This brings us to the rumor which has been circulating in recent weeks over in Europe as someone is trying to raise $60 billion via the debt markets.
Chart of the Day:
If any deal is in the works, the interest rate environment is certainly conducive to allowing big deals to be done cheaply. Obviously we are talking about the Europeans trying to raise $60 billion, but the US 10-year is the rate driving M&A in the US and would be the market where someone would most likely have to tap in order to buy any divestments from a combined A-B InBev/SABMiller tie-up.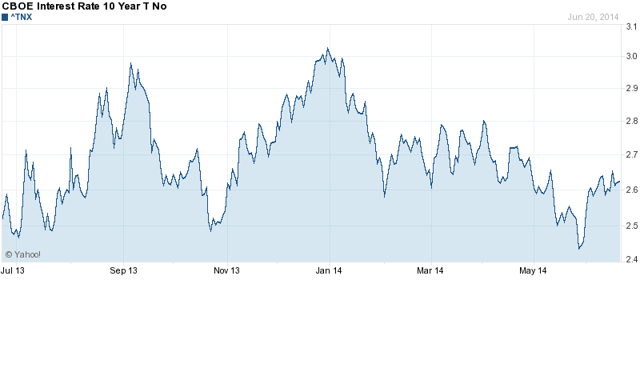 Click to enlarge
Source: Yahoo Finance
We have economic news today, and it is as follows:
Existing Home Sales (10:00 a.m. EST): Est: 4.80 M Act: 4.89 M
The Asian markets are mixed today:
All Ordinaries -- up 0.62%
Shanghai Composite -- down 0.11%
Nikkei 225 -- up 0.13%
NZSE 50 -- down 0.37%
Seoul Composite -- up 0.35%
In Europe, the markets are lower this morning:
CAC 40 -- down 0.36%
DAX -- down 0.36%
FTSE 100 -- down 0.30%
OSE -- up 0.71%
A-B Inbev Shopping Again?
We just saw Anheuser-Busch InBev (NYSE:BUD) close a deal which saw them further consolidate their international brands and simplify the business model to some extent but it now appears that the serial acquirers are looking for another deal to help fuel growth. The Europeans have been talking about this large $60 billion debt deal which is being set up and syndicated on the continent as being tied to A-B InBev and their desire to purchase SABMiller. When one hears this type of M&A talk the first reaction is to roll one's eyes and stop listening. That was our initial reaction as we have heard rumors about a possible tie up between these two companies for years.
Shares of A-B InBev have been on a tear this year and sport a healthy dividend. Their acquisition strategy has paid off handsomely, however we think that SABMiller might be too big a fish to go after.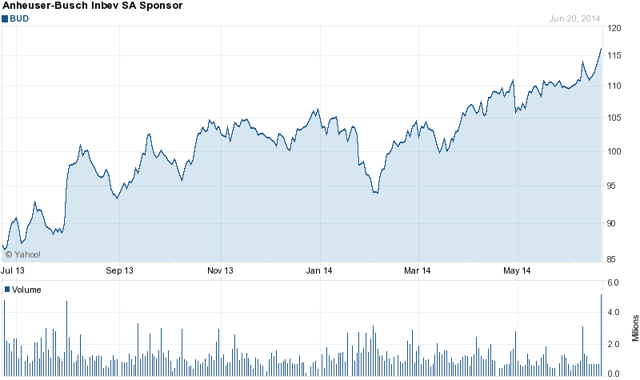 Click to enlarge
Source: Yahoo Finance
The deal is not impossible, but is only possible under terms which would make it a very complicated transaction. The one real issue which would stop the deal in its tracts is the combined market share in the United States. When one also factors in that SABMiller combined their operations with Molson Coors Brewing Company (NYSE:TAP) in the US to form a joint venture to better compete with Anheuser-Busch and the brands under that umbrella it becomes obvious just how difficult this deal would be to pull off.
A-B InBev had a hard enough time consolidating the Corona brands, having to strike a deal with Constellation Brands (NYSE:STZ) in order to get US regulators to allow them to proceed with the purchase. Even buying a company like Boston Beer (NYSE:SAM), maker of the Sam Adam's beers, would probably run into opposition. So any deal would probably require A-B InBev to pay a large premium for SABMiller and then subsequently sell the major US brands, operations and assets either in whole or in part to Molson Coors Brewing Company.
Altria has done well over the years to be smart when selling assets and not run up large tax bills. Expect them to do the same with their SABMiller shares, so a large cash component would most likely be a non-starter or Altria might be allowed to roll over their entire stake in an equity-for-equity swap to gain their approval.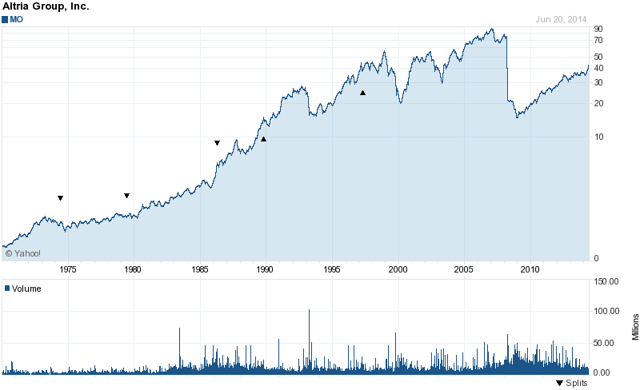 Click to enlarge
Source: Yahoo Finance
The other avenue could be for A-B InBev to offer one of the large shareholders of SABMiller, think Altria (NYSE:MO), the US brands in exchange for their equity stake and possibly some cash or an outright spinoff of the assets into a separate company. It would create a weaker big brand beer player but would get A-B InBev the fast growing international markets that they desire.
At the end of the day we think a deal such as this is further down the road as A-B InBev still has some debt that they could pay off before launching another takeover offer. There would be a lot riding on this deal, such as management's reputation and possibly their jobs, so execution would be key. So until we begin to hear rumors about investment banks being retained to study the logistics of any deal and whether it could get past regulators we will continue to discount this rumor.
Disclosure: The author has no positions in any stocks mentioned, and no plans to initiate any positions within the next 72 hours. The author wrote this article themselves, and it expresses their own opinions. The author is not receiving compensation for it (other than from Seeking Alpha). The author has no business relationship with any company whose stock is mentioned in this article.