Cellcom (NYSE:CEL), an Israeli provider of telecom services, announced last Tuesday on its intentions to offer television services and compete with HOT and YES, a subsidiary of Bezeq. From 1994 (when Cellcom was established) until 2011, mobile telecom services provided the vast majority of Cellcom's revenues. In 2011, Cellcom acquired Netvision - a leading Israeli internet service provider that also offers landline telephony and international calling services in an attempt to create new revenue streams other than cellular. The Netvision acquisition happened in light of the changes in the Israeli mobile telecom market, when Israeli communication minister permitted new competitors to enter the market and compete with the existing providers, nicknamed the "big three": Cellcom, Partner (NASDAQ:PTNR) and Pelephone - a Bezeq subsidiary. The new competitors in the mobile telephony market attracted customers from the existing providers by offering unlimited calls packages and lower fares than the big three could offer. Soon, new mobile telecom companies gained market share, and revenues of the big three began to decline. In order to stop the decline, the big three looked for new revenue streams and started to offer additional telecom services such as landline telephony, internet connectivity and international calling services. As shown in chart 1, the upward trend in Cellcom's gross margin and operating margin changed at the end of 2011 to a downward trend in light of social protests in Israel and the regulation changes in the local mobile telecom market. On the other side, cellular churn rate increased and emphasized the problem in Cellcom business model, which is telecom services focused without new revenue streams to compensate for the decrease in revenues and subscriber base.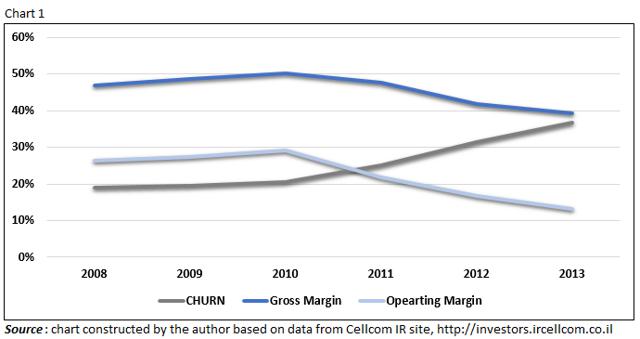 Cellcom's announcement of penetrating the television market is an attempt to find new revenue streams outside the telecom services that will be complementary to the company's core business. Cellcom plans to use its knowledge and infrastructure as a leading internet service provider in Israel (through Netvision) and offer television services over the internet, or OTT TV. As shown in chart 2 below, two of the four biggest Israeli telecom companies already offer all telecom services, internet connectivity and television services. Cellcom (as well as Partner) lacks the television services part of its portfolio, and by penetrating the multi-channel television services market, Cellcom will offer its customers full telecom-ISP-TV package similar to packages offered by Bezeq and HOT.

Gross Margin Impact on a One Year Horizon
Cellcom penetration into the multi-channel television services in Israel was similar to Bezeq penetration fifteen years ago. Cellcom, as Bezeq then, has only four segments of telecom: mobile telephone, landline telephony, international calls and ISP. When Bezeq began offering television services through YES, HOT had a monopoly in the multi-channel television market and YES was forced to offer lower fares and better content to attract customers from the well-known HOT. Cellcom, according to different reports in the Israeli media, will offer television services for a monthly rate of around 100 ILS (approximately $25 to $28.5) which is dramatically lower than fares currently offered by HOT or YES that range from 250 ILS to 400 ILS (approximately $71 to $114). The number of new subscribers each month in YES varied between 5000 to 15000 in the first five years. In Cellcom's case, HOT and YES are strong brands that Israeli consumers will not easily leave, so Cellcom's number of new subscribers per month is near the low end of the range with additional conservative 10% increase YoY in number of subscribers. Figures of new subscribers per month and monthly rate drive the revenue's side of the gross profit. For the cost of revenues, I assumed the same gross margin rate for Cellcom TV penetration as YES had. In chart 3 below, I put together all the assumptions I just mentioned, and highlighted in blue the gross profit out of the television operation in Cellcom. Gross profit impact of negative 53M ILS in the first year is small for a company as Cellcom with a yearly gross profit of 1.9B ILS.

Conclusion
Cellcom is probably not entering the television market for the revenues and improved gross margin as the magnitude and impact on financials will be small. The bigger issue around Cellcom's move is to have a complete portfolio as its competitors have, to be able to offer a telecom-ISP-TV bundle and obtain additional revenues in its core business. In the short term, Cellcom will gain good PR from entering television services market with minimal impact to earnings and stock price. In the long term, Cellcom will probably increase gross margin from TV operations to around 35%, similar to YES, but still this will have a minimal impact on the company's earnings. This move will be successful only if Cellcom could gain more customers for its core business and compete with the full offerings of HOT and Bezeq.
Disclosure: The author has no positions in any stocks mentioned, and no plans to initiate any positions within the next 72 hours. The author wrote this article themselves, and it expresses their own opinions. The author is not receiving compensation for it (other than from Seeking Alpha). The author has no business relationship with any company whose stock is mentioned in this article.
Disclosure: Information provided in this article is for informational purposes only and should not be regarded as investment advice or a recommendation regarding any particular security or course of action. This information is the writer's personal opinion about the companies mentioned in the article. Investors should conduct their own due diligence and consult with a registered financial adviser before making any investment decision. Lior Ronen and Finro Financial Consulting and Analysis are not registered financial advisers and shall not have any liability for any damages of any kind whatsoever relating to this material. By accepting this material, you acknowledge, understand and accept the foregoing.