U.S. Steel (NYSE:X) has the highest short interest of stocks in the S&P 500 with 26.7% of shares outstanding borrowed and sold short. While the environment for steel products is still risky, the shares have jumped 45% over the last year and short sellers have closed out more than 17 million shares. An upcoming ruling by the U.S. International Trade Commission and higher operating leverage could help push the share price higher and squeeze out more short interest. Over the longer term, a rebound in demand for durable goods could drive higher sales and a good return on the shares.
U.S. protectionism and operating leverage could drive a rebound
U.S. Steel is the second-largest steel producer in the united states and one of the top 20 producers globally. The steel market is highly cyclical and demand depends on growth in durable goods, especially construction and autos. Steel used in construction accounted for 40% of the company's 2012 shipments with autos accounting for 25% and 8% going to the energy industry.
While purchases of cars and trucks have continued to increase, to a seasonally adjusted rate of 16.2 million in April, the construction industry has yet to fully rebound from the recession. Though the U.S. economy fell by 1% in the first quarter, second quarter growth is expected to be strong and increased monetary stimulus globally could drive a stronger domestic economy. Orders for durable goods surprised higher in April on top of strong growth in March, possibly signally a stronger environment for capital spending this year.
Earlier this month, U.S. Steel announced the decision to indefinitely idle two mills that make tubes used in the oil and gas industry. The two plants, in Pennsylvania and Texas, have 415,000 tons of capacity or about 15% of the company's total capacity in the tubular division.
The closure is a political move ahead of the November elections and is well-timed as the U.S. International Trade Commission reviews an anti-dumping case against South Korea. I expect one of two outcomes from the anti-dumping case. Political pressure may lead to a favorable ruling from the U.S. Trade Commission or South Korea may proactively agree to limit its exports on pressure from Washington. With nearly 50% of oil industry tubular goods imported from other countries, a slightly more protectionist environment could significantly improve pricing for U.S. Steel.
While management has announced the intent of using more electric arc furnaces in the future, the company still uses blast furnaces for most of its production. Blast furnaces are more fixed-cost intensive and lead to a higher degree of operating leverage. This degree of operating leverage has limited profitability in the low capacity utilization environment of the last couple of years but could be a strong benefit if the economy rebounds. The company reported utilization between 80% and 90% for 2013 against consistent utilization around 90% over the five years to 2007.
Higher share price may force more shorts to cover
While short interest in the company has come down from more than 30% of shares outstanding last year, investors still have a $976.9 million bet that the shares will fall. More than 17 million shorted shares were closed out to mid-January of this year, helping to drive a 64% surge in the share price. Short interest has increased every month since January and is now at 38.5 million shares or 26.7% of shares outstanding.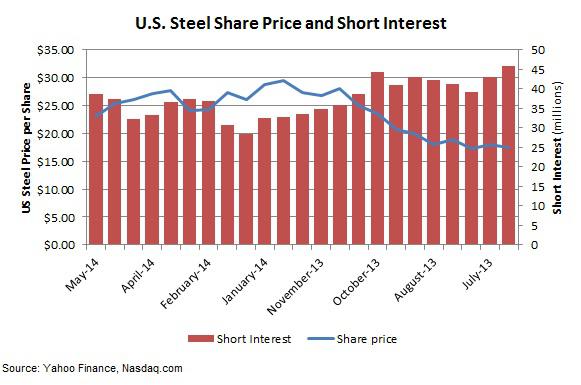 Hedge funds and other institutional buyers have taken an interest in the company since the beginning of the year. In the first quarter alone, 13-F filings show that institutional positions increased by nearly 14.4 million shares to 65% of the shares outstanding. JP Morgan Chase & Company increased its ownership to 19.1 million shares or 13.2% of the company.
Shares are trading at an enterprise value of just 0.37 times sales compared to a multiple of 0.45 times sales for shares of AK Steel Holdings (NYSE:AKS) and a multiple of 0.57 times sales for ArcelorMittal (NYSE:MT). Analyst estimates are for sales growth of just 2.1% this year to $17.8 billion followed by growth of 4.6% in 2015. Given the increased pace of monetary stimulus in Europe and Japan and improvement in the United States, I think sales could improve 3% this year and by more than 5% in 2015. On an enterprise value multiple of 0.40 times sales, I have a target of $32.70 per share through 2015.
While the share price has been largely range bound since the beginning of the year, a modestly better economic environment could start to improve the outlook for the industry. The company has a high degree of operating leverage and could quickly return to profitability when the industry improves. Relatively strong fundamentals could drive further institutional interest on a turnaround and shorts may be forced to cover their positions before more losses.
Disclosure: The author has no positions in any stocks mentioned, and no plans to initiate any positions within the next 72 hours. The author wrote this article themselves, and it expresses their own opinions. The author is not receiving compensation for it (other than from Seeking Alpha). The author has no business relationship with any company whose stock is mentioned in this article.