Apple's (NASDAQ:AAPL) market share continues to fall in key world markets. As growth shifts from developed to emerging markets, this loss of share will see Apple's sales and profits begin a steady and relentless decline. Worse for investors, the bullish enthusiasm for Apple today seems boundless.
It is useful to look back at the relentless pace of Apple innovation by taking a peek at each iPhone model since the device was launched. It is easy to forget just how far the iPhone has come in a very short few years. Here is a lineup of iPhone models.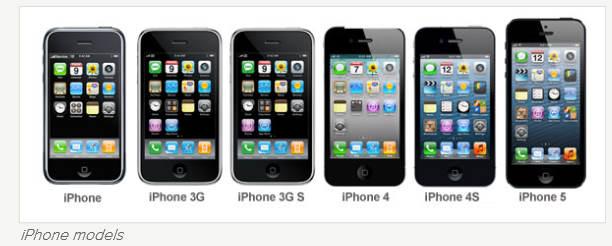 Source: Whatphone.com
By the time the iPhone 4 was released, Apple engineers had discovered unique and innovative ways to make the bezel slimmer, and by the iPhone 5 they were even able to make the device taller. You have to be blown away by the creativity. That's not all, of course, since it is widely rumored that Apple will this fall introduce an iPhone with an even larger screen. Copycats may emerge but Apple has a powerful legal team able to enforce its arsenal of patents and copyright protected geometry as Apple so effectively did holding Samsung to task for using a rectangle with rounded corners.
Dramatic advances in software took place in parallel with the advances in the design of the device, readily apparent by just looking at the home screen on the iPhone 5 compared to the original iPhone. Believe it or not, the number of icons displayed on the screen is now 21 compared to a paltry 16 on the original version.
Throw in a 64-bit processor and a fingerprint reader and the innovation should take your breath away.
Of course, investors should look ahead to where the smartphone market is going, to have any chance for an informed view of the outlook for Apple. Forecast data from Ericsson predict that of more than 3.5 billion smartphone subscriptions added between 2013 and 2019, only 260 million will come from North America and Europe.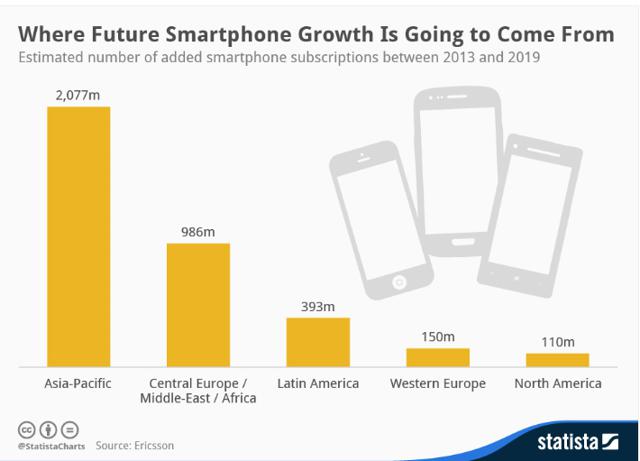 Other than in Japan, where Apple has massive market share, Apple is a bit player in Asia Pacific, Central Europe, the Middle East, Africa and Latin America as the data in this article will demonstrate.
StatCounter usage data, perhaps the best indicator of the installed base, show the relentless growth of Android and near stagnation of the iPhone through May 2014. Despite ebullient claims by Apple CEO Tim Cook of high "user engagement" for iOS devices, the hard facts are that Android usage worldwide has grown from roughly par with the iPhone in January 2012 to more than double the iPhone in May 2014, and the gap is widening.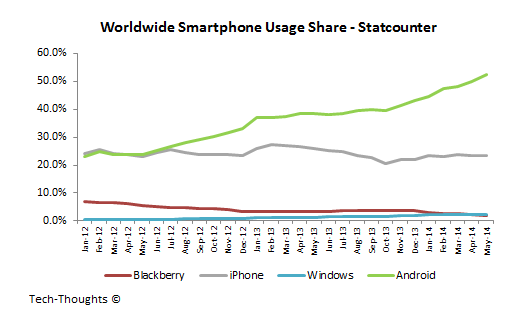 Source: ValueWalk
A review of each key market shows the dismal trend:
United States
Long the key market for Apple, the shift by consumers to Android devices parallels the worldwide trend, with Apple devices and Android devices enjoying roughly equal market shares in 2012, but Android continuing to grow while Apple gave ground to where Android has about half the market while iPhones can now boast of barely one third. A key contributor has been fewer carrier subsidies which gave users the false appearance that the iPhone was affordable when the fact was the carriers clawed back the subsidy in monthly fees.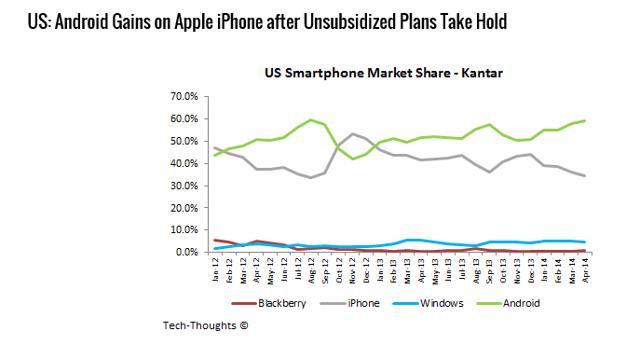 Nonetheless, Americans love their iPhones and no doubt will buy a lot of the new iPhone 6 when it comes out, regardless of price or features.
Japan
A major stronghold for Apple, iPhone sales went ballistic with the launch of the iPhone 4s in the fall of 2013 and Apple market share surged. That massive surge seems to have abated and while the iPhone continues to be the leading platform in Japan, Android devices are now gaining ground.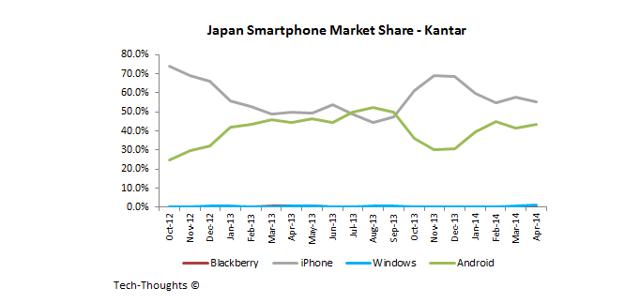 Europe
Europe paints a mixed picture. In the United Kingdom, Apple is holding its own with about a 30% share.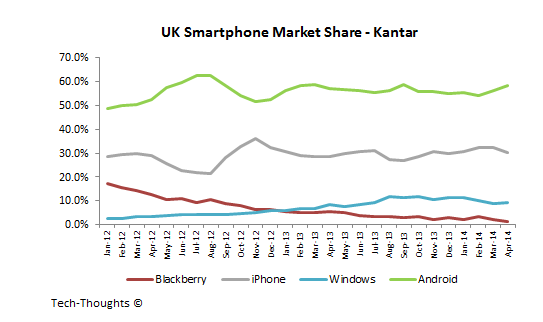 In Germany, Apple is struggling to hold ground while Android and Windows OS phones grind higher.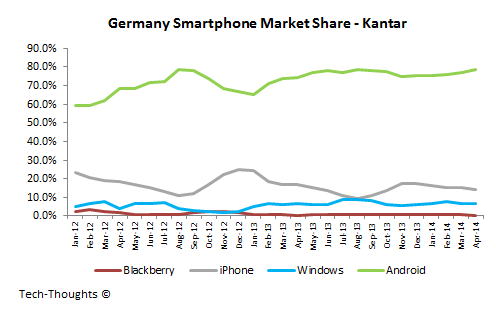 France paints a picture similar to Germany - Android and Windows OS phones gaining ground with Apple market share slipping.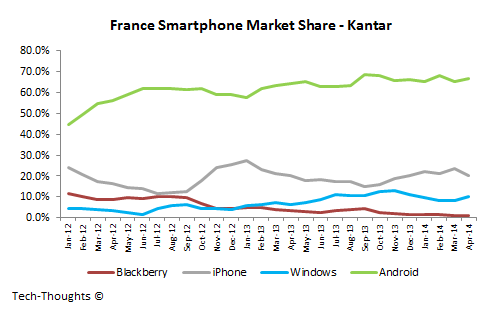 And, in Italy Apple seems definitely stuck in neutral or even reverse with Android marching ahead.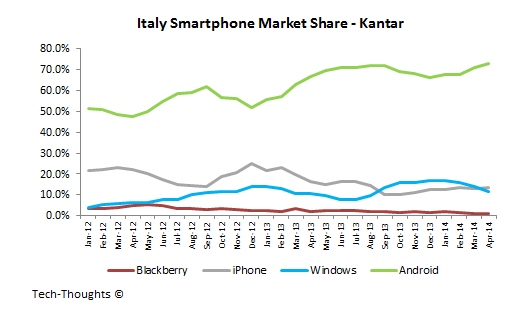 In Spain, the iPhone is barely in evidence.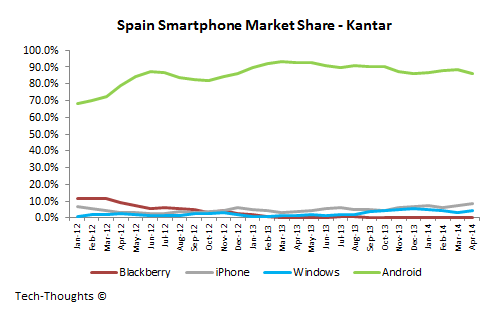 Developing markets
Growth has shifted from the developed markets to the emerging markets with China, India, Africa and Latin America now the scene of the action.
China
China has become the largest smartphone market with IDC estimating 420 million devices will be sold in China in 2014, equal to about one-third of all smartphones sold worldwide. iPhone sales in China have been helped by the deal Apple struck with China Mobile (NYSE:CHL) earlier this year. Competition in China has been fierce with upstarts like Xiaomi and Coolpad growing at very high rates while Apple searches for the right price point to achieve growth while holding on to its very high margins.
In 2013, for example, the iPhone reportedly shipped 23.1 million units to China, comprising about 7% of the 351 million unit Chinese market according to IDC. Upstart Xiaomi nipped at Apple's heels with unit sales reportedly at 18.7 million. Xiaomi passed Apple in the first quarter of calendar 2014, shipping some 10.4 million devices compared to 9 million for the iPhone.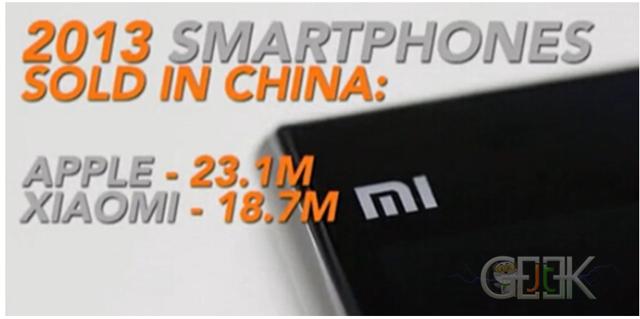 Strong Chinese vendors comprise Apple's largest foe in the country.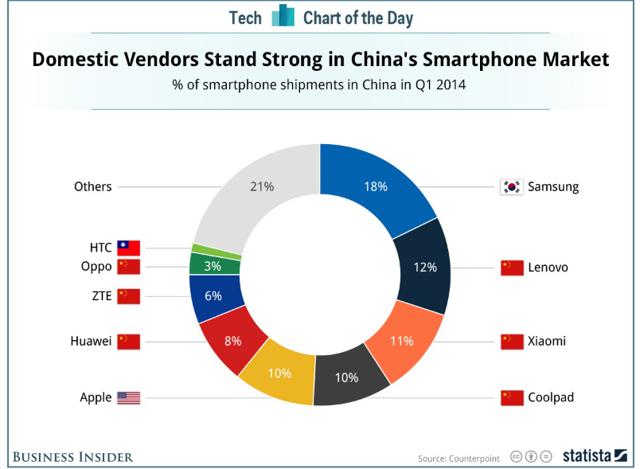 If Apple can hold its 7% to 10% market share it will sell between 30 and 40 million iPhones in China in 2014, up from 23 million in 2013. At the high end, that 17 million bump in sales would be inline with the forecast by Gene Munster of Piper Jaffray when the China Mobile deal was announced. My own view is that Apple will simply lose more share as the year progresses and competitors offer more phone for less money. Figures on how well the recent launch of the OnePlus One "don't settle" smartphone with excellent specifications for half the cost of an iPhone are still weeks away, but will no doubt show the kind of acceptance a truly high-end product should command when offered at a compelling price.
India
IDC sees smartphone shipments in India at over 80 million units this year with 40% annual growth expected for the next few years. Apple is a bit player in India with a less than 4% market share, lagging well behind Samsung, Micromax, Karbonn, Lava and Nokia.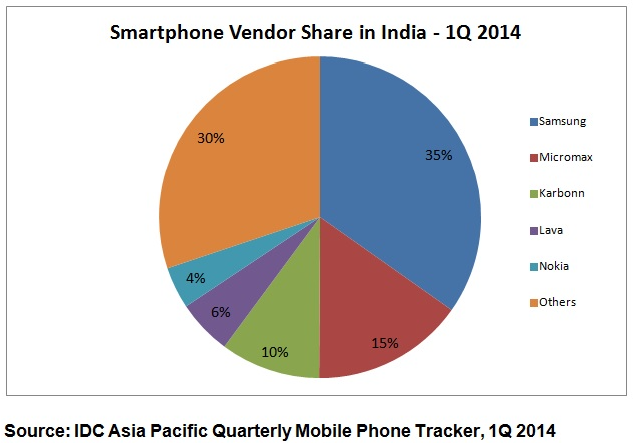 Apple's strategy to gain some traction in India is to sell deeply discounted iPhone 4S models into the country. No doubt the aging iPhone 4S will find some customers, but the effect will be muted as the lower price and lower margins simply demonstrate just how little Apple has to offer at the price points required to be a factor in this key market. I would be surprised if Apple sells more than 1 or 2 million units in India in 2014 with the majority of those very likely priced at $350 or below.
Africa
The "dark continent" will be a major smartphone market over the next few years but not a major market for the iPhone in my opinion. Apple seems to have never made Africa a key target and the omission shows up in its lack of any presence in Africa smartphone markets, at least as far as I can determine from internet searches.
The most recent forecasts I have seen project 557 million smartphones in Africa by 2019. This is perhaps one of the world's most impoverished areas and therefore most price sensitive regions and the smartphones that succeed will be almost certainly be lower priced. Apple is unlikely to be among them.
Latin America
Android devices seem to have a stranglehold on Latin American users. In Mexico, for example, Android is the OS of choice with iOS, BlackBerry, and Windows OS phones pretty well tied for a tiny share of market.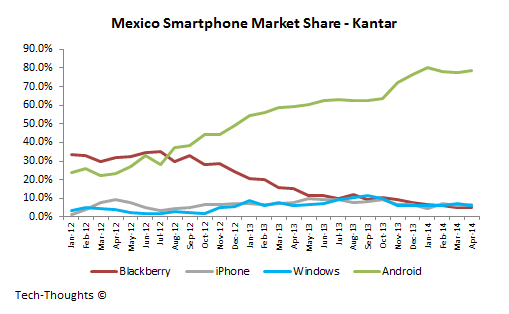 Brazil paints a similar picture as far as Android OS goes, but iPhones have enjoyed a small uptick since Tim Cook's decision to ship low-priced iPhone 4S units into the region. Those iPhone 4S units may make Apple's market share statistics look a bit rosier, but at a $350 price, the sales will serve more to depress average selling prices and margin rates than to make a meaningful contribution to profits.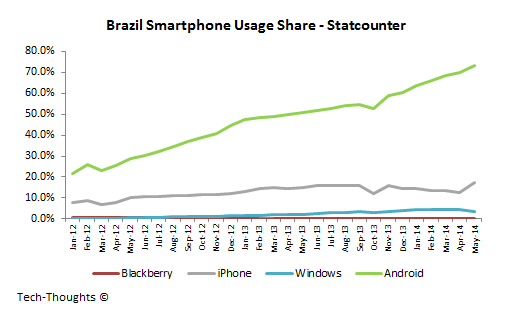 Argentina is typical of Latin American markets where Apple is not selling the iPhone 4S at a low price. In Argentina, Android is king while Windows OS and even BlackBerry phones outsell the iPhone by a wide margin.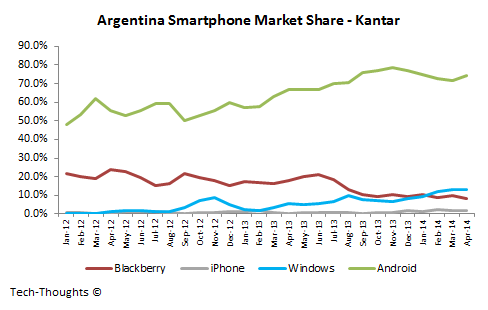 Threats at home
As if the competition in emerging markets were not enough, the competition at home is intensifying as well. Amazon.com (NASDAQ:AMZN) just entered the fray with its new 4.7 inch Fire smartphone.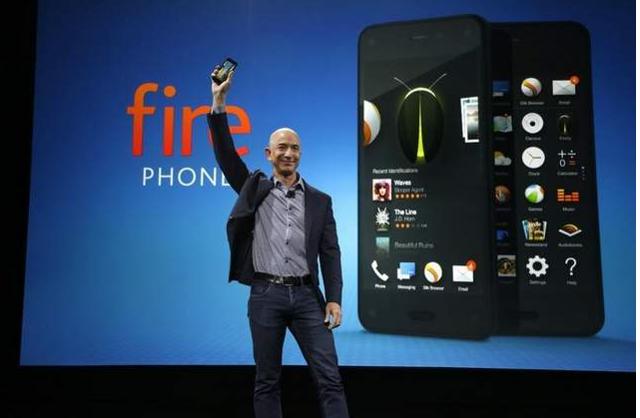 Source: Detroit Free Press
The new Fire smartphone is in many respects unremarkable, in that it joins a large number of Android-based smartphones with mid-sized screens in a pretty typical slab. At $600 to $700 without subsidy the phone is not cheap, a departure from a typical Amazon.com hardware foray where the device is subsidized and Amazon.com looks to content for profit.
Having said that, it is nonetheless an impressive device with a 2.2 GHz processor and a 13 MB rear facing camera. What distinguishes the device is not its hardware specifications, however. The key feature is the "Firefly" app software that allows the phone to identify more than 100 million objects by sight and sound and automatically provide more information about them, with an interface allowing a user to buy the object from Amazon.com simply with a few more clicks. The phone can identify a song by listening to it, recognize a book by reading its title, and generally use its microphones and array of cameras to identify just about anything you point the phone at. Pretty cool. With Amazon throwing in a free year of Amazon Prime and unlimited cloud storage of photos, a lot of Amazon customers are likely to find the device a must-have.
I don't think the new Fire is going to take the world by storm, but I'm betting it will sell a few million units and with 40% of the U.S. market today belonging to Apple, a lot of those devices will come at the expense of iPhones.
Conclusion
If these trends persist throughout calendar 2014, I project iPhone sales will struggle to reach 160 to 170 million units. Of course, Apple reports on a September year end and has already bagged two strong quarters, so that Apple's sales for its fiscal 2014 are more likely than not to exceed that 160 million, in particular because the much-hyped up promotion of the iPhone 6 is likely to result in Apple shipping a lot of units to carriers in September, all of which will be reported as "sales" whether anyone buys them or otherwise. Most think the new iPhone will sell very well and so do I, but whether it is a runaway hit or a dismal flop won't matter much to fiscal 2014 results, since actual user takeaway won't be known by the end of the fiscal year.
I see calendar 2014 ending with about 160 million iPhones shipped, as set out below. If the market growth differs from the roughly 1.2 billion estimate, iPhone sales will follow in either direction.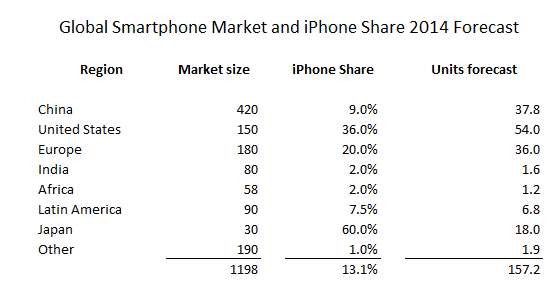 Source: Michael Blair analysis
Regardless of how well the iPhone 6 does sell, the longer term trends are not favorable for Apple. I am short the stock.
Disclosure: The author is short AAPL. The author wrote this article themselves, and it expresses their own opinions. The author is not receiving compensation for it (other than from Seeking Alpha). The author has no business relationship with any company whose stock is mentioned in this article.