Aerie Pharmaceuticals (NASDAQ:AERI) is a clinical-stage drug development company rapidly establishing itself as a key player in the novel class glaucoma drugs called the Rho Kinase (ROCK) inhibitors. With innovation in the glaucoma market silent for over 20 years, Aerie's lead candidates Rhopressa and Roclatan are leading the race towards a very hot market niche in one of pharma's fastest-growing therapeutic sectors.
Rhopressa is a triple-action, once-daily ROCK/norepinephrine transporter (NET) inhibitor eye drop, and Roclatan is a combination therapy of Rhopressa and the commonly prescribed glaucoma drug, latanoprost [Pfizer's (NYSE:PFE) Xalatan]. Aerie is set to commence the Rhopressa phase 3 program in early Q3 2014 with an expected launch in 2017, and Phase 2b results for Roclatan are due to be announced shortly (late June-early July). Both drugs have shown excellent results in trials to date and have fared well against existing glaucoma meds, thus we believe the upcoming Roclatan Phase 2b results are likely to follow the same trend.
The market sentiment is in agreement with positive expectations for Roclatan's Phase 2b results, with the AERI stock up 25% since the beginning of June, supported by a significant increase in the stock's trading volume. Nevertheless, positive results in the Phase 2b study can send this low float stock (~30% of outstanding shares) much higher.
Glaucoma Market In Need of New Drugs
Glaucoma is classified by chronic buildup of fluid inside the eye which causes increase in intraocular pressure (IOP) and eventually blindness due to optical nerve damage. It is the world's leading cause of reversible blindness, affecting 2.7 million people in the U.S., and growing directly in proportion with the world's ageing population.
In 2013, branded and generic glaucoma product sales were worth $6 billion globally. Aerie is hopeful that Rhopressa and Roclatan will become first-line glaucoma treatments and, because Roclatan may become the first ever glaucoma product to lower IOP through all currently known MOAs, it may capture a significant share of the glaucoma market if approved.
Currently glaucoma is treated with medical therapy (eye drops) followed by laser therapy and drainage device implantation. Although new surgical procedures are being offered to patients, no novel-mechanism drugs have reached the market in two decades.
Today, a newly-diagnosed glaucoma patient would be prescribed a prostaglandin (PGA) eye drop, [Allergan's (NYSE:AGN) Lumigan, Novartis's (NYSE:NVS) Travatan Z and the abovementioned Xalatan] or a more outdated non-PGA alternative, such as a beta blocker, a carbonic anhydrase inhibitor or an alpha agonist. With a PGA drug, the patient would initially experience hyperemia (redness around the eye) and would find their eyes sunken in, eyelids darkened and eyelashes substantially elongated several years down the line. In the non-PGA case, patients would commonly experience wider-reaching systemic effects such as dizziness, fatigue, bradycardia and shortness of breath.
PGAs provide a once-daily relief only initially, and nearly half of all patients started on a PGA monotherapy inevitably require one or more non-PGAs to be added to their daily therapeutic routine after ~6 months. This results in a poor-adherence, complex multiple-dosing and multiple-medication regimen which over 40% of glaucoma patients must follow daily. Glaucoma treatment adherence has been widely studied by Robin et al (2007) who found that, whilst over 90% of the patients adhered well to once-daily dosing, more complex regimens resulted in ~35% of people making more than 5 dosing mistakes over the course of the study.
Given the drawbacks and the age of existing drugs, it is clear that new-mechanism drugs with simple dosing regimens, less side effects and a wider patient range would be welcomed by physicians and patients.
Aerie's Rhopressa and Roclatan Address Unmet Need
Several novel classes of glaucoma drugs are being developed, but Rho kinase inhibitors have spent the longest time in the pipeline and will likely be the first to enter the outdated glaucoma market. Alongside Aerie, Kowa (Phase 3 in Japan) and Amakem (Phase 2a) are continuing the ROCK race.
Aerie's Rhopressa is the most clinically advanced and the most studied ROCK inhibitor. It has a unique mode of action due to its additional ability to inhibit NET transporter. It is the only ROCK/NET inhibitor in the current glaucoma pipeline.
Rhopressa reduces IOP via three separate modes of action: (1) through ROCK inhibition, it increases fluid outflow through the trabecular meshwork (TM), which accounts for approximately 80% of fluid drainage from the eye; (2) it reduces episcleral venous pressure (EVP), which represents the pressure of the blood in the episcleral veins of the eye where eye fluid drains into the bloodstream; and (3) through NET inhibition, it reduces the production of eye fluid.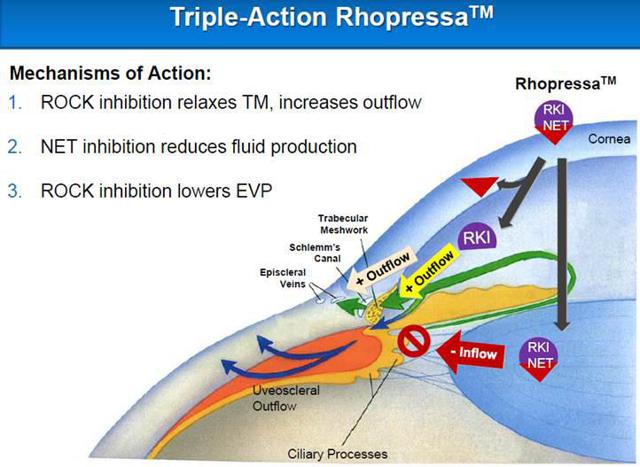 Rhopressa's clinical data to date have demonstrated great safety and efficacy results. In a Phase 2 double-masked, randomized, multi-center, active-controlled, dose-response study, once-daily PM dosing of 0.02% Rhopressa has proven highly effective, lowering IOP by 5.7 and 6.2 mmHg on Days 28 and 14, respectively, and exhibited efficacy results within ~1 mmHg of latanoprost (left graph in figure below) while presenting a favorable tolerability profile.
Importantly, in the moderately elevated IOP patient group, Rhopressa was clinically and statistically equivalent to latanoprost (right graph in figure below).

No systemic side effects were reported in the study. A common class-wide side effect is transient hyperemia, which could be effectively managed by dosing the drug once-daily in the evening to allow the hyperemia to resolve overnight.
AERI is expected to launch the Rhopressa phase 3 program, with a combined total enrollment of ~1300 patients, in the upcoming weeks. First efficacy data is expected around mid-2015 and NDA filing is expected by mid-2016.
Upcoming catalyst: Roclatan Ph2b Results
Roclatan is a fixed-dose combination therapy of Rhopressa and latanoprost - the most effective PGA analogue prescribed to 32% of glaucoma patients in the US. Owing to latanoprost's ability to increase fluid outflow through the uveoscleral pathway, the eye's secondary drain, Roclatan is able to achieve a quadruple-action MOA in just a single drop a day. Aerie predicts that Roclatan may become the most IOP-lowering glaucoma product on the market, if approved. Aerie solely owns exclusive worldwide rights to Roclatan, which is patent protected until at least 2026.
Roclatan's results in primates are indeed impressive. The graph below presents the data from dosing Roclatan vs. latanoprost once daily for three days (at hours 0, 24 and 48) in 6 primates. The results of the study show that at all time points measured, Roclatan™ reduced IOP considerably more than latanoprost alone.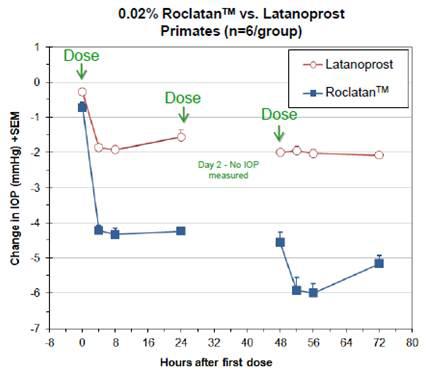 The Phase 2b trial of Roclatan had a similar set-up to that of Rhopressa and was commenced in January 2014. The trial was a 28-day study which included approximately 300 patients and compared Roclatan to latanoprost and Rhopressa alone, all dosed once daily. The efficacy endpoint is 1-3 mmHg superiority of Roclatan to each of its components.
Because Rhopressa has already demonstrated efficacy and safety in human subjects, and because latanoprost's side effects are already known, Roclatan is unlikely to present any safety/toxicity surprises in the upcoming announcement, and can be expected to perform better than each of its constituents.
It's important to note that despite the promising results, success in the upcoming Roclatan catalyst is not guaranteed and failure in the study could greatly affect the stock price.
Conclusion
Adding three novel modes of action to the market's current best, latanoprost, in case of approval Roclatan will be able to provide the convenience of once-daily administration, will exhibit fewer side effects than existing drugs, and may offer the most superior efficacy of any glaucoma medication.
Based on AERI's stock performance in recent weeks, Rhopressa and Roclatan are investors' ROCK stars in this novel drug class. And with good reason: while Rhopressa has demonstrated a solidly good efficacy and safety profile in its Phase 2 trial, Roclatan produced stunning results against latanoprost in primate models. Together, the previous results predict a very high likelihood of Roclatan's success in Phase 2b trials.
With cash to carry the company's operations until the Rhopressa NDA filing in mid-2016, and the promising upcoming catalyst, it is not surprising that the market has been favoring AERI so passionately in the last weeks, and is likely still expecting great upside in the days or weeks leading up to the announcement of Roclatan's Phase 2b results and more importantly, thereafter.
Disclosure: The author is long AERI. The author wrote this article themselves, and it expresses their own opinions. The author is not receiving compensation for it. The author has no business relationship with any company whose stock is mentioned in this article.