Hercules Offshore, Inc. (NASDAQ:HERO) is a mid-tier offshore driller contractor and liftboat services with operations worldwide. The company operates:
36 jackup drilling rigs, including two Keppel FELS Super A high specification, harsh environment jackup rigs.
24 liftboat vessels (9 liftboat vessels are owned by a third party and operated by Hercules.)
2 jackup drilling rigs. Hercules acts also as operation and maintenance manager for two rigs owned by Perisai Petroleum Teknologi BHP. Hercules will receive a daily management fee equal to $4,000 per rig, payable starting at the contract commencement date, and a daily operational fee equal to 12% of the rig-based EBITDA. Hercules will be reimbursed for all operating expenses and Perisai will pay for all capital expenditures with respect to the rig.
Hercules Offshore, Inc. Was founded in 2004 and is headquartered in Houston, Texas.
Complete fleet analysis and status as of June 19, 2014.
Data are from the Hercules website and Rigzone.
1 - Jackup fleet (Including the 2 Perisai Rigs.)
Jackup

Year built

Contract Duration

Current

Dayrate

K $

Location
1
Hercules TBN

Under construction

2016

6/5/14 dur. 5Y
225
UK
2
Hercules Triumph

Keppel Fels Super A

HE

2013

7/31/14
215
India
3
Hercules Resilience

Keppel Fels Super A

HE

2013

En route

6/5/14-10/3/14

188
Congo
4
Hercules 85
X
Cold stacked
-
-
5
Hercules 120
1958
12/31/14
82
GOM
6
Hercules 150
1979

Shipyard 8/8/14

-

-
7
Hercules 153
X
Cold stacked
-
-
8
Hercules 156
X
Cold stacked
-
-
9
Hercules 173
1971
12/31/14
82
GOM
10
Hercules 200
1979
7/31/14
106
11
Hercules 201
1982
Shipyard 7/14/14
-
-
12
1981
Shipyard 9/22/14
-
GOM
13
Hercules 203
X
Cold stacked
-
-
14
Hercules 204
1981
7/1/14
102
GOM
15
Hercules 205
1979

10/2/14

11/1/14

102

102

GOM

GOM

16
Hercules 206
X
Cold stacked
-
-
17
Hercules 207
X
Cold stacked
-
-
18
Hercules 208
1980
3/16/15
114
Australia
19
Hercules 209
1981
7/10/14
110
GOM
20
Hercules 211
X
Cold stacked
-
-
21
Hercules 212
1982
Ready stacked
-
-
22
Hercules 213
1981
8/17/14
111
GOM
23
Hercules 214
1982
6/28/14
110
GOM
24
Hercules 250
X
Sold 6/14 $8.5 million
-
-
25
Hercules 251
1978
8/24/14
103
GOM
26
Hercules 253
1982

8/31/14

10/30/14

105

105

GOM
27
Hercules 260
1979

Ready stacked

Read *

-
-
28
Hercules 261
1979

7/9/14-9/30/14

9/30/14-9/29/19

84

136

Saoudi Arabia
29
Hercules 262
1982

11/8/14

11/7/19

80

118

Saoudi Arabia
30
Hercules 263
1982

9/9/14

3/8/15

102

114

GOM
31
Hercules 264
1976

8/1/14

11/29/14

121

124

GOM
32
Hercules 266
1978
117
117
Saoudi Arabia
33
Hercules 267
1980

Shipyard

From 4/14

Contract terminated

0

Angola

Gabon

34
Hercules 300
1974
11/21/14
104
GOM
35
Hercules 350
1982
3/16/15
140
GOM
36
Hercules 2003
X
Cold stacked
-
-
37
Hercules 2500
X
Cold stacked
-
-
Management only
1
Perisai Pacific 101

2014

under construction

7/31/14-7/31/17
?
Malaysia
2
Perisai Pacific 102

2015

under construction

-
-
-
* From the CC:
We are working on a few short term opportunities to extend the work on the Hercules 208 and 260 at day rates that are similar to current levels. As for the remainder of international fleet, we have contract coverage well into late 2015, 2016, and 2019.
Average revenue per rig per day increased by approximately 36.2% to $106,596 in the first quarter 2014.
2 - Liftboat vessels (Location: West Africa and Middle East.)
From Hercules website:
Liftboats, commonly referred to as the "workhorse" of the offshore industry, are reliable, versatile and self-contained. They provide a cost-effective and efficient alternative to traditional pipelay/derrick vessels. With their large, open deck areas, they are self-propelling and self-elevating. Our fleet provides a work platform for a wide range of services, from coiled tubing and wireline operations to well intervention.
Click here for more information on HERO liftboats.
Liftboat Class

(Feet)

Number of Vessels
Actively Marketed
Day rate $
Operating days
Utilization %
Vessel Drydock
230-280
4
4
43,937
62
50
(1) 6/14
170-215
6
6
34,899
153
82
(1) 6/14-7/14
140-150
4
4
16,303
93
75
(1) 6/14
120-130
7
7
12,647
192
88
(2) 6/14-7/14
105
3
*2
18,750
11
18
(1) 6/14
TOTAL/Average
24
23
23,903
511
72
The age average liftboat vessels is 26 years (From SEC 10K table.)
*1 liftboat West Africa is cold stacked.
John Rynd, CEO, Comment about the liftboat market at the conference call:
Moving on to our international liftboat business, activity levels in West Africa were fairly weak during the first quarter. This was driven by project delays with some of the large customers in Nigeria as well as extended shipyard downtown on certain vessels.

We could continue to see choppiness in utilization but expect overall activity levels to improve as the year progresses. Our largest vessel, the Blue Ray continues to perform well, it will be dry docked for about six weeks in the second quarter but will return to work on a three month contract at 65,000 per day and there are several interested parties for that vessel after this contract.

The Middle East liftboat lock remains very firm, all three vessels are currently working and with the exception of planned downtime for dry docking or contract preparation work, we have good visibility for these vessels through the year.
International Liftboats revenue was $32.5 million in the first quarter 2014.
In the conference call, John Rynd indicated clearly that the company will invest more in the International liftboat vessels' segment because he sees some good opportunities there.
Fleet status snapshot:
| | | | | | |
| --- | --- | --- | --- | --- | --- |
| | Total | Cold stacked | Idle/ready stacked | Working unit | Age average (Year) |
| Jackups | 36 | 9 | 6 | 21 | 32 |
| Liftboat vessels | 24 | 1 | 0 | 23 | n/a |
Commentary:
The Hercules' jackup fleet is very old, with an average age of 32-years, and actually only one new rigs under-construction. One jackup is 56-year-old, the Hercules 120. This average is not including the jackups cold stacked (9) or idle/ready stacked. I do not perceive this one jackup under-construction as nearly sufficient to maintain a steady future revenue growth, and the company will have to think about a vigorous rate of unit replacement soon. Nonetheless, the jackup market, especially in the Gulf of Mexico, where most of the Hercules' rigs are drilling, remains balanced and healthy, which will help the company to rejuvenate its aging fleet, if it decides to opt for this strategy.
Q1 2014 results and conference call on April 23, 2014 and commentary:
Important links:
The jackup market snapshot:
HERO is particularly sensitive to the actual health of the jackup market which has shown some resilience compared to the recent softness of the floater market. This is an important aspect that must be taken into consideration when analyzing future potential growth for Hercules.
John Rynd, CEO, said in the last conference call:
Pricing in the Gulf of Mexico remains stable. All of our new contracts and expansion is executed since the beginning of the year have been priced at leading edge day rates and I expect stable pricing over the current supply demand environment. We are also starting to see some of the customers that stepped away from the market late last year reengage.
Q1 2014 financial results:
Hercules reported $256.7 million in revenue for Q1 2014 or 0.12 per share. Operating expenses were $72.8 million. Results well above the same quarter a year ago.
Q1 revenue

$ Million

Operating Expense

$ Million

Adjusted EBITDA Q1 2014

$ Million

Long-Term Debt

$ Billion

EV

(Yahoo)

$ Billion

Cash

$ Million

Shares (Fully diluted)
HERO
256.7
72.8
97.91
1.2904
1.79
197.2
161,883
John Rynd at the conference call, said:
Let`s remember that despite these challenges we generated almost a $100 million of EBITDA in the first three months of the year, we have just under 200 million of cash on the balance sheet and we're in good position to generate healthy amount of free cash flow in 2014 which we can use to grow our business, reduce our leverage or some combination of both. We remain diligent, enthusiastic and opportunistic.
HERO's EV/EBITDA ratio seems very low at 4.57, which is a positive. However, we are not factoring the negative effect of the last news regarding the Hercules 267 and Hercules Triumph.
Latest news regarding the Hercules 267 and Hercules Triumph on June 19th, 2014:
On June 19, 2014, HERO indicated that the Hercules 267 was moved from Angola to Gabon. The contract with Sonangol was terminated and a loss of $91.8 million in backlog was estimated.
Per the 8K SEC filing on June 19, 2014:
"Also as a result of these circumstances, the Company will voluntarily forgo a three-year contract award it previously received in Angola for the Hercules Triumph"
The news had a clear negative effect on the stock price, as we can see on the chart below: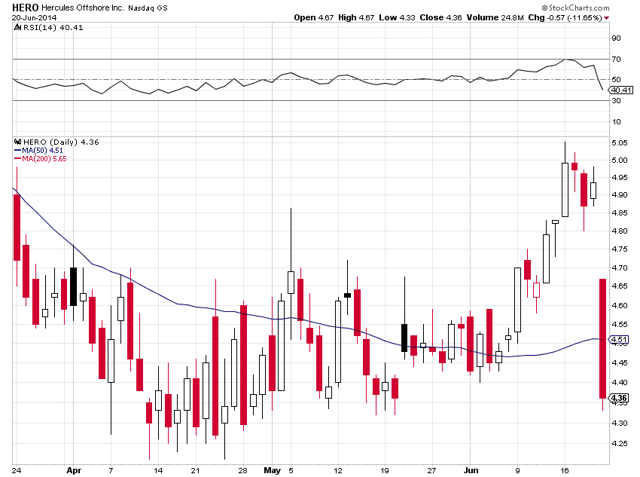 The stock price lost about 12% in one day after the company released the news about the two rigs talked above. The question is to know if Hercules' haircut is a temporary event or a problem more serious hidden in the company jackup fleet?
Commentary:
Hercules Offshore, Inc is a mid-tier offshore company that presents some positive aspects and some definitive weaknesses. I will try to be honest and logical because I haven't decided yet on any investment in HERO, although this steep retracement attracted my attention.
Positive jackup market outlook :
We can see from the fleet analysis that HERO is specializing in jackups and liftboat vessels. Both markets are robust with a good future outlook that has been confirmed by other companies like ENSCO Plc. (NYSE:ESV) That has also a strong jackup fleet. This market outlook is a reliable positive for HERO, who will manage to contract its fleet at a good day-rate, and will reduce idle time to a minimum.
Negative impact of a contract loss, but only a temporary set-back, in my opinion:
The loss resulting from the foregoing contracts of the Hercules 267 and Hercule Triumph is important and represents almost $100 million in backlog loss; however, it is a temporary setback because both rigs will be rented anyway soon. Hercules Triumph is an ultra-modern jackup, designed for Harsh environment, and the company will have no problem to contract it at a good day rate. I see this temporary setback as an opportunity for trading.
Negative impact on revenue for Q2 2014 to be significant:
The question is how much revenue loss will be affecting the Q2 results? Hercules 267 is on zero-day-rate since April 2014, and it will be a significant impact, in my opinion. The question remains with Hercules Triumph. We know already that Hercules 267 will impact the backlog to $91.8 million. It is roughly a loss of about $4.5 million per quarter.
Negative aging jackup fleet is a concern for the long-term:
Hercules indicates 37 jackup rigs but in fact, HERO has only 25 drilling rigs with nine jackups cold stacked, and three others idled. The age on average is around 32-year, which is very old and should be replaced more aggressively with new rigs. This is a concern long-term, especially when John Rynd, CEO, indicated that the extra cash will be used to increase the International liftboat essentially. I do not see this strategy as the best one.
Hercules is not offering any dividend:
Unlike many offshore drillers Hercules has no dividend program to reward its shareholders. Most of the other offshore drilling companies that I am following are paying between 5% to 10%. This is another negative from a long investor's perspective.
Hercules presents some positive financial ratios:
Positive low ratio EV/EBITDA that shows a stock price trading at discount to its fair value and a forward P/E ratio around 8.
Conclusion:
The recent drop of HERO stock price is not related to a strong structural business model default, but just a normal financial hiccup that any company has or will experience sooner or later in this Industry.
However, Hercules Offshore has some definitive weaknesses despite a strong jackup market, and it is difficult to rate HERO as a BUY for these reasons.
Nonetheless, the recent weakness is offering a good opportunity for trading, and I will advise to accumulate on weakness based on the RSI indicator (30/70) with a potential upside of about 15% or more from this week lows.
Disclosure: The author has no positions in any stocks mentioned, but may initiate a long position in HERO over the next 72 hours. The author wrote this article themselves, and it expresses their own opinions. The author is not receiving compensation for it (other than from Seeking Alpha). The author has no business relationship with any company whose stock is mentioned in this article.