The question posed by this article is whether or not $20 is a reasonable price target for BlackBerry (NASDAQ:BBRY). To answer that question, please allow me to pose another. In the great words of the savvy Wall Street guru, CPA, seasoned C-level executive and financial analyst Stone Cold Steve Austin: can I get a "HELL YEAH?"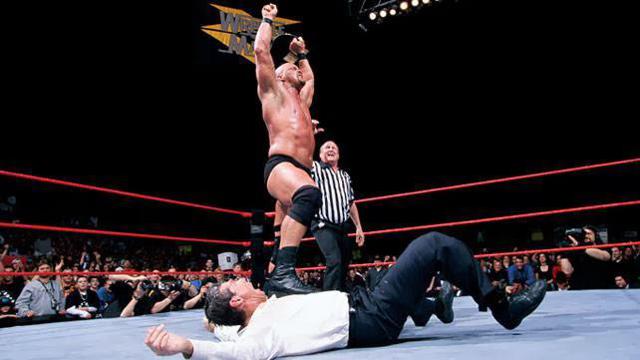 Click to enlarge
I have been touting BlackBerry's turnaround opportunity for the better part of the last year, drastically changing my opinion on the company when Mr. Heins saw his unceremonious exit and Mr. Chen was brought in to be the new face of the company.
Mr. Chen's quick turnaround of the company's stock price is a direct result of him cutting the fat off of the company, not having an emotional attachment to the brand, locating and using his brain, listening to shareholders, and just generally being business savvy. QTR is a major fan of Mr. John Chen. For more on that, you can read my piece, "Why John Chen is an Asset to BlackBerry."
We found out on Friday that Citron research thinks the company should be worth $20/share. After looking through the company's earnings and analyzing some of the statements made by Mr. Chen in his post-earnings interviews, I'm starting to think that $20 is an extremely reasonable price for BlackBerry stock.
First, a quick recap of the bullish points I made after earnings:
Chen assured investors cash burn was still going down
The Z3 launch in Jakarta can be considered a success
QNX is dominating the vehicle market
The company has an extremely secure way to proceed in the "Internet of Things" niche
The company is going to have a "robust rollout" of its portfolio by the end of this year
BES 12 betas have been getting positive reviews
The company is moving into mobile payments, soon to be a billion dollar industry
Continued analyst support is coming in as firms change their opinion on BBRY
Massive cash on hand to do their business with, small price/book value
Beautiful looking balance sheet and CFO assuring investors that BlackBerry plans to never go under $2.5 billion cash on hand at any point
Now, let's make a short mention of Citron's report from Friday. I've been a long time follower and supporter of the work that Citron does. Ask yourself: what does it take for an extremely skeptical short selling boutique research firm to come out and take a long position in a company? Andrew Left is an investor that requires extremely strong evidence to advocate his firm's position on a company. The argument would likely have to be pretty compelling.
Those on the "wrong side" of shorts that Mr. Left advocates usually take major exception to the work he does, despite short sellers being an integral part of the marketplace. You can say what you want about Mr. Left, but the facts are that the market takes him serious enough to pay damn close attention to works that he puts out. With that in mind, what kind of evidence would it take for said short seller to call this case their "best idea in years?"
(click to enlarge - citronresearch.com)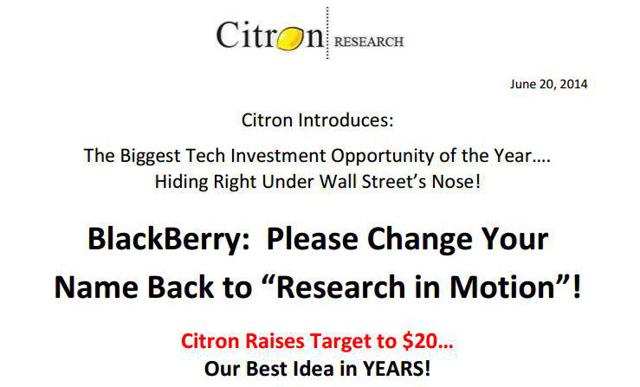 Click to enlarge
While I don't necessarily share the view that the company should change its name again - I do share basically every other sentiment in Citron's report. If you read my previous work on BlackBerry, you'd see that we cross over in a lot of areas where we argue the bull case.
I'm not going to bore you with the same long arguments I have made in the past: the tons of cash on hand, the strong book value, the pedigree of Mr. Chen. But what I will bore you with is some of the statements that Mr. Chen has made since earnings that I see as massively bullish signs. Subsequent to earnings being released, John Chen has come out and made some pretty bold statements.
There's this interview with Bloomberg where he says he isn't seeing a buyer for the company, but he'd have to pay attention to an offer of $100/share. While he's clearly making a joke, he's "thinking big" for his shareholders - that's what I love about owning stock in his company. Everything Chen does is for the shareholders, he's made that abundantly clear.
That comes in additional to numerous statements that Mr. Chen made about monetizing BBM. We already knew from the conference call that they're pushing 100 million MAUs - now Chen wants to monetize BBM to the tune of $100 million/year. And, he wants to do so by porting it to Windows.
Chen is clearly "thinking big" for the turnaround of this company and every day it becomes more and more evident that BlackBerry could likely face a fate similar to that of his former project, Sybase - which was promptly acquired by SAP. Shorting BlackBerry right now is casting doubt that Mr. Chen can get the job done - and likely financial suicide, in QTR's opinion.
In addition to those fundamental based reasons for staying long BlackBerry, let us not forget that the company is going to be poised for a major technical breakout, as well. Take a look at this chart: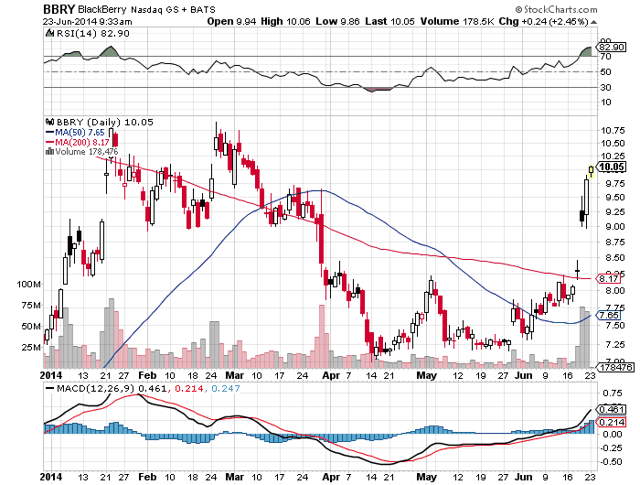 Click to enlarge
We can gather a couple of things here:
The stock broke through its resistance this morning at $9.75 with ease and is setting up to test $10 and make that the new support level for the company - depending on today's close.
The company's 50DMA is about to take a violent turn upwards and ram through the paltry 200DMA at $8.17. This will signal a golden cross to technical traders, who will be so excited they'll likely spill Sanka on their TI-83 graphing calculators.
So, in addition to the fundamentals being in place, the technical trend seems to suggest that BlackBerry is going to be heading upwards - stopping only briefly here and there for those that are looking to shave their positions or realize profits from savvy purchases under $10.
This morning, Evercore partners upgraded BlackBerry to a $10 PT - making them the sixth major upgrade that BBRY has gotten since releasing their last earnings.
QTR continues to believe that $20 is a very reasonable price target for BlackBerry and Mr. Chen, and I remain long and bullish here.
Best of luck to BlackBerry investors.
Disclosure: The author is long BBRY. The author wrote this article themselves, and it expresses their own opinions. The author is not receiving compensation for it (other than from Seeking Alpha). The author has no business relationship with any company whose stock is mentioned in this article.