Investment in stocks is a tricky business. Good opportunities are often ignored because of an overwhelming number of stocks on the market. Some trading opportunities can easily be overlooked due to unrealistic expectations, false trendlines, faulty technical analysis, and poor forecasts.
For instance, mature and large organizations normally entail a low capital return on stocks. However, this is not always true. Some organizations are perceived to be mature, while they still have promising future growth prospects. Facebook (NASDAQ:FB) is a perfect fit for such an organization.
Facebook is the most popular social networking platform, with around 1.28 billion monthly average users. Advertisement is the primary monetization model for Facebook. Facebook generated around 90% of its revenue from the advertisement segment in the first quarter of 2014. Payments and fees from developers and third-parties made up the remaining 10%.
Continuous growth in the number of Internet users alone makes Facebook an attractive investment opportunity. However, this is not the only contributing factor. Recent years have witnessed an outrageous growth in the number of smartphone and tablets. The internet advertising expenditures of the enterprise sector have risen manifold. Technological advancements in node scaling, deployment of data centers, and SSD technology ensure a decreasing trend in the operating costs of Facebook.
Despite promising future prospects, the market is focusing on the EPS and the relatively high P/E ratio of its stock, whereas the cash flow position of the company is being overlooked. Stocks from the Information Technology and FMCG sectors, which have higher growth rates, normally have higher P/E ratios. It is counterintuitive to compare the P/E ratios of two different stocks from two different sectors.
Industry Prospects and Facebook
The Internet userbase around the world is around 2.75 billion, and it is projected to reach 3.6 billion by 2017. Penetration of Facebook in this userbase, in terms of active monthly average users, is around 46%. Growth of the Internet userbase will directly affect the growth of Facebook's average active users.
Growth in Internet advertisement is expected in the future. Display advertising grew by 32.4% in 2013, according to a report by Nielsen. PWC projections reveal that Internet advertising is set to grow to $194.5 billion by 2018. This translates to a CAGR of 10.8%. Moreover, video advertising is set to grow at a CAGR of 23.8%.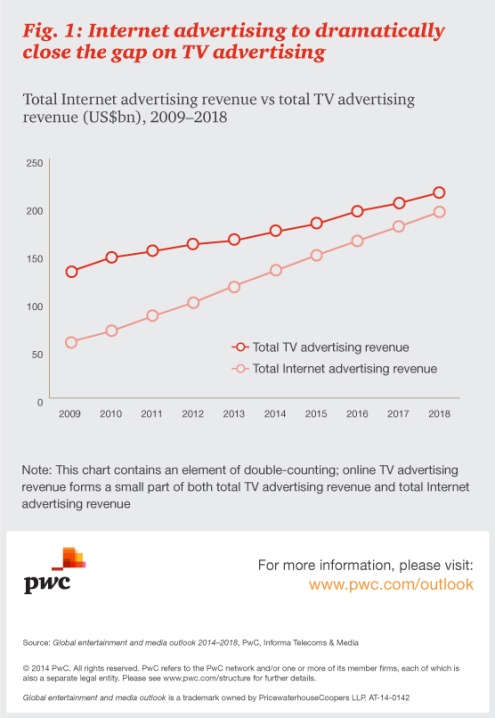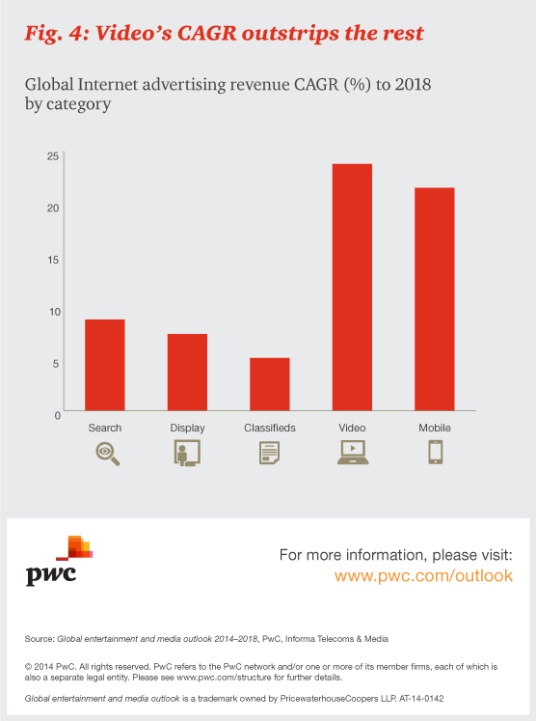 Source: PwC
Facebook has already rolled out its video advertisement format in several countries. Moreover, the company is improving its advertisement platform by making ads more targeted. The company currently monitors users' Facebook activity to display ads. Starting soon, the company will monitor users' web browsing and in-app activity. This will help Facebook display more targeted ads, and attract more marketers as a result. New ad preference tools will allow the users to select the nature of ads being displayed to them. This will increase user satisfaction and result in more targeted ad campaigns.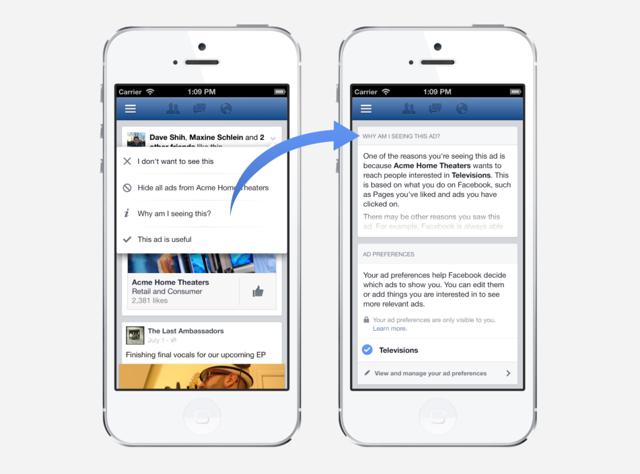 Source: Facebook website
All in all, the growth of global internet userbase, combined with the growth of internet marketing expenditure and improved marketing analytics present a promising future for the growth of the company. eMarketers is also optimistic about the growth of Facebook, and it projects that the advertising revenues of Facebook will rise to $16.96 billion in 2016.
Operating Expenses
Facebook has been managing its operating expenses quite impressively. Cost of revenue, general and administrative expenses are declining at a healthy rate.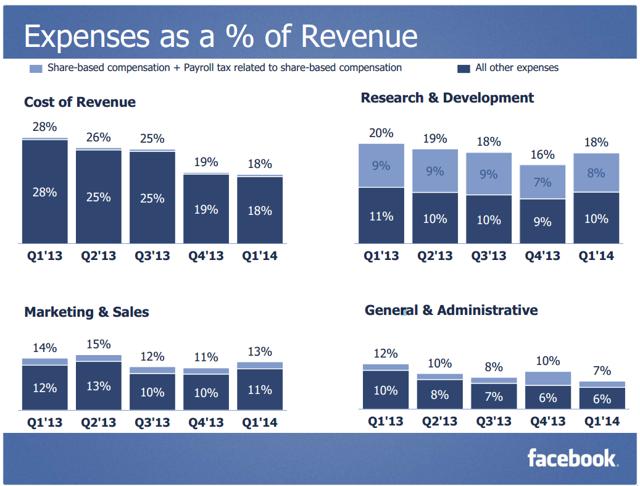 Source: Facebook's earning presentation
Infrastructure deployed by Facebook is efficient and cost-effective. The server-to-technician ratio of Facebook is around 20,000, as compared to 450,000 in ordinary architectures. Facebook's HPHP/HHVM, a replacement of Apache and PHP, is more efficient. Apache and PHP require four times more servers to do similar tasks. New technologies, declining SSD prices, and improved manufacturing process technologies will lead to more cost savings in the future for Facebook.
Overlooked Cash Flows
In my view, the stock of Facebook is normally avoided because of its relatively higher price/earnings ratio. The company's forward P/E is around 35, higher than that of Google's (GOOG, GOOGL) P/E. Google is the de-facto standard of internet advertisement; why should Facebook trade at a higher P/E? Cash flows for Facebook are frequently overlooked. Cash flows are unaffected by accounting policies and estimates, and hence, they are a better reflection of the valuation of a certain company.
| | | | | |
| --- | --- | --- | --- | --- |
| Dollars in million | Year-Ended 2011 | Year-Ended 2012 | Year-Ended 2013 | First-Quarter 2014 |
| Net Income | 668 | 32 | 1011 | 642 |
| Operating Cash Flow | 1549 | 1612 | 4222 | 1285 |
| Free Cash Flow | 943 | 377 | 2860 | 922 |
The net income is trailing both, the OCF and the FCF, by a considerable amount. Hence, P/E is not an accurate metric to value Facebook. A careful evaluation of the cash flows reveals why Facebook is not expensive in comparison to Google. Detailed cash flow-based valuation can be found here.
Bottom Line
Worldwide Internet user penetration and Internet advertisement expenditure is bound to grow in the coming years. Facebook is likely to benefit as a direct result of this growth. Facebook's improving marketing analytics, video ads rollout, declining operating expenses, and healthy cash flows are going to lead the growth story of the company. It would not be wise to avoid Facebook's stock simply because it is trading at a higher price/earnings ratio than its peers.
Disclosure: The author has no positions in any stocks mentioned, and no plans to initiate any positions within the next 72 hours. The author wrote this article themselves, and it expresses their own opinions. The author is not receiving compensation for it (other than from Seeking Alpha). The author has no business relationship with any company whose stock is mentioned in this article.