ARMOUR Residential REIT (NYSE:ARR) is an internally-managed mortgage REIT company, which primarily invests in agency residential mortgaged-backed companies and its principal and interest payments are guaranteed by government-sponsored entities. I am bullish on the company because macro-economic conditions have improved; ARR has managed to shape up its portfolio to deal with rising interest rates. Also, it offers a competitive dividend yield, but the payout ratio is elevated.
Marco-Economic Environment
After the 1% annualized reduction in GDP in the first quarter of the year, the economy has picked up pace and has shown signs of a modest recovery. According to Fed Chairman Janet Yellen, the poor GDP performance in the first quarter was because of transitory reasons, but it caused the Fed to trim down it annual GDP growth targets to 2.1%-2.3% from 2.8%-3% since March 2014. But the targets for 2015 and 2016 remain the same.
However, now the economy is showing signs of a recovery and the Fed continued with its $10 billion cutback in its 5th consecutive meeting. Jobless claims fell by 6,000 and dropped to 312,000 by the week end on June 14, 2014. The unemployment rate has dropped to 6.3%, but there is still under utilization of labor. Similarly, inflation is below the 2% target set by the Fed, but the important thing is that unemployment rate and inflation trends are encouraging, as shown in the figure below.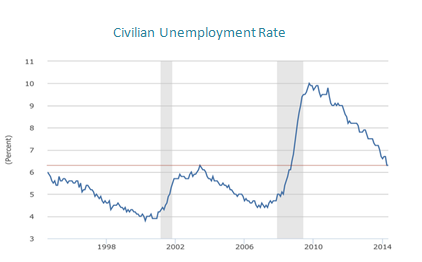 Source: U.S. Department of Labor: Bureau of Labor Statistics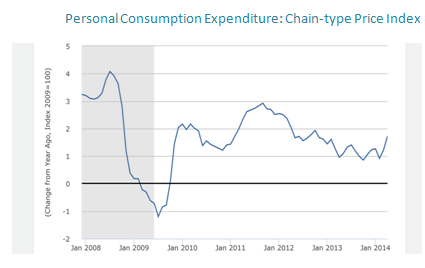 Source: U.S. Department of Commerce: Bureau of Economic Analysis
Nothing drastic or unusual has happened; consumer spending is looking good, which nearly contributes 70% to GDP. The Standard & Poor 500 Index rose to 0.1% and reached 1959.48 after the Fed's recent meeting. Furthermore, policymakers also indicated that short term interest rates are expected to remain low even after the stimulus program ends. So the market is gaining confidence and economic fundamentals are improving, which is beneficial for mortgage REITs, and the uncertainty that emerged after the first quarter is now somewhat settled.
Mixed Results
ARR has repositioned its portfolio from 30-year MBS to 15-year fixed rate MBS. In the first quarter, the company sold $5.3 billion of 30-year MBS and the remaining $1.2 billion was sold in April, which means that the company has effectively reduced its duration as long-term rates are expected to increase by the end of the year. With nearly 65% of the asset base invested in 15-year MBS, it is still exposed to interest rate risk, but the company needs to strike a balance between asset yield and duration. I am also expecting the company to increase its allocation to adjustable rate mortgages (ARM) from 1.2% of the asset base to enhance its risk return profile.
Net interest rate margin painted an encouraging outlook for the recent first quarter. It increased by 22bps to 1.82%. I don't think this will be sustainable in the future because the primary driving force was the increase of 21bps in asset yield, due to lower prepayment rates. However, the CPR trend has reversed after it reached 5.5% in June'14, as opposed to 3.7% by the end of 1Q14.
Valuation & Dividends
ARR almost pay $53.9 million every month in the form of dividends to common stock holders. It also pays $3.9 million a month in dividends to preferred stock holders. This comes to a total of $57.8 million. The company's core EPS is $58.3 million, which means the payout ratio (DPS/EPS) is approximately equal to 1. The payout ratio is on the higher side, but at the same time the company's dividend yield is way higher than the average yield of its competitors. Also, it has declared $0.05 in dividends for this year. Overall, the company's dividend continues to be attractive among its peers.
ARR is also trading at a larger discount to its book value than its peers. Therefore, we can expect price appreciation. With the stock currently marginally trading above 80% of book value, I am expecting share repurchases to speed up this year.
| | | |
| --- | --- | --- |
| Companies | P/BV | Dividend Yield |
| American Capital Agency (NASDAQ:AGNC) | 0.97x | 11.10% |
| Hatteras Financial (NYSE:HTS) | 0.90x | 9.80% |
| ARR | 0.82x | 13.90% |
| CYS Investments (NYSE:CYS) | 0.91x | 13.90% |
| Annaly Capital (NYSE:NLY) | 0.94x | 10.30% |
Source: Yahoo Finance
Conclusion
I believe the company continues to retain its attractiveness for income-seeking investors, as it has maintained its dividends. The macro-economic environment is stable and economic indicators are showing solid trends. However, it is important for the company to strike a balance between stabilizing BVPS by managing risk and increasing asset yield.
Disclosure: The author has no positions in any stocks mentioned, and no plans to initiate any positions within the next 72 hours. The author wrote this article themselves, and it expresses their own opinions. The author is not receiving compensation for it (other than from Seeking Alpha). The author has no business relationship with any company whose stock is mentioned in this article.