Bank of America (NYSE:BAC) remains one of the most embattled banks in the United States. After news made headlines two weeks ago that settlement talks between the bank and the U.S. Department of Justice broke down -- as well as similar talks between the DOJ and Citigroup (NYSE:C) --, more unrest is about to shake up Bank of America.
As Bloomberg reported on June 20, 2014, Bank of America is going to face government lawsuits over the quality of loans underpinning the values of residential mortgage-backed securities:
Bank of America Corp. failed to win dismissal of two government lawsuits in which it's accused of misleading investors about the quality of loans tied to $850 million in residential mortgage-backed securities.

U.S. District Judge Max O. Cogburn Jr. in Charlotte, North Carolina, ruled yesterday that the U.S. Securities and Exchange Commission properly laid out claims that Bank of America lied to investors about the projected health of the mortgages.

Cogburn also gave the U.S. Justice Department 30 days to revise a parallel suit over the same securities after finding the government hadn't properly stated its case that bank documents omitted key facts and included false statements.
These are not easy times for shareholders of Bank of America and I can imagine that many investors are unnerved with respect to the ongoing flood of lawsuits and settlements. However, one got to admit: Bank of America exercised poor due diligence when it acquired Countrywide Financial in 2008.
What surprises me, though, is how long those battles are being fought and how long Bank of America's share price has already been weighted down (see below). In any case, investors should not expect a quick end to lawsuits and settlements affecting the bank.
Lawsuits/settlements likely to be dominant theme in 2014
A steady stream of lawsuits clearly has left a toll on Bank of America, and also the mental state of its investors. Until 2012, Bank of America was under constant pressure to resolve the mortgage issues resulting from its terrible Countrywide Financial acquisition. With the $25 billion National Mortgage Settlement of 2012, Bank of America at least appeared as if it was making progress on the legal front.
As laid out in a related article about Bank of America's high propensity to settle with the Department of Justice, Bank of America continues to face extraordinary settlement risk in the short term.
It was just in the first quarter of 2014 that Bank of America agreed to shell out $6.3 billion in order to settle allegations relating to, you guessed it, soured mortgage-backed securities. Bank of America was sued at the time by the Federal Housing Finance Agency on behalf of Fannie Mae (OTCQB:FNMA) and Freddie Mac (OTCQB:FMCC). High-profile settlement cases continue to dominate the headlines and are likely to do so for the remainder of the year.
What does this mean for shareholders?
Well, as a contrarian investor, I think the news about progressing lawsuits might actually make for a good investment opportunity in Bank of America. Why?
Because investors will likely be put off by an adverse court ruling and imposed penalties. Short-term pullbacks due to a new round of settlements and/or negative court rulings are an interesting time to purchase Bank of America, mainly because penalties blur Bank of America's long-term earnings prospects and investors will likely react emotionally to any form of penalties or fines.
Historical valuation
Bank of America presently trades at 0.74x book value and some investors might argue, that the discount to book value is deserved, because of Bank of America's seemingly unending involvement in the court system.
The chart below displays Bank of America's P/B ratio over the last twelve months.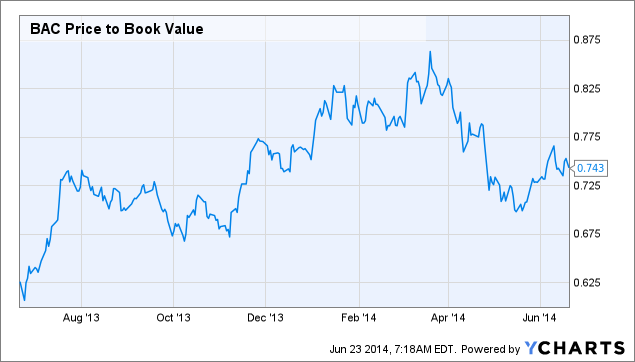 However, let's take a step back and evaluate how Bank of America's price-to-book valuation looked like over a longer measurement period.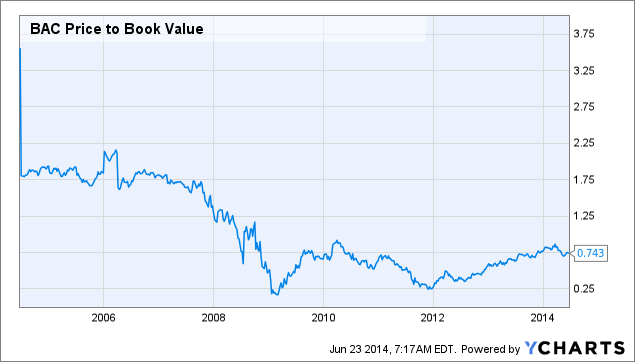 As can be seen in the chart above, Bank of America's shares traded at a solid premium to book value before the financial crisis and I see little reason why the bank cannot achieve a similar valuation in the coming years as the U.S. economy grows more robustly.
I have previously argued in my article "Can Bank of America Trade at $40 Per Share In A Couple Of Years," that the imbalance between Bank of America's short-term and long-term book valuation is absolutely striking and that its book valuation should revert to its long-term book valuation (that is, over 1x book value) over time.
Another point I'd like to mention relates to Bank of America's beginning crusade against lawsuits in 2011 and 2012. Many investors were preaching the demise of the bank at the time and shares indeed sold off sharply during those two years. However, Bank of America recovered equally strongly in 2013 and now quotes at about the same level as it did in 2010 before multi-billion dollar lawsuits were even mentioned.
Conclusion
Bank of America's ongoing involvement in the court system due to its past mortgage practices are indeed unnerving. But they also offer a tremendous purchase opportunity for contrarian investors who want to take advantage of a pullback in the share price should Bank of America be made to pay up.
Both charts above indicate, that Bank of America is hopelessly undervalued based on its historical P/B valuation. The second chart in particular is an impressive reminder, that as bad as a situation might look like (Bank of America facing a flood of lawsuits and settlements in 2012), better times are always ahead. Strong Buy on pullbacks.
Disclosure: The author is long BAC, FNMA. The author wrote this article themselves, and it expresses their own opinions. The author is not receiving compensation for it (other than from Seeking Alpha). The author has no business relationship with any company whose stock is mentioned in this article.