Readers know that we watch numerous areas within the commodity arena as well as industries that either have an impact upon, or are impacted by commodity names. Over the last year or two, we have spent considerable time analyzing utility names due to the low rate environment for bonds and our need to add stability to our portfolios after the big run-ups in some of the oil names we have purchased. We have looked to diversify across the industry, using some of the larger names to get 4%-5% yields while looking to the small to midsized names as potential buyout candidates down the road.
We will have to update our lists moving forward after recent M&A activity, but today we wanted to update readers on our reaction to the latest while also pointing out the two names we are focused on moving forward.
Chart of the Day:
Even with oil prices having risen to levels not seen in some time, the airline stocks remain strong. We figured that there would be more of a pullback, however, we noticed Friday that there were some airlines that were trading at all-time highs.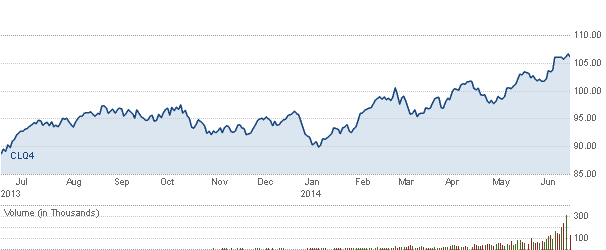 Source: CNBC
Commodity prices are as follows (at time of submission):
Gold: $1,316.90/ounce, up by $0.30/ounce
Silver: $20.875/ounce, down by $0.074/ounce
Oil: $106.02/barrel, down by $0.81/barrel
RBOB Gas: $3.1102/gallon, down by $0.0175/gallon
Natural Gas: $4.465/MMbtu, down by $0.066/MMbtu
Copper: $3.148/pound, up by $0.0265/pound
Platinum: $1,450.60/ounce, down by $6.70/ounce
Utility M&A Picking Up
With Exelon Corporation (NYSE:EXC) having already announced an acquisition, we thought that M&A activity among the Midwestern and rust belt utilities would calm down rather than pick up. In fact, we had even moved Wisconsin Energy (NYSE:WEC) lower on our list of likely takeover candidates due to Exelon having taken itself out of the market as it looks to close on its current merger.
Since we have always looked at Wisconsin Energy as a likely takeover candidate, or at least a merger of equals candidate, we did not see its offer for Integrys Energy (NYSE:TEG) coming. On the surface, this looks like a good deal for the two companies as they have territories in proximity and appear to have numerous opportunities to cut costs via the combination.
Who Is Next?
This would seem to now put Alliant Energy (NYSE:LNT) into play as it is a digestible acquisition for numerous utilities with operations nearby and could be viewed as an attractive bolt-on purchase for a handful of names. Alliant does not strike us as a buyer in this market, and with its size and location, would make more sense as a seller.
The other name that we think is an attractive target and could make sense for a strategic buyer out west is Portland General Electric Company (NYSE:POR). The company is not in the same situation as Alliant with close neighbors who have a history of M&A deals, but within the region, there are a few companies we think could be interested. The most intriguing would be Warren Buffett's Berkshire Hathaway (NYSE:BRK.A) (NYSE:BRK.B), which could make sense if the deal is priced correctly and the energy unit wants to continue its march westward. This would not be a large purchase by any means, but a nice purchase for some of the western utilities looking to add scale in the regulated market while also cutting costs of a combined company.
Disclosure: The author has no positions in any stocks mentioned, and no plans to initiate any positions within the next 72 hours. The author wrote this article themselves, and it expresses their own opinions. The author is not receiving compensation for it (other than from Seeking Alpha). The author has no business relationship with any company whose stock is mentioned in this article.