By: Craig Bowles
Overview
Nike Corporation (NYSE:NKE) is slated to report 4Q 2014 earnings after the close on Thursday, June 26th. The earnings release is expected at approximately 4:15 p.m. EST with a 5:00 p.m. conference call webcast available at Nike Investor Relations. The athletic footwear and apparel maker's brand alone is valued at $10.7 billion, making it the most valuable brand among sports businesses. Nike is an S&P 500 component and was added to the Dow Industrial Average late last year, so results have an increased market moving impact.

Outliers & Strategy
Key measures:
Earnings Per Share: The Street estimate is $0.75 (range $0.70 to $0.80) (Yahoo! Finance). Consensus has been reduced from $0.82 three months ago.
Revenues: Expectations are to increase 9.7% y/y to $7.34 bln (range $7.25 bln to $7.43 bln).
Price/Earnings of 24.8 compares to a 5-year average of 22.4 and industry average of 21.9; Price/Book of 5.8 compares to a 5-year average of 4.3 and industry average of 4.4; Price/Sales of 2.5 compares to a 5-year average of 2.1 and industry average of 1.8. So, the stock is on the high side of valuations.
Nike insiders sold 702,794 shares over the last twelve months. The company has done $1.7 billion in year-to-date buybacks.
Nike is expected to get a boost from the World Cup, especially if Brazil does well with Nike having invested in their 22-year old star Neymar.
Nike results could have an impact other athletic footwear companies, such as Finish Line (NASDAQ:FINL), Shoe Carnival (NASDAQ:SCVL), Steven Madden (NASDAQ:SHOO), Foot Locker (NYSE:FL) and DICK'S Sporting Goods (NYSE:DKS). Performance apparel makers Under Armour (NYSE:UA) and lululemon athletica (NASDAQ:LULU) could be impacted, as well.
Nike shares have a 1-day average price change on earnings of 4.59%. Options are pricing in an implied move of 3.27% off earnings.
Recent News
06/20 Nike appointed Reenie Benziger as VP of its global apparel business, responsible for the creation and production of the company's products around the world.
06/12 Citi reiterated a Buy rating after recent meetings with management indicated continued focus on Europe and China should deliver better turnover and lower inventory risk, according to Benzinga.com.
05/21 Analysts remain bullish with 20 Buy ratings, 5 holds, and 0 sells, according to Analystratings.net.
05/15 Nike and Adidas comprise 70% of the market for soccer gear, according to a post by BusinessWeek.
05/10 Nike is moving their focus away from wearable technology and shifting to software, according to a story on MotleyFool.com.
04/30 Nike appears to be rebounding in China after three consecutive quarterly declines, according to a story on MotleyFool.com.
Technical Review
After a 60% rise in 2013, Nike entered a $71 to $80 trading range but is clinging close to the 200-day moving average going into the earnings release. Recent consolidation in the $74 to $77 suggests the potential for a healthy move off earnings. If the $71 area of support fails, $62.50 is the next balance area. Above $77 would point to a third test on the $79 area in an attempt on making more all-time highs. (Chart courtesy of StockCharts.com)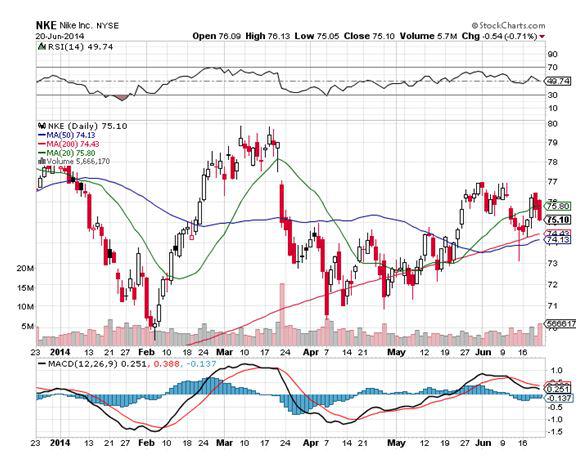 Summary
Nike has beaten estimates each of the last four quarters and traders expect the same this quarter. The company probably needs to report close to the high side of the range of analyst estimates for earnings and revenue with future orders above 9% for a favorable market response. Hopefully, the company will report above $0.78 on revenue above $7.40 bln and traders can embrace the positive World Cup sentiment.
DISCLAIMER: By using this report, you acknowledge that Selerity, Inc. is in no way liable for losses or gains arising out of commentary, analysis, and or data in this report. Your investment decisions and recommendations are made entirely at your discretion. Selerity does not own securities in companies that they write about, is not an investment adviser, and the content contained herein is not an endorsement to buy or sell any securities. No content published as part of this report constitutes a recommendation that any particular investment, security, portfolio of securities, transaction or investment strategy is suitable for any specific person.
Disclosure: The author has no positions in any stocks mentioned, and no plans to initiate any positions within the next 72 hours. The author wrote this article themselves, and it expresses their own opinions. The author is not receiving compensation for it (other than from Seeking Alpha). The author has no business relationship with any company whose stock is mentioned in this article.