PPL Corp. (NYSE:PPL) announced, earlier this month, a complete remake of its business strategy, jettisoning its merchant power business. Management is combining its non-regulated generating assets with generation assets of privately-held Riverstone Holdings LLC, and then launching an IPO of the new company. The new company will be named Talen Energy. The split will leave PPL with regulated businesses in Kentucky, Pennsylvania and England.
According to the press release,
Under the terms of the agreement, at closing, PPL Corporation will spin off PPL Energy Supply, LLC, the parent company of PPL Generation, LLC, and PPL EnergyPlus, LLC, to shareowners of PPL and then immediately combine that business with Riverstone's generation business to form Talen Energy Corporation, an independent publicly traded company expected to be listed on the New York Stock Exchange.
Talen Energy will have 15,500MW of generating capacity, and will be the third-largest independent power producer. PPL shareholders will own 65% of Talen Energy, with Riverstone owning the balance.
Who is Riverstone? From the boilerplate of the press release:
Riverstone is an energy and power-focused private investment firm founded in 2000 by David M. Leuschen and Pierre F. Lapeyre, Jr. with approximately $27 billion of equity capital raised. Riverstone conducts buyout and growth capital investments in the exploration & production, midstream, oilfield services, power and renewable sectors of the energy industry. With offices in New York, London, Houston and Mexico City, the firm has committed approximately $26.1 billion to 108 investments in North America, Latin America, Europe, Africa and Asia.
More information can be found on its website.
Talen Energy will combine Riverstone's 5,300MW capacity from 15 generating facilities in MD, NJ, TX and MA with PPL's 10,000MW in PA and MT. The merger will not include 11 hydroelectric facilities in MT currently contracted to being sold to South Dakota-based Northwestern Energy (NYSE:NWE). Talen Energy will have a mixture of fuel sources, with 40 percent natural gas, 40 percent coal and 15 percent nuclear. Eighty-three percent of generating capacity will be under PJM's jurisdiction. The major Riverstone plants involved are a 1,900MW gas plant in Tx, a 2,750MW clean coal facility and an 800MW gas plant. Riverstone also operates a combined 570MW of renewable wood, solar and geothermal facilities.
More information is available from PPL's merger conference call presentation found here.
During the past few years, as the merchant power business deteriorated in the Northeast, PPL has been transforming itself to a more regulated utility. In 2010, 72% of ongoing operating earnings were generated by merchant power. In 2015, 0% will be generated by merchant power as the company exits all facilities. The graphic below from its conference call presentation shows this dramatic shift.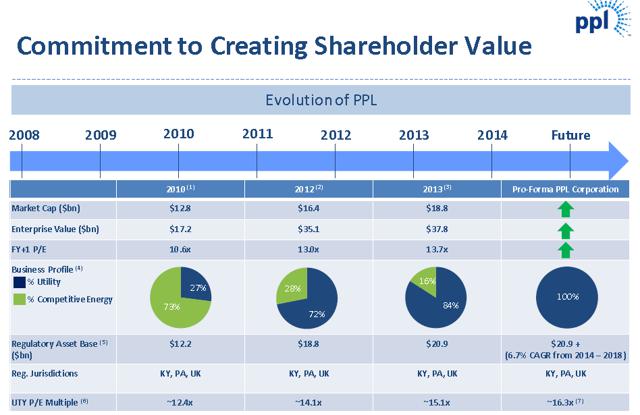 The new PPL will be the regulated businesses in the UK, PA and KY, as described in the following graphics: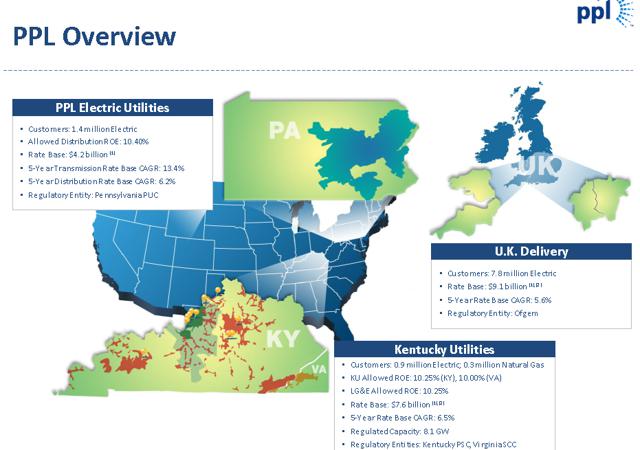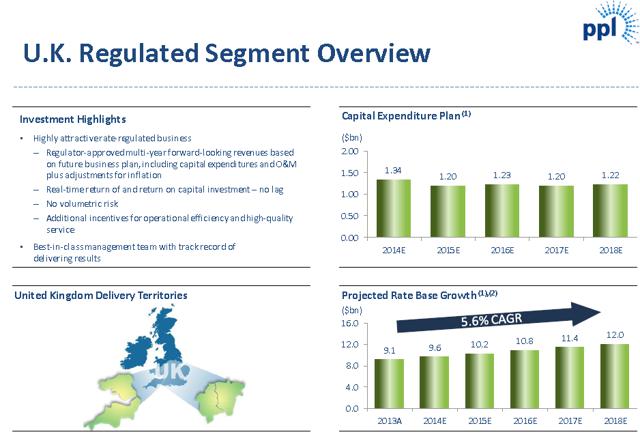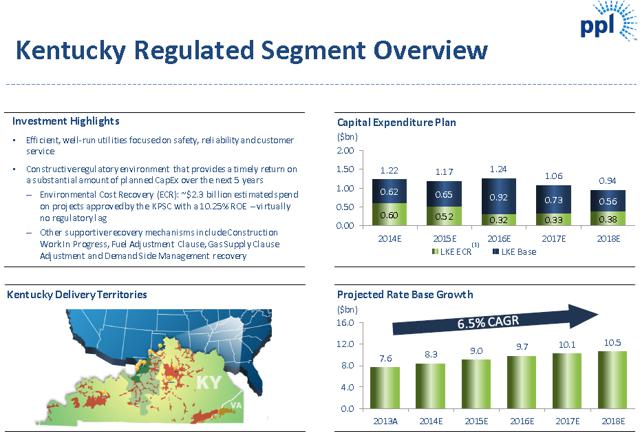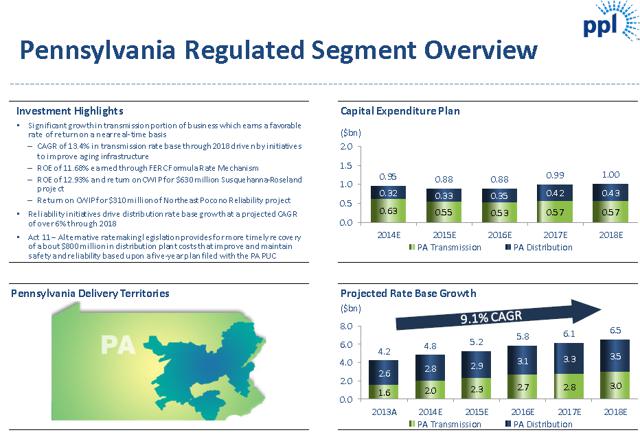 PPL's UK assets comprise the country's largest transmission and distribution network. Of the 15 UK electricity networks, PPL operates four. Regulators in the UK allow for a 3.5% growth in revenues, plus the rate of inflation. The annual adjustment offers investors some protection against the ravages of inflation on utility earnings.
Concerning the regulatory environment in the US, both PA and KY are rated as Credit Supportive, or neutral, by S&P Credit. There are 21 states rated as Credit Supportive, and 8 states rated as More Credit Supportive, or positive. Eighteen states are rated Less or Least Credit Supportive, or negative, and three states as Not Rated.
Earnings per share for PPL after the spin-off are estimated to be between $2.00 and $2.10 in 2014 and between $2.05 and $2.25 in 2015. In 2013, PPL earned $2.45 a share, including $0.39 from merchant power. On a comparison basis, PPL would have earned $2.05 in 2013 from just its regulated businesses. Below is a graphic of 2014-2015 earnings adjustments by operating segment.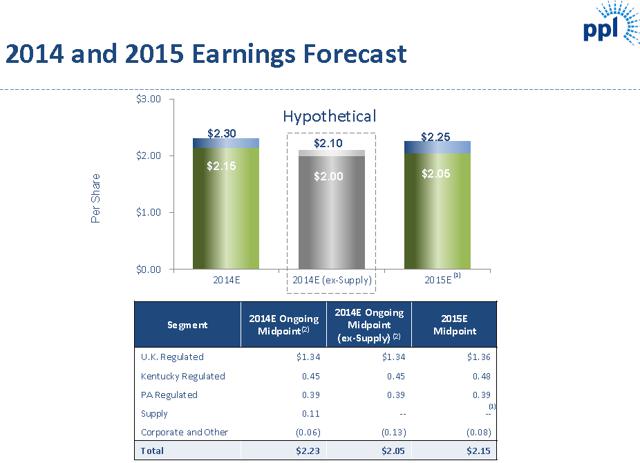 Driving earnings in the future will be an aggressive capital expenditure budget of $15.4 billion between 2014 and 2017. However, operating cash flow will fall short of fully funding this expansion, and long-term debt is expected to rise from $20 billion to $26 billion, pre-split. One benefit of the spin-off will be Talen's assumption of $2.7 billion in debt, reducing total long-term debt in 2017 to just over $23 billion.
Management believes regular rate increases, along with the regulated asset base expansion cap ex will drive EPS higher by an average of 4% a year.
The current dividend of $1.49 will be maintained after the spin-off. With a payout ratio of around 75% and a 4% EPS growth rate projection, it would seem sub-par dividend growth will continue. Three- and five-year dividend growth rates are 1.5% and 1.8%, respectively. The current yield is 4.3%.
Generally, Wall Street is applauding this strategic realignment. Moody's raised PPL's outlook from stable to positive. Bank of America (NYSE:BAC) raised its price target from $36 to $39, and reiterated its Buy recommendation. Ladenberg raised its recommendation to Buy and its price target to $39.
I find it interesting that at a time when PJM electricity pricing is starting to firm after years of weakness, PPL is now choosing to jettison its merchant power assets. It seems, unlike its northeast merchant power peers, PPL does not see the same rosy potential for the future.
Author's Note: Please review important disclaimer in author's profile.
Disclosure: The author has no positions in any stocks mentioned, and no plans to initiate any positions within the next 72 hours. The author wrote this article themselves, and it expresses their own opinions. The author is not receiving compensation for it (other than from Seeking Alpha). The author has no business relationship with any company whose stock is mentioned in this article.