In the last few weeks (the whole month of September) we have seen a massive rally in the stock market (SPY), oil market (USO), Euro (FXE), and gold market (GLD). It seems like confidence has come back to these markets, right? Everyone seems to be putting money in something, except for the US dollar. However one thing still remains true, and that is the important numbers behind these markets. It seems to me right now this rally upwards has been on the holding of the important 1040, which caused hope in the markets.
It does not seem as though the move was backed by "great" numbers. We had some good housing and retail numbers but they are nowhere near where they were before. Also, during this month's Federal Reserve Meeting, they decided to keep the fed fund rates at lows, as expected, from 0-0.25. Now at some point, they are going to need to raise interest rates; they cannot keep them that low forever just to make people spend money.
click to enlarge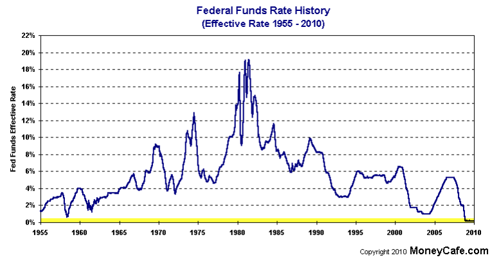 Once the Fed raises interest rates again, it will further depreciate the housing and stock market as it will cost more to purchase. Although the non-farm payrolls improved this month, the unemployment rate is still at 9.6%. An economy cannot grow with such a high unemployment rate. Look at the bond market, it hasn't fallen as the market exploded this September. This proves that bonds are NOT in a bubble and people have put their money into bonds for safety.
Bottom Line
The technical picture of the stock market looks rosy and it looks like we could test higher, however a move like that in the longterm would be unsustainable with these economic numbers. Therefore, I suggest to begin taking off some of your long positions on the move up and always be protected in something like gold, bonds, options, the VIX (VXX) or just straight cash.
Disclosure: No positions