The headlines tell a tale that the American consumer has still not come out from under the Great Recession. Well, someone forgot to tell that to the folks at Steven Madden (NASDAQ:SHOO) as they are enjoying fantastic growth in revenue, profits and share price. Here is the attractive investment story.
What do they do?: Steven Madden is a maker and seller of fashion forward shoes for men, women and children at reasonable prices. They have gone beyond shoes into some other natural brand extensions such as handbags, accessories and now clothing. Their products are sold through both company owned retail outlets and other leading retailers.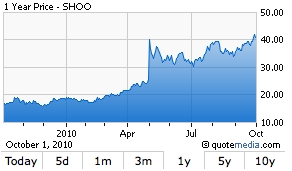 The shoe category has actually been one of the healthiest over the last two years. As consumers pulled back on big purchase items (cars, appliances, vacations etc) they turned to smaller purchases that gave them some sense of personal satisfaction. Shoes and boots were definitely one of the winners there. And if you haven't noticed how happy most women get with purchasing new shoes, then you are not very observant.
Earnings Growth: 2010 profits are currently estimated to be 40% higher than last year. Yet, over the last three quarters they have averaged a 25% earnings surprise. If that string continues, then actual earnings growth will be more like 55-60% higher year over year.
Looking ahead to next year, estimates currently stand at $2.83. Given their current earnings momentum, this estimate will most likely prove far too conservative. Probably $3 - $3.25 will be closer to reality.
Valuation: With earnings growth over the next 3-5 years expected to be in the 15% range, then a P/E in the high teens could easily be justified. Using just a P/E of 17X the 2011 consensus estimate puts fair value at $48. Now toss in a clean balance sheet with no debt and over $2 per share in cash and we get fair value of $50. Again, if they keep banging out earnings surprises, then shares will climb even higher.
Timeliness: Shares have struggled to get above $40 all year long. It tried and failed in late April and early August. Finally, in late September it has surmounted that level on strong volume which puts momentum on our side as well.
Risks: Besides economic risk, which affects all stocks, there is one unique industry specific risk to consider here. These guys are in the fashion industry. And as Heidi Klum, host of Project Runway says; "One day you are in…and the next day you are out". So there is always a concern that customers will stop appreciating their designs leading to lower sales. There is no signs of that happening at this time.
Given the sum total of the investment story I believe that the rewards greatly outweigh the risks. So perhaps you will want to lace up some SHOO shares for your portfolio.
Disclosure: Of course I own shares of SHOO. Why else would I recommend it to others?