Stocks are a very curious product. They are one of very few goods that consumers prefer to buy when expensive and sell when cheap
In my macroeconomic classes, I sometimes jokingly tell my students that equities are an example of a Giffen good. As the U.S. equity rally grinds ahead, I hear equity bulls "justify" the purchase of stocks at these levels due to the fact that they are "Long-Term Investors". Curiously, it seems relatively few of these "Long-Term Investors" in U.S. stocks are interested in buying beaten-down emerging market equities, even given a 3-5 year horizon. We remember how money managers and equity strategist, just a few short years ago, were unanimously singing the praises of investments in BRIC countries. Today, with the exception of India (BATS:INDA), the other three countries - Russia (NYSEARCA:RSX), Brazil (NYSEARCA:EWZ) and China (NYSEARCA:FXI) - are all well below their 2007-2008 peaks. This article will neither serve as an exegesis on the reasons for different emerging market underperformance nor make an audacious "buy" recommendation on the BRICs. Instead, this article examines the current situation in China, a country we know well, and explains how Williams Market Analytics plans to take advantage of the extraordinary buying opportunity developing in Chinese stocks.
As finance professionals, we find it curious that the ratio of the number of articles or TV interviews in which someone predicts an imminent top in U.S. stocks versus the number of articles bullish on Chinese stocks must easily exceed 10:1. Nevertheless, during the recent 5-year downtrend in Chinese equities, we have occasionally heard sporadic, brave calls by analysts and pundits to jump into Chinese stocks. A notable occurrence, at the beginning of 2013, was Jim O'Neill's buy recommendation on China. And no different from the calls by recent U.S. equity bears, these China bulls mangent leurs chapeaux. So let's take a look at how China got so unpopular for investors.
The Chinese Economy is Transitioning
China rode the export wave up until 2008 when aggregate global demand fell off the cliff. Exports accounted for nearly 40% of China's GDP in 2007 versus only 25% in 2013. While export demand has remained soft since 2008, suppressed domestic demand for goods has not been able to pick up the slack. Recent government stimulus measures to stoke domestic demand have been debt-financed, principally targeting state-owned firms. This reliance on debt to boost economic growth resulted in total China credit to GDP reaching 220%. Long story short, domestic demand has not yet replaced the lost export growth and China is instead suffering a credit bust and ongoing structural reforms in the finance industry.
The solution, towards which China's leaders are working, is to rebalance the Chinese economy more towards domestic consumption. Are there other cases when export-driven economies transitioned to a more balanced export-domestic demand model? Yes, South Korea in 1991, which is the most appropriate comparison with China due to numerous similarities between the two economies prior to the transition. We plot the evolution of the South Korean stock market index (the Kospi) around the economy's transition away from its export-led phase, and overlay the plot of the Chinese stock market (Shanghai CSI 300).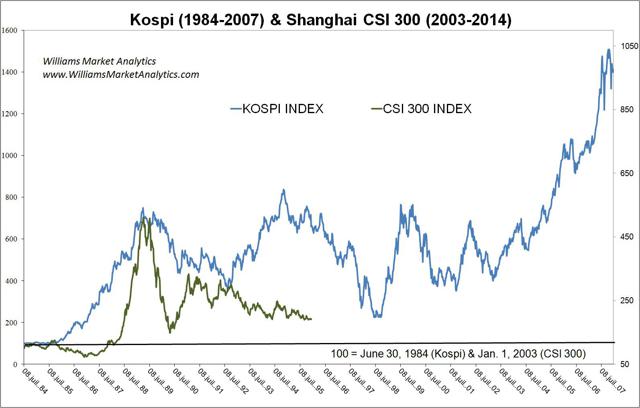 Click to enlarge
For both the export-led South Korean economy and the export-led China economy the "run up" phase in the local stock markets were both on the order of +600%. As the South Korean economy transitioned away from exports in the 1990s, the Kospi shed abound 70% of its value. Similarly, the CSI 300 has also fallen by 70% as China copes with a fall-off in export demand. The paths of the two stock indexes are not mirror images, but the chart should offer reassurance that once China adjusts to more balanced economic growth, Chinese stocks will again be off to the races.
So where is China's economy in the current cycle? As seen by the Manufacturing PMI, Leading Economic Index and annual GDP growth in the charts below, China suffered an acute deterioration of economic growth from 2009 to 2012. We also see that the deterioration in growth is moderating. The HSBC China Manufacturing PMI for June surprised to the upside, coming out at 50.8, the highest reading in more than half a year and signaling expansion of the manufacturing sector (red line). Note that a diffusion index reading below 50 indicates contraction.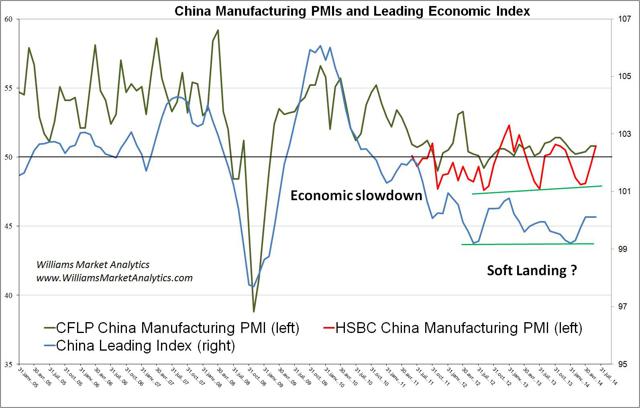 Click to enlarge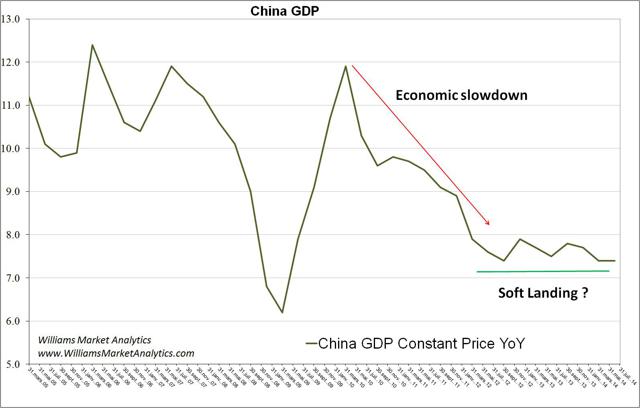 Click to enlarge
The greatest concern for the Chinese economy is the housing market. A more serious property downturn could further dent investor confidence as a property-market slowdown is adding to the risk that the nation will miss a 2014 target of an expansion of about 7.5%. Estimates are that a 10% drop in property sales and building construction could lower economic growth to 5%-6%. The chart below, which presents the annual appreciation of China home prices with the Real Estate Climate Index, does not leave much room for confidence today.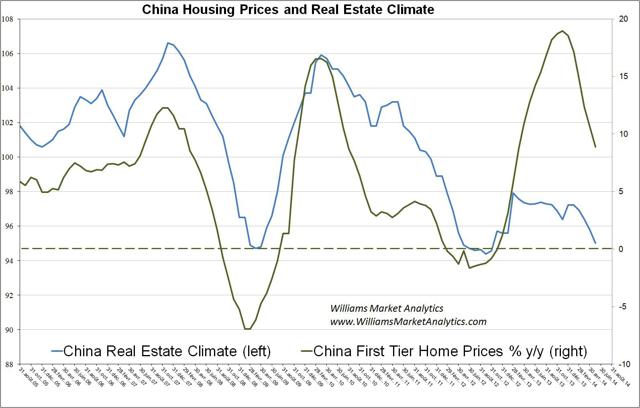 Click to enlarge
So should an investor refrain from buying Chinese stocks until the housing market has bottomed? Our analysis in the chart below demonstrates that Chinese stocks have significantly led housing by as much as 12-months. We would therefore argue that equity investors in China are ill-advised to focus on the real estate market, despite its importance for the Chinese economy.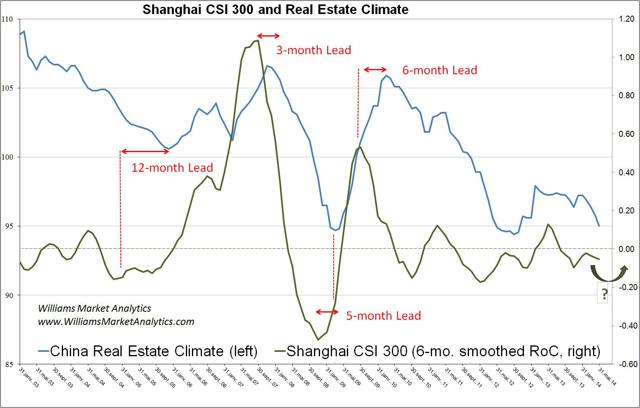 Click to enlarge
Our two cents is that growth is likely to remain slow as the government enacts reforms, domestic demand edges up, and the credit bust gets cleaned up. That said, investing in emerging countries based on past GDP growth rates has shown to produce poor market returns. In fact, the countries with the lowest GDP growth have subsequently performed best simply because countries with low economic growth often have that factored into stock market valuations. Chinese stocks are no different from New York stocks. The S&P 500 (NYSEARCA:SPY) has gained nearly 200% during conditions of sub-par economic growth with an average unemployment rate of 8.5% over the past five years. Whatever the market, price and valuation are the ultimate drivers of future returns.
Chinese Stocks: So Bad It's Good
The underperform of Chinese stocks since 2007 is staggering in comparison to Western markets: the mainland A-shares (restricted to Chinese nationals), as measured by the CSI 300 Index, are down -63%, with the H-shares listed in Hong Kong (open to foreign investors), measured by the Hang Seng China Enterprises Index, down -49%.
Equity outflows are at multi-year highs as investors have been racing to pull their money out of China.
Valuations are near decade lows with the A-share market trading at 9.7x earnings and 1.4x price-to-book. Meanwhile, H-shares are trading at 7.5x earnings and 1.2x price-to-book. These numbers are close to 1.5 standard deviations below their 10-year averages.
Bank shares, with made up 1/3 of the Chinese exchange, are trading at a discount that factors in a credit crisis (much as U.S. bank in 2008 - who bought Goldman Sachs (NYSE:GS) in December 2008….?).
Chinese investor sentiment is at multi-year lows.
An official halt on IPOs is also distorting the market. IPO sales have caused a liquidity drain from the market and short-term volatility with investors selling existing shares in order to subscribe to new shares.
The market is vulnerable to positive news. In this regard, last week Chinese Premier Li Keqiang promised that "China will avoid a hard landing". Given recent experiences in the U.S. and Europe with "official interventions" in the economy, this may act as a catalyst.
How We Are Playing China
Risk conditions are still unattractive for China. Economic growth continues to deteriorate (albeit at a slower pace), property prices are falling, and sentiment is morose. We are not ready to jump into China with both feet. The pace and size of our allocation to China will be a function of three factors.
The condition sine qua non to add China to our portfolios is consistent Over-Weight readings on our models for China over the mid and longer-term horizons. At Williams Market Analytics, we employ a systematic investment strategy and let our models guide our country/sector selection. At this stage, our models remain largely underweight China A-shares although moderately positive on China H-shares. We don't attempt to buy at the bottom, preferring to sacrifice the first part of a market move in exchange for stronger confirmation of the new trend. Our WMA price charts for the Chinese A-shares and H-shares (below) are keeping us on the sideline for now. The WMA price is an econometrically normalized price for the indexes which takes into consideration both the risk environment and the relative performance of competing world equity markets.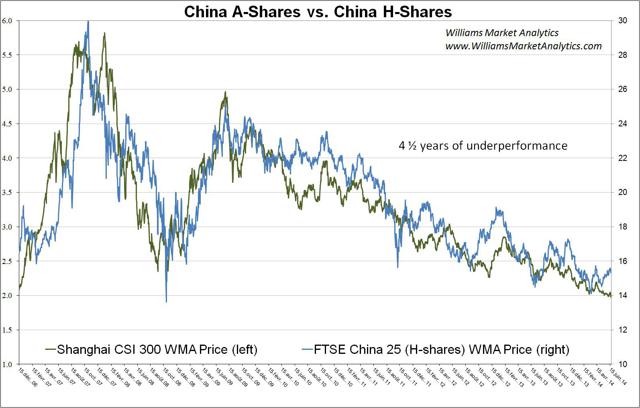 Click to enlarge
2. We need to see signs of a successful soft landing of the Chinese economy.
3. We'd like to hear announcements of government "participation" in stimulating the economy, which would be a very encouraging sign. While we can't predict a Chinese Quantitative Easing program, we know that Chinese authorities are not ignorant to the methods employed by the U.S., Europe, and Japan to stimulate growth.
A shorter-term indicator to keep an eye on is the performance of the yuan. Since the yuan was "de-pegged" in 2005, the Chinese currency has appreciated almost 27%. The appreciation of the yuan has been steady and unabated for the past 9 years -- with the exception of a -3.6% fall thus far in 2014. The yuan's decline reflects a less optimistic outlook of investors towards China. In this respect, a strengthening yuan would be a positive sign.
As conditions become more favorable, we are targeting two sectors in particular: Technology and Consumer Discretionary. China's internet penetration rate stands at just 40%, about the level of the US in 2000 and only 25% of households have a personal computer. Moreover, the smartphone installed base, currently near 300 million, is expected to hit 450 million by 2015. There is clearly high potential for growth in Chinese tech. Meanwhile, Chinese consumers, who have traditionally had a notoriously high savings rate, are becoming wealthier and logically this saving rate is falling. With the transition to an economy led by domestic demand, auto manufacturers, home goods retailers, travel and leisure should all stand to be beneficiaries.
A U.S. or European investor can gain easy exposure to Chinese Tech and Consumer Discretionary through sector ETFs on either the A-shares or H-shares. Although A-shares are reserved for Chinese nationals, relatively new synthetic ETFs (which employ swap contracts with a local counterparty) on Chinese indexes allow foreigners to gain access to the Shanghai market. One caveat: we prefer using physical ETFs, but in the case of China, the use of synthetic ETFs is unavoidable. An explanation of the two ETF structures can be found here. We have linked here a summary table of the Chinese ETFs in our investment universe. Compared to the broad market performance of Chinese equities shown above, we see relatively stronger price action on both our A-Share and H-Share Chinese Tech and Consumer Discretionary indexes.
Finally, a key difference between A-shares and H-shares is that the latter reflects, in large part, Westerners' demand for Chinese equities. As such, H-shares react to a common set of risk variables vis-à-vis U.S. and European stocks. This is seen in a cross market correlation analysis (below).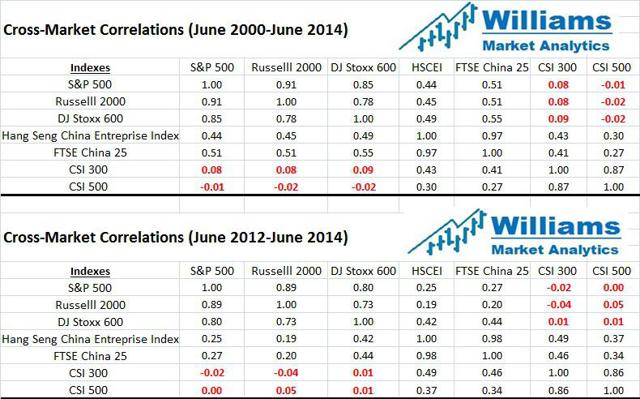 Click to enlarge
The advantage of A-shares for a U.S. or European investors is the complete decorrelation with developed market equity indexes, and thus maximum diversification gains. In other words, if you fear a U.S. equity market correction, an investment in China A-shares may actually rise as the U.S. market falls.
Conclusion
We expect China will be a big driver for our future portfolio performance. However it's too early to take aggressive positions in China. The transition from an export-led economy, a credit bust and reforms are still ongoing, but are now largely factored into stock prices. Ultimately, these risks need to be weighed against the price on offer, which is very attractive with valuations of Chinese equities close to decade lows. As we continue to monitor our indicators for signs of a confirmed top in U.S. equities (Six Indicators To Confirm The Bear Market), we recommend keeping an eye on the decorrelated A-Share indexes.
Disclosure: The author has no positions in any stocks mentioned, and no plans to initiate any positions within the next 72 hours. The author wrote this article themselves, and it expresses their own opinions. The author is not receiving compensation for it (other than from Seeking Alpha). The author has no business relationship with any company whose stock is mentioned in this article.