This is probably going to be the story for the next few months and perhaps even years. After a massive campaign to print money all around the world, from the U.S. Federal Reserve to the Bank of Japan, the first signs of accelerating inflation are appearing.
If and when inflation establishes itself, the current money-printing campaign is likely to end. With it, assets are - for a while, at least - likely to trade lower. Likewise, interest-sensitive issues, from dividend payers to bonds, are likely to see significantly discounted valuations from their present liquidity-infused levels.
The signs
While the signs that there's looming inflation aren't yet very strong, it should be noticed that both the CPI and Core CPI have now ascended above the Federal Reserve's 2% objective (Source: BLS, special thanks to barnejek)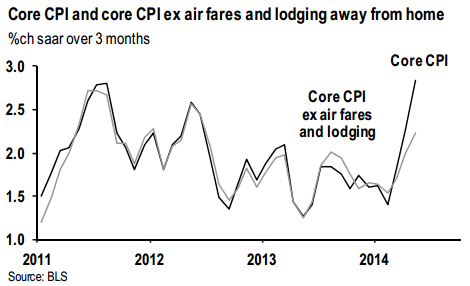 Now only are these signs present in the U.S., but even global inflation seems to be accelerating, which is relevant since the money printing is also a global phenomenon.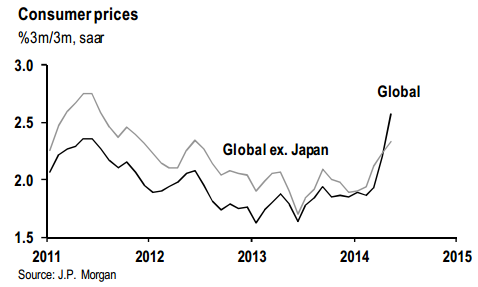 This is even more relevant when the former source of disinflation, China, has been booming for so long that now its manufacturing salaries are even surpassing Mexico's. With growth continuing, China is going to turn from a source of disinflation to a source of inflation (Source: BofA Merrill Lynch).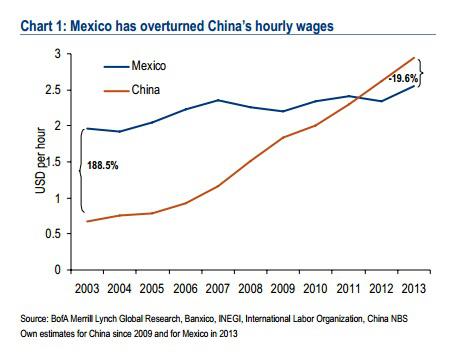 Most relevant phenomenon
Inflation, together with a currency collapse, is the only thing that can keep central banks from pressing the print key at this point. And the print key is the only factor driving markets ever upward.
The lack of printing would quickly result in a hard reset of the equity markets. This would be temporary, because after a while inflation drives markets upwards as well (the stock quotes, revenues, earnings, are all what I call "nominal realities," they get inflated as well). But still, in the short term the lack of printing can only produce a major market dislocation.
Conclusion
With the incoming data, it's becoming obvious that inflation is accelerating. Indeed, the CPI and Core CPI are already above the Federal Reserve's 2% objective.
If inflation accelerates further, there's no doubt that the money printing campaigns will end, and it with them, the never-ending market rally will also come to a close.
This is now the most important (negative) factor facing the markets, and will likely remain so in the months and perhaps even years to come. Obviously, the money printing is the main positive factor driving the markets.
Disclosure: The author has no positions in any stocks mentioned, and no plans to initiate any positions within the next 72 hours. The author wrote this article themselves, and it expresses their own opinions. The author is not receiving compensation for it (other than from Seeking Alpha). The author has no business relationship with any company whose stock is mentioned in this article.