I usually prefer stocks that pay a solid dividend for my long-term portfolio but there is also a case to be made for growth stocks as well. Shares of companies with strong sales growth and consistent free cash flow will see their price rise on the value of equity and will eventually start returning cash to shareholders. Look for companies with a strong share of their market and that are consistently profitable, like the three below, for those you can hold in your 'forever' portfolio.
Forever is a long time
The idea of a 'forever' portfolio seems a little far-fetched in today's 24-hour news cycle with daily buys and sells from the financial pundits. The fact is that investing a large percentage of your portfolio in stocks with strong long-term outlooks that you do not have to monitor on a daily, or even quarterly basis, hugely reduces stress around meeting your financial goals.
I usually prefer solid dividend-paying stocks for my long-term positions but the case can be made for a few growth stocks as well. Companies with consistently strong growth in sales and cash flows will see their share price rise on the value of equity and will eventually need to start returning cash to shareholders.
Look for companies with sales and operating income growth above their industry average and that have a relatively strong share of their market. Beyond the obligatory analysis of cash flows and balance sheet health, pay attention to customer loyalty and the ability of the company to maintain its market share.
Three consistently profitable companies in three distinct industries
With $76 billion in global gross merchandise volume, eBay (NASDAQ:EBAY) had an 8% share of the global e-commerce market in 2013. For those that think the company is simply an online auction platform, auction business represented less than 20% of total revenue last year. Marketplace, the company's buying and selling broker service, has more than 145 million active buyers and double-digit user growth. The company's PayPal service, which accounted for 41% of 2013 revenue, processes more than 20% of global online retail transactions and is just breaking into point-of-sale transactions through a partnership with Discover. While others have struggled to monetize mobile devices, 40% of new Marketplace and Paypal users last year were on mobile devices.
Sales have grown at a 20% rate over the last three years, slowing marginally to 14% last year. Even on the slowdown in sales, management was able to control costs and drive nearly a 17% increase in operating income. The company has a solid balance sheet with just 17.4% ($4.1 billion) of its capital structure in debt and an A+ credit rating by Morningstar. Free cash flow has increased at a 22.6% rate over the last three years and surged 45% in 2013 to $3.7 billion. While the company has yet to pay a dividend, it does actively repurchase shares with $3.3 billion bought back over the last three years.
Shares are trading for 17.9 times trailing earnings, just under the five year average of 19.3 times earnings. Estimates are for earnings growth of 10.3% this year to $2.99 per share on sales growth of 13.8% to $18.3 billion. This would bring the valuation down to 16.7 times trailing earnings. On a price multiple of 19.0 times earnings, I have a one-year target of $56.81 but eBay's growing influence on global e-commerce make it a strong long-term investment. Management will likely favor share repurchases over the near-term but a dividend is probably not far off for the company's continuous cash flow.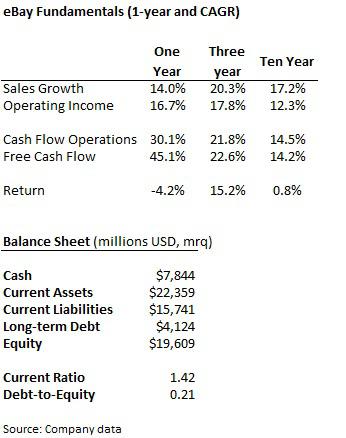 FMC Technologies (NYSE:FTI) controls nearly 40% of the global market share for subsea tree equipment orders used in deep sea oil production. While fracking and U.S. domestic production have gotten all the headlines over the last few years, deep-water production still presents a huge opportunity for future growth. Deepwater production only reached 1.5 million barrels by 2000 but has since surged to more than 5.0 million barrels per day with massive discoveries in the Gulf of Mexico and off the coast of Brazil. Offshore discoveries accounted for nearly 70% of the major oil and gas discoveries globally over the decade to 2010. FMC Technologies partners with customers in design of subsea structures before equipment is purchased. This incentivizes companies to work with FMC and has led to the company's strong share of orders.
While offshore production in Brazil has slowed due to poor management by the state-controlled oil company Petrobras (NYSE:PBR), Mexico is opening its energy industry after 76 years of state-controlled monopoly and bringing in foreign firms to develop neglected fields. Pemex is already the world's largest shallow-water producer and the deep-water opportunity could be immense. The deep-water industry is still relatively nascent but could be a strong opportunity for long-term investors to buy into leaders. As the industry matures, cash flow will increase and companies like FMC Technologies will start returning that cash to shareholders.
Sales grew by 15.9% last year with a cost management program leading to 23.6% growth in operating income. Free cash flow surged from a deficit of $267 million in 2012 to $481 million. The company uses debt to finance 36% of its capital structure but has a solid BBB+ rating by Morningstar.
Shares are trading for 26.8 times trailing earnings, just above the average 26.0 times multiple over the last five years. Estimates are for a 25% increase in earnings this year to $2.70 per share on sales growth of 9.5% to $7.8 billion. I think this is overly conservative and see sales closer to $7.95 billion and earnings at $2.80 per share. On an earnings multiple of 26.0 times, I have a target of $72.80 per share but the longer-term outlook should keep investors in the shares.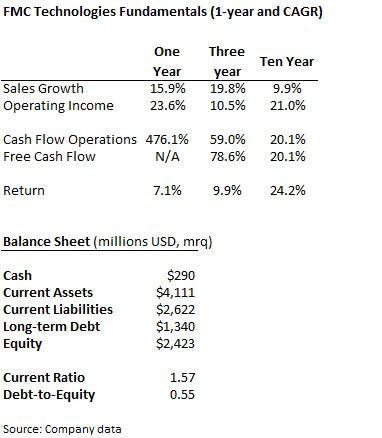 Cognizant Technology Solutions (NASDAQ:CTSH) provides IT services across sectors but books approximately 90% of revenue from financial services, health care, manufacturing and retail. Over three-quarters (77%) of sales last year were booked in North America. Cognizant has built a strong reputation for client satisfaction and about 30% of a project team is typically based at the client site. While the company's explicit target of 20% operating margin, with excess operating income reinvested into client services, limits earnings growth it also helps maintain the company's strong client retention ratio of about 90%.
Sales have increased at a 24.1% pace over the last three years with operating income typically growing at a faster rate. The company has no debt on the balance sheet which opens up the possibility of higher returns with financial leverage in the future. The company has a stock buyback program but it is relatively small compared to free cash flow and excess current assets (minus current liabilities) are more than 16% of the company's market capitalization. On a strong outlook and consistent free cash flow, the company will need to start returning more cash to shareholders or face the possibility of becoming a takeover target.
Shares trade for 23.1 times trailing earnings, just below the average of 25.1 times over the last five years. Estimates are for earnings growth of 17.8% this year to $2.38 per share on sales growth of 16.9% to $10.3 billion. Despite expectations for slower growth this year, I think the company could book growth in excess of 15% annually for at least the next several years. I have a target of $59.50 based on estimated earnings and a 25.0 price multiple.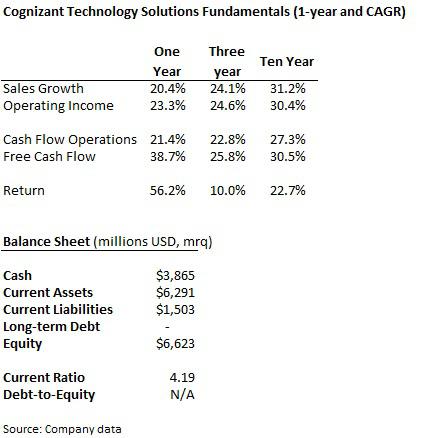 While none of the three companies above return a significant amount of cash to shareholders on a regular basis, the outlook for strong earnings growth and free cash flow should mean that a higher cash return is only a matter of time. All three have a strong reputation within their industry and control significant market share, giving them economic moats that protect against changes in the industry. While you should always evaluate your investments on a regular basis, I believe these three could provide strong returns over a long horizon and could be a part of your 'forever' portfolio.
Disclosure: The author has no positions in any stocks mentioned, and no plans to initiate any positions within the next 72 hours. The author wrote this article themselves, and it expresses their own opinions. The author is not receiving compensation for it (other than from Seeking Alpha). The author has no business relationship with any company whose stock is mentioned in this article.