In case you missed it, tax inversions are all the range on Wall Street right now. The list of recent tax inversions or attempted inversions includes Pfizer's (NYSE:PFE) bid for AstraZeneca (NYSE:AZN) and Medtronic's (NYSE:MDT) bid for Covidien (COV). High U.S. corporate tax rates relative to the rest of the world and the increasingly likely closure of a tax loophole which allows companies to be taxed in a foreign country if 20% of the shareholder base is there have led to a wave of tax inversion deals. I believe BP (NYSE:BP), one of the world's largest oil companies, based in the U.K., is a possible tax inversion target for either Exxon Mobil (NYSE:XOM) or Chevron (NYSE:CVX).
Size Matters
For energy heavyweights Exxon or Chevron to pull off a tax inversion, the takeover target must an extremely large company. Exxon's current market cap is $445 billion and Chevron's is $251 billion, so there are only a few possible targets. BP's current market cap is $162 billion, so the deal would enable either Exxon or Chevron to change its tax base to the U.K. from the U.S,. which should provide significant tax savings. The chart below shows how Exxon or Chevron might be able to benefit from being taxed at BP's rate.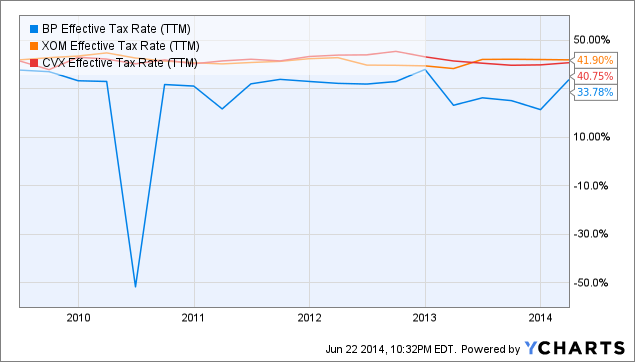 BP Effective Tax Rate [TTM] data by YCharts
BP's Valuation
As shown by the chart below, BP is currently trading at a very cheap valuation: 10.9 times forward earnings. Comparably, Exxon and Chevron are trading at higher multiples. In addition to being cheap on a price to earnings basis, BP is also cheap relative to its historic highs. Both Exxon and Chevron are trading close to all-time high share prices, while BP is trading well below its all-time high. Of course, the main reason why BP is not trading at an all-time high has to do with the fallout from the 2010 Deepwater Horizon oil spill. However, with that event now mostly in the past, save for some continuing litigation, the company appears to be ripe for a possible takeover.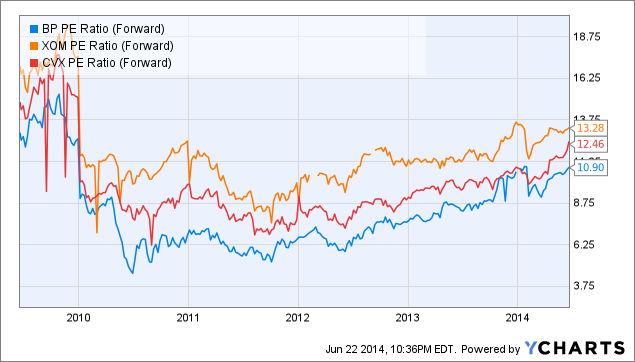 BP PE Ratio (Forward) data by YCharts
Conclusion
In the past, BP has been rumored as a possible takeover target by Exxon, especially after the stock plunged in 2010. To me, a deal did not make sense at that time because Exxon would be buying a major unknown with regard to the fallout from the spill. However, with the worst of the spill litigation possibility behind BP, and the tax inversion loophole likely to close in the next 18 months, and low valuation of BP shares, a deal makes sense right now. Like Exxon, Chevron may also have interest in buying BP. One other factor to consider is that BP shares have also been impacted by the situation in Russia as BP's profits from Rosneft have declined. That said, the situation in Russia appears to be improving too, and the Russia Index ETF (NYSEARCA:RSX) is now up almost 20% over the past three months. While a buyout of BP by Exxon or Chevron remains unlikely, it is certainly possible and would make sense from a tax perspective. This is especially true given President Obama's desire to increase taxes on big oil.
Disclosure: The author has no positions in any stocks mentioned, and no plans to initiate any positions within the next 72 hours. The author wrote this article themselves, and it expresses their own opinions. The author is not receiving compensation for it (other than from Seeking Alpha). The author has no business relationship with any company whose stock is mentioned in this article.