The following is a list of stocks in a new uptrend, as defined by the Average Directional Index, or ADX(14) index. All of these stocks are undervalued when comparing the current price to the average analyst target price.

To create the list, we started with a universe of stocks in an uptrend that have an ADX(14) value above +20, which signals strengthening upward momentum. We then reduced the size of this universe by only focusing on stocks that are trading at deep discounts to the average analyst target price (used as a proxy for fair value).

Yes, this is a very crude way to identify undervalued stocks, and there are many limitations to this approach. But the goal here is to give you a starting point for your own analysis.

ADX data sourced from StockCharts, target prices sourced from Finviz.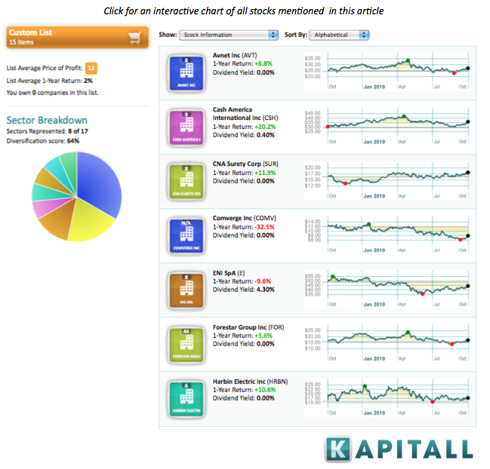 The list has been sorted by discount to analyst target price.

1. Harbin Electric Inc (NASDAQ:HRBN): Industrial Electrical Equipment Industry. Market cap of $552.11M. ADX Line(14) at 20.78. Current price at $17.77 vs. target price of $28.33 (implies a discount of -37.27%). Short float at 20.1%, which translates into a short ratio of 13.43 days.

2. Comverge Inc. (NASDAQ:COMV): Scientific & Technical Instruments Industry. Market cap of $202.16M. ADX Line(14) at 20.42. Current price at $8.00 vs. target price of $12.73 (implies a discount of -37.16%). Short float at 7.61%, which translates into a short ratio of 9.33 days.

3. Spectranetics Corp. (NASDAQ:SPNC): Medical Appliances & Equipment Industry. Market cap of $178.19M. ADX Line(14) at 20.93. Current price at $5.38 vs. target price of $8.53 (implies a discount of -36.93%). Short float at 4.31%, which translates into a short ratio of 15.72 days.

4. ShengdaTech, Inc. (OTC:SDTH): Specialty Chemicals Industry. Market cap of $293.22M. ADX Line(14) at 22.9. Current price at $5.41 vs. target price of $8.50 (implies a discount of -36.35%). Short float at 2.01%, which translates into a short ratio of 2.92 days.

5. Forestar Group Inc. (NYSE:FOR): Property Management Industry. Market cap of $618.41M. ADX Line(14) at 20.36. Current price at $16.98 vs. target price of $25.67 (implies a discount of -33.85%). Short float at 6.14%, which translates into a short ratio of 8.18 days.

6. Mcdermott Intl, Inc. (NYSE:MDR): Heavy Construction Industry. Market cap of $3.47B. ADX Line(14) at 20.93. Current price at $14.92 vs. target price of $20.32 (implies a discount of -26.57%). Short float at 1.13%, which translates into a short ratio of 0.79 days.

7. Cash America Intl Inc. (NYSE:CSH): Credit Services Industry. Market cap of $1.05B. ADX Line(14) at 21.63. Current price at $35.59 vs. target price of $47.25 (implies a discount of -24.68%). Short float at 15.92%, which translates into a short ratio of 18.87 days.

8. Live Nation Entertainment, Inc. (NYSE:LYV): General Entertainment Industry. Market cap of $1.72B. ADX Line(14) at 20.27. Current price at $9.91 vs. target price of $13.00 (implies a discount of -23.77%). Short float at 7.84%, which translates into a short ratio of 4.61 days.

9. Avnet, Inc. (NYSE:AVT): Electronics Wholesale Industry. Market cap of $4.08B. ADX Line(14) at 20.46. Current price at $26.84 vs. target price of $34.60 (implies a discount of -22.43%). Short float at 15.16%, which translates into a short ratio of 1.74 days.

10. CNA Surety Corp. (NYSE:SUR): Surety & Title Insurance Industry. Market cap of $800.86M. ADX Line(14) at 20.22. Current price at $18.07 vs. target price of $23.00 (implies a discount of -21.43%). Short float at 1.32%, which translates into a short ratio of 12.31 days.

11. Western Digital Corp. (NYSE:WDC): Data Storage Devices Industry. Market cap of $6.48B. ADX Line(14) at 20.34. Current price at $28.25 vs. target price of $34.48 (implies a discount of -18.07%). Short float at 3.24%, which translates into a short ratio of 1.17 days.

12. KKR Financial Corp. (KFN): Asset Management Industry. Market cap of $1.41B. ADX Line(14) at 20.3. Current price at $8.89 vs. target price of $10.67 (implies a discount of -16.68%). Short float at 3.49%, which translates into a short ratio of 6.05 days.

13. Perfect World Co. Ltd. (NASDAQ:PWRD): Application Software Industry. Market cap of $1.34B. ADX Line(14) at 20.17. Current price at $26.58 vs. target price of $31.88 (implies a discount of -16.62%). Short float at 8.57%, which translates into a short ratio of 4.22 days.

14. ENI S.P.A. (NYSE:E): Major Integrated Oil & Gas Industry. Market cap of $88.16B. ADX Line(14) at 20.51. Current price at $44.02 vs. target price of $52.56 (implies a discount of -16.25%). Short float at .09%, which translates into a short ratio of 2 days.

15. Watsco, Inc. (NYSE:WSO): Electronics Wholesale Industry. Market cap of $1.82B. ADX Line(14) at 20.34. Current price at $56.24 vs. target price of $67.00 (implies a discount of -16.06%). Short float at 12.67%, which translates into a short ratio of 11.85 days.

Disclosure: No positions