Company Overview
Founded by cousins Charles Pfizer and Charles Erhart in 1849, Pfizer (NYSE:PFE) is a Fortune 500 company and the top pharmaceutical firm in the world by sales.
Much of Pfizer's expansion in recent decades has come through the company's numerous acquisitions, most notably Warner-Lambert in 2000, Pharmacia in 2003 and Wyeth in 2009. From the aforementioned key acquisitions or smaller separate acquisitions, Pfizer also includes assets of former independent firms Alacer Corporation, Ayerst, Excaliard Pharmaceuticals, King Pharmaceuticals, NextWave Pharmaceuticals, Parke-Davis, Searle, Sugen, and Upjohn.
Pfizer also owns a significant stake in numerous joint ventures [JVs] including ViiV Healthcare, in partnership with GlaxoSmithKline (NYSE:GSK) and Hisun-Pfizer, in partnership with Zhejiang Hisun Pharmaceuticals.
The company also operates Get Old.com, Greenstone, PfizerCentreSource, Pfizer RxPathways, Pfizer Medical Information, PfizerPro and Pfizer U.K.
At the beginning of the company's 2014 fiscal year, Pfizer began managing its commercial operations through a new global commercial structure consisting of three operating segments: the Global Innovative Pharmaceutical segment [GIP]; the Global Vaccines, Oncology & Consumer Healthcare segment [VOC]; and the Global Established Pharmaceutical segment [GEP]. Significantly, the new structure fully integrates emerging markets into each business segment.
GIP comprises medicines within several therapeutic areas that are generally expected to have market exclusivity beyond 2015. These therapeutic areas include immunology and inflammation, cardiovascular/metabolic, neuroscience and pain, rare diseases and women's/men's health.
VOC focuses on the development and commercialization of vaccines and products for oncology and consumer healthcare.
GEP includes the brands that have lost market exclusivity and, generally, the mature, patent-protected products expected to lose exclusivity through 2015 in most major markets and, to a small extent, generics. GEP also includes Pfizer's sterile injectable products and biosimilar development portfolio.
For more details about Pfizer Inc., see the company website.
Business Drivers
There are certainly more factors that make PFE a strong holding for certain types of investors and portfolios, but I'll focus on the following four factors: [1] expansive product portfolio and growing pipeline, [2] secular demographic and pharmaceutical spending trends, [3] track record and resources to retain scale advantages and unlock value, [4] shareholder-friendly capital allocation.
[1] Expansive Product Portfolio & Growing Pipeline
The following lists are not all inclusive, but with its top ten best-selling drugs of 2013 in bold, key PFE pharmaceutical products include: BeneFIX®, Bosulif®, Celebrex®, Chantix/Champix®, Detrol®, Diflucan®, Duavee™, Elelyso®, Eliquis®, Enbrel®, EpiPen®, Genotropin®, Inlyta®, Lipitor®, Lyrica®, Medrol®, Norvasc®, Premarin®, Prevenar®, Pristiq®, Quillivant®, ReFacto®, Spiriva®, Sutent®, Vfend®, Viagra®, Vyndaqel®, Xalatan/Xalacom®, Xalkori®, Xanax®, Xeljanz®, Xyntha®, Zithromax®, Zoloft® and Zyvox®. And, key PFE consumer products include: Advil®, Caltrate®, Centrum®, ChapStick®, Emergen-C®, Imedeen®, Robitussin® and ThermaCare®.
Since the purpose of this article is not to speculate on the medical viability or potential approval of drug candidates, the investment thesis is not dependent upon approval of any particular drug candidate, and I'm not a pharmacologist; discussion of individual drug candidates is limited. The point being made here is that PFE has an expansive portfolio of products on the market and a deep pipeline of new drug candidates, as well as already-approved products to be evaluated for expanded indications, thus new revenue streams.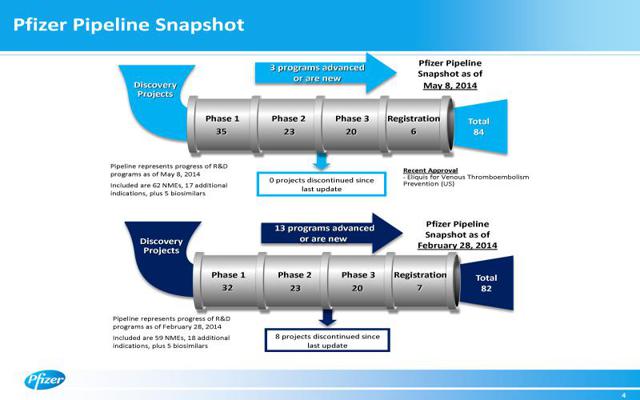 Source: company presentation
The potential risk part of this factor is the widely discussed "patent cliff" issue that all pharmaceutical companies constantly battle as their various top-selling products eventually lose patent exclusivity and face new competition.
I often quip "don't let anyone scare you away with patent cliff crazy talk." For those who don't usually read my articles and are not familiar with my sense of humor, I'll clarify. I'm not dismissing the patent expiration issue or suggesting that those who dwell on it are crazy. It's definitely a legitimate issue. I'm just being a little facetious to make the point that inevitable patent expirations are not fatal for any pharmaceutical company, including PFE. In its 165 years, PFE has faced countless patent cliffs and other seemingly insurmountable hurdles.
It's certainly true that, as the best-selling pharmaceutical product of all time, Lipitor's patent expiration is not insignificant. However, it's not by any means a death knell for PFE either. According to an AARP study [pdf], PFE is likely to do "just above $3 billion" in Lipitor sales in 2015, which is clearly well below the $13 billion peak in 2006, but very close to the $3.9 billion level of 2012. That sounds more like a modest patent slope than the fatal "cliff" that many have been pounding the table about throughout all of the years that the PFE share price has been steadily increasing from literally half of what it is today.
Will PFE hit another Lipitor-like jackpot next week? Probably not. But, will PFE continue raking in cash from existing products (including Lipitor, etc.), as well as generating new revenue streams from pipeline products and others that no one has even heard of yet? You bet. The point is that, until that potential next mega-blockbuster arrives, five $1 bills spend just the same as one $5 bill.
As specific examples to make the point about the potential earnings impact of the very strong PFE portfolio and growing pipeline, various analyst estimates suggest that the following annual sales ranges are achievable for PFE:
Eliquis $3-4 billion
Inlyta $400-600 million
palbociclib $3-6 billion
Prevenar $1-2 billion (new indications, in addition to current $4 billion)
Xalkori $1-2 billion
Xeljanz $2-3 billion
As evident from the above slide, which shows a total of 84 pipeline products in various stages of trials, there are many others that we'll start to hear more about in the coming years. There are additional details related to specific drug candidates and products in the Company Updates section below. While I don't want to detract from the others, for now, palbociclib is one to keep a close eye on, as some are already referring to it as a "blockbuster."
[2] Demographic & Pharmaceutical Spending Secular Trends
As the chart below shows, the population is aging. That is compounded by the fact that we're also living longer. A result of those trends is increasing demand for pharmaceutical products, since we need more medicines as we get older.
As the CEO of AARP wrote in an article, statisticians calculate that one person of the baby boom generation is turning age 65 every eight seconds and that will continue for 24 hours of every day for fifteen more years. Thus, by the time the last of the baby boomers turn 65 in the year 2029, the 65 and older portion of the population will be nearly double the size it is today. That is a secular trend representing a tailwind for the entire pharmaceutical industry.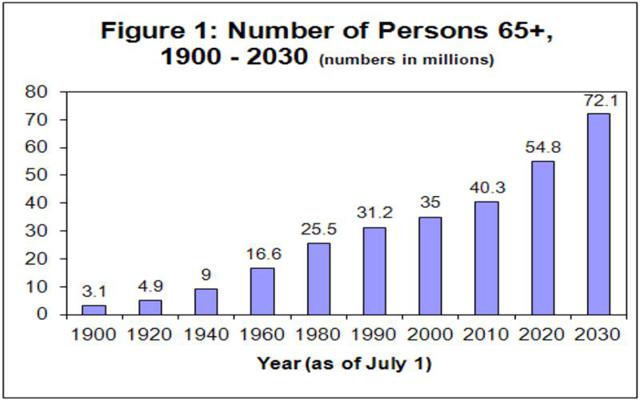 Source: Department of Health & Human Services, Administration on Aging
As further evidence that the aging population secular trend is in fact directly impacting the pharmaceutical industry, according to a release from the IMS Institute for Healthcare Informatics, "growth in global spending on medicines is forecast to grow at a 3-6% compound annual rate over the next five years." The full IMS report states "spending on specialty medicines is expected to reach $230-240 billion in 2017, up 38% from the $171 billion spent in 2012."
The potential risk part of this topic is twofold. First, there is the argument that the aging population phenomenon is widely known and, therefore, fully priced into the share prices of all companies that benefit. Second, there is the fact that lawmakers are also aware of the demographic shift and some believe that they will eliminate the ability of companies to earn money from the trends.
I concede that there is some validity to the claim that the demographic shift is priced into stocks to some degree. However, I don't believe that investors of today could possibly fully appreciate and accurately quantify the true scale of how the world population is changing. Perhaps ask yourself -- do you believe that everyone knows all of the specific facts mentioned in the previous few paragraphs and the revenue impact on each company five or ten years out?
Perhaps the more legitimate argument is that changes to laws could affect the ability of related companies to earn revenue. For example, there are proposals to dramatically change the Medicare system. In fact, some argued that the 2003 Medicare Prescription Drug, Improvement and Modernization Act [pdf] was a first step toward dismantling the entire Medicare program. Perhaps that could ultimately turn out to be true, but over a decade later, PFE is still here.
Clearly, healthcare laws and regulations have changed before and companies managed to survive. Perhaps money currently spent in the healthcare system will remain in the system and actually continue to grow with the size of the aging population, regardless of how the industry evolves over the years. In other words, medicines will continue to be needed, utilized and paid for. Thus, the companies that supply those products will not necessarily forgo revenue.
In fact, since most changes to the healthcare system are intended to meet the growing demand while preventing total spending from continuing to spiral out of control, perhaps the industry will simply transition to become even more of a volumes business than a margins business. In other words, if a company is accustomed to selling a hundred widgets for $1,000 each and has to adjust to meet demand for a thousand widgets, perhaps that company will still do quite well, even if it eventually has to sell each widget for only $100. Yes, I'm aware that is an extreme oversimplification, but the point is still valid.
[3] Track Record & Resources To Retain Scale Advantages & Unlock Value
As noted in the Company Overview opening section, PFE has a long and strong track record of successful acquisitions, both large and small. I reiterate that because I don't believe that the AstraZeneca (NYSE:AZN) deal is dead. In fact, no one other than PFE directors has any idea whether the deal will resurface with different terms or be abandoned altogether. I think a comment I heard from a trader put it best: "It's hundred-billion dollar poker that the PFE and AZN boards are playing … we [investors and traders] are just along for the ride."
That's actually okay by me since I don't consider myself more knowledgeable about the global pharmaceutical industry than Ian Read and the PFE Board, or more qualified to determine how to best position a $200 billion pharmaceutical company for a sustainable future within a fast-changing healthcare landscape.
Thus, the opinions that I have on the potential deal are that I understand the many reasons [pdf] PFE is pursuing it, agree that it could be very good for PFE with the right terms, and I think it's silly that some people are upset about the idea of PFE changing its domicile to the U.K. Perhaps that last part would have offended my patriotic sensibilities forty years ago, but we've been living in a global economy for decades so, it makes no difference anymore what country a corporation has on its paperwork. PFE is, always has been and always will be an American multinational company (founded by German immigrants).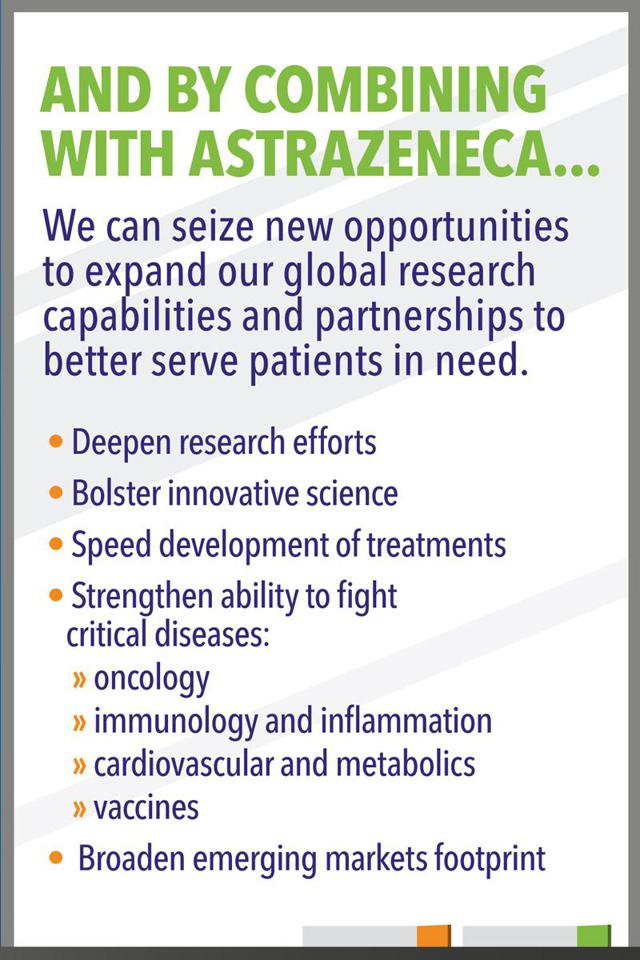 Source: company presentation
I understand concerns about tax avoidance, but the fact that U.S. companies are forced into such tactics in order to remain competitive and survive is an issue to be addressed with lawmakers, not executives who are merely fulfilling their fiduciary duty to shareholders well within the confines of current laws.
As a long-time PFE shareholder who plans to remain a shareholder, my main concern is that the company not drastically overpay for any acquisition. With that said, it's far too convenient for a man with a full belly to claim that a man who is starving to death is overpaying for bread. In other words, I consider it impossible for anyone who isn't a PFE director to know what the insiders know about the inner workings of either company, thus, the true value of the deal.
One of many examples is valuing soft assets such as key staff, intellectual property, etc. Do you know what the value will be of a particularly talented 30 year old scientist over the remaining decades of his or her career? How about ten such individuals? How about a hundred? I certainly don't. However, my bet is that PFE leadership and their advisors have evaluated very many such intangibles that can't be included in reports available to the public.
The bottom line is that PFE has been around, and done quite well, long before AZN and the fate of PFE does not hinge on any one acquisition. Lest we forget that there are very many acquirable pharmaceutical assets out there and, with a long history of successful acquisitions and $120 billion burning a hole in their pocket, I'm confident that PFE will find other ways to unlock value. Obviously, the PFE Board knows that no deal is a given until it's done so, even once they decided to pursue AZN, I'm sure that they also had other options in mind.
For example, recall from the Company Overview section that PFE restructured its commercial operations into three new operating segments at the beginning of the current fiscal year. Clearly, that was done to position the company for the future, but we shouldn't assume that we know the whole plan yet. As just one possibility, the GEP segment is the weakest link, since it is comprised of "mature" products that have already lost exclusivity, or will soon. Therefore, if I were a betting man, I'd bet that the only reason PFE didn't sell that segment when suitors showed interest was because there were already plans to first make an acquisition to replace the revenue, to spin off the segment or both.
Whether it turns out to be via a completely different large acquisition, a series of smaller deals, further shedding non-core assets as part of a restructuring, or some combination thereof; I'm confident that Pfizer will be just pfine.
[4] Shareholder-Friendly Capital Allocation Supports Stock Price
With that said, part of my investment thesis is that PFE is a particular type of stock that is most suitable for particular types of investors and particular types of portfolios. I'll explain that throughout the remainder of the article.
A large component of that view is the company's shareholder-friendly capital allocation, which I believe supports the stock price and makes PFE a good defensive holding for conservative investors with well-diversified portfolios.
The $1.04 annual dividend payout, which is paid quarterly, gives PFE a 3.50% yield, and makes it one of the highest-yield pharma sector stocks overall and the single-highest yield pharma stock in the Dow Jones Industrial Average. With only a 46.2% payout ratio, there is also room for the dividend to grow.
The company paid out $6.6 billion in dividends to shareholders in 2013FY, and also repurchased $16.3 billion of stock, reducing the outstanding share count by 13% compared to 2012FY. In total, PFE returned approximately $23 billion to shareholders through share repurchases and dividends in 2013FY.
During the 2014Q1 earnings report, Ian Read, Chief Executive Officer, stated:
"Given our strong operating cash flow, we continue to expect to repurchase approximately $5 billion of our shares this year, with $1.7 billion repurchased through May 2."
Call Performance
Because it's misleading to only look at call performance on the day a follow-up article like this is posted, I've included below the peak performance from my initial published call, to-date performance from my first call/buy and the same measures from my update call. My October 14, 2013 initial published call was:
"My opinion is to consider PFE in the $27-28 range and I expect it to hit $31 by this time next year (13% return). Top that off with the 3.3% dividend and that's certainly respectable return potential, and especially suitable for conservative long-term investors."
In an update article written during the first week of 2014 and published on January 9, 2014; I increased my price target with the following:
"At $31, and having sold off from a recent $32.50 high, PFE has already exceeded my $31 October price target. Because I believe PFE remains undervalued and will continue being underestimated, as it has been for years, I'm raising my price target to $35 with a 9-12 month timeline."
The performance since my initial published call has been:
[+3% from published call / +13% peak / +36% from initial $22 call/buy]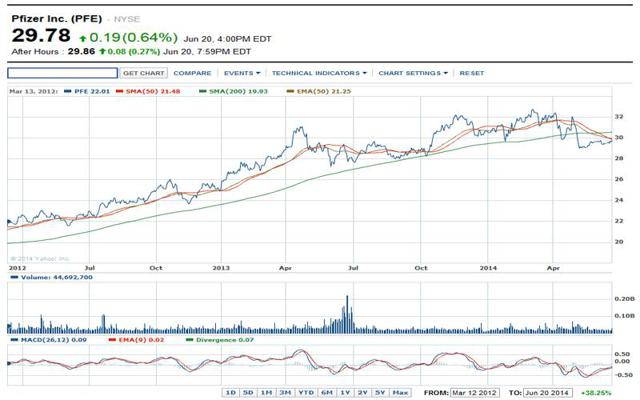 Source: Yahoo Finance
Call Update (Upside Potential, Timeline & Downside Risk)
For those who read all or most of my articles, I apologize for repeating certain sentiments in every one, but I can't assume that every person who reads each article has read any of my other articles or Instablogs and is already familiar with the general strategies and thinking behind my opinions.
My opinions are written for long-term investors who build positions over time so, I am by no means suggesting that the next earnings report or other news will alone take PFE to my price target. In fact, as indicated by my prior calls, my buy prices are expressed as ranges, and I recommend always scaling into positions to make each buy price less critical. Whether to buy near the top or bottom of a range depends on factors like market conditions, conviction level and whether one is initiating a new position or adding to existing holdings.
Since it's not a holding I expect to have huge or fast price appreciation, PFE is a stock that I only buy in periodic stages when it's clearly undervalued, which, I believe has been the case for a few months now. Therefore, the 9-12 month timeline for my opinion is just as important as the price target itself. In fact, now is a good time to remind readers that my thesis is based on PFE being a prime beneficiary of long-term secular trends. At the same time, I consider it impractical to speculate on five or ten-year targets, which is why I typically limit my price target time frames to one year and update them periodically.
With that said, I'm slightly raising my 9-12 month price target for PFE to $36, which is 64% above the $22 price of my initial call/buy, 24% above the $29 during my initial published call, 16% above $31 price at which I last raised my price target and 20% above the $30 current price. When the 3.50% yield is added, those are respectable returns for a relatively safe defensive holding.
Price-To-Earnings Historical & Relative Valuations
My price target is largely derived from P/E ratios I have calculated for myself using the EPS data shown in the chart below (and verified via multiple sources including individual earnings reports) because the Yahoo Finance P/E ratios do not appear correct. For example, the last four quarters of adjusted diluted EPS for PFE were $0.56, $0.58, $0.56 and $0.57 (totaling to $2.27, not $3.22). As a result, with the current share price of $29.78, the trailing-twelve P/E for PFE is 13.12x (not the 9.24x Yahoo Finance shows). Similarly, the next-year EPS estimate also happens to be $2.27, making the forward P/E 13.12x as well.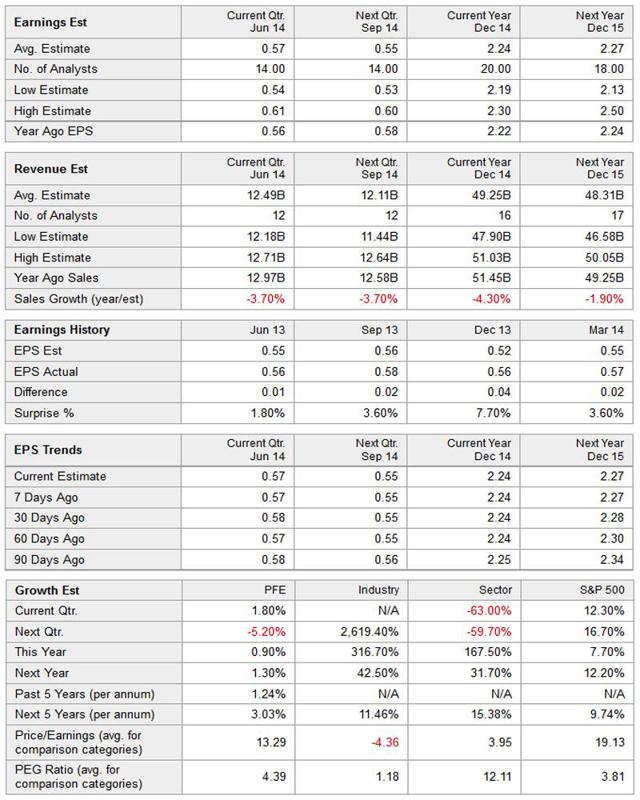 Source: Yahoo Finance
Both the trailing and forward P/E ratios for PFE are slightly above the low end of its ten-year historical P/E range. According to S&P Capital IQ data, the low end of the range is 12x, the high end is 27x and both are somewhat extreme outliers (especially the high of 27x). The most typical P/E for PFE is 15x, which is also the low end of where all competitor P/E ratios already are right now.
Company

Market

Cap

Trailing

P/E

Forward

P/E

Dividend

Yield

Share

Price

AbbVie (NYSE:ABBV)

$84.75B

16.81x

13.88x

3.10%

$53.30

AstraZeneca

$95.17B

15.66x

18.10x

5.10%

$75.47

Bristol-Myers (NYSE:BMY)

$79.20B

25.56x

28.28x

3.00%

$47.79

Eli Lilly (NYSE:LLY)

$66.54B

16.72x

19.57x

3.30%

$62.03

GlaxoSmithKline

$131.28B

14.78x

13.53x

4.70%

$54.54

Johnson & Johnson (NYSE:JNJ)

$297.82B

18.73x

16.60x

2.70%

$105.27

Merck (NYSE:MRK)

$172.19B

16.74x

16.19x

3.00%

$58.92

Novartis (NYSE:NVS)

$222.61B

18.20x

16.22x

3.00%

$90.98

Pfizer (PFE)

$189.96B

13.12x

13.12x

3.50%

$29.78
Source: Yahoo Finance (P/E ratios calculated by author)
If a 15x P/E is applied to either the PFE $2.27 trailing-twelve EPS or next-year EPS projection, the resulting share price is $34.05. If the 16x forward P/E that all except two competitors are already trading above is applied to PFE, $36.32 is the price result. I believe that my calculations adequately account for minor variations from EPS projections that are likely to occur on a quarterly basis.
If the $2.27 EPS projection turns out to be too low (guidance is $2.20-$2.30), or there are other significant developments, the PFE share price may surpass my $36 price target. In fact, I generally expect to raise a price target before it is reached. Therefore, the low P/E ratio that PFE is currently valued with is the main basis for my 9-12 month price target of $36, along with my opinion that PFE will successfully unlock additional value within the coming twelve months.
Downside Risk Estimation
I prefer the 200-day simple moving average [SMA] to estimate downside risk because it is an updateable guide, rather than a single price that only applies for a short time. The Yahoo Finance link under the stock chart above always leads to an updated chart with a green line to represent the 200-day SMA.
With PFE, I estimate downside risk to be about 5% below the stock's 200-day SMA (in the absence of unforeseeable extreme events). For example, the PFE current 200-SMA is $30.55, and 5% below that is $29.02. The $29.78 current share price is already 2.5% below the current 200-SMA of $30.55, so I don't see much downside risk at all for PFE at this time. Notice that my buy ranges and downside risk estimates are usually very close, as that is not coincidence.
It's also worth noting that, as the stock chart above shows, PFE shares have only traded below their 200-SMA on three occasions throughout the last five years. The first was the summer of 2010, the next was the three-month period ending in November of 2011, the third started just a couple of months ago in April/May and continues through right now. Along with all of the other reasons outlined throughout the article, this is yet another reason that I believe there is opportunity with PFE shares during the current dip below the 200-SMA.
At the same time, while I'm far from among those who have been predicting a deep market-wide correction every day since 2009, I do believe a correction is more likely this year, though within the broader context of a bull market that I think will continue. As implied in recent weeks when a number of weak market days took many good stocks down 2-3% in one day, yet PFE shares held their ground each time; I think PFE will fare relatively well in a correction.
Even though I don't see much more downside for PFE, I would not necessarily expect the shares to completely defy gravity in a correction either. So, I think the best approach is to divide into multiple tranches the total amount that one wants to put in PFE, make a first buy some time during the current dip below the 200-SMA, and save subsequent buys in case a correction does occur.
Analyst Opinions
Nine analysts now rate PFE a Buy, six rate it a Hold and two rate it a Sell. The consensus rating is Hold and the consensus price target is $32.83. Here are the most recent changes to analyst ratings or price targets:
5/28/2014 JPMorgan reiterated Overweight-rating price target of $35
5/27/2014 Goldman Sachs resumed Buy rating with price target of $35
5/08/2014 Credit Suisse raised Outperform-rating price target to $36
5/06/2014 BMO Capital Markets reduced Outperform price target to $34
4/28/2014 Citigroup raised Buy-rating price target to $36
4/14/2014 Jefferies Group reduced Buy-rating price target to $36
4/07/2014 Leerink Swann raised Market Perform price target to $31.60
3/14/2014 Morgan Stanley reduced rating to Hold and price target to $34
3/13/2014 MKM Partners reiterated Neutral-rating price target of $29
Company Updates
January 21: PFE announced that its already-approved smoking cessation aide Chantix/Champix met all primary and secondary endpoints in a clinical study for expanded indication. As one of a dozen among family members and friends who have successfully quit smoking using Chantix (with no side effects beyond manageable insomnia, and despite many failed attempts over many decades), seeing more lives changed by this treatment has special importance to me.
January 28: PFE reported 2013 Q4/FY earnings results, beating both revenue and EPS consensus estimates. The company also provided 2014FY guidance.
February 3: PFE announced that its palbociclib breast cancer drug candidate, which previously received Breakthrough Therapy designation from the FDA in April 2013, achieved its primary endpoint in a Phase II study.
February 5: PFE announced a collaboration agreement with Merck to work on anti-cancer combination studies. Financial terms were not disclosed.
February 6: Bloomberg reported that PFE won a court ruling to block generic versions of its number one product, Lyrica, in the U.S. until December 2018.
February 21: In collaboration with BMY, PFE announced that subanalysis found Eliquis to be more effective than warfarin in reducing the risk of stroke and reducing mortality across age groups, and was associated with less major bleeding, less total bleeding and less intracranial hemorrhage, regardless of age. These data were published today in the European Heart Journal.
February 24: PFE announced that its Prevenar 13 pneumonia vaccine met all objectives in a study with older adults. The treatment was initially introduced in 2009 for use with infants and children. The FDA licensed Prevenar 13 via an accelerated approval process to address unmet medical needs in older adults. As required for the accelerated approval, PFE conducted this study to verify clinical benefit. This latest Prevenar 13 study was the largest double-blind, randomized, placebo-controlled vaccine efficacy trial ever conducted in adults.
February 24: PFE announced FDA approval of expanded labeling for Xeljanz.
March 12: PFE confirmed that a federal court rejected its infringement claim in an action the company brought against several generic drug companies in an effort to retain patent protection for its Celebrex osteoarthritis treatment. PFE stated its intent to appeal the court decision.
March 12: PFE released detailed results from the aforementioned study of the use of Prevenar 13 with older adults.
March 14: The FDA approved a Supplemental New Drug Application [sNDA] to expand the indication of Eliquis.
March 18: PFE released its 2013 Annual Report.
March 20: PFE announced that the FDA has granted Breakthrough Therapy designation to the company's vaccine candidate bivalent rLP2086.
March 25: PFE announced positive results from a Phase III study of Xalkori compared to chemotherapy in previously untreated patients with a form of advanced lung cancer.
March 28: The FDA approved Pfizer's over-the-counter Nexium® 24HR for the treatment of frequent heartburn.
April 6: PFE announced that data from a Phase II study found that palbociclib, in combination with letrozole, significantly prolonged progression-free survival in patients with advanced breast cancer. Dr. Mace Rothenberg, Chief Medical Officer for Pfizer Oncology commented:
"These data demonstrate the potential of palbociclib to be a major advance in the treatment of women with this type of advanced breast cancer. We are proud to be at the forefront of research and development with respect to this promising new class of investigational anti-cancer agents and have initiated a broad clinical development program for palbociclib that includes breast and non-breast cancers."
April 28: PFE held analyst and investor calls to discuss its continuing interest in a possible merger transaction with AstraZeneca.
May 5: PFE reported 2014Q1 earnings results, beating the consensus estimate for EPS, but missing the consensus estimate for revenue.
May 12: PFE announced the pricing of a $4.5 billion debt offering, stating that the company intends to use the proceeds for general corporate purposes, including repayment of notes due December 2014 and March 2015.
May 16: PFE announced that it will submit a New Drug Application [NDA] for its palbociclib (aka, "Palbo") breast cancer treatment candidate to the FDA for accelerated approval consideration, based on the aforementioned Phase II study data. PFE expects to submit the NDA early in 2014Q3.
May 18: PFE announced its "final" proposal to AstraZeneca.
May 20: GlycoMimetics (NASDAQ:GLYC) announced that PFE has made a $15 million payment to GLYC under the terms of the collaboration for the development of rivipansel (GMI-1070). Under the collaboration, PFE plans to initiate a Phase III clinical trial of rivipansel, which will trigger an additional $20 million milestone payment to GLYC upon dosing of the first patient in the trial.
May 22: Protalix (NYSEMKT:PLX) announced that Gaucher Disease treatment Elelyso™ was approved in Australia. Elelyso will be marketed in Australia by PFE.
May 22: PFE signed a two-year collaborative research agreement with BioRestorative Therapies (OTCQB:OTCQB:BRTX).
May 27: PFE announced the introduction in the U.S. of over-the-counter [OTC] Nexium® 24HR (aka, "The Purple Pill®"). AstraZeneca has been trying hard to preserve its revenues from blockbuster Nexium for as long as it can, but PFE bought exclusive global rights to the OTC product from AZN in 2012 for more than $250 million. The Nexium 24HR launch makes PFE a leading player in all four of the largest OTC categories: pain management, dietary supplements, respiratory and, now, digestive. PFE expects launches in European markets to follow this year. Perhaps the timing of this announcement is coincidental, but I don't really believe in coincidence -- especially in the context of business.
May 27: Aceto Corporation (NASDAQ:ACET), a small-cap pharmaceutical ingredient supplier and generic drug manufacturer, announced that it has launched the generic version of Pfizer's Diflucan®. ACET happens to be one of my favorite small-cap holdings, I have written about the company twice (here and here), and I plan write about it again as soon as time permits.
June 2: PFE entered a settlement and license agreement with Mylan (NASDAQ:MYL) for the generic version of Celebrex. MYL also appealed a court decision that grants competitor Teva (NYSE:TEVA) 180 days of exclusivity. PFE and TEVA reached a settlement in March after a federal court invalidated a patent that would have offered PFE an additional 18 months of U.S. exclusivity to sell Celebrex.
June 3: PFE paid its 302nd consecutive quarterly dividend to shareholders.
June 16: PFE announced opening of a new Research and Development [R&D] hub in Cambridge, Massachusetts.
June 17: PFE announced its submission of a Biologics License Application to the FDA for an investigational Meningococcal B vaccine.
June 18: PFE announced that it entered into a global strategic collaboration agreement to develop specific cancer immunotherapies with French biotech firm Cellectis. The deal is intended to help PFE catch up with Swiss drugmaker Novartis , which already has similar immunotherapies in clinical trials.
June 18: PFE announced that statistically significant data from a Phase III study of its Xeljanz rheumatoid arthritis treatment, which is already approved for some indications, would be published in the June 19 New England Journal of Medicine. This publication of data represents the sixth Phase III study in the Xeljanz clinical program to be published in a major medical journal.
June 20: PFE announced that the Prevenar 13 indication has been extended in Japan to include adults 65 years of age and older.
June 20: The Financial Times reported that AstraZeneca is considering selling the rights to some of its future revenues. While the article states that doing so would "help stifle any renewed takeover attempt by its U.S. rival Pfizer," that part is only the reporter's interpretation of the motive since AZN did not frame the news that way. In fact, before I even heard about this, the first thing that came to my mind about how deals that seem to be fizzling are often revived was that the company being courted could sell some assets in order to better align its value with the acquirer's maximum offer price. I've seen many deals consummated that way, sometimes years after initial talks began.
July: PFE is expected to report 2014Q2 earnings results in late July. The exact date has not yet been announced by the company.
Final Thoughts
While I obviously like PFE and believe it is significantly undervalued, I actually don't consider it an appropriate holding for all investors or all portfolios.
For example, I wouldn't recommend PFE for the types of investors who watch stock prices every day or who are looking for index-beating returns from each individual holding at all times. In fact, I think PFE is only suitable for investors who evaluate performance in increments of years (versus quarters) and who are most concerned with total portfolio returns (versus individual holdings). I also wouldn't recommend PFE for portfolios that are not well diversified across market caps, sectors, etc., and that only have a small number of positions.
My actively-managed portfolio has twenty five positions at all times, which I don't recommend for most investors, since most people simply aren't able or willing to spend the time required to successfully manage that many positions. At the same time, a portfolio with so many holdings needs to have what I call "anchor positions," and that's where a stock like PFE fits perfectly. I define my anchor positions as holdings that are not really intended to take my portfolio where I want it to be (gains), but rather to prevent it from going where I don't want it (losses) -- hence the term "anchor." My anchors are always large caps, usually non-cyclical, and typically pay relatively high dividend yields.
Because I'm essentially a full-time investor, I'm able to and prefer to manage risk at both the individual holding level (i.e., only adding to positions when I believe they're significantly undervalued), as well as at the portfolio level (i.e., having some high-yield positions that may not offer much price appreciation, but that offset some of the downside in small-caps, and other types of stocks that do offer price appreciation, by having less price depreciation risk).
My point is that, even if there isn't huge upside left in PFE shares at this point (relative to where I first started buying), it's still a worthwhile holding for the right type of investor. I don't necessarily need or want big capital gains from every holding, since I consider returns to be inextricably tied to risks. So, PFE serves a specific primary purpose in my portfolio, although it is significantly undervalued and can offer better-than-usual returns from the current level.
Or, as Peter Lynch puts it "Know what you own, and know why you own it."
I wrote this article 5/30-6/23. I apologize in advance that I can no longer spend time to read or write comments beyond the opinions I offer in articles. As always, every reader is free to dismiss any or all of my opinions. Or, as SA puts it, "Read. Decide. Invest." Thank you for reading and best of luck to all.
Disclosure: The author is long PFE, ACET. The author wrote this article themselves, and it expresses their own opinions. The author is not receiving compensation for it (other than from Seeking Alpha). The author has no business relationship with any company whose stock is mentioned in this article.
Additional disclosure: I'm long PFE and ACET, and may buy or sell shares at any time.