ParkerVision (NASDAQ:PRKR) shareholders are not likely to be having much of a good day today. As you can see from the chart below, ParkerVision's stock - basically parked at around $4.50 for the last six months - took a massive porking this morning to the tune of nearly 70% at its lows of the day. ParkerVision calls itself an intellectual property company.
ParkerVision's stock price leading up to today was mainly a product of a Florida jury awarding the company $172.7 million in arrears for damages in a lawsuit against Qualcomm. Longs held on to the thought that PRKR may be entitled to even more in recourse, while certain SA Contributors like Alpha Exposure argued that even in a best case scenario, ParkerVision was extremely overvalued.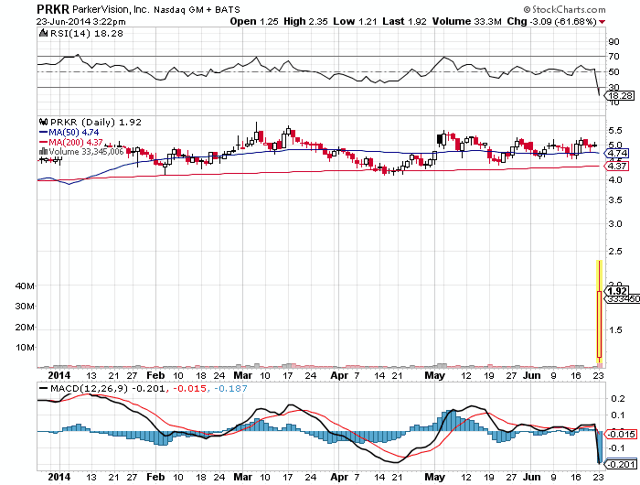 Much of ParkerVision's appeal to the long side was going to be the results of the $172 million patent-infringement lawsuit that the company had against Qualcomm (NASDAQ:QCOM). As a matter of fact, relying on revenue from Qualcomm was the main long argument for the company - which last quarter reported a $5.7 million loss and last year reported a $27 million loss with no revenue.
In a case that has been ongoing, ParkerVision had claimed that Qualcomm was stealing its methods for converting electromagnetic signals for use in mobile devices and tablets. Of course, Qualcomm denied these allegations and stood by its story that everything was developed in house. On Friday, a Florida judge overturned a jury's ruling and while ruling PRKR's patents valid, denied the company the $172 million it was to receive in damages. This morning, the market caught on to the news.
"While we are pleased that the court upheld the jury's decision that the patents are valid, we are obviously disappointed with the district court's ruling that judgment be entered for Qualcomm on non-infringement."

-ParkerVision CEO Jeffery Parker
The Jacksonville Business Journal went into details regarding the opinion issued by the judge, which they called "scathing":
In a scathing opinion, U.S. District Judge Roy Dalton said that, as a matter of law, the issue had to be retried.

"The jury was attentive and deliberated for a significant period of time," he wrote. "Nonetheless, it reached a conclusion not supported by the evidence presented."

ParkerVision's infringement expert was "notably vague," the judge said, and the company chief technology officer had conducted just a "superficial analysis" of the Qualcomm devices he said were infringing.
ParkerVision came out and made the statement that they're going to be appealing the decision. There may or may not be a new trial necessary if the appeals court comes through. According to patent attorney and SA contributor Daniel Ravicher:
It is not correct to say that there will definitely need to be a new trial if the Court of Appeals reverses Judge Dalton's decision today to overturn the jury's verdict of infringement. The Federal Circuit can simply say he should have denied the motion and moved on to award an ongoing royalty.
Regardless, shares took a massive haircut today - touching $1.21 at one point.
For those looking at potentially investing in PRKR at these levels, QTR thinks that there is significantly more risk than reward in this scenario. ParkerVision is a company that has zero reported revenue - thus making its $180 million market cap valuation (yes, after today's sell off) extremely suspect. The security should be viewed as an extremely speculative investment at these levels - especially with just $0.26 in cash per share currently.
Best of luck to all investors.
Disclosure: The author has no positions in any stocks mentioned, and no plans to initiate any positions within the next 72 hours. The author wrote this article themselves, and it expresses their own opinions. The author is not receiving compensation for it (other than from Seeking Alpha). The author has no business relationship with any company whose stock is mentioned in this article.